Smiles Mandla Makama is making a comeback. The 63-year-old Swazi musician won a Lifetime Achievement Award at the December 2018 MTN Swaziland Music Awards. He's also just completed two tracks on an EP called Ode to eSwatini, produced by George Weston (aka Sydney). It features Swazi musicians and is soon to be released on a Bristol-based independent label. And Makama has been invited to play at this year's Bushfire Festival, the premier musical event on the tiny kingdom's calendar.
"It's about time," answers Jiggs Thorne, the poet-philosopher behind Bushfire, when I ask him why he invited Makama to perform.
Photographer Delwyn Verasamy and I have crossed the border into eSwatini, as Swaziland is now called, and before we meet Makama I press Thorne about the music scene in the kingdom. Sponsorship, something he has managed to acquire for Bushfire, is sadly lacking elsewhere. Audiences are tiny and there is no "Swazi scene" to speak of.
There's a handful of artists who have achieved fame, such as Swazi soulman Bholoja, guitarist Sibusiso Nkambule and percussionist Tlale Makhene. But these guys don't limit themselves to playing in eSwatini, and Makama himself is planning to stage his comeback beyond the kingdom's borders. There's slam poet Qibho, composer Black Rhino and a singer called Thobile. Some of these Swazi artists have been influenced by Makama, but I can't seem to dig up much on them on Google.
"I was starting to think that my work would never be recognised," says Makama of the Swaziland Music Awards.
He's quick to acknowledge that much of his reappearance in public is owed to Ralph Smit, a Belgian trumpet player who's taken it upon himself to promote the maestro. Without Smit, "I was six feet underground", jokes Makama. "I was dead and buried."
Smit (28) grew up on his family's farm opposite House on Fire, where he dug trenches for the first Bushfire in 2007. He performed there a few years later, "which involved a lot less sweat". He's always been interested in traditional music due to where he grew up, and cites himself as very fortunate to have Smiles as his mentor.
"Soon after I started playing with Smiles, he turned to me and said, 'you are going to be my manager.' He was pretty down when he returned from Amsterdam: he thought nobody was interested in his music anymore, and he'd lost touch with the local music scene."
We spend the night on Smit's farm, where we learn that eSwatini has no protest art to speak of. Protest in any form is stamped out very quickly; the king has absolute authority. I'm starting to gather that many people may not like the king, but they're fine with having the monarchy. The conversation moves to the ancestors, rituals and sangomas — all very much still a part of life here.
Next morning we hit Msunduza, a suburb on the hilly outskirts of Mbabane where Makama lives, and where he grew up. It's vibrant, even early on a Saturday morning. Across the street, a group of grinning men call us to join them and smoke some ganja.
The previous night, Smit played me a short video he shot of musicians playing in Msunduza's streets, with one atop a car, wildly swinging his arm around in Pete Townsend-style circles as he mauled his guitar.
Tall, angular and alert, Makama is known to some as "Swaziland's Snoop Dogg", because he bears a passing resemblance to the rapper. He greets us warmly and we feel instantly at home.
He's assembling his newest smilerphone, an instrument he designed that brings seven bows (makhoyanes) together into one assembly on a bamboo frame. The bows are tuned to the pentatonic scale and can be pulled and released to bend notes.
Collecting the materials, including gourds (above) that are attached to the makhoyane (below) for resonance, takes time. Photos: Delwyn Verasamy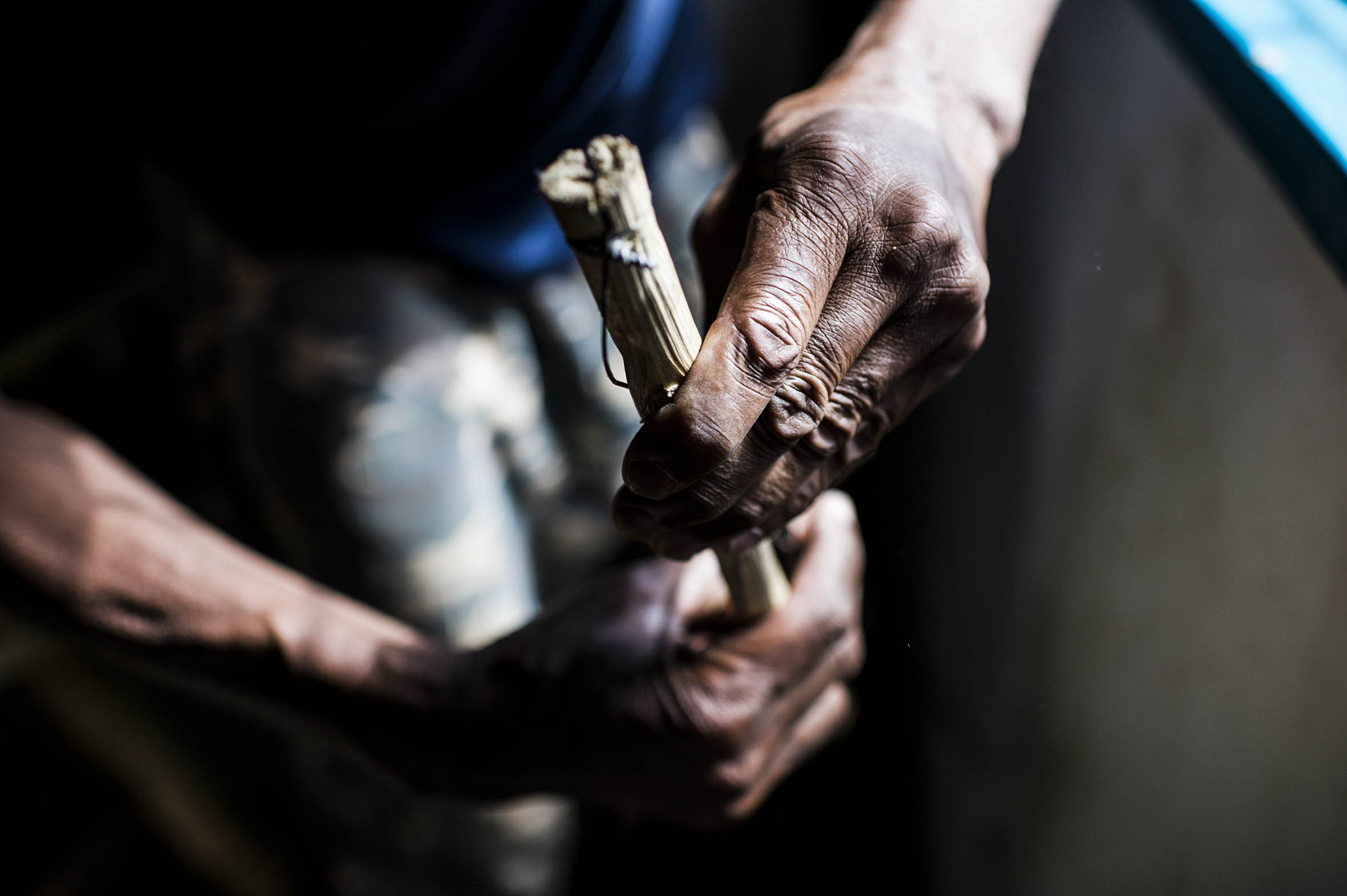 Known to the Xhosa as the uhadi, the makhoyane or makhweyane is a bow with a gourd attached to it for resonance. It is traditionally played by women, who place their left breast into the opening of the gourd to restrict or amplify its sound. Makama's partner, Pachanga Matsenjwa, provides us with a lively demonstration. Men can and do play the makhoyane, but one can instantly see and hear the advantage of having breasts.
Pachanga has her own eponymous eight-piece band and, on occasion, performs with Makama. She accompanied him on his 30-year stint in Amsterdam. They returned to eSwatini four years ago and are both trying to re-establish themselves in the local music scene.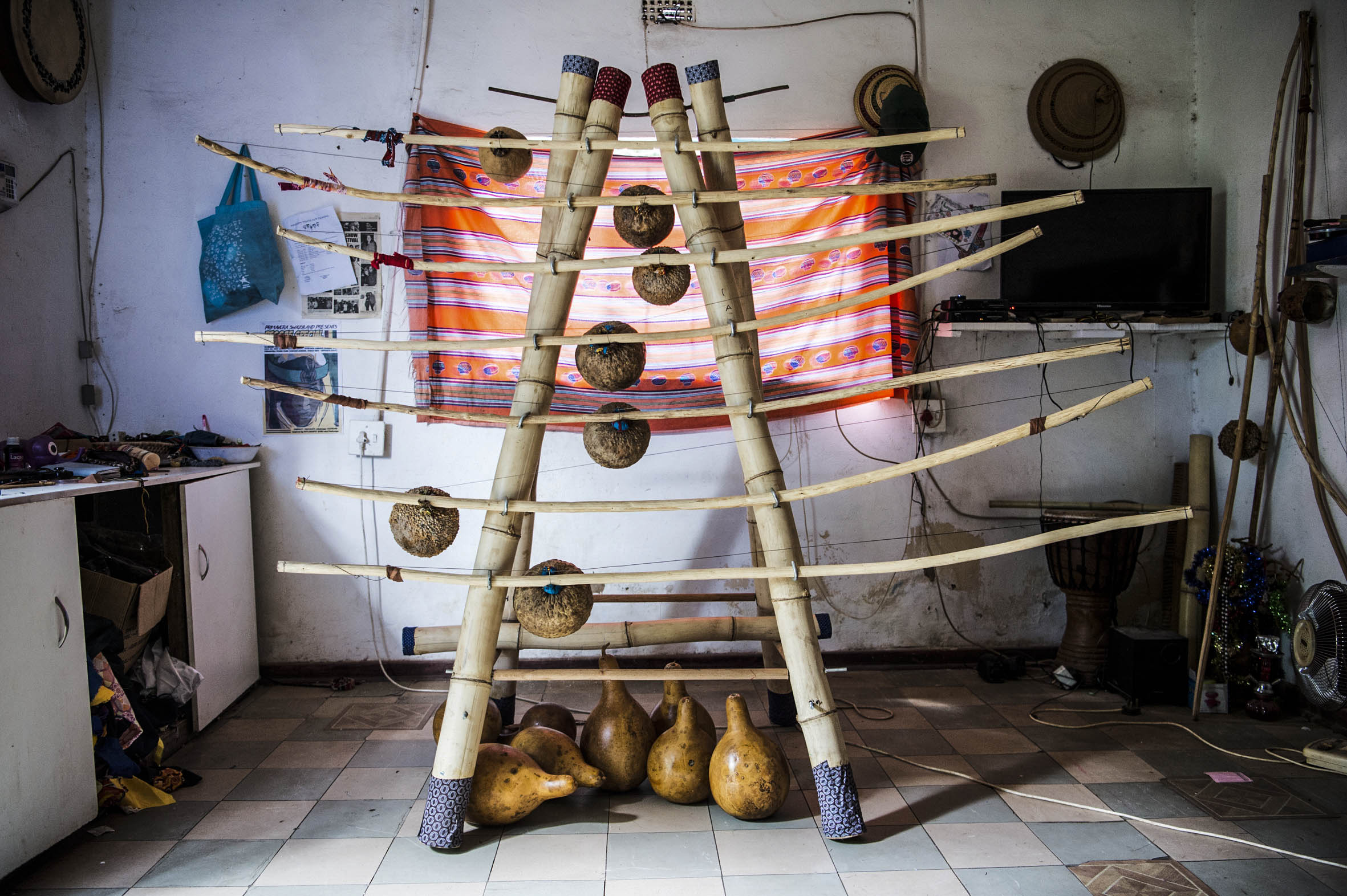 His smilerphone, which he calls the 'Swazi synthesizer', is based on the makhoyane, also known as the uhadi, but has seven bows attached to a bamboo frame. Photos: Delwyn Verasamy
After we've all jammed a bit, the interview begins in earnest, and I strive to stitch the vast patchwork of Makama's flamboyant life together into some cohesive form. Luckily, Smit's fed me with biographical information for weeks, and he's warned me that Makama's life — he classifies him as a "magical realist" — won't be easy to understand in any strict linear sense. I've also listened to reams of Makama's hauntingly beautiful music, recently loaded on YouTube by Smit, and helped to edit the Wikipedia page that will keep the Makama archives alive.
Music came into Makama's life early; he was drawn to the drumming of traditional healers. As soon as he could, he left the family household to make music. He encountered conscientious objectors, activists and musicians fleeing conscription and apartheid. It was a permissive era: Swaziland was full of casinos and strip joints and he discovered, through the hippies he met that money could be made from playing music at hotels such as the Swazi Sun and Holiday Inn. In Coronation Park, a suburb in Mbabane, he began rehearsing with his first band, Calabash Zanka.
One of the hippies escaping the army had an old copy of the Bhagavad Gita, which Makama picked up one day when he was bored. "I began to chant, and it made me happy, then I started with the Vedas, where I found my spiritual roots. So I was exploring my African roots musically, and spiritually I am happy, because even if I have nothing, I am very proud of my work. Sometimes I have doubts, because I never 'found my way to the bank', but I don't have doubts about my music. I think it is a great line of music."
Between gigs the young Makama secreted himself away in an abandoned shepherd's hut with no windowpanes that he discovered up in the hills, to go back to his musical roots and find his own unique voice. He started playing the makhoyane, guitar, marimba and flute, and "invented" the smilerphone — though he emphasises that the instrument is merely an innovation on the makhoyane, not an actual invention.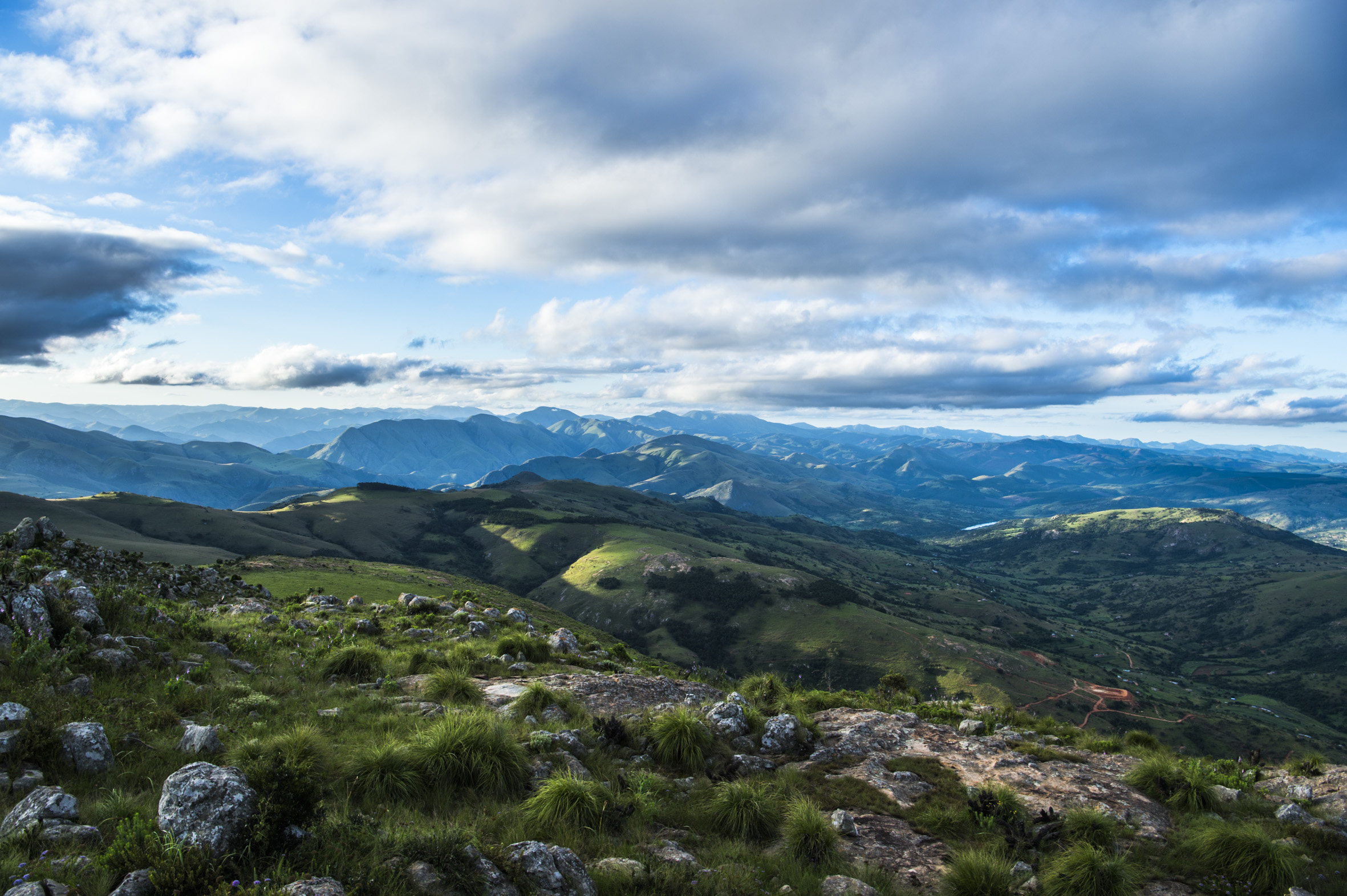 Space: Smiles Makama retired to these hills while he searched for his musical voice. In a secluded hut he collected traditional instruments and, at night, came up with ideas for new instruments and songs. Photo: Delwyn Verasamy
"There was one time when I felt that I had moved 50 years forward; everyone else was 50 years behind. I went deep into the beginnings of the world … I felt like I was an alien musician … things were not normal any more … it was definitely not business as usual."
Up in the hills he began collecting African musical instruments, which, he said, were never stolen, because it's regarded as bad luck.
"Coca-Cola then hired me to record some music for their adverts, and I bought a radio with the money, and that was when the trouble started, because thieves started coming to steal my stuff."
Makama's first album was called Zanka Magic, recorded by Lloyd Ross of Shifty Music in 1983, with the band Calabash Zanka. Thirty-five years later, there are very few copies of this album left, so it hasn't appeared on YouTube yet, though the determined Smit says he has finally managed to track a vinyl version down.
The album cover included the colours of the ANC flag — "it was the first ANC album!" — which drew the attention of the apartheid police, and Makama, who also had a white girlfriend, became a hunted man, forced to sneak in and out of his own country through small border posts that had less security.
During this time he worked with UK keyboardist Manfred Mann, who, he said, "stuffed my pockets with money" when he featured on Mann's album Plains Music. Despite the fact that Mann worked with only the best South African musicians, Makama said they found his music "extremely complicated … but we did our best to enhance it … it was a great honour to work with him".
He then formed the marimba band Azumah, which performed at Nelson Mandela's release in 1990. Makama and his band stayed for a time in a building at the University of the Witwatersrand, but the Jewish professor who wanted to manage them "wasn't sure that the sounds they were making were actually music, so he called all the other professors and they listened and told him, 'this is good, this is excellent' … but he didn't believe us, he thought we were mad, playing all these strange instruments …"
Azumah was the "Johannesburg version" of Amampondo, which was based in Cape Town, so "when they needed a group like this in Johannesburg, they didn't need to fetch Amampondo, they would use Azumah". David Marks of 3rd Ear Music recorded the band, and the album Long Time Ago was released by Tusk Music in 1991.
Azumah was then incorporated into The Warrior, a theatrical performance driven by the Sikulu Company, which toured internationally.
When the production reached Amsterdam, Makama elected to stay there in a self-imposed exile. He started busking at a farmers' market, which, he says "opened a lot of doors for me. I was seen, I was exposed." He enthralled producer Bert Barten, who put Makama on the album Abasebenzi in 1994, an album of work songs commissioned by a fair trade label.
Two years later Barten recorded The Source, regarded by many (including me) as being Makama's best album. Makama incorporates the kora and mbira, giving it a truly pan-African sound, and could easily be mistaken as being the work of a Senegalese or Malian musician. Finding his feet with the kora, "one of the hardest instruments to play", was a long process that involved listening to masters such as Toumani Diabaté, and working from the reactions of the audiences who gathered while he busked.
Makama says he "covered up his ignorance" of how to play the kora on The Source by "singing over it" and "playing it like a guitar".
"The Mande people hit me really hard, their melodies, they way they sing. I lived with them in Amsterdam, and I bought my first kora from a Mande. I listened to a lot of Mande music, and when I busked in the park, if a Mande came to listen to me, I would ask him to play, and watch him."
But living in a foreign land was not all roses. "I was starved … I was alone … it's better if you have a small group," observes Makama. "When I make music here [in eSwatini], we speak the same language, we walk the same land, and we've got enough time for each other. In Europe I found that most African artists had no time; most guys were working as security guards or in supermarkets and could only make music part-time … a guy would come play music, and he would already be in his security guard uniform, and then he would pop on his bicycle, and off he would go … it was very frustrating … and it wasted my time … so I did a lot of work alone."
Asked to label his genre, Makama is forced to ponder, but eventually comes up with the name deep African science. "I am using my deepest experience to play this instrument [the smilerphone]. It was built at night, and I used to only play it at night. I used to play it on the mountain, when the moon was shining; I had my own thing going on in my head. It's night music; there are spirits happening with the music."
Smit and I exchange glances and opinions. Should this music be called "Swazi science" or "sci-Swati"? I've been trying to discover what genre is unique to eSwatini. Lesotho has famo, Mozambique has marrabenta. What is Swazi music? There's a Music in Africa piece that composer Cara Stacey wrote about the traditional music here, but even that doesn't name a Swazi genre.
Regarding his influences, Makama says they come from many sources. "One of my greatest influences was [ethnomusicologist] Andrew Tracey; they are real Africans, that family. He was one of my gurus — not all of my influences are Africans. He played at the venue that became House on Fire many years before Bushfire started (Thorne says the gig took place on the back of tractor trailer). I was asked to play before him; when I went there and heard his music, I almost killed myself!
"These white people were playing African music better than I had ever seen; they really turned me on, inspired me. Andrew [Tracey] encouraged me to take traditional African music seriously."
Perhaps Makama's myriad influences — the Hindu religion, Mande musicians, Jewish professors, South African producers — that played a part in the creation of his music are akin to eSwatini itself, which, being tiny, has always been shaped in many ways by foreigners. At Bushfire festivals I've met people and musicians from all over the globe, who work in the country or visit periodically.
How will he make his comeback happen? Makama says he "doesn't really know" what's happening in eSwatini any more. He stresses several times that he wants to work in South Africa again. There's the size limitation of eSwatini: the only real platform is Bushfire and Makama says his music is not designed for the "big stage". He wants to re-establish contact with his old crew: Marks, Ross and Tracey, and he wants to bring the smilerphone with him.
"I have this big emptiness inside me, this burning … I want to do an album that comes from Swaziland, and bring it to South Africa. I'd like to work with groups that already exist there. I want to keep it as raw as possible."
On the way back to South Africa Smit takes us up to a lodge on top of a mountain, which looks out over one of the biggest vistas I've ever seen. It's literally a kilometre above the valley. I walk away and sit and listen. When my head stops talking, I hear occasional soft strains of music drifting up from the huts on the hillside below. A cowherd whistles; a cow bellows in return. I try to imagine what went through Smiles Makama's head when he sat alone with his instruments, in his ruin of a hut, as the moon rose slowly over the mountains.