Ahmed Abu Artema hates fences. A barbed-wire fence kept him from his mother for 19 years.
There is a universal loathing of fences among Palestinians. In Gaza, there is a common Arabic phrase used to refer to life in the Strip — min al-silik ila al-silik (from the fence to the fence), referring to being trapped by the Israeli fence in the east, the Mediterranean Sea in the west, which is guarded by Israeli warships, and the Rafah border with Egypt in the south.
So it is not surprising, then, that the catalyst for the Great Return March was a fence.
In December 2017, Abu Artema was walking along the barbed-wire fence that separates Gaza from Israel when he noticed birds flying over what he and two million others in Gaza could not cross. It was an image that affected him greatly.
Later that day, he wrote on Facebook: "In the prison that is Gaza, the opportunities to visit our occupied land are rare. To see beyond the fence is an achievement. What if one of us dreamed we were a bird and soared over these cursed fences? Is it not a person's right to move as freely as a bird?"
A month later he wrote another post on Facebook, expressing similar sentiments, ending with the hashtag #GreatReturnMarch. Young people in Gaza reacted to the post immediately, sharing it and adding their own ideas. Within a week, Abu Artema and several others had established a youth committee and had met local institutions and political parties.
"We wanted to offer all sectors of society in Gaza the opportunity to be involved," he says.
The end result was the Great Return March — Friday protests along the Gaza-Israel fence for the past year, which have drawn attention to the Palestinian appeal for the right of return and Israel's 12-year-long land, sea and air blockade of the Gaza Strip, which has strangled the economy and its predominantly young population.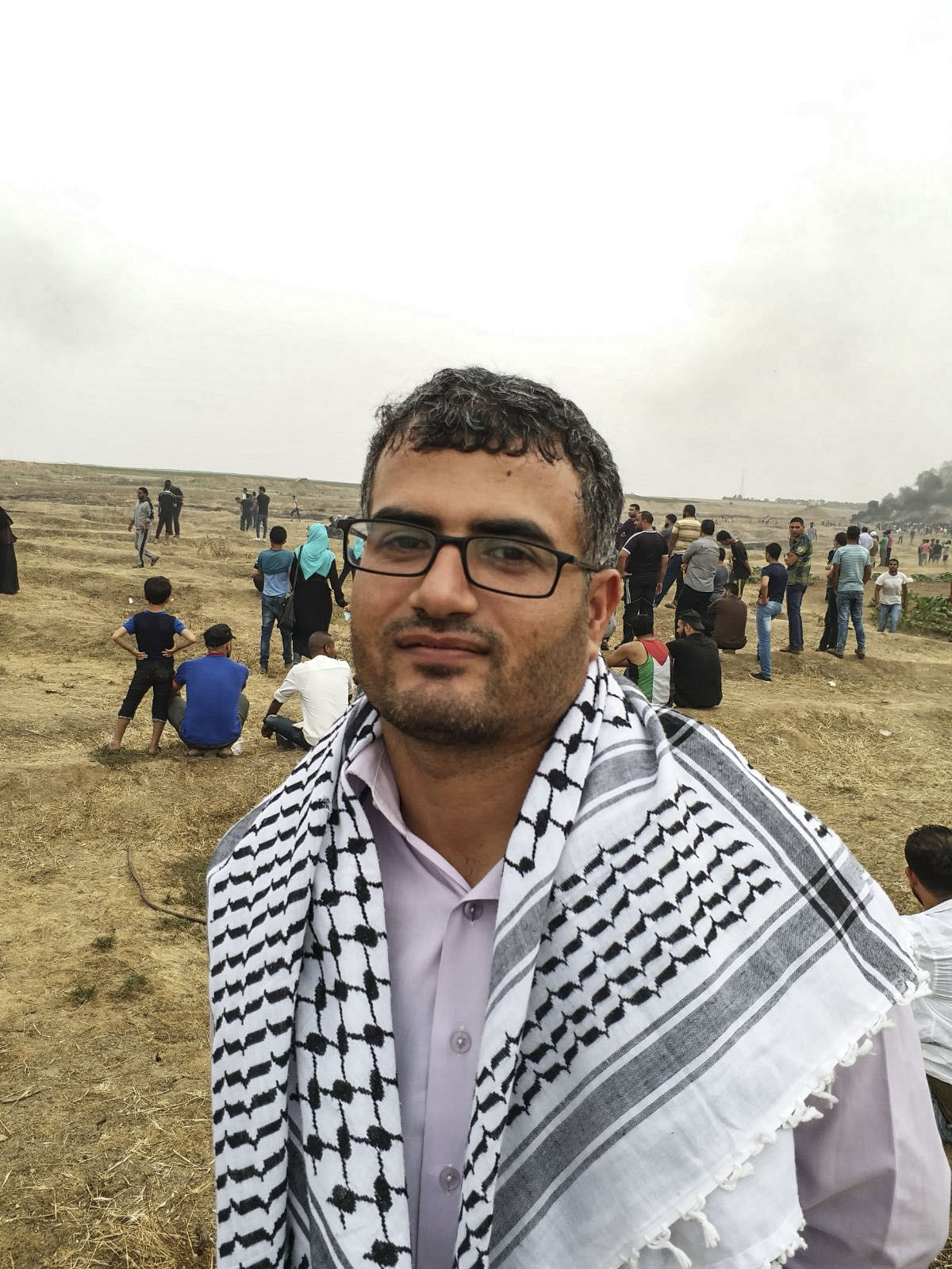 Ahmed Abu Artema started the Great Return March movement, which holds peaceful protests against the fences. (Supplied)
Camps were set up 700m from Israel's border fence, beyond the Israeli army's unilaterally imposed buffer zone. Many of the protests took on a carnival-like appearance, with people of all ages and even traditional dabke dancers attending.
But they were met with violence. More than 18 000 protesters have been injured so far, many of them seriously, and nearly 300 killed by Israeli forces — including children, journalists and the disabled. A recently released United Nations Human Rights Council report found that Israeli soldiers may have committed war crimes by intentionally shooting unarmed Palestinian protestors engaged in peaceful protest.
"Israel reacted even more brutally than I expected, and I have lived through three of its wars," says Abu Artema. He battles to deal with the number of casualties, especially when he visits the injured or families of the slain.
"The occupation plans to disable a whole generation of Palestinians," he says, referring to explosive bullets that have shattered bones, resulting in a high number of amputations.
"We talk about 18 000 as if it's just a number. But when you meet these people, you see that everyone has a story. There are young men who have lost their dreams because of injuries, lost their futures. It's terrifying."
Meeting the mother of 21-year-old volunteer paramedic Razan al-Najjar, who was shot and killed as she tended to a wounded protester, was particularly painful for the father of three. "They've robbed me of my joy," Razan's grieving mother told Abu Artema.
"When you're the owner of an idea or an initiative, sometimes you feel personally responsible," he admits.
But, despite the devastating death toll, Abu Artema doesn't regret it.
"I feel gratitude, love and pride towards these people who have been injured. I believe we must continue. If we don't, then we betray the ideals for which these people have made sacrifices."
Despite claims from Israel that the protests are violent, Abu Artema maintains a commitment to peaceful protest.
"We discourage the burning of Israeli flags and the attachment of Molotov cocktails to kites. We have also tried to discourage protesters from attempting to cross into Israel."
These are signs of the desperation that fuels the youth of Gaza, he says. "They were born, and live, under siege. They have never seen the world beyond the fences. They don't have opportunities, a future or hope."
Abu Artema also questions why the entire movement has been stigmatised. "By virtue of a few youth throwing rocks or burning tyres, should the march lose its legitimacy?"
He also rejects claims that the march is a Hamas initiative.
"We are a group of about 20 organisers. Most of us, including myself, are leftists. All the political parties in Palestine are behind us and supporting us, and Hamas, being an elected party, is one of those parties." The Great Return March is "Palestinian-driven, not Hamas-driven", he says.
As the march reaches it first anniversary, Abu Artema maintains that Palestinians in Gaza are in it for the long haul.
"Popular protests accumulate their success over time, as you know too well," he says, hinting at the South African anti-apartheid boycott movement.
"We must besiege the siege," he declares, quoting the iconic Palestinian poet Mahmoud Darwish.
Currently on a speaking tour in the United States, he has been calling for an arms embargo to be imposed on Israel, a move that South Africa and 22 other countries supported at a United Nations Human Rights Council meeting in Geneva last week.
"We will keep knocking at the doors of the global community until we see concrete steps to end the blockade of Gaza."
The fences, he says, will fall.
Suraya Dadoo is an independent writer