It is a few minutes past 9pm on Saturday. Beira is a ghost town, a shadow of its former self. The streets are deserted and darkened; some are blocked by fallen trees. There are no police in sight.
On Avenida Eduardo Mondlane, which leads to the elegant colonial-era palace of the provincial governor, one building is brightly lit, with dozens of luxury cars parked outside. The hum of generators disturbs the still night.
This is Solange, one of the few restaurants that remained open after the arrival of Cyclone Idai on March 14, and it is doing a roaring trade in steak, tiger prawns and imported Portuguese wine.
In the wake of the disaster, some dishes now go for 6 000 meticais (R1 370).
But the restaurant is not feeding any of the hundreds of thousands of people affected by the cyclone, which left at least 446 dead in Mozambique and caused utter devastation across parts of that country, Zimbabwe and Malawi. Instead, its patrons are the ministers and senior government officials who have flocked into Beira to assess the damage.
By day, they tour Buzi district, the worst affected, by helicopter, observing the floods that have submerged entire villages and the people perched in trees waiting for a rescue that may never come. By night, they feast at Solange. It is their time to eat.
Earlier on that same day, on Avenida de Moçambique, which runs through the poorer, high-density suburb of Munhava, men and women are fishing handfuls of rice from the flood waters. The water is up to their knees. They make small mounds of congealing rice on the raised pavement, letting it dry in the sunlight.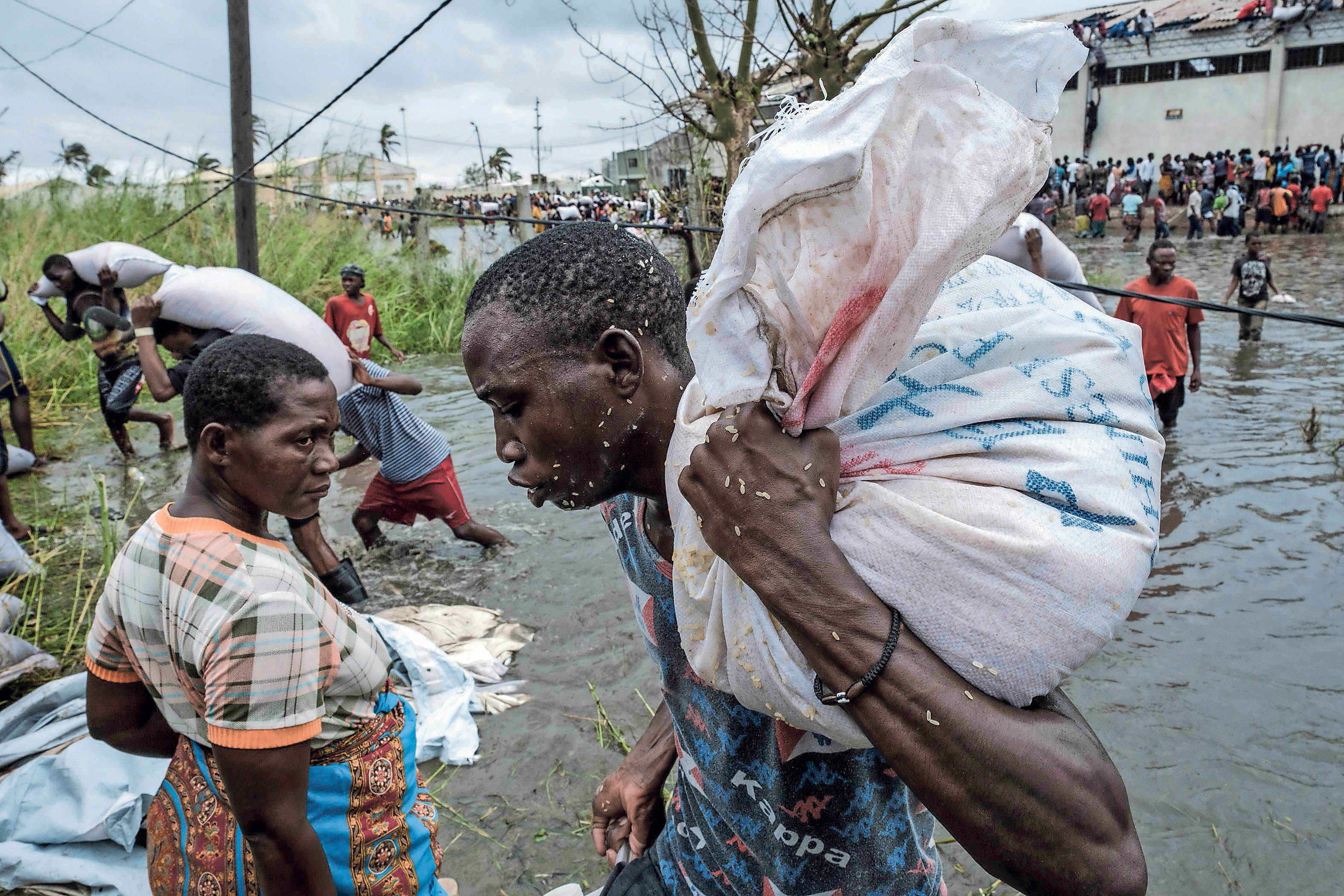 Hunger rules: People take part in looting sacks of Chinese rice from a warehouse which is surrounded by water. Some are so hungry they dig handfuls of wet rice from the potentially disease-infested water. Photo: Yasuyoshi Chiba/AFP/Getty Images
The rice comes from a nearby rice warehouse, which was stripped bare the day before by hundreds of desperately hungry people looking for sustenance wherever they could find it. Some of the bags fell apart in the scramble, their contents falling into the water.
For these fishermen of rotting rice, this meal may be their first in four days. It may be their salvation, keeping them alive until help arrives. If help arrives.
One of them is 31-year-old Dikson Mafigo. "I know that rice can create disease, but I have to choose between starvation or dying of disease after eating," he said.
Further along the avenida, just past the bridge that gives access to Beira airport, there are nearly a thousand people crowded outside the entrances of the warehouses that line the road. They are looking for a way to break in to look for food to feed their families. Nervous police guard the properties. Most people here have not had a decent meal since the Thursday night two weeks ago when the cyclone made landfall.
Almost everyone here has lost at least one family member to Cyclone Idai.
Mariano Luis (28) has been outside the Export Trading Group warehouse door since 4am. It is now mid-afternoon. His house in Bairro 15 collapsed when the wind and the rains came. He made it out of the wreckage alive, but he is not sure what happened to his 15-year-old sister, Anita. Her whereabouts are still unknown.
"I have not had time to look for my sister yet because we do not have the strength. I asked my wife to go look and I'm here because my family needs food. That's why I'm here. They said they had a warehouse with food and I came to see."
He is confident that the crowd will eventually be able to force its way into the warehouse.
Cecilia, a young woman carrying her slippers in her hands, is ready to flee if the police approach.
Her father was the breadwinner in her family but he died in hospital from injuries sustained during the storm. He had ventured outside to see what was happening and was hit on the head by a plate that had been picked up by the wind. Now she is sleeping in a church because she is homeless.
"I heard that there is food here and a friend brought me. We have not had food since [the] Thursday that our house collapsed and everything got wet."
John Felisberto lost his wife and son, buried by a wall of their house when it collapsed. They were buried without dignity, their bodies carted in a wheelchair usually used to carry garbage. He and his daughter have been eating only sugar cane since the cyclone struck. He has come because he feels he has to do something.
"We have nothing and I cannot stay at home watching a girl who lost her mother and sister starving," he said.
Later that night, in Solange, a Cabinet minister asks the waiter: "Can I see the wine list?"
Matias Guente is the executive editor of Canal de Moçambique and Canalmoz