'For me, it was jamming and painting with the other writers," says graffiti writer Mr Ëksê, summing up the highlights of participating in the two-week Ubuhle Bendalo urban art residency.
"It [the jamming] is something that is missing [nowadays], I guess because we all have familiar styles. So it is not as exciting to see what you know. A fresh style equals inspiration and motivation, new ways of tackling the same thing. I'm always interested in the speed of an artist … how fast they can think is how fast they can paint."
The residency and international exchange programme, which took place in Braamfontein, Soweto and Port Elizabeth in the second half of March, brought French graffiti writers Doudou'Style and Sitou Matthia, and South African artists such as Breeze Yoko and Mr Ëksê, together. It also hosted sketching battles (a cornerstone of graffiti writing), workshops targeted at aspiring women artists and other community outreach programmes as far afield as New Brighton, a township near Port Elizabeth, where Doudou'Style, Matthia and Yoko painted a popular restaurant and cultural hub at 190 Masangwana Street.
"For us, it was a no-brainer to paint in that particular area," says Buntu Fihla who, through his contacts with the Nelson Mandela Bay Development Agency, helped facilitate that leg of the exchange.
"190 Masangwana Street is run by Lipato Shogole, who is a fashion designer, and his partner Nabo Binase, who opened a food centre and clothing store in their home. So, many creatives go there," says Fihla. "Umle performed there not long ago. So it made sense that they go to a place with a strong creative culture and be with amazing hosts who made food while they finished painting the mural. It will have a good impact even on the entrepreneurs, who can now say they have an artwork painted by international artists in their property."
Fihla understands the value of art in an impoverished community. His organisation, Dlala Indima, invested years into rehabilitating dilapidated buildings in Phakamisa, King William's Town, turning drug dens into colourful spaces where children could gather after school to do homework. In retrospect, Fihla says, they had gone about their initiatives naively because, once refurbished, the owners would claim their buildings back and rent them out as spaza shops.
Fihla's comments illustrate what Mr Ëksê says about graffiti's subversion of the broken windows theory — a theory which claims that graffiti (among other things) contributes to urban decay, rather than providing a salve to it.
As subway train surfaces became more tricky to paint in New York City (regarded as the birthplace of modern graffiti), writers took to the neighbourhoods, "especially areas that were like dead, especially with broken glasses and broken windows. That's a theory that I also kind of took up [subversively] because painting trains was a risk, you know. We got arrested too many times and at the same time we, myself and Dice [who runs the Soweto-based cultural hub Trackside], were doing the [clothing] brand, you know. So it just didn't add up."
Instead of going "all city", a term that refers to the city-wide visibility of graffiti artists, Mr Ëksê's priorities — while also engaging in commercial work for survival — are more "all ghetto", he explains to me from the stoep of his Orlando West home one evening.
"Every time I painted, the laaities would ask me, like, 'What does Ëksê mean?', I realised, to be more impactful, we had to add more of the graphics, more of the art. So how do we bring that in? So it became less of the letters because I had that already, having a drop shadow, having an outline, having a decoration, knowing how to use slices and stars … being able to use that and make your own style, I had that. That was just like a New York influence, but then the thing was being able to move that into my own environment, how to represent this in a kasi flavour."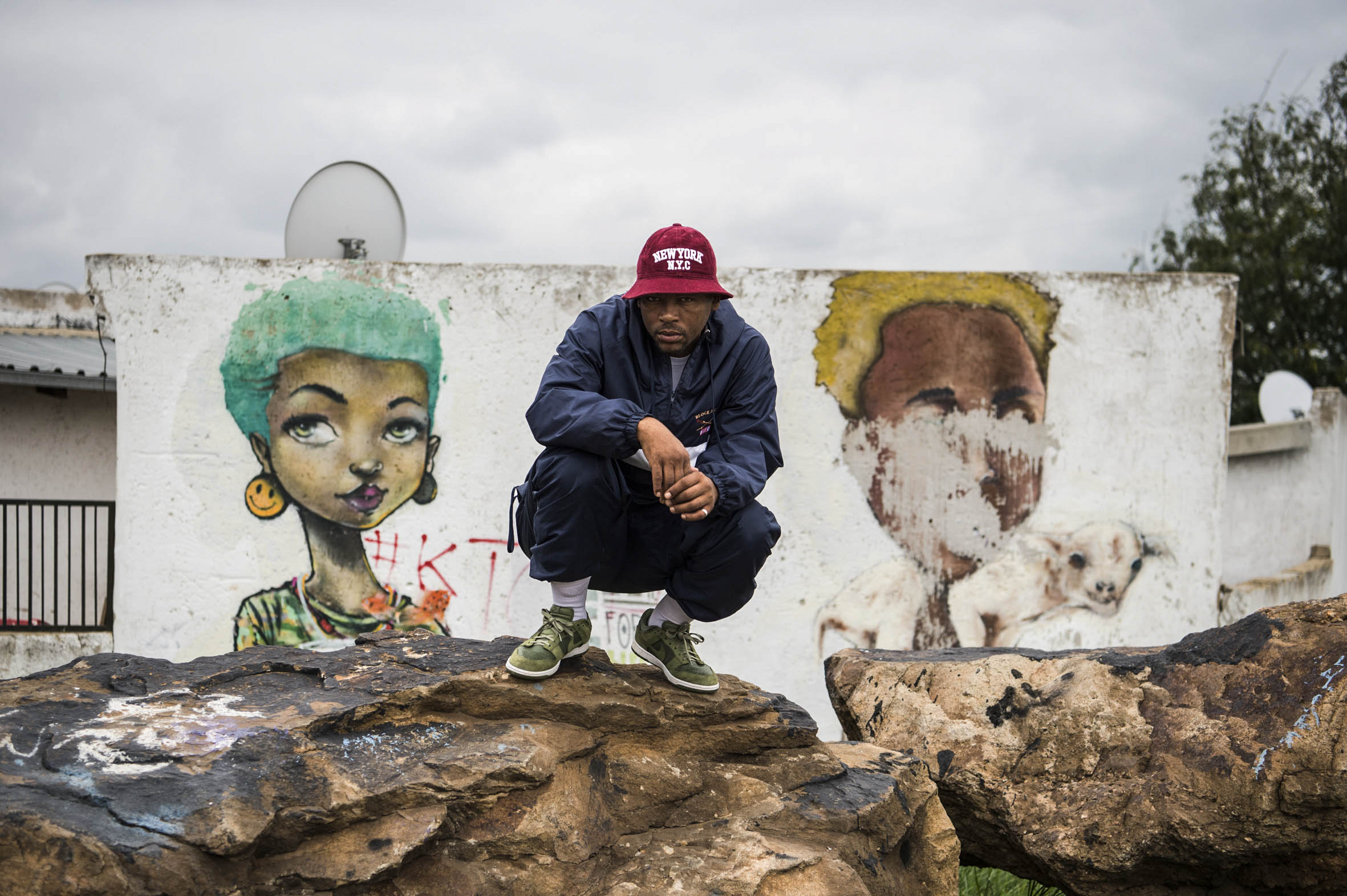 Walls that talk: Soweto-based graffiti writer Mr Ëksê (above) says neighbourhood walls should reflect the young people who will see them. (Delwyn Verasamy)
He refers to his current style as an infusion. "If you see the style now," he says, "it is a combination of everything. You'd find that the dress code [of the characters] is influenced by hip-hop but the theme has a '76 kind of connotation to it."
Characters are still a huge element, Mr Ëksê says, another throwback to the foundations of graffiti.
"A piece has to have characters in it, no matter how you put your character up," he says. "Even on the trains, there was no piece that didn't have a character." For him, the neighbourhood wall should reflect "ghetto youth, you know. If walls are mirror reflections, they should be mirror reflections of those that see it or live around there … Graffiti is one job that is, literally, you start it for a pro bono reason. It's just to help you push this community. It's a street exhibition that doesn't have any patrons. You're just making the streets beautiful and that's the mandate, regardless of whether you get the money or you don't."
For now, Mr Ëksê is also focusing on ways of cutting out the middleman on the competitive corporate side of things where jobs are often dispensed through agencies and handed out to street artists, as opposed to graffiti writers. There is a difference.
"Graf' is rooted in letter form, how to take a form and add your flavour to it," he explains. "If you paint a car, how do you add your flavour to it? It's all those elements based from the design of the letter. If you don't have a letter design, you are not a graffiti artist. If you are a street artist, you don't have the lettering. Even with characters, there will be a distinction with how you bring your characters [to life], because when we started, it was not about depicting the character as he is."