The billboard outside Guinea's National Assembly building reads: "I am young. Yes to a referendum. Yes to a new Constitution. We support you for life."
Similar signs have popped up in other parts of the country. The publicity campaign is in support of a constitutional referendum to scrap term limits, which would allow President Alpha Condé to run for a third or even fourth term in office.
Third-termism, the catch-all phrase for presidents looking to extend their stay in power beyond constitutionally mandated limits, has well and truly arrived in Guinea.
Guinea's Constitution, adopted just nine years ago, limits the president to two five-year terms. Condé's second term ends in 2020, but he has repeatedly hinted that he wants a longer stint in the presidential palace.
When quizzed on the subject, he has refused to rule out a third term, saying his decision would be based on the "will of the people".
Condé is not the first African president to invoke popular support to stay in power beyond the set period. But it is not apparent that this popular support exists.
Just last week, dozens of young people took to the streets of Conakry chanting, "Non au troisième mandat! (No to the third term!)". In March another group gate-crashed a ruling party meeting and held up signs opposing a third term.
Opposition parties, civil society groups and trade unions have formed the National Front for the Defence of the Constitution, a political platform designed to prevent any tinkering with the Constitution. Nadia Nahman, a spokesperson for the opposition Union of Democratic Forces of Guinea party, said the platform aims to use "every means of pressure to ensure that the government renounces this suicidal project".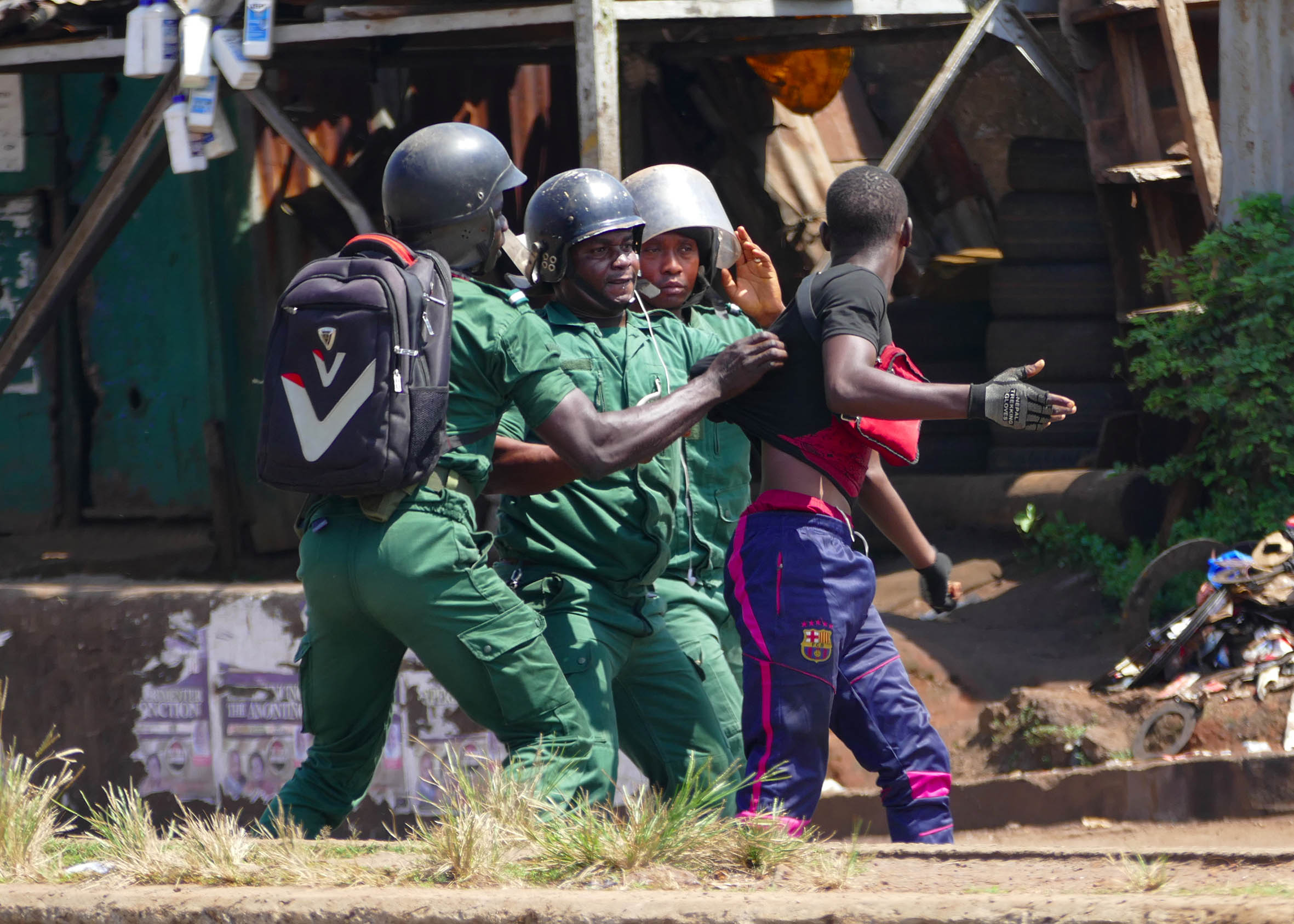 Opposition parties, civil society groups and trade unions say they will use 'every means of pressure' to ensure that the changes to the Constitution do not take place. Public protests, however, have been prohibted by the government. (Cellou Binani/AFP)
"There is no legal basis for this project of a new Constitution," she said. "The president has twice sworn an oath to respect and enforce the Constitution."
The courts may prove to be another obstacle to any proposed constitutional amendments, although there are concerns that the independence of the judiciary has already been compromised. In October last year, the outspoken head of the Constitutional Court, Kéléfa Sall, was dismissed. Sall had warned Condé against "slipping towards roads that are prohibited in democracy and good governance".
Although there has been no official confirmation that a referendum will take place, local journalists say it is an open secret. "The president has not announced anything officially but preparations are under way. We are told a special team is already working on it," said Abdrahmane Diallo, the founder of media house Guinee360.
Diallo said the indefinite delay of parliamentary elections — which were to have been held in February — plays to the president's advantage. "All deputies have returned to Parliament and [it is] these same deputies who will vote in support of holding a referendum," he said.
"President Condé did a lot for the country [but] I fear that if it does get passed then it may lead to the 2020 elections being delayed as was the case in the DRC [Democratic Republic of the Congo]."
In the DRC, efforts by Joseph Kabila to remain president resulted in the election being delayed by two years and precipitated widespread unrest.
Leila Keita, a teacher in Conakry, voted for Condé in the 2015 elections, but she does not want him to stick around forever. "He did what he came to do, many things have got better in Guinea, but it's time for someone else to take over. More strikes are taking place in the country now and we had violence following last year's local elections. I fear we may go backwards if he sticks around."
Condé has changed his tune on the subject of third terms. Prior to assuming the presidency, he made his name as a fierce opponent of presidents who overstayed their welcome. In 1970, he was sentenced to death in absentia for his role in leading the opposition against dictator Sékou Touré. He twice challenged military leader Lansana Conté in elections, and spent two years in prison (from 1998 to 2000) as a result of his political activism.
In 2001, when Conté held a referendum to abolish term and age limits on the presidency, Condé was at the forefront of the resistance to the changes. The general succeeded in abolishing term limits, but they were reimposed in the 2010 Constitution.
In the same year and in his third bid for the presidency, Condé finally won, taking power in early 2011. His tenure has so far been a mixed bag. Although initially praised for his attempts to fight corruption — he even asked the billionaire investor George Soros for help — his administration has subsequently been implicated in multiple corruption scandals. He has also struggled to deliver substantive economic growth, and the country has been rocked by repeated public sector strikes.
As Condé's popularity has waned, so he has increasingly relied on his security services to maintain order. Most seriously, 104 people were killed during a wave of unrest that followed municipal elections in November last year. The results were disputed by the opposition.
Public protests have now been prohibited. Opposition leaders claim that military posts have been established across Conakry to enforce this prohibition, and that people opposing the president's third term have been arrested and intimidated.
Zaynab Barry was among the women who participated in last year's protests. "Marching with us were some of the mothers of the young men that were killed. I have heard President Condé be referred to as 'Alpha the Assassin', and there are moments where I think he has earned this name."
Barry thinks that despite the resistance, Condé's plan to stay in power is likely to succeed — after all, the same plan has worked for Uganda's Yoweri Museveni, Burundi's Pierre Nkurunziza, Cameroon's Paul Biya, Rwanda's Paul Kagame, Djibouti's Ismail Omar Guelleh, and the Republic of Congo's Denis Sassou Nguesso.
But Algeria's Abdelaziz Bouteflika resigned on April 2 after a 20-year reign and Sudan's Omar al-Bashir's 30-year reign came to an end on April 11 when he was ousted by the military after ongoing public protests.
"The referendum will happen, as will his third term. Unfortunately, all it will do is bring more instability. When he came into office we had such high hopes, now it seems as if the system managed to corrupt him. This country with its resources is like a money-making machine, why would he leave that?" Barry asked.
While Guinea waits to see whether the referendum and a third term will go ahead, Condé has received some external support — although this is hardly likely to burnish his democratic credentials. In January, the presidency released a copy of a speech given by Russia's ambassador, Alexander Bregadze, in which he was quoted as saying: "Constitutions are not Bibles or Qur'ans, they are there to adapt to reality, not the other way round."
Samira Sawlani is a writer and analyst focused on East Africa, with an eye on the rest of the continent