In the calm before the storm, for the briefest and most precious of moments, he retreated from his very public world. The clamour, adulation and physical confrontation all awaited him, like the bullfighter and his prey. But, within these four walls, it was different.
The captain of the New Zealand All Blacks is public property in his homeland. His life is theirs, not his own. His interests are dissected with microscopic scrutiny. But here, hidden away from the inquiring eyes of his audience and the media's prying lenses, he enacted his private ritual one last time.
Walking to his corner of the dressing room, he reached his peg and unzipped his kit bag. There on top lay the Valhalla for every New Zealand male, the coveted All Blacks jersey. It was and remains a prize so special that it stands alongside the most hallowed, legendary sporting objects the world has known. Like the Masters Green Jacket at Augusta National.
Except that this was black. Always had been, always will be. If symbolism becomes reality in the sporting arena, then this simple rugby jersey, idolised by New Zealanders around the world, takes on a different aura. Universally revered, the All Blacks are arguably the most dominant team in sporting history. At once, the famed jersey inspires a deep respect. Fear, too, in some cases.
It had been his life's ambition. In his youthful naivety, he had believed that to wear this fabled garment just once would calm the cravings of ambition that had fuelled his whole childhood. Now, in private reflection, he smiled at his own flawed judgement; he had found the experience so addictive that, far from retreating, the cravings for it had only increased over time.
Thus he stood deep in the bowels of England's Twickenham Stadium, facing the wall; a man in his own space, his own time. The battle ahead was the 2015 Rugby World Cup Final against his nation's foes, Australia, which the All Blacks would win 34–17, making them the first ever team to retain the Webb Ellis Cup. It would be physically and mentally enervating. But that came with the territory. The two nations were like some lovers; unable to live together, unable to be apart for long.
But before he heard the explosion of sound that would greet the combatants on their field of battle, there was this one familiar ritual.
Taking the coveted jersey in both hands and lifting it from the bag with the delicacy of a father holding a newborn infant, he leaned his face forward and buried it in the jersey. Yet this was more than just a personal and indulgent emotional outpouring. No cathartic exercise, given the uniqueness of his circumstances.
For the 148th and final time, Richie McCaw momentarily put aside the demands of his teammates. Briefly, he retreated into his own private domain.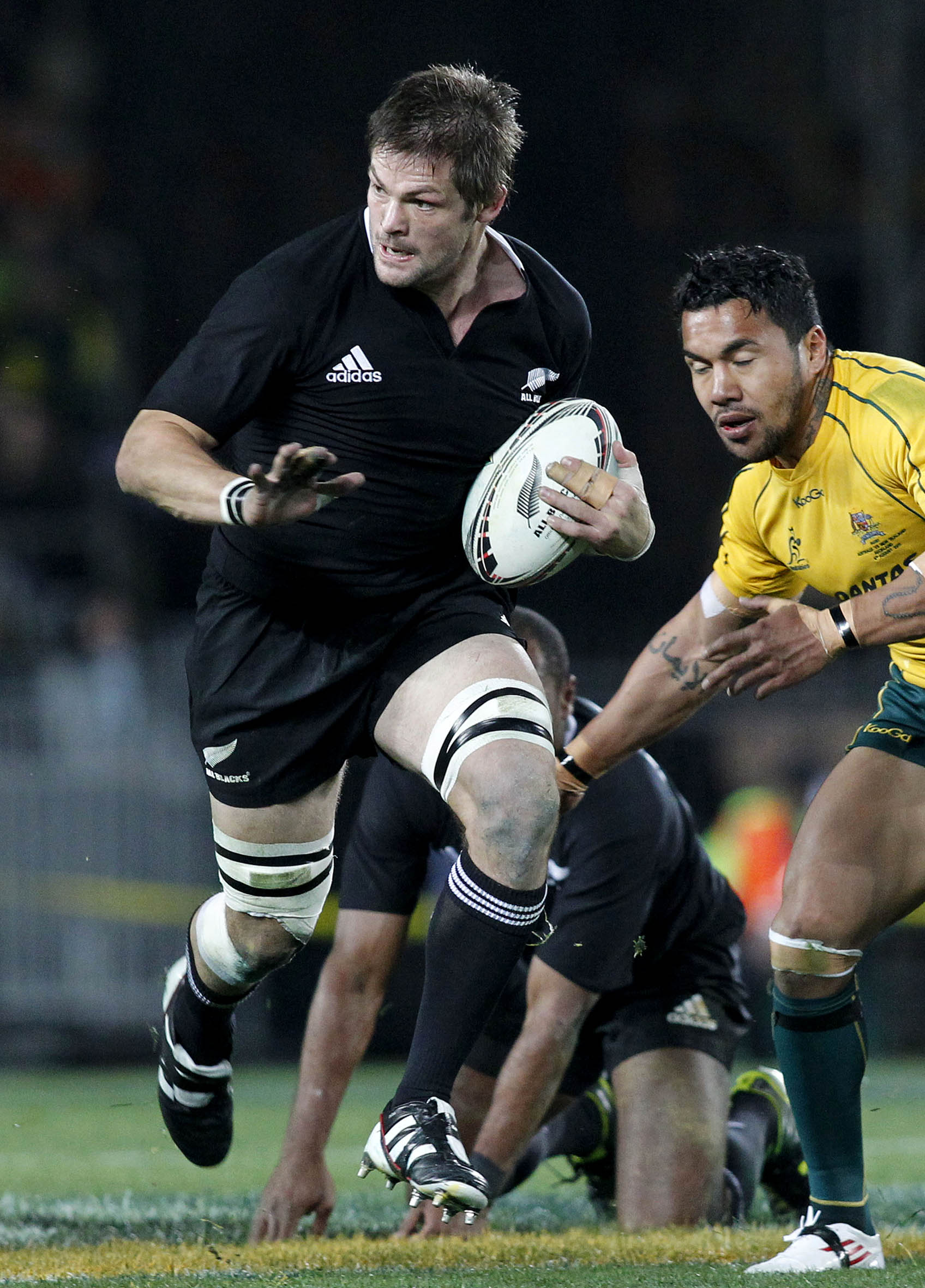 Richie McCaw, former All Blacks captain. (Nigel Marple/Reuters)
In those moments, he saw again the child who had first trodden a rugby field. Not one of this importance, of course; rather, a simple pitch in the small community of Kurow, situated in the Waitaki Valley in New Zealand's beautiful South Island, between the Waitaki River and the St Mary's mountain range.
He turned back the years in his mind's eye to that child's eager participation in any activity associated with a rugby ball. There he was, just seven years of age. Knees muddied as with all little boys, wearing a jersey and shorts that were a tad too big, and socks flapping at his ankles. The child was intently watching from the touchline a game played by the club's senior men. How that boy longed to be out there with them.
He smiled to himself as he recalled the boy chasing a wayward kick over the line, racing to be first to get hands on the sacred piece of leather and carry it back to the field of play. He thought of his impatience finally to get onto the field and play a proper match.
He recalled, too, the lessons of his first mentor, Barney McCone. He taught both his own son and one of his boy's closest friends, Richard McCaw junior, son of a farmer in a nearby valley, the basics of this game that had been a part of his nation's identity from its earliest inception in the 1870s.
Now, he pondered silently all that work, the prodigious physical exertion over so many years, the honest striving to master the basics of this game and acquire the skills that would help take him to the summit of world rugby. He saw again the long, hard road he had walked, its twists, turns and climbs. He remembered the sweat, blood and the often-crushing physical effort that the journey had demanded.
In those private moments, he saw, too, the boy become a man, the hopeful child protégé first to wear an All Blacks jersey and later earn the ultimate honour. Captaincy of New Zealand's rugby team.
As his face stayed hidden in the jersey, still secreted away from the outside world, he reminded himself that this was what he had always dreamt of doing. He sought these moments of reflection because he wanted to ward off, as if it were a strong, jolting hand, any element of familiarity. Even today, on the occasion of his 148th and final cap.
"By doing this, it always put a bit of perspective around it. Because sometimes you get there, you just go and play. I took the time to think before every match, 'This is where I want to be, so enjoy it'.
"It filled my head. And the thought 'Don't take it for granted' was strong in my mind. It was just my little thing. I never wanted to roll into a game, just play it and then think afterwards, 'You know what, I didn't really give that the performance or the effort that was needed'.
"So I did that before every match just to make sure. It was a wee reminder to me about how privileged I was to wear that jersey and never take it for granted."
The importance of the ritual was not lost on his teammates. They understood his need for time and space.
Of course, it was his life's work. For sure, in retirement, life would be very different. But always, whatever the time or place, rugby would attempt to drag him back, like the enthusiastic youngster demanding just one more kickabout with his dad on the local field, as the light faded and the winter gloaming descended.
In the years ahead, he would come to ponder these times, marvel at their memory and give thanks for his pre-eminence at this game. But he would celebrate chiefly, not his own achievements on the rugby fields of the world, but the enduring legacy of the jersey he had worn with such distinction and pride. To him, the greater glory was to his nation. New Zealand.
His considered opinion was that he was the fortunate one, not the country's rugby team that had embraced him so warmly for so long.
Like coach Steve Hansen, the man who masterminded New Zealand's triumph at that 2015 Rugby World Cup and who will lead their bid to achieve sporting immortality when they attempt to win the 2019 tournament in Japan, McCaw used a single word to describe his association with the fabled jersey. Privilege.
It is a word as familiar among New Zealand rugby men as a muddy field on a winter's day in Dunedin. It is the jersey, not the man that has earned pre-eminence. It is revered at every turn in New Zealand society, and indeed worldwide. From Canterbury farmer to Bluff oyster fisherman; from Wellington bureaucrat to Auckland entrepreneur, men and women all over the country figuratively doff their caps in respect to this jersey.
Heads are bowed with an almost religious zeal at sighting the icon. Those who wear it are respected and categorised as special beings for their brush with the sacred garment.
There are myriad reasons for this. To understand them, you must travel deep into the soul of New Zealand, a country that, in the words of one citizen, is "a small country no one has ever heard of, down at the bottom of the world". In 2017 I spent almost five months travelling around the country, talking not just to men and women who play or follow their nation's No 1 sport, but also to people from all corners of Kiwi society. Were there particular reasons for New Zealand's supremacy in the game? Indeed, how had a nation of just 4.8-million people conquered an entire world sport? What were the critical factors that enabled the Kiwis to achieve a mastery of the game that has resisted all but the occasional setback?
With the help of rugby people both in New Zealand and around the world, this story offers a uniquely revealing insight into what has gone into making New Zealand the rugby world champions.
We know this much. Stats and facts litter the rugby fields of New Zealand like old paper blown across a ground. But one statement is incontestable. When you play New Zealand at rugby, you play a nation, not a team.
This is an edited extract from the book The Jersey: The All Blacks: The Secrets Behind the World's Most Successful Team by Peter Bills (PanMacmillan)