Sunday Service is a sonic gathering led by Kanye West. The so-called services are a blend of gospel take on secular music as well as West's renditions of popular gospel music using a live band and choral arrangements.
The secular songs are taken from various Kanye albums, some from Yeezy's stablemates Kid Cudi and Teyana Taylor as well as his Chicago homeboy, Chance the Rapper. The gospel offerings range from the upbeat This is the Day by Fred Hammond, West's Jesus Walks and Ultralight Beam as well as a skit titled Prayer from DMX's 1998 album It's Dark and Hell is Hot.
Sunday Service mimics the scenes of gospel choirs seen in many a church-related, African-American movie such as First Sunday, Diary of a Mad Black Woman, Kingdom Come and The Fighting Temptations.
There are tambourines, an electronic organ, hand-held drums and a vibrato-strong choir. West plays the role of the pentecostal preacher who uses the choral sound as a backdrop to his chaotic preachings (read: recital of the lyrics that he remembers on stage). The congregants (crowd) can't help but sway from side to side, lift their hands and holler an occasional "oh yes!" in agreement.
Services kicked off in the second week of January and have been taking place on an invitation-only basis at locations such as West's mansion in Calabasas, California and the Adidas headquarters in Portland, Oregon. Even though the services have been taking place for over three months, Variety reported on how the services' star-studded congregation had to sign non-disclosure agreements as a means to ensure that information about the services remained in rumour territory.
This was until West brought the service to the Coachella festival (in Indio, California) on Easter Sunday. Held on a hillside within the festival's campgrounds at 9am, a report by tabloid website TMZ states that the Easter service was attended by more than 50 000 patrons. For those who couldn't attend, the gathering was streamed live on YouTube using a pinhole camera.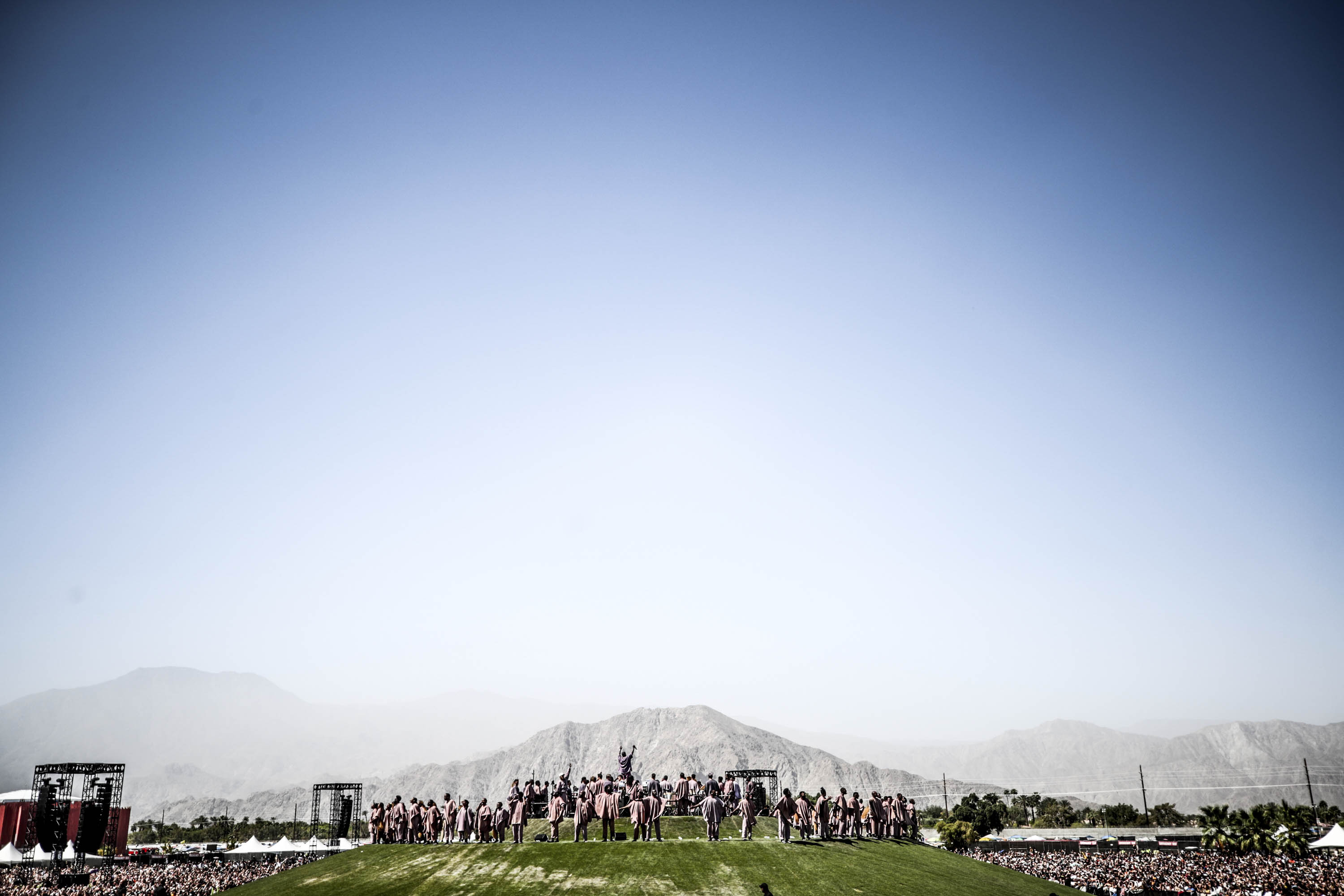 It has been reported that Sunday Service Coachella was attended by over 50 000 patrons (Rich Fury/Getty Images/AFP)
The Sunday Service performers wore pastel purple Yeezy merch that created the aesthetic of a field of blooming lavender flowers, swaying in the wind. And, unlike the stereotypical, crusade-like gathering of this stature where those in attendance are in their Sunday best, patrons were invited to join the mauve wave. They could purchase merch from a tent that read: Church Clothes. Prices at the pop-up ranged from $50 for a pair of "Jesus Walks" socks to $225 for a "Holy Spirit" crewneck sweater. In addition to the series of concerts, this has led to the public begging the question: What is driving the Sunday Service?
After the Easter crusade, West's wife, Kim Kardashian-West, explained how the services were started as a means for her husband to heal himself and his close friends. She also went on to say he has had a vision of starting a church for a few years.
An unnamed source close to the couple told United States hip-hop publication The Source how Yeezy "… understands brokenness and the need for healing, probably more than most people. He believes in the healing powers of music, but also believes that God can step in and heal people's brokenness and their issues".
Pop culture enthusiasts who have followed Ye would know that the Easter Sunday Service is not the artist's first attempt at using Christian references to promote his music.
In 2010, West launched G.O.O.D. Fridays where he released free music every Friday in anticipation of his fifth studio album, My Beautiful Dark Twisted Fantasy.
With West using the Coachella Sunday Service to debut a new track titled Water, perhaps the services are a prelude and appetiser for his delayed but still anticipated album Yandhi?
But last year's series of events have to be taken into consideration. Throughout 2018, West's convictions had the black community up in arms. He stood by US President Donald Trump, sported a "Make America Great Again" cap and then went as far as saying that he believed 400 years of slavery was "a choice". Although West was not exiled for his stance, the engagement with the artist's work has never been the same. Black cultural figures such as Ava DuVernay, will.i.am and Spike Lee even went so far as publicly denouncing West and unfollowing him.
His 2019 approach is different. After January 1, since tweets that said: "One of my favorite of many things about what the Trump hat represents to me is that people can't tell me what to do because I'm black" and "From now on I'm performing with my mutherfucking hat on", West has kept a low Twitter profile. His public appearances and statements — the majority being related to Sunday Service — have been through his media mogul wife's Twitter and Instagram accounts as well as her interviews.
One of my favorite of many things about what the Trump hat represents to me is that people can't tell me what to do because I'm black

— ye (@kanyewest) January 1, 2019
From now on I'm performing with my mutherfucking hat on