An indignant Chief Justice Mogoeng Mogoeng bristled in the face of the concerns swirling in the legal fraternity about his many absences from the Constitutional Court and that the highest court has, for large swaths of this year, had four acting judges on the Bench.
So far this year, the Constitutional Court has handed down 44 judgments, up to November 6. Mogoeng has been absent for 25 of these matters — more than half.
With Deputy Chief Justice Raymond Zondo chairing the commission of inquiry into state capture, this has meant numerous absences of the court's two most senior judges, compounding a situation in which there are two long-running vacancies at the court and further holes created by the long leave taken by judges.
As a result, 16 of the matters handed down by November 6 were heard with four acting judges on the Bench. The Constitutional Court Bench consists of 11 judges and eight judges constitute a quorum. This means that at times the acting judges comprised half the Bench. One of these was the highly politically significant case brought by Corruption Watch, in which the court found that the appointment of the former national director of public prosecutions, Shaun Abrahams, was invalid.
Members of the legal fraternity said this situation was far from ideal. Reasons included uncertainty at the court, incoherence in the development of the court's jurisprudence and the potential incentive for acting judges not to rock the boat when contributing to judgments — whether concurring or dissenting — with an eye on a permanent appointment. Even if that potential did not materialise, there was a danger of a public perception that it had, lawyers said.
In an extended interview with the Mail & Guardian, Mogoeng insisted his absences from court were work-related and justified.
He conceded that having four acting judges sitting at any given time was not ideal. But he stood by his decision to leave two of the vacancies at the court open for more than a year so as to allow for the pool of potential candidates to be widened.
The Judicial Service Commission recently advertised these vacancies and intends interviewing candidates during its April sitting next year. Mogoeng dismissed concerns that the presence of acting judges would have a detrimental effect on the court's collegiality and the development of its jurisprudence, or that acting judges would behave unethically or against their oath of office because they were seeking permanent appointment to the Constitutional Court.
He said there was "a need for certainty", but that this "has got nothing to do with incompetence. It has nothing to do with the unsuitability or the assumed unsuitability of those who are acting as judges. This must be addressed properly: any of the judges that we invite to act at the Constitutional Court has a wealth of experience not only as a lawyer but also as a judge, so this false notion that because someone is acting as a judge instability is bound to set in, or a measure of mediocrity or incompetence is bound to set in, must be clarified."
He said there were occasions during a judge's acting stint "when you realise that they are not as their reported judgments suggest that they are. That they require more experience from where they come from before they are suitable for appointment at the Constitutional Court but incompetence is never an issue."
Mogoeng bridled against the notion that the delay in permanent appointments affected the court's jurisprudence, because "the jurisprudence we develop is not necessarily a particular judge's jurisprudence. There are some judges who develop a particular style of writing, there are some judges who are more forceful in the articulation of the issues than others. But we all contribute ultimately to the jurisprudence that is churned out by the court."
He added that if acting judges did not dissent it should not be misconstrued as professional docility or an attempt to inveigle oneself into the court.
Over the past two years, Mogoeng has increasingly been absent from the court. Based on Southern African Legal Information Institute records, last year the Constitutional Court handed down 48 judgments. Mogoeng was absent from 19 of those.
In the 2016-2017 financial year Mogoeng made two overseas trips. This ballooned to 11 trips in the 2017-2018 financial year. In the 2018 calendar year, Mogoeng has made 12 overseas trips, including a week-long visit to the Supreme People's Court in China in April, to attend the Ninth International Meeting in Justice and Law in Havana, Cuba, and to deliver the 2018 Sir Salamo Injia Lecture in Papua New Guinea in October.
The Papua New Guinea lecture meant the chief justice did not attend the Southern African Chief Justices' Forum Conference in Malawi, which was held over the same period.
The 2018 trips cost taxpayers R919 752 for Mogoeng's travel and R2 234 894 for his entourage, according to information provided by the OCJ.
Over the past two financial years, the OCJ said the total cost of travel for Mogoeng was R1 967 499. The cost of travel for his entourage over that period was R5 738 457.41.
Mogoeng usually travels with his wife, who flies first class with him, and two staff members, who fly business class.
Mogoeng's absences from the Constitutional Court do not compare favourably with his predecessors. According to estimated calculations by the M&G and the nongovernmental organisation Judges Matter, former chief justice Pius Langa missed 19 of the 121 cases heard when he headed the court. Arthur Chaskalson missed five out of 342 cases heard when he was chief justice. Mogoeng's immediate predecessor, Sandile Ngcobo, appears to have missed five out of the 58 cases heard during his time as chief justice.
But Mogoeng pointed out the changing contexts and functions during the various tenures, especially since amendments to the Constitution had created the office of the chief justice, which administers matters involving the judiciary.
He reiterated that his position was not solely reserved for hearing cases, but he also spent time away from the court to do administrative work for the South African judiciary and to fulfil international obligations.
"You can even get my schedule, go through it and check, which one you think was an unnecessary waste of resources and time, that I should have been in court instead," he said. "I have no doubt that any fair-minded person would arrive at the conclusion that it was necessary for this man to undertake those trips.
"I have no regret, for the record, for having sat in [fewer] cases. I think I have done more than enough; and as and when my responsibilities demand it, I will not sit in court … Otherwise the judiciary is going to fail and my other judicial responsibilities will fail because I am trying to silence critics who think I should be in court in every matter, even when there are other equally demanding responsibilities elsewhere."
Visibly angry, Mogoeng alleged that the M&G's questioning of his absences and his travel may be part of a plot to discredit him, the OCJ and the judiciary (see "I have enemies; I don't know them").
He maintained there was nothing untoward about his flying first class internationally or about the costs incurred during these travels. Mogoeng said he was not work-shy or "globe-trotting" at taxpayers' expense, but merely meeting his professional obligations.
He said his travel expenses did not compare unfavourably with those of government ministers and that some heads of the judiciary even had private jets at their disposal. Mogoeng said flying first class allowed him to work and business class flights for his staff ensured they were "fresh" and ready to work when they landed. "I remember my last trip was in Argentina to attend the G20 judiciaries meeting. I wrote two judgments and a speech in the plane," he said.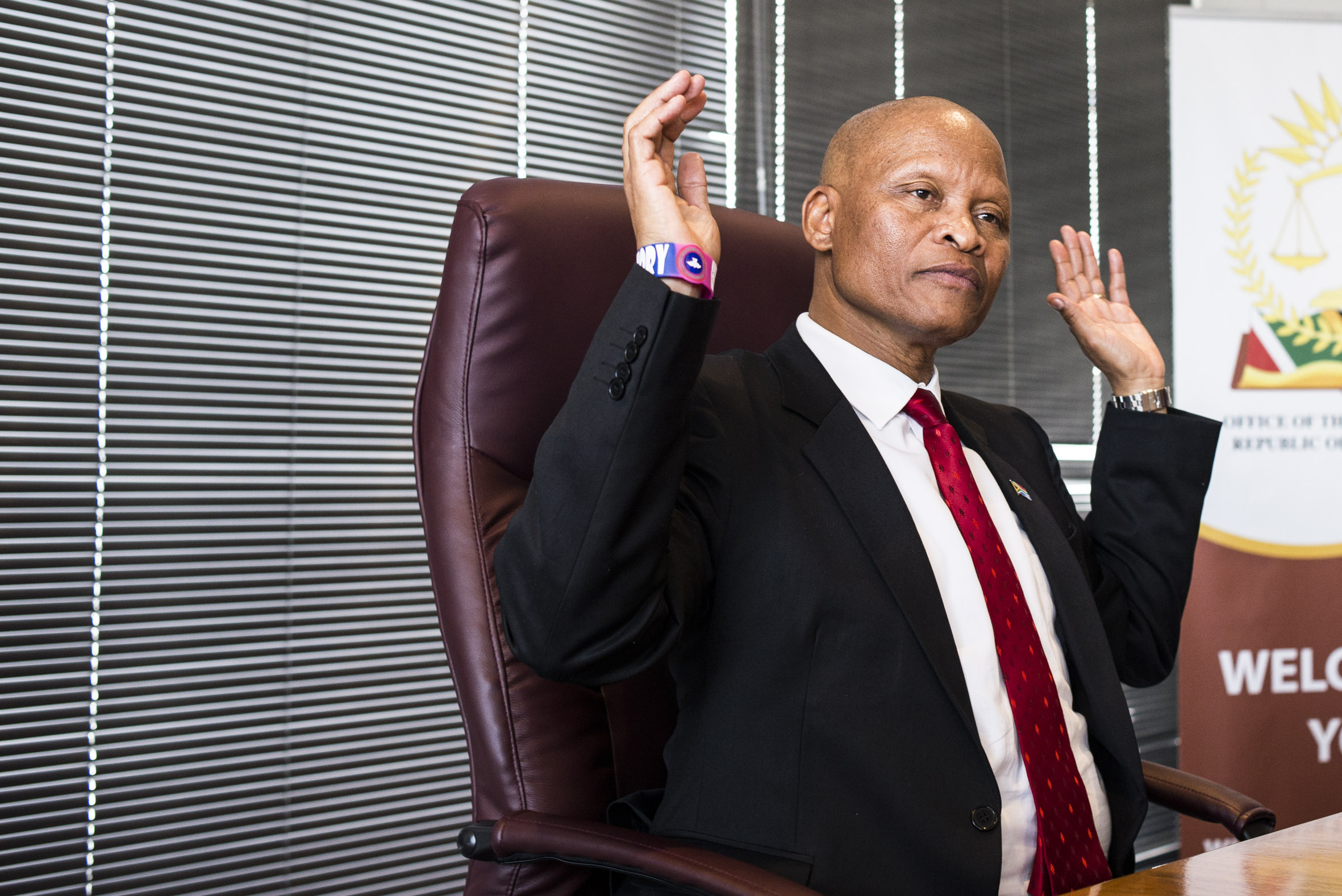 Mogoeng says all his trips were justified. (Delwyn Verasamy/M&G)
---
The break-ins we didn't hear about
Two break-ins occurred at the Constitutional Court in recent years, both unpublicised until now, Chief Justice Mogoeng Mogoeng has confirmed to the Mail & Guardian in an interview.
These came before the 2017 break-in at the office of the chief justice (OCJ) in Midrand when 15 computers were stolen from the human resources department, leading to speculation about attempts to spy on the judiciary.
The chambers of Johann van der Westhuizen, who has since retired, were broken into in December 2015 and were followed by the May 2016 break-in at Judge Edwin Cameron's chambers. The OCJ confirmed that in both instances computer hard drives were removed from the judges' chambers at Constitutional Hill.
When the OCJ was burgled, the OCJ said the "stolen computers contain important information about judges and officials of the OCJ and constitute a huge setback".
Asked whether he thought the forced entries at the court may have been motivated by a political agenda, Mogoeng said the investigation had not yielded a motive. "I don't know why there were break-ins. I mean, why didn't they break into my chambers? I am on the same floor with Justice Cameron, so why didn't they break into Justice [Mbuyiseli] Madlanga's chambers? I don't know what the reason was."
Mogoeng and the OCJ declined to comment on whether the judges at the court may be under surveillance by intelligence operatives and on whether the court was swept for spying devices.
But Mogoeng said he was "not happy" with the "poor" security at the court and had discussed this with Cyril Ramaphosa after his appointment as president earlier this year.
Mogoeng said he had subsequently met Police Minister Bheki Cele and had pointed out the poor security at the court, including guards being armed only with batons.
"[Cele] noted the issues and there hasn't been a response as far as I know. It may well be that there are budgetary challenges … I am disinclined to say that he is not doing anything about it because I don't know what he is doing about it," he said.
The OCJ confirmed that cases had, at the time, been opened at the Hillbrow police station but that both case dockets were subsequently "closed as undetected".
Asked why the break-ins at the court had not been made public, Mogoeng said: "There are many things that we don't announce, isn't it? What we want, fundamentally, is to make sure that criminals are caught. That is our primary preoccupation. To make sure that it doesn't happen again."
---
'I have enemies; I don't know them'
The Mail & Guardian sat down with Chief Justice Mogoeng Mogoeng after questions were sent to him about the functionality of the Constitutional Court and his absences from it as a result of international travel.
Mogoeng started the interview by raising the question of whether the M&G was
part of a plot to discredit him and the judiciary.
Mogoeng said that, before the Judicial Service Commission interviews began in October, he had received a call from a colleague. "He said: 'My brother, I'm calling, just as a brother. Just know that people are all out to discredit you.' I said, 'What are you talking about?' He said: 'There are two professors who have either been assigned or have assumed the responsibility to write articles critical of you.'"
Mogoeng said the colleague mentioned an article in the Daily Maverick by a former law clerk at the Constitutional Court. He said there was likelihood of another article "relating to a range of issues including why the vacancies [at the court] have not been filled, and where you travel, the number of times you sit or don't sit in court".
"He said there are two senior politicians …and two judges involved in this saga. The M&G will be writing a story about you."
Mogoeng went on to say: "I hope that I am not just here for you and your newspaper to pretend that you really want to hear my version, when it's a done deal. And I get worried when I hear that there are suddenly a group of people all interested in ensuring that negative stories are out there about me."
Asked who was out to get him, Mogoeng said: "You've got to operate on the understanding that you have enemies.
"I don't know my enemies. Anybody who wants to run me down is my enemy and I don't know them all. You may be one of them, I don't know —and I don't need to know, by the way. All I need to know is that I must never find myself in a position where I abuse my position, [or] I abuse state resources. I would rather that people seek to create a scandal out of the normal things that I do,because they couldn't find anything …
"Because when I respond, on whatever platform, I will be able to expose them."
But Mogoeng said criticism was one of his favourite parts of his job. "It helps me grow. At the first meeting at Sanef [South African National Editors' Forum] that they invited me to in 2012 after my appointment, one of the things I said to the editors was, 'Thank you for having criticised me as harshly as you did because you helped me to appreciate the deeper capacity within me that I would not have otherwise connected with.'. I enjoy challenges, I enjoy it when there are problems and, together with my judicial or administrative team, we forge in and seek to address those challenges."
This article was produced in collaboration with Judges Matter