Art, for art's sake, retains a special place in the communal psyche. It is usually perceived as that 'thing of beauty", admired because it exists — the painting that absorbs the eye, for instance, or a dynamic sculpture.
But design, with its myriad schools, purposes and disciplines, is that place where art meets function. It is the creation of an object that is beautiful, or at least eye-catching, but also created for a purpose.
Some would say it is more difficult to create something lovely to look at that still meets all the requirements of repeated use — durability, functionality, comfort. Others might say that design is soulless, utilitarian, too exposed to the vagaries of fad, manufacture and commercial pressures and, as such, it cannot be true art.
Whatever your take on design, it is impossible to ignore. In one form or another it inhabits every object in the modern world, from clothes to kitchen utensils and skyscrapers.
A number of South Africa's top designers came together last week at the behest of champagne- maker Veuve Clicquot to create objects celebrating both the brand and design itself.
The event was hosted at the Goodman Gallery space in the One&Only hotel in Cape Town. The designs will be on show at the Goodman in Johannesburg in early 2010.
The designer deemed to have the most fizz will win a ticket to Milan Design Week in 2010.
Christina Bryer
Bryer's delicate and intricate porcelain plates are her signature works. Covered in geometric patterns and recurring shapes, her ornate tableware has made her a favourite of galleries. This fascination for the infinity of geometric form is embodied in her Pop & Toast design for Veuve Clicquot.
Bryer's work incorporates the Veuve Clicquot champagne flute, set in a concave hexagon reminiscent of the brand's shield. Each flute base fits together in honey-comb formation, creating the repeated geometry.
Although Bryer is a celebrated ceramicist, she began her career as a jewellery designer, studying at Stellenbosch University.
Bryer's motivation for taking on the project was simple. 'It gives us a chance to showcase what we can do," she says. 'One can get pigeonholed — people want you to keep designing the same things, whereas this was a challenge."
Bryer focused on champagne-related ideas, wanting to capture the celebratory mood of the drink. 'I wanted to create a sense of opening up to participation and evoke a sense of generosity," she says.
To create the honeycomb tray Bryer used a high-density polymer plastic, working with engineers who had to machine-craft it for her.
'I had to design everything to the millimetre. It was thanks to my jewellery design training that I could do this," she says. She admits to being way out of her comfort zone, needing to find the right contacts to help her manufacture the design. Asked whether she would do a project such as this again, Bryer says that as she makes nothing for mass production, it would entirely 'depend on the client".
---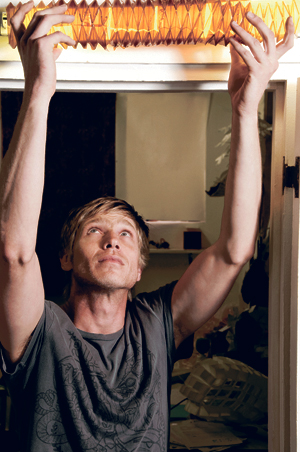 Heath Nash
One could say that Nash works with light — though he really makes clever use of recycled plastic and wire to house light. The effect is frequently astonishing, as anyone who has seen his flower-ball lampshades can attest to.
The eco-conscious designer is renowned for his clever use of old plastic bottles, cutting them into floral designs, which are attached to cannily crafted wire frames.
Key to Nash's work is the recreation or addition of value. Taking 'other people's rubbish", which has incidentally become the name of one of his product ranges, Nash transforms discarded material into something highly valuable and precious.
For Cliquot, Nash created his Yellow Light — the concertina-like folds of yellow plastic evoking the brand's signature shade.
---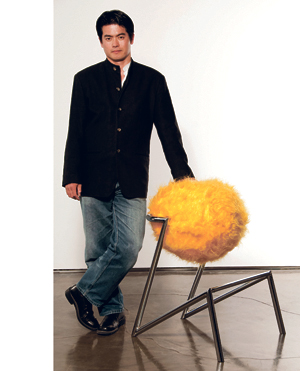 Tsai Design Studio
For socially conscious designer Y Tsai, the invitation to create a design for a luxury brand was an opportunity to make something a little more 'playful", he says.
'I liked the brand — it's a luxury product for a high-end market," he says about Veuve Clicquot. 'It allowed me to be a little more expressive rather than working to a budget or focusing on the economy of a piece."
Tsai, an architect and designer based in Cape Town, cemented his place in the design world when his work, a set of nested bunk beds, was named the 'most beautiful object in South Africa" in 2008.
The beds, which fold out like a set of drawers, also saw Tsai rank as a finalist in the 2008 International Young Design Entrepreneur Awards. The bunk beds were designed out of the need to find ways of using limited space in South Africa's poorer townships, where living space is cramped and overcrowded. But all of Tsai's designs, from his Add-It shelving for children to his Zigzag coffee table, have an ingenious simplicity and contemporary beauty.
In creating his Signature Chair for the champagne brand, Tsai says that the biggest difference from the way he normally works was the room to step away a little from 'ergonomics and functionality". "Because of the nature of the brand and its market I could get away with it and be more playful," he says.
The design has been in his sketchbook for a number of years, he says. But it was with the invitation to the project and only after meeting collaborating designer Ronel Jordaan that everything came together to create the piece.
The chair, with its slick angular steel and chrome base, includes a bright yellow felt pebble as its seat. The pebble, created by Jordaan, appears simply to float within the steel frame. But Tsai reveals how it deftly detaches from the frame and shows a steel structure hidden inside the bright yellow sphere.
The design's frame is fairly simple to make, says Tsai. But the seat is not as easy and requires the steel piece to be made, sent off to Jordaan to cover, then sent back to Tsai to fit. This rather involved process, with the 'roundness" of the seat, which is quite difficult to achieve, is one of the finer details that need to be ironed out.
But once they are Tsai is hoping to manufacture the comfortable and playful stool. But refining the work, as with all design, is an ongoing process, he says.
---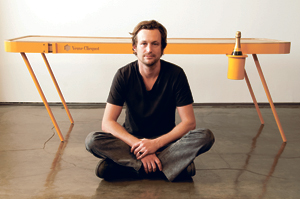 Gregor Jenkin
Jenkin is renowned for his clever transformation of everyday materials into clean, beautiful pieces of functional furniture, whether military surplus items in his Skilpad range, or street lamps and chunks of highway bridge as seen in his Infrastructure range.
But taking material out of the space it was created for and giving it a new lease on life is not
the only work he does. It can be plainly inventive — such as his 'walk around the block'" coffee table featuring the cleanly cut silhouettes of Johannesburg's industrial skyline — or his famous Van Die Stel range, which encompasses the Cape Table, and is a sought-after interpretation of the old through the new.
For Veuve Cliquot's assignment Jenkin created Inertia, an interpretation of the riddling table, the invention that allowed the clarification of champagne, turning it from a cloudy wine into the clear liquid it is today.
The table, of solid oak, with its dramatically angled legs, seems to defy gravity. But there is 'no trickery" involved, says Jenkin. 'It is simply an exercise in jointing and involves making a strong, angular joint," he says.
'But it was a big part of the appeal of the piece. It looks like it defies physics." Jenkin had no misgivings about the task of designing to or for a brand. 'Primarily, as designers, we set our own briefs," he says.
'The proposal to design for someone within given parameters was a novelty. It took us out of our usual realm. 'The only constraint within our work is the manufacturability of a piece. Here there were a number of parameters, such as brand and the colour. It made the design process more challenging," he says.
For Jenkin, process is all-important. Everything he designs is manufactured in-house by his team. Producing his designs allows him to remain in control of the final creation.
'I design through manufacture. If something does not turn out the way I want, I change it in process," he says. Ultimately, though, the designer says it all boils down to the very simple joy and love of 'making things".