Artist: Dollar Brand
Song: Mannenberg
Album: Mannenberg is where it's happening (1974)

It's tempting to make the grand claim that, with the release of Mannenberg in 1974, Dollar Brand brought jazz back to Africa. Or at least back to Cape Town. Prior to its release, the jazz musicians of the Cape were largely concerned with fitting into the styles of their American influences. After Mannenberg, there was much more of an emphasis on creating locally-inflected jazz, on creating sounds that could be termed authentically South African.
Abdullah Ibrahim (Georg Sedlmeir)
Such a simplistic claim is true only for the value of polemic. There were many other musicians working in various local idioms. But Mannenberg — named after a Cape township, although with an additional 'n" – was a useful symbol of a political and aesthetic change in a South Africa that was struggling with figuring and refiguring certain kinds of identity, not least of which was the value of local culture versus international. The words shouted at the end of the song express this dynamic: "Oh Manenberg! Jy kan na New York gaan, maar ons bly hier in Manenberg."
Writing about Mannenberg can be a dangerous undertaking, and not just because one is never sure how many Ns it has. As a song loved by so many people for so long, one runs the risk of treading on precious associations. As an anthem of the struggle against apartheid, it's owned by so many interest groups that to claim any privileged information is to incur wrath. And to offer any new reading of its worth is to recklessly challenge the many expert commentaries that have already been produced. But perhaps this is what makes Mannenberg the great song that it is: its multicultural composition makes it a song that sings to many different types of South Africans.
In his excellent essay in the African Studies Quarterly (Fall 2007), John Edwin Mason describes Mannenberg: "It had an irresistible hook–its beautiful melody. It was driven by an infectious, danceable beat. And it was an intriguingly unfamiliar combination of familiar ingredients–the groove was marabi, the beat resembled ticky-draai (or, perhaps, a lazy ghoema, depending on who was listening), the sound of the saxophones was langarm, and the underlying aesthetic was jazz."
Its history can be briefly told. In 1974, Dollar Brand (or Abdullah Ibrahim, as he was to be known) went into a studio in Cape Town with Basil Coetzee, Robbie Jansen, Morris Goldberg, Monty Weber, Paul Michaels and engineer Rashid Vally. In an interview with Sue Valentine, Ibrahim takes up the tale. He noticed a piano in the corner, and walked over to it.
"I thought, 'Great, an old upright piano', I touched this piano, and I thought, 'What?' This is what they did in the old days, they take an upright piano, put tacks on the hammers, that's what the marabi players used to do with the harmonium…. I sat at this piano and it goes [sings out opening notes of Mannenberg], first time. Wow! This thing sounds so nice, it's grooving.'"
As with most cosmological myths, there's a snake in the garden. There've been allegations that Mannenberg's melody was ripped off from Jackpot, a circa 1960 mbaqanga song by Zacks Nkosi, but this controversy has done nothing to impact on the song's status.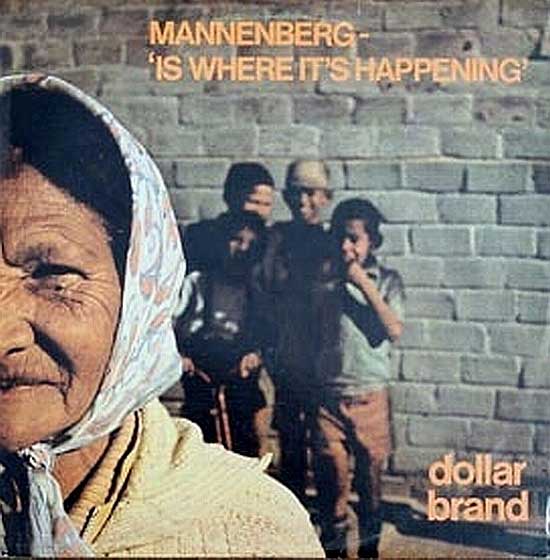 Mannenberg is where it's at Another part of the story has Ibrahim telling his musos that the song made him think of an elderly woman walking through a township. Morris Goldberg than mentioned that he was about to visit his former housekeeper, Gladys Williams, in Manenberg. The upshot was the title, Mannenberg is where it's happening, and the iconic picture (taken by Ibrahim himself) of Gladys Williams that adorns the album cover.
Most people think of Mannenberg as a song with two lives. The first, as a top-selling dance song, the second, as an important part of the soundtrack to the struggle against apartheid in the 80s. Its second life, most agree, is due, predominantly although not exclusively, to the hard work of Basil Coetzee (now nicknamed "Mannenberg," courtesy of Ibrahim) and Robbie Jansen, who played the song at many political rallies.
There might be a third life for Mannenberg, in a South Africa undergoing a similar struggle to decide what the hell it is. A song that celebrates many different strands of South African music, that is proof that you can fight to the same tune you dance to, and that's the embodiment of the way art can move in step with the politics of culture, is a better fit for our still nascent democracy than some of the other popular choices we've been hearing.
Abdullah Ibrahim and the WDR Big Band perform from the album Bombela on May 29 at the Cape Town Convention Centre, Auditoium 1; on May 30 there will be a workshop at University of Cape Town; on June 1 at the Port Elizabeth Opera House; on June 3 and 4 there will be a workshop at the Johannesburg City Hall; on June 5 a performance at the Lyric Theatre at Gold Reef City in Johannesburg. For details: www. goethe.de/fmc
Last week's song: Thugs by the Dynamics.
Next week's song: Usain Bolt by Tumi (featuring Zubz)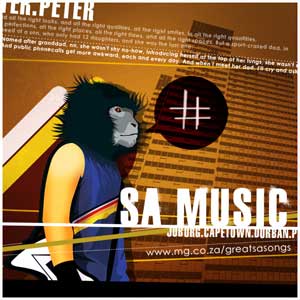 Every week, the M&G chooses one great song that says something about what it means to be South African. We write from the perspective of the listener, and in the belief that art is greater than artists will ever know. Suggest your own great South African songs here.