When South African fashion designer David Tlale announced that he was teaming up Edcon's clothing chain Legit for a new range of affordable, ready-to-wear clothes, critics were left pondering whether it was because the economic downturn had begun to eat into sales or whether his male skirts were really just for the runway and not the every day Joe.
This kind of collaboration is nothing new internationally with Swedish global retailer H&M having partnered with exclusive fashion designers and labels like Lanvin, Versace and Karl Lagerfeld to create affordable fashion. Most recently they have joined forces with Italian fashion label Marni for the spring 2012 fast fashion line.
American label Gap jumped on board by collaborating with Valentino and Diane Von Furstenberg. Tlale's partnership with Legit is South Africa's first taste of this trend.
Tlale has already established himself as an avant garde designer with a boutique at the Michelangelo Towers in Sandton.
For his autumn/winter 2012/13 collection, he showcased a ready-to-wear range (he normally showcases very flambloyant avant garde items) at Mercedes Benz Fashion Week Jo'burg in March. Some critics suggested the range was too commercial, adding that he was losing his unique style.
It could be argued that Tlale was merely displaying his talent for catering to a wider audience and preparing us for the launch of his new range with Legit, titled "Van Der Tlale".
Young and fashionable
Tlale said of the collaboration: "I am excited to have to give South Africa's younger market a chance to wear my range. We are breaking new ground in South Africa [and] I'm delighted that I will be doing it with Legit, one of South Africa's trendiest clothing stores."
Tlale has already partnered and collaborated with a few influential brands, including Volvo, Luella Shoes, Anglo Ashanti and Cellini.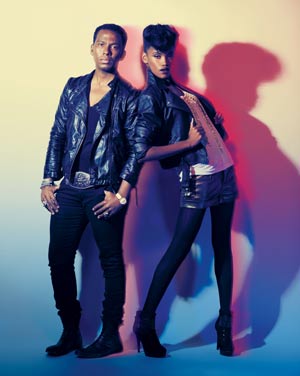 "The Van Der Tlale diffusion line is made for the masses and is a way to sustain my brand. It is a way for people that want a designer piece to be able to afford one," said Tlale. "The high-end range that is available at my boutique in Sandton has items that are one per size with never to be repeated fabrics and colour in that style."
The Legit winter range is a once-off range and, for under R1 000, one can buy a full outfit. The range consists of little black dresses with ruffled arms, lace and pleather detailed skirts, embellished tops, coats with fur and buckle details and biker jackets, shoes and boots.
Ocean Ngobeni, Legit brand manager, said, "We have received great feedback from our customers and the clothes are flying off the shelves. As a result, in some stores certain items have already sold out."
A second range will be released into stores at the end of May.