Caxton's decision to buy Tokyo Sexwale's Mvelaphanda Holdings' last remaining shares in Times Media Group, formerly Avusa, passed without much fanfare.
But the exit of Sexwale, the man once known as a media mogul, is indicative of immense change in the sector.
Avusa has been a battleground of competing interests for a long time. When Sexwale originally bought 30% of what was then Johncom in 2007, questions were asked about why he would invest in Johncom when he could have bought shares in Naspers, considered by many analysts and investors to be a better option.
A highly placed source close to Mvelaphanda has now confirmed to the Mail & Guardian that Sexwale bought the large stake because of an understanding that Caxton chief executive Terry Moolman was looking to engineer a merger of Johncom and Caxton, which he believed was a perfect fit.
"Moolman wanted to create a competitor strong enough to compete with Naspers," the source said.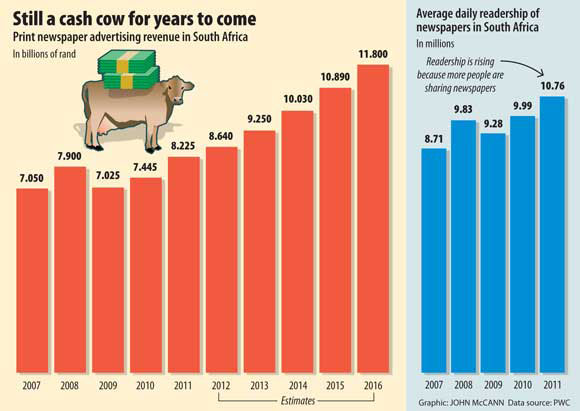 Graphic: John McCann.
In the end, Moolman, perhaps concerned with timing, never went though with the deal.
Mvelaphanda has since taken the decision to reduce its holdings in any company in which it no longer has a controlling share, having slowly reduced its holding in the apparently undervalued company over the years.
Sparking speculation
The recent decision by Moolman to buy 7.3% in Avusa, now known as Times Media Group, brings his stake to 10.44%, sparking speculation that Moolman, who tends to play his cards close to his chest, may once again be seeking a merger between Caxton and Times Media Group.
His stake does make him one of the larger shareholders in the media group after the Public Investment Corporation, Coronation and UHC.
An analyst who has covered the media sector for years said: "Moolman has always been interested in Times Media Group's assets and Times Media still does its printing through Caxton, so a merger makes sense. Times Media is still significantly cheap and it is sitting on R2-billion in cash."
Caxton's purchase of Times Media's shares from Mvelaphanda has a significant impact on the group's black economic empowerment component at a time when the government is emphasising the importance of BEE representation.
Caxton caused a stir this week when it withdrew from hearings involving the Print and Digital Media Transformation Task Team, which is investigating the state of media ­ownership and media diversity.
The reason given by Caxton's non-executive chairman, Paul Jenkins, is that the work of the team overlapped with an investigation by the Competition Commission. The commission is investigating possible market sharing and sharing of information between Caxton, Naspers, Times Media and Independent Newspapers.
The allegation stems from a hearing into the merger of the Witness and Naspers-owned Media 24, which Caxton unsuccessfully opposed, further evidence of Caxton's concern about Naspers' dominance in the media sector.
Agreement
Caxton argued that the merger would lessen competition in independent community newspapers in KwaZulu-Natal and parts of the Eastern Cape. There was also concern that a printing company in which Media24 now has shares would increase its printing charges.
At the Competition Commission hearings, the commission's advocate, Mike van der Nest, asked whether Caxton's objection was not based on the fact that it believed Naspers had breached a 2 000 agreement not to purchase more than a 50% share in the company. Van der Nest said there was an "agreement" that the market should be divided in this way.
The four media companies have been given until this month to respond to the allegations of anti-competitive behaviour. So far, Caxton is the only newspaper to pull out of the transformation hearings.
The financial woes of Independent News & Media's Irish parent ­company has had an impact on its South African arm and the South African division is now up for sale. There has been much speculation about who might buy the division, with top businessman Patrice Motsepe among the names being bandied about, although he suggested at a recent press conference that it may be overpriced.
Billionaire businessman Denis O'Brien recently met President Jacob Zuma in Davos, reportedly to discuss O'Brien's divesting of "an asset in South Africa". O'Brien is Independent News & Media's biggest shareholder and he has already gone public with his view that the company should sell its South African interests and invest in Australian and Asian businesses.
There is concern about whether Independent Newspapers, consisting of the Cape Times, Cape Argus, the Mercury, the Star, Daily News and Pretoria News, has a substantial black-owned presence.
Anton Harber, professor of journalism and media studies at the Witwatersrand University, said a possible merger between Caxton and Times Media made sense in the light of the present difficulties facing the industry, such as a reduction in advertising revenue, reduced print readership and a move towards online content.
More diversity
He said, however, consolidation in the media, as inevitable as it was in the future, was a concern. "It saddens me to see a move towards consolidation rather than diversification. With the sale of Independent Newspapers, what I would like to see is a break-up of the group, with individual titles being bought independently. "With the increasing dominance of Naspers and possible consolidation in the future, we may see less voices being heard and we live in a country that needs more diversity, not less."
But a merger between Moolman's Caxton and Times Media may still be a long way away. Shareholders Public Investment Corporation, Coronation and Kagiso Asset Management have already made it clear that they have no intention of selling their shares in Times Media in the near future.
"TMG shares are tightly held, so Moolman will have to wait for opportunities for more shares to be made available."
The print-media sector has been in flux for a number of years. And many companies are looking at ways to adapt. For many, the move has been towards restructuring, and moving towards the digital and online space.
Business Day, a newspaper in which Times Media has shareholding of 50%, has had to adapt to changes to Johannesburg Stock Exchange rules that no longer require that companies publish their financial results in a newspaper, resulting in a substantial loss of revenue. The newspaper is not only growing its online presence and its app offering, but is also looking at a merger with its sister magazine, Financial Mail, which would allow greater sharing of specialised business skills.
It recently absorbed online business wire service I-Net Bridge.
---
SA print media buck international trends
A report by PwC on the local entertainment and media sector has revealed that South Africa is seeing an increase in print readership. This is in contrast to trends in more developed countries, which are experiencing an erosion in print unit circulation because readers are shifting from print to online for more information.
In 2011 the average issue readership of South African daily newspapers rose by 16%, even as circulation fell by 12.6%. This is because readers share newspapers and this works to the newspaper's advantage because advertisers take readership figures into consideration.
Readership growth is not across the whole sector, but is concentrated among a few newspapers, namely the Daily Sun, Isolezwe and the Sowetan. The Citizen also showed growth in 2011.
South Africa is also unique because it continues to launch new print publications, such as the isiZulu Sunday Times and Snoop! from Media24, along with the weekend edition of Isolezwe and Metro, a fortnightly free tabloid.
"New launches run contrary to the trend in many other countries where print papers are closing," PwC said in its report. "The launch of new editions provides additional outlets for advertisers and contributes to overall growth in advertising."
Advertising spend in print media, as a whole, continued to increase over the year, although the percentage of spend allocated to print is reducing because online, radio and television take the lion's share.
The report warns that this trend will change as broadband penetration increases and consumers migrate to lower-priced or free digital alternatives, which will depress the newspaper advertising market.
PwC projects that print circulation spending will decline from R3-billion in 2011 to R2.3-billion in 2016. It warns that declines in circulation will be steep in South Africa because the country has been slow to feel the effect of the move to the internet.
The report said that the print media have to look at new ways of increasing income in light of international trends, and one gap is applications. "Readers do not appear to be willing to pay for online newspapers, but they do appear to be willing to pay for the convenience of having a newspaper downloaded to a mobile device."
---
Newspaper companies rely on digital strategy to keep the money rolling in
In terms of advertising spend it is clear worldwide that magazines and newspapers have been losing market share to other sections of the media.
In South Africa, it has taken a little longer to have a noticeable effect than in other countries, possibly because expensive broadband has held back internet penetration.
Caxton owns a good portfolio of free and community newspapers, which have proved relatively defensive against the declining advertising trends in print. It also owns the Citizen newspaper. Analysts believe it might be difficult for the company to grow its earnings in real terms. Caxton is already looking at a digital strategy to complement their newspaper portfolio.
Times Media Group, which owns 20 national, regional and community newspapers including the Sunday Times, the Times, Sunday World and the Herald, as well as half of Business Day, is struggling in a challenging print environment. Its cinema and book division, which includes Exclusive Books, is struggling because of changes in consumer consumption habits. This has compelled them to look at restructuring to improve their cost base and profitability.
Naspers began diversifying a few years ago, reducing its print holdings, when it became obvious that print was going to have challenges. Its four largest investments are now MultiChoice, Tencent, Mail.ru and Allegro.
Tencent and Mail.ru are respectively listed in Hong Kong and London.
HCI, which owns e.tv, has benefitted greatly from the increased TV adspend market share. The switch-over to digital terrestrial television is seen as an opportunity to gain more market share from embattled broadcaster SABC. It could also mean greater market fragmentation, which is a downside.
Kagiso Media is benefiting from a stable and relatively high radio adspend. Kagiso, which owns East Coast radio and Jacaranda, is seen as well positioned to benefit from continued radio adspend.