Shortly after Nelson Mandela's release from prison in February 1990, a South African equivalent of We Are the World was recorded to celebrate Madiba's freedom. But the song and the video sank without a trace. Here, for the first time, the video maker tells the secret history of The People Want Mandela and how it has been salvaged for generations to come.
The turn of the decade, from 1989 to 1990, found me following a stuttering career as a South African music fan and struggle hanger-on-turned-music video-maker and aspirant documentary filmmaker. I'd come home in 1987, after several years in the United Kingdom, not wanting to miss out on the revolution of a lifetime. In London I'd seen the birth of MTV and the resultant music-video boom in the mid-Eighties, and worked as a camera operator on countless music-video shoots on both sides of the Atlantic.
Now, in Johannesburg, I submerged myself in the black-and-white aesthetic of South Africa's struggle-era photography and film. The Fifties photography of Drum magazine, films such as Lionel Rogosin's Come Back, Africa, the African Mirror newsreels, the photography of David Goldblatt, Peter Magubane, Gideon Mendel and others – all served to inspire me, as did the countless anti-apartheid documentaries I'd seen on television while living in the UK.
But the late Eighties was a long, dark, Emergency clampdown wait. Despite this, the South African music scene was thriving and I teamed up with producer Pam Devereux, who had formed a small company churning out music videos for artists on major record labels such as Gallo, EMI and Tusk.
I put my monochrome aesthetic to work on videos for Bright Blue's Weeping and Mango Groove's Special Star, sometimes sneaking a bit of visual political messaging on to the SABC airwaves. By late 1989, with the winds of change truly in the air, Special Star, with its gymslip dancers and Drum-era imagery, was on heavy rotation on SABC television.
In February 1990 the history books were opened. The unbanning of political organisations and the release of Nelson Mandela were a huge global news story. The world's top journalists, news anchors and photojournalists moved to South Africa for a while.
It's debatable, but I would say February 1990 was a bigger moment than April and May 1994, when the first democratic election and Nelson Mandela's inauguration happened. Everybody wanted to feel part of it, in whatever big or small way. I was out on the streets, wishing I was a news cameraman or photojournalist, photographing my own images of the unfolding political events.
Convener
When I was asked whether I'd like to direct a video for a song called The People Want Mandela, I jumped at the opportunity. It wasn't a paying job, but I loved the South African music scene and was always drawn to the excitement of unfolding political events in South Africa, so the assignment was right up my alley. From what I understand, Gallo Records had put up a small budget for the video.
The People Want Mandela was written around the time of Mandela's release by singer Jennifer Ferguson, guitarist Ray Phiri, pianist Rashid Lanie and bassist Victor Ntoni.
Even though I was closely involved, it was necessary to hook up again with Phiri this week to tell me the secret history behind this mystery song, of how the South African Musicians' Alliance (Sama) was approached by the United Democratic Front's cultural desk. "They said there were so many songs about Mandela, there has to be one that we sanction as the official Mandela song," Phiri says.
That's how Phiri and Sama got the job. Phiri remembers how a group of them went to visit Mandela, who told him: "Don't embarrass me, Ray who doesn't know you?" So Phiri was the man who more or less helmed the composition and recording of the song. Of the song's composition, he says: "Jennifer wrote the lyrics. Rashid was a pianist who had a beautiful touch that made him the perfect choice to sit with Jennifer and work on the first stanza."
Ray Phiri and Duke Makase. (Pic: Nic Hofmeyr)
As for Ntoni: "I got him in because he was very good at arrangements." Phiri was appointed as the song's "convener" and he got to choose the artists who performed.
"I was wearing a bullet proof vest," he quips. "Some of the artists weren't happy with my choices. [Singer] Mercy Pakela said: 'You are choosing whites; it's not fair.' But I chose singers that best suited different parts of the song, irrespective of their skin colour."
Phiri also played a political balancing act, though, because South Africa's top musicians came from different political persuasions. "Condry Ziqubu is in there; he was more of a pan-Africanist. MarcAlex are in there because they were hot at the time, and they worked very well for the song."
I remember spending at least two or three days in and out of Leading Edge studios in Randburg, filming the recording of the song. It was probably late February or early March of 1990. We documented the real recording of the song. There was no set-up, or lip-syncing to playback. We put lights up in the recording studio, hung out there for a few days and filmed what happened. I remember tense moments in the studio and Phiri, Lanie and engineer Richard Mitchell working really hard.
Human Rainbow Concert
But at other times the feeling was euphoric. There was just a huge sense of relief that the dark days were truly over and there was a great sense of future possibility. The artists were enjoying the song and feeling buoyed to be honouring Nelson Mandela as musicians. But I think they were also celebrating their own freedom as they sang. After all, freedom was a brand-new feeling. In retrospect, over four years of tumultuous transition lay ahead. But in that moment South Africans felt free and they felt the future was going to be good.
The energy was infectious, and the recording session happened day and night for a few days. Cameraman Clive Lawrie and I would eventually pack up and go home to sleep, thus missing performers who came in late at night. We missed "people's poet" Mzwakhe Mbuli, so once the recording was done we went to his house in Soweto and filmed him to playback right there in the street.
Then Sama, along with Real Concerts' Roddy Quin, organised a concert at Ellis Park Stadium, billed as the Human Rainbow Concert, and Mandela was scheduled to attend (there had been an attempted Human Rainbow concert in 1989, but it was banned by the government).
The musicians performed The People Want Mandela at the concert. This was one of the few occasions that the song was heard publicly. We filmed the musicians rehearsing the song on stage the day before the show. Many shots of Phiri in the video are from this rehearsal shoot. The next day we filmed the song being performed live and this is an integral part of the video as well, particularly the footage of Brenda Fassie, draped in ANC colours. We rigged up a cable camera to get spectacular stadium crowd shots, but didn't use the footage because the concert was poorly attended. Apparently, people thought that Mandela would not attend owing to other commitments. But in true Madiba style, he made it to the show!
Once filming was done, I sourced archive material and edited the video myself, spending time combining all the elements, trying to create a seamless montage and to tell a little story about Mandela as well.
I was making the video for the South African public and one has to remember that in 1990, all those iconic Fifties and early Sixties Mandela images had hardly been seen at all. It had been illegal to publish a photo of Nelson Mandela, so thanks to Bailey's African Photo Archives, I laid 'em on thick.
For the musicians, I think recording this song was their contribution, their celebration of the first step towards freedom. For me as a filmmaker, making the video was an opportunity to play a small part in a big historical moment. The irony is that the The People Want Mandela was actually such a small part of a big historical and political moment that it got lost in the whirlwind.
Undesirable
Phiri confirms to me that the song was hardly ever heard after it was completed. Apart from the live performance at the Human Rainbow Concert in March 1990, there was a night when Mandela came to a club in downtown Jo'burg, in Bree Street, to hear the song himself. I came late and missed Madiba, but remember drinking with Fassie at the bar.
At the time, I didn't even know whether the song was being put on vinyl or CD and released for public consumption. I didn't know whether the video was delivered to the SABC or not. There was a lot going on in 1990 and I moved on quickly. But even if deliverables were in place, the song was not promoted. I'm not sure why. At the time, I heard that the different record companies that represented the various performers could not agree on rights issues. I heard that there was a dispute between the musicians. But that was all hearsay. And I never tried to do anything with the video myself. In those days, when you directed a music video you assumed that all the rights rested with the song's composers and performers, and it was up to them to release it.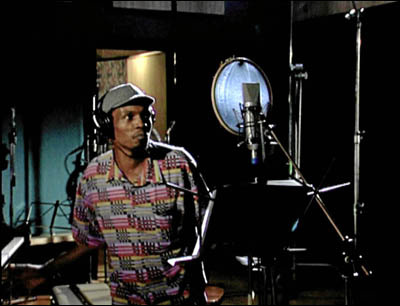 Jabu Khanyile. (Pic: Nic Hofmeyr)
Phiri tells me the song was never pressed on to vinyl or CD and there was no dispute involving record companies, publishers or artists. He says: "We were told that the song is undesirable, biased towards promoting Nelson Mandela." It seems that political pressure was brought to bear and that the National Party government was not happy to have a possibly hugely popular Madiba song on the airwaves.
Talks about talks were going on (the Groote Schuur Minute, on May 4 1990, saw the government and the ANC agreeing on a common commitment to a peaceful process of negotiations) and it may have been felt that the song would give the ANC an unfair advantage. Possibly the Mass Democratic Movement and Sama felt that, given the momentous issues of the day, it was hardly proper to protest about the suppression of a mere song. Perhaps it was more important that negotiations go ahead unfettered by such trivialities.
Now the advent of YouTube has put the music videomaker in a stronger position. A few years ago, when Madiba's health started faltering, I put "upload The People Want Mandela" on my things-to-do list. In May this year I finally dug the Betacam master out of producer Pam Devereux's archive. It takes me a while to get round to things. The picture was good, but the sound was bad!
Luckily I'd kept a u-matic tape all these years, which had bad picture but good sound. With the help of post-production facility the Refinery, I digitally remastered the video.
By this time, Madiba was in a critical condition in hospital. After consulting the song's writers, out it went! Twenty-three years later.