A man rolled out the red carpet in the lobby of the Elangeni Hotel and sprayed it with cleaning solution before giving it a vigorous brushing. The carpet was for Bafana Bafana, who would be playing Nigeria's Super Eagles in a friendly in Durban.
Sports teams often stay at the hotel because it is conveniently just down the road from the Moses Mabhida Stadium. Or perhaps they just enjoy the food there.
The Maharani and Elangeni loom over Durban's beachfront. The Elangeni is curved, like a page in an upright book. Awkwardly, the two buildings are separated by a sliver of a residential block of flats called the Maluti, but after about R220-million worth of renovations, both hotels are now being billed as a single four-star complex called the Southern Sun Elangeni & Maharani.
Apparently there was talk of buying a floor of the Maluti apartments and breaking down the walls to build a walkway between the hotels, but this would probably cost about R15-million, so for now you just use the pavement and walk next door.
While Bafana stayed at the Elangeni, the Eagles were at the Maharani: a team to each tower.
Executive chef Shaun Munro is in charge of all the eating that goes on at the 734-room hotel–the biggest in the country. He says that team menus tend to be bland, so he cannot "flood it with beautiful butter and cream", so instead he uses fresh herbs or lemon zest to intensify the flavours.
The team doctors will meet Munro to discuss their dietary requirements after they arrive at the hotel, but the menu for match day is a closely guarded secret and is only handed over to the chef the night before the game.
I had a look at the menu breakdown for the Super Eagles, which stated: "No butter on match day."Ahead of the match, however, they ordered gateaux. They also wanted 10kg of ice to be available "for treatment".
Bafana were having, among other things, oxtail, mealies, jacket potatoes, tomato bredie and stiff pap.
Teams will typically eat lots of chicken breast, grilled kingklip, soup, pasta, rice and cottage cheese, and have been known to order platters of avocado.
Whether the match has been won–or lost –afterwards, "the rugby boys", says Munro, will "go all out" and have braais with thick-cut steaks and beers and "Jaeger bombs". They'll also order prawns, stir-fries and sushi for their suite. Teams from the Western Province have a penchant for samoosas, he tells me.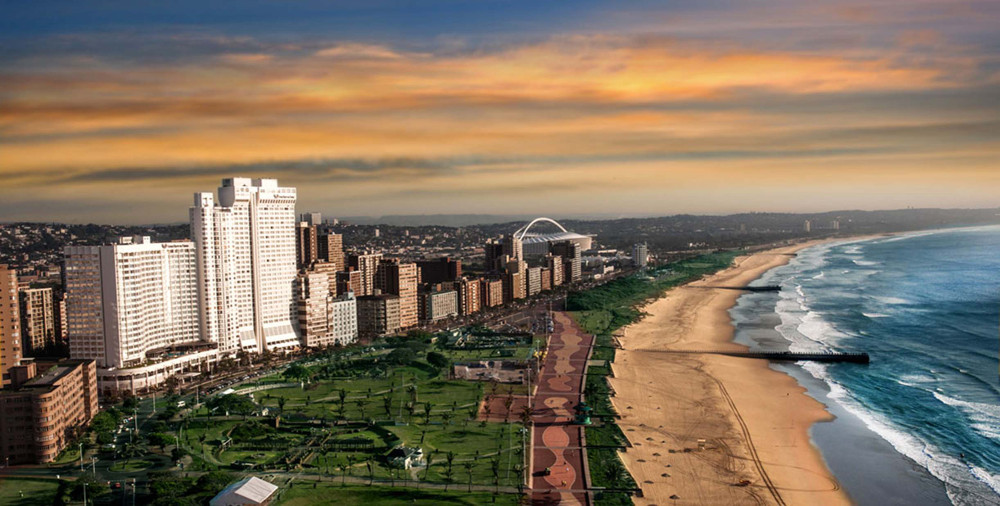 The hotel goes through about 7 000 litres of juice a month, 5 000 eggs, 1 600 blocks of butter, half a tonne of fresh fish and 3 000kg of lamb. All this is consumed at the hotel's two bars and six restaurants, as well as through room service, which, all told, sold about R7-million worth of food last month. Most of this is prepared in the central kitchen, a giant room hidden deep in the building near the conference rooms, where about 140 staff slave away day and night.
My visit to the Elangeni is a study in consumption. Munro says South Africans typically eat more than double the protein than visiting Europeans do, who prefer fish, fruit and vegetables.
Munro is a big man, yet anything but ponderous, and moves around his kitchen quickly, taking in all the details. Three recent recruits from hotel school are standing at a steel table, cutting vegetables. He notices one of them holding a yellow pepper in the palm of her hand, then attempting to slice into it, and quickly walks over. He shows her how to cut it –on the board –but the board has water under it and slips on the metal surface, so he dries it and she carries on.
He says you really have to love cooking to work in a hotel kitchen. The work is relentless and the hours–especially what he calls a "split shift", working from early in the morning with a short break in the afternoon and then on into the night– are very long. The kitchen works a day ahead on the bigger projects, such as the crowd of about 400 people from the Aspen pharmaceutical company that recently took over 15 conference rooms.
A lot of the cooking takes place in what are known as "tilting pans". These are giant cast-iron sinks, about a metre and half by a metre wide, and about half a metre deep. You switch it on, and the whole thing becomes a huge frying pan. When the dish is finished, you turn a wheel on the side and the whole pan tilts so you can pour out the food into giant tubs.
Clement Ndaba (52) has worked at the hotel since 1988, and shows me how he prepares his beef curry. He does not work from a recipe because it is "in his bones".
This is cooking on a grand scale. The quantity–40kg of cubed topside–as well as the cooking implements, dwarf those in a home kitchen.
The oil he pours into the tilting pan goes a centimetre or two up the side. Then he adds 15 or so sliced onions, which he lets soften a little before adding a few giant spoons–one scoop from this spoon will probably hold about 20 domestic tablespoons –of breyani mix and ginger and garlic purée. There's a little vinegar in the purée, and a strong savoury smell begins to waft up from the pan.
About 20 sliced tomatoes are cooked down and then half a giant spoon of turmeric, and three full spoons of their own curry powder is added. In a nearby sink, the topside is soaking, a bloody scum rising to the top. The meat is drained and added to the pan, along with giant spoonfuls of dhania (coriander) powder, jeera (cumin) and garam masala. Then with a giant paddle –he "spade"–I turn the meat, immediately staining it yellow with turmeric. A little later, pools of crimson spice coalesce on top of the curry, apparently a sign that the spices are of a superior quality.
Anitha and Adeep Maharaj appear at the kitchen door holding four bags (worth about R3 000) of spices for the hotel. They also supply the Beverly Hills and Suncoast hotels with spices, which guarantees uniformity between the different hotels in the Tsogo Sun group. There is a garam masala, hot and mild chilli powders, and bags of bright green, almost blue, methi (fenugreek).
Anitha explains that they buy the spices from wholesalers and then wash it themselves.
"The water comes out black" as the spices are washed, she tells me, which shows how dirty they become.
She and her husband spread out the spices on a sari, dry it for about two weeks, and then roast and grind them. To make the famous "mother-in-law's" masala, they grind the spices with bird's eye chilli.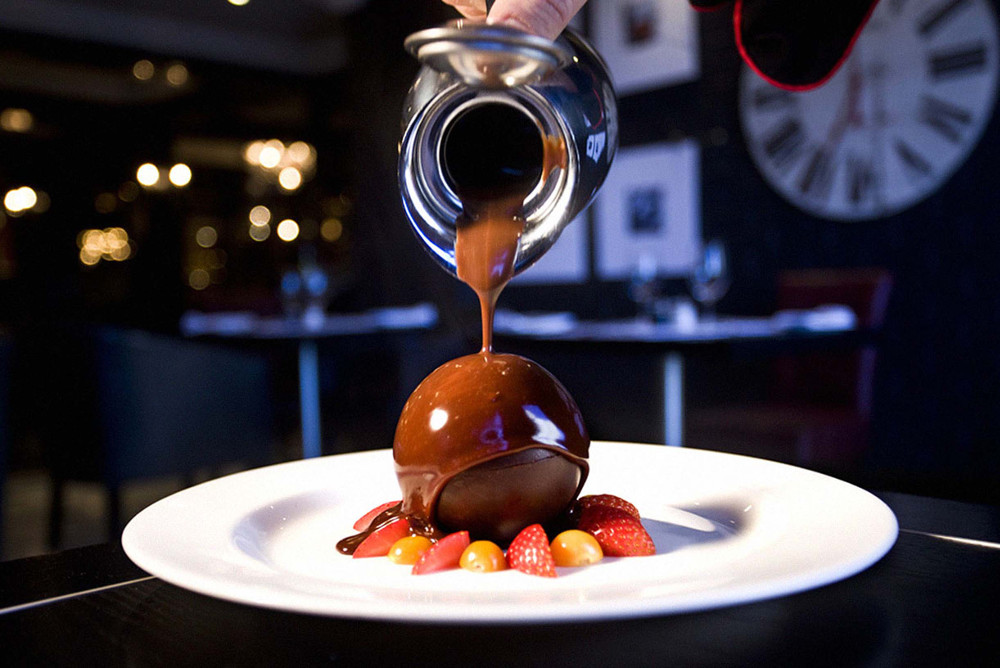 This kitchen is a machine that runs 24 hours a day, and they never lock the doors. There's a slightly chilled room where the pastries are prepared. Laid out on a table are individual portions of tiramisu, chocolate profiteroles, crème caramel, caramel Swiss rolls, hazelnut chocolate brownies, Black Forest trifles, fruit tartlets, an apple crumble.
All these, and a few others, get made every day, and are bound for the buffet table of Lingela, the buffet restaurant at the Elangeni. It is R250 for as much as you can eat during the week, which mainly caters for businessmen, but the price drops to R195 on weekends. They serve about 15 000 customers a month.
Munro says that, confronted with so much food, diners often don't know what to do with themselves. Some people will dish up their dessert first –perhaps out of fear the pastries will be eaten while they are enjoying their main meal. He says others will alternate between a spoon of chocolate mousse and a forkful of prawn stir-fry. He says one man ordered 100 peeled prawns and told the chef to cook them all and bring them to his table on a platter, but it was explained to him that he had to queue at the buffet, just like everyone else.
Lingela seems to be the bread and butter of the hotel and they often serve 150 couverts a night.
Not counting the dessert table, there is a carvery, cold meats, cheese– a wheel of Parmigiano-Reggiano sliced like an oversized Pacman–pickled fish, lamb, mutton curry, breyani, dhal, haloumi salad. Three or four chefs behind the counter will cook you a stir-fry to order, or carve the meat. It can be overwhelming to tackle the scrum in front of the cooks: the regulars pick out mussels, strips of calamari, prawns, peppers, mushrooms and chunks of pineapple, and hand them over to the chefs, who will stir-fry the lot with noodles and sauce.
The hotel also has a new grill house called Jichana, which has the basics right: good steak, burgers and great chips. If you want to get a little more fancy, there are some smart sauces you can order, such as truffle and mushroom, or pepper demi-glace, or the rich and savoury Café de Paris butter.
The chips–which they call "Blumenthal" in the kitchen after the famous chef from Bray in the United Kingdom –are spectacular. They are first steamed, then shallow fried in 120°C oil, then drained and fried again at 180°C just before serving. They're also much bigger than normal chips, which is why you only get three or four.
Back in the big kitchen, the preparation rolls relentlessly on. A bowl of steamed mealies has been prepared for Bafana, as has a big tub of oxtail.
Munro wishes he could spoil the local team, but he has to "share the love" between Bafana and the Eagles.
---
All travel costs, including flights and accommodation, for the writer were paid for by the hotel