ENews Channel Africa's satirical news show Late Night News with Loyiso Gola (LNN) was between seasons when the Gupta brothers' 24-hour news channel ANN7 ingloriously launched with its now infamous run of gaffes.
So when it was time for the first episode of LNN's eighth season to be flighted earlier this month, the team had to acknowledge that a "straight" news channel had inadvertently shifted in a comical direction when LNN was airing its latest season.
For the first 45 seconds, the show was recast as LNN8, a reference to both the eighth season and the news channel it was suddenly being compared with by its audience. So you got a confused, bumbling Gola, who was not sure which camera to take his cues from. He announced that he was broadcasting live from Johannesburg ("the Mother City"). He stuttered as he introduced his cohorts, and ended off with an awkward momentary silence before we heard an audible "cut" from the director.
It was brief, but you got the sense that we were dealing with a new sense of the "normal" when it comes to TV news in South Africa–one the LNN team can't ignore if they are to take their role as up-to-the-minute satirists seriously.
To discuss their new "competition", I met the show's production team in their offices in Braamfontein, Johannesburg, during a brainstorming session last week.
During a smoke break, Camilo Salojee, one of the show's five writers, says: "Even though we were off air when ANN7 first came on, it was a strange reaction [from the public] because guys were like: 'Aah, did you guys make a skit?', because you couldn't really believe that that was television."
Kagiso Lediga, the show's director, says: "It was on Twitter leading up to the season and everybody was like: 'Yoh! You guys have your work cut out for you because ANN7, they're really kicking your ass. In terms of comedic value, you guys are seeing your ass.'
"[To think that] somebody went: 'We're going to create a news channel, a credible news channel. And where are we going to get our presenters? From the modelling agency. Call Ice Models, call Storm, and let's get this shit off the road.' That already is like: 'What the fuck's going on here?'?"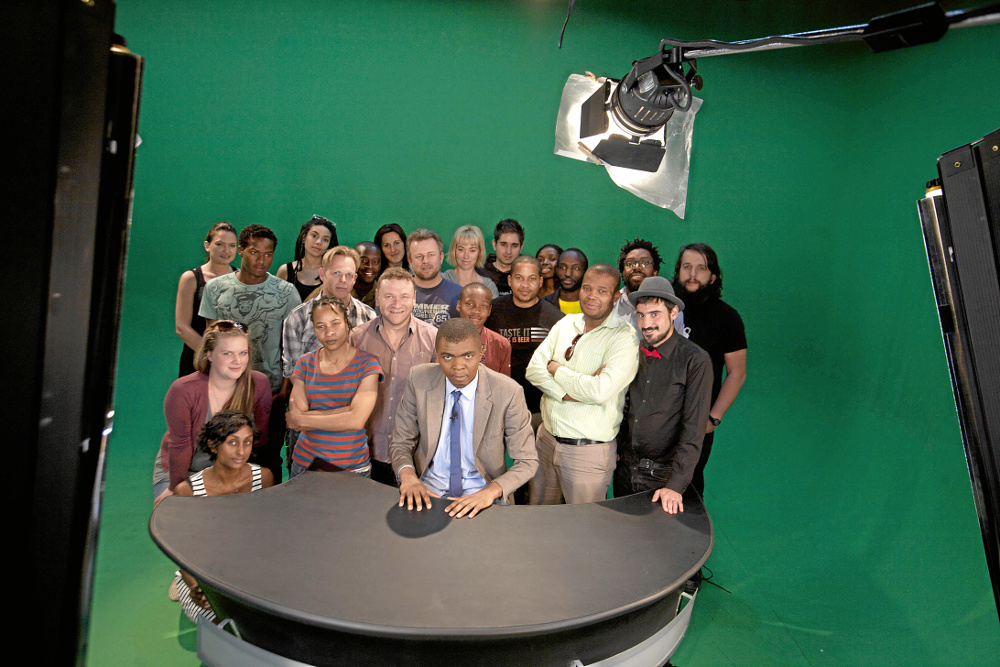 Considering that LNN was being baited by its audience to do it, the parody was understated, perhaps tastefully so. Because, even with ANN7's embarrassing start, the channel doesn't lend itself to continual lampooning (as, say, President Jacob Zuma does), especially as it has recently improved technically.
"What works for this kind of shit is to get the footage from them," says Lediga, whose team didn't have access to the ANN7 clips shown on YouTube because they were quickly taken down.
"But I doubt that they would be that generous and give it to us. But if they do fuck up, we are going to be on their case because, already, they have established themselves as the comedy channel.
"Whereas SABC news is like the ANC channel, Gupta [ANN7] is more ANC, but the comedy side."
The context of its formation, though, does suggest it as a muse for darker material.
"For me, it's also the relativity of the thing," says Salojee. "Because, for the first episode, we did that [spoof]. Then you got the SABC with that 70% good news thing. So it's also about the space for news and late–night news and how we see ourselves within that space."
So, although running a series of ANN7 spoofs is not in the offing, the political manoeuvring ANN7 represents could feed into the show. What this means is that we have reached that scary moment in our history when a satirical news show could be mistaken for an actual news channel, or vice versa. As LNN writer Christopher Steenkamp puts it: the continuum of the zeitgeist's slide towards the absurd now has an end point in ANN7.
If nothing else, though, more news channels mean more material for LNN. Karabo Lediga, the show's producer, says: "Now we've got the luxury to say: 'Okay, this story went here, and this is how it was dealt with–it was the second headline [item] or third headline'. That comparison of how they [different news channels] treat the news, for me, that's the fun part."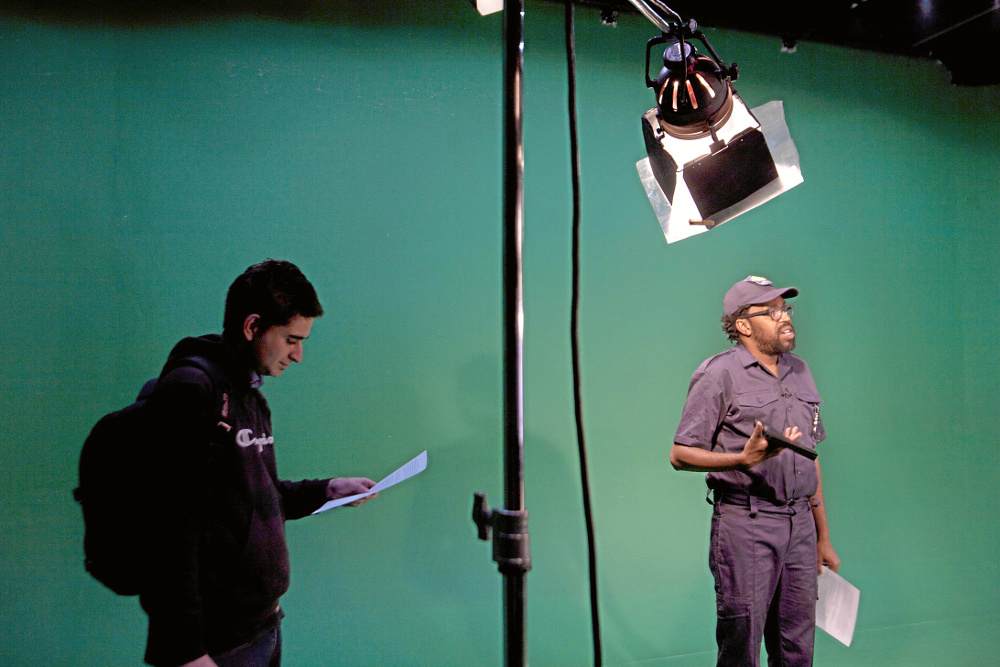 ?Photography by Oupa Nkosi, M&G
The gestation of an episode of LNN is every bit as chaotic as one would imagine it to be. Its undercurrent, though, is a serious, disdainful and ironic take on official culture.
?
The gestation of an episode of LNN is every bit as chaotic as one would imagine it to be. Its undercurrent, though, is a serious, disdainful and ironic take on official culture.
For example, when LNN researcher Simo Mngomeni cues a clip of Zuma reeling off the "[worthy] initiatives driven by Lead SA" (such as "saving the rhino, supporting our national sporting teams, singing Happy Birthday to Madiba"), the ensuing laughter is really more about the fact that "the ANC hates Lead SA" than it is about how funny the president's list sounds, especially when you factor in his trademark clipped speech.
When Mngomeni cues a clip about the recent fire bomb at the ANC's headquarters, Luthuli House in Jo'burg, Kagiso Lediga interjects, in jest, that it's actually a story about "overweightness", pointing out the stout figures pacing the entrance of the party's HQ with a gruff "look at that guy".
But part of the magic also happens outside the brainstorming sessions, as with Mngomeni's topical news clip and, as Steenkamp points out, an intuitive sense of what the research pack will look like.
Sometimes the writers anticipate what the issues compiled by Karabo will include and begin writing about them in advance.
Gola says every news channel has an agenda. Admittedly, the LNN team is "a little naive" about what their agenda is–even if the ANC might feel they have that one figured out. After eight seasons, though, you can't help but feel that the crew's motto to "speak truth to power and make fun of everyone equally" is finally hitting its stride.
In the days of sunshine news quotas and news channels that unwittingly aspire to comedy, they're right on time.