The exhibition Martyrs, Saints & Sell-Outs, a collection of late-apartheid news photographs by Benny Gool, Zubeida Vallie and Adil Bradlow currently on view at the Good Hope Gallery in Cape Town, is not just a diversion from this story but a way to reflect quietly on it.
Unavoidably, the Mandelas – Nelson and Winnie – feature prominently. There is one photograph in curator Siona O'Connell's exhibition that deserves particular mention, also a long appreciative look from anyone wanting to lodge a happy picture of Nelson Mandela.
Photographed in April 1990, it shows the former Robben Island political prisoner at Cape Town airport (then still named after DF Malan). Formally, it's nothing special, simply a news photograph shot on the fly by Gool. Mandela is wearing a cream trench coat, its collar raffishly turned up – most pictures from this time show the big guy in a starched National Party grey suit.
Mandela's sartorial style, however, is secondary. It's his left hand you should look at. Standing between two old pals, Alfred Nzo and Joe Slovo, Mandela's hands clasp those of buddies. Affection is something you show, not speak.
When it was displayed at the National Arts Festival in Grahamstown in June, Gool's photograph was hung next to a jubilant portrait of Walter Sisulu, fist pumping the air outside his Orlando West home.
The ANC flag in his left hand is homemade, its yellow band ragged, as if moth-eaten. Bradlow's portrait of Mandela's friend and fellow Rivonia Treason Trial accused is no masterpiece, but that's not really the point of this exhibition.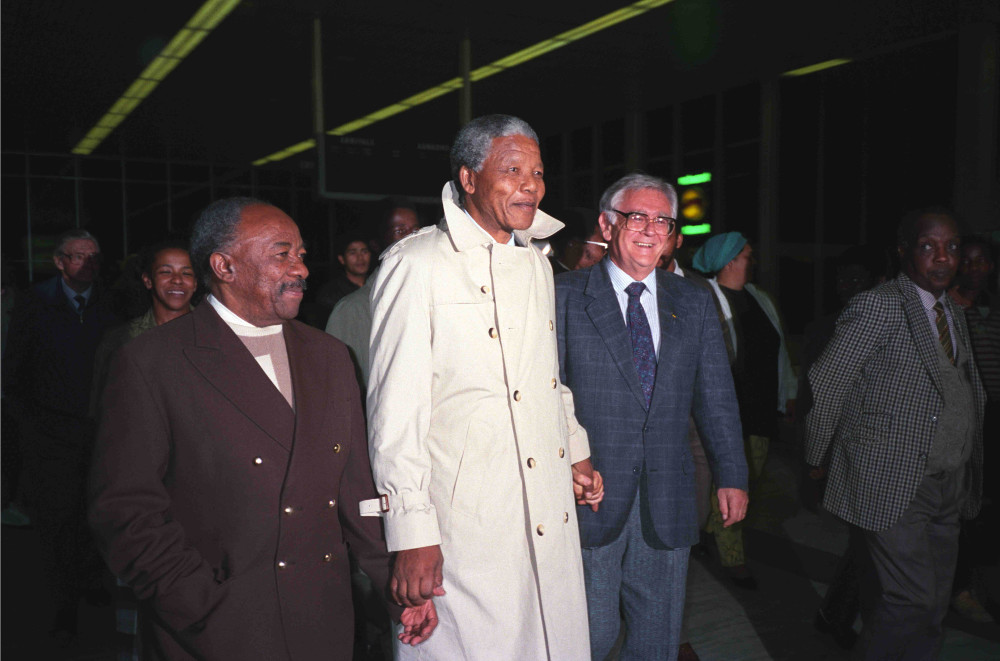 ?
Travelling back to the late 1980's and early 1990's
Showcasing three overlooked Cape Town photographers, Martyrs, Saints & Sell-Outs transports the viewer back to the turbulent late 1980s and confusedly jubilant early 1990s. It was a time of burning barricades, mass burials, compulsory military service and "sneeze machines" (a large funnelled apparatus mounted on 4×4 vehicles that was used by police to discharge tear gas in townships). It was also a time of press gags and mass marches.
Some of those marches were choreographed. In the late 1980s, Bradlow photographed Constitutional Development Minister Chris Heunis, his grey hair combed, his pencil moustache neatly shaved, waving at an unseen crowd in Crossroads, a settlement adjacent the airport. Next to him is Johnson Ngxobongwana, the new mayor of Crossroads.
In his 2011 book, Seeing is Believing, Errol Morris, the distinguished American documentary filmmaker, writes of the infamous Abu Graib photos that they are the "start of a trail of evidence, but not the end". The same could be said of Bradlow's photo, which records the culmination of a grim history.
In the mid-1980s the apartheid state decided to upgrade Crossroads, which meant relocating residents to outlying Khayelitsha. Residents refused to budge. Using local strongmen, including Ngxobongwana, a former United Democratic Front activist who became a state collaborator following his arrest, the state orchestrated a terror campaign.
"The first wave of horror came in May 1986", reads a transcript of the Truth and Reconciliation Commission.
"Over three days the 'fathers', or witdoeke [white headscarf, as the men led by Ngxobongwana were known] systematically burned three satellite squatter camps around Crossroads to the ground. The security forces stepped in. They encircled the area with barbed wire to prevent the 30?000 left homeless by the attack from reoccupying the land."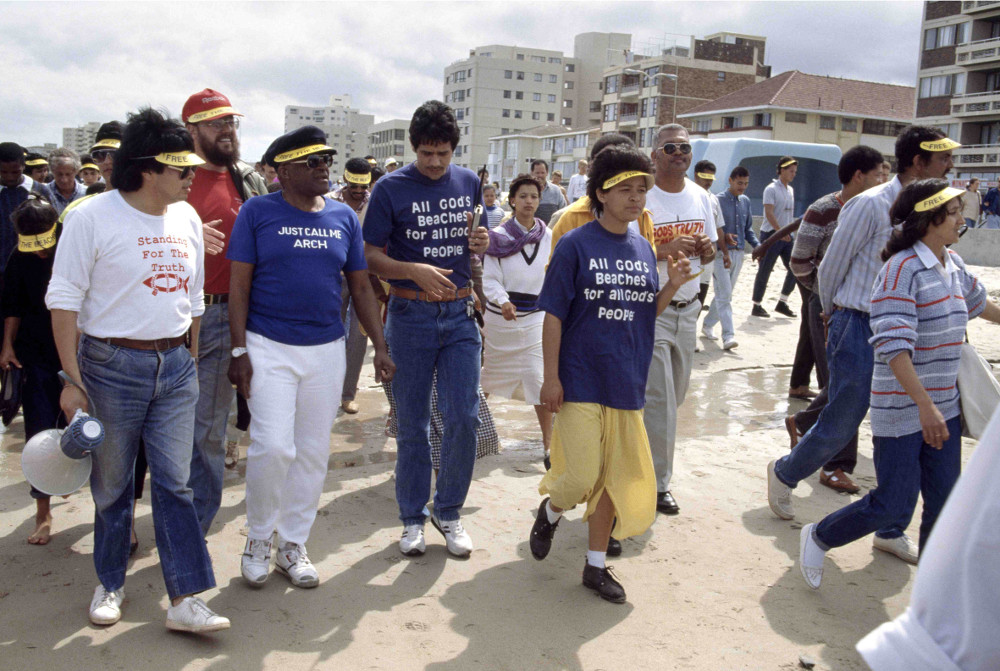 Racially segregating beaches
Bradlow's study of tactical collaboration across the colour line in the late 1980s stands in opposition to another picture he took about the same time. This photo, also in colour, shows a group of mostly coloured activists walking along Gordon's Bay Beach in protest against the policy of racially segregating beaches.
"All God's Beaches for all God's People", reads the slogan on the T-shirt worn by a moustached man in jeans walking alongside Archbishop Desmond Tutu. The avuncular man of the cloth, who was demonised in the white press at the time, is pictured in Bradlow's photo wearing white pants and a blue T-shirt. It too bears a slogan: "Just call me Arch."
Vallie's photograph of Tony Yengeni, Cyril Ramaphosa and Allan Boesak marching under a trade union federation Cosatu banner in Cape Town is a remarkable study in optimism and thwarted hope.
Only Jay Naidoo, the former general secretary of Cosatu, who is pictured at the centre of the march, has maintained a dignified public face. Both Boesak and Yengeni, the former ANC chief whip, have been convicted of fraud; Ramaphosa, a unionist turned mining mogul, is indirectly implicated in the events leading up to the massacre of 34 mine workers at Marikana in 2012.
"In a time where we desperately search for heroes and heroines, perhaps we have been searching too long in the wrong place," wrote Naidoo, chair of the Swiss-based Global Alliance for Improved Nutrition, in a recent blog post.
"It's time to refocus our gaze and look towards to our people, where we will find legions of Mandelas who are working selflessly among the poorest, bringing hope to their doorways every day – in a world that, for all intents and purposes, seems to have stopped caring."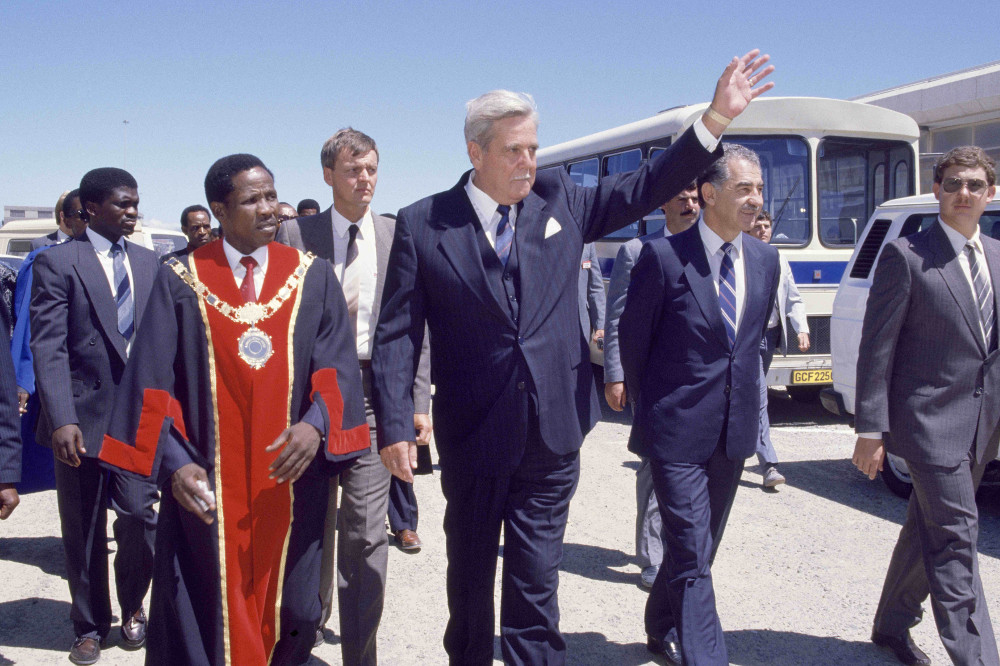 Photography supplied
A documentary
Martyrs, Saints & Sell-Outs is accompanied by a short documentary. In it, Vallie, a founding member of Afrapix, the influential nonracial collective of anti-apartheid photographers, modestly describes her work as "purely personal documentation".
This humility can be diverting; her photograph of a white journalist protesting apartheid media repression by posing outside Independent Newspapers offices in Cape Town, her mouth gagged, possesses a recurring urgency.
In purely formal terms, many of the photographs on Martyrs, Saints & Sell-Outs are wanting. Bodies are oddly cropped, compositions imperfectly framed.
Gool tenders a fair response in the accompanying documentary: "You're not looking for a work of art in someone's misery." These were images made in a rush, sometimes running backwards, always looking askance, at the bullyboys with guns behind the drifting white mist.
---
Martyrs, Saints & Sell-Outs is running at the Good Hope Gallery in Cape Town until October 11. It will open at the South Campus Auditorium, Nelson Mandela Metropolitan University in Port Elizabeth on October 29