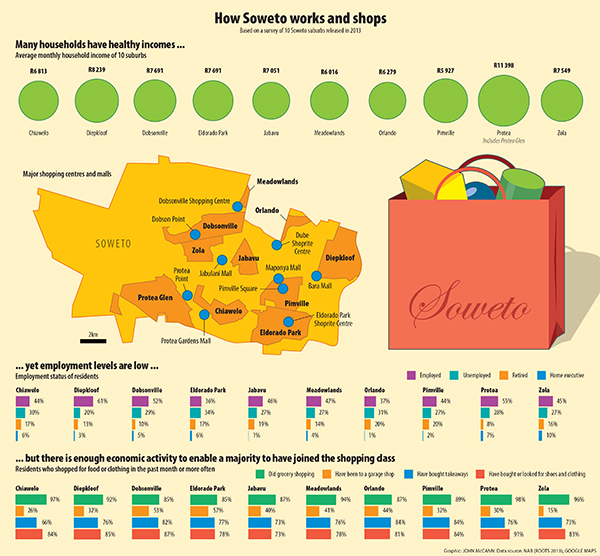 For a larger view of the graphic, click here.
You can't swing a cat without hitting a small business in Soweto. Walls double as billboards and market services to passersby — Khanyi's Kids Parties, Frank's Fast Foods, Lebo's Executive Beauty Bar.
You'll find the sprawling township buzzing at every hour of the day as taxis, cars and buses usher residents and visitors around town, and malls appear permanently crowded.
Scrap collectors push their bursting trolleys through the streets of the vast township, past modest houses in a constant state of renovation.
South Africa's most populous area, Soweto is home to more than a million residents and contributes 3.7%, about R30-billion a year, to Gauteng's economy.
It has consumer spending power of about R5-billion a year, and large retailers are moving into the area to tap into this.
First National Bank reports that, compared to the same period last year to September, applications for business loans increased by 409%.
End-of-the-year bonus
Building supplies group Cashbuild has prospered thanks to an increase in development and renovations.
A manager at one of its three stores in the area said that people flock to the store to buy anything from plumbing supplies to cement when they get their bonuses at the end of the year.
Banks have been keen to finance affordable housing in suburbs such as Protea Glen in Soweto. There are 17 000 houses in this suburb, of which 13 000 are mortgaged.
Defaults make up just 1% of the total. Soweto has also been benefiting from the upgrading of roads and related infrastructure.
A member of the City of Jo'burg Mayoral Committee for Economic Development, Ruby Mathang, describes the vibrancy of the small and medium enterprises sector as the backbone of development initiatives in the township.
"If you go to a number of these townships we have in Jo'burg, but more specifically in Soweto, you will find this enterprising spirit. People have started finding different means [of generating income]," Mathang said.
"From the city's perspective, we have taken the position [that] we are going to support small businesses in different ways."
Call for the support of small ­business
The apparent effervescence of Soweto appears to accord with ­strategies outlined in the ANC-supported National Development Plan (NDP), which calls for support of small ­business, including fewer regulations and greater access to finance, in order to fast-track ­inclusive growth in the country.
The NDP also sees opportunities to grow as the new middle class secures services from individuals and small businesses.
The Mail & Guardian spent two days in Soweto this week to better understand the extent to which it is growing and why.
Statistics are in short supply, but where they are available we have accessed them to give as full a picture as possible of what is working and what is not.
Mathang speaks of "co-production", as it is termed by the mayor of Jo'burg, where big contracts — the capital expenditure for next year is R7.4-billion — will be split so that 30% of the work will be allocated to small businesses.
Martha Letawana, one of three owners of Bopanang manufacturers in the Orlando West industrial park, sews a pinafore on an old but sturdy machine, and two other women snip and sew a batch of school uniforms in the hot room. The business has seen better days but, "yes, we are surviving", Letawana said.
Christmas money
The school uniforms are part of an order for 250 that the government has given the small business over the past few years.
This will keep it busy until the end of October, but for the rest of the year it remains relatively quiet.
"Sometimes we haven't got money to buy food," said Letawana. Most times "we don't have money for Christmas".
Mathang said the department of economic development in partnership with the University of Johannesburg also offers a training course that is tailor-made for people who are starting businesses.
"We see small companies starting to emerge, but in no time they are out again," Mathang said.
The NDP calls for reduced regulatory compliance for small and medium businesses, and the City of Jo'burg is adding its support.
Law hard on businesses
"The law has been hard on [small businesses]. The bylaws were draconian, the city has changed its position completely," Mathang said.
"We need to acknowledge that it may not be formal work, but that a person can add to the economy in a small way … and the city is looking to help."
Mathang said people were doing all sort of things that had previously been declared illegal — like operating a business from the back of a residence — "but now we are encouraging that".
Chairman of the Greater Soweto Business Forum, Churchill Mrasi, said there are many challenges facing businesses in Soweto.
One of them is competition — big businesses have moved into the area in the past few years and have edged out some of the smaller retailers.
"They came in with the pretext of creating jobs, but there has been no small business development — we were expecting them to empower people somehow … we thought they might create co-operatives with small business, but that never happened," Mrasi said.
Empowering a new generation of entrepreneurs
Pick n Pay marketing director Adrian Naude said the company opened its first store in Soweto in Maponya Mall in September 2007. It now has 11 Pick n Pay stores across Soweto, only one of which is company-owned.
"The advent of franchisee-owned supermarkets saw Pick n Pay empower a new generation of entrepreneurs. More than 1 000 people are employed in Pick n Pay stores in Soweto," Naude said.
Shoprite spokesperson Sarita van Wyk said the presence of Shoprite in Soweto led to the improvement of the business community in many instances.
The Shoprite Group opened its first supermarket in Soweto in 1994 and now operates 23 branches in the Shoprite, Usave and LiquorShop brands, which employ more than 1 600 staff members directly. More than 700 jobs are provided via outsourced auxiliary services.
"Shoprite does not believe that its operations have been to the detriment of the community. It has, in fact, created much needed competition in that market, which drives prices down and saves consumers transport costs by enabling them to do their household shopping and conduct necessary transactions on their doorsteps," Van Wyk said.
Shoprite has also revitalised previously dead business hubs in Soweto, including Dube, Pimville, Chiawelo, Klipspruit, Zola and Naledi.
Small businesses everywhere
"Subsequently, each area has small businesses surrounding it, which would otherwise not have materialised."
Woolworths told the M&G that it has opened two stores in Soweto, which have created employment and driven a range of community development initiatives.
Mathang said any South African can trade anywhere as long as it is within the law, and said that there is indeed a movement of big retailers into townships.
If the economy was good, this would be good for Soweto and, in the long run, would make the environment competitive, which would result in lower prices for consumers, he said. "For now I agree, the spaza shop next door feels the pinch … but in the long run, we think it's good."
The tension between local and foreign traders is also clear to see across the township.
In the older suburb of Meadow­lands, for example, "Somalisi leave our spaza shops" is crudely spray-painted on walls.
Family business
At the bustling Orlando West industrial park, which lies just off Pela Street, Patrick Mnisi owns a panel beating shop that he started in 1983. It has since grown into a family business that employs 11 people.
Foreign business owners are considered a problem in the industrial park too, Mnisi said, estimating that the divide was about 40% local business and 60% foreign.
"It is survival of the fittest … You have to lower your rates in order to compete." He said that sometimes, the rates were so low it was hard to make any profit at all.
Simon Manyone, a former tenant who opted to close his business down in favour of a government pension, said: "They are informal, not registered businesses. They are killing formal business."
But Musa Nkabinde, a carpenter who set up in the industrial park in 1998 and sells furniture to local shops, appeared less concerned.
"Competition is good, it sharpens your skills."
Xenophobia in the township
Mathang said there is xenophobia in the township, but "it is really linked to issues around business and commercial activity — it doesn't happen on a social slant".
He said the position of the City of Jo'burg is that those activities are not illegal, and people need to be able to trade.
He said South Africans could learn to be competitive by observing how foreign traders are able to offer better deals and by mimicking them.
The spending power of Soweto, according to Mathang, is R5-billion a year, though only a quarter is spent in the township itself.
"The money that is there, we need to catch it and have it stay in Soweto," Mathang said. "People are not spending in Soweto because prices are not competitive, products are inferior, or the range is limited."
Mnisi, who is also the public relations officer for the Gauteng Industrial Parks Association, said the government in 1982 promised to transfer the title of the shops into the names of the long-standing tenants, but this never materialised.
Unable to expand
As a result, small businesses in industrial parks are unable to expand or upgrade their premises. The collateral would also be welcome in order to access bank finance.
Unemployment in Soweto remains a problem and youngsters find it particularly hard to secure jobs.
Unemployment is at about 28% according to data on 10 Soweto suburbs published in the Roots 2013 survey, but the City of Jo'burg reported an unemployment rate of 42% in 2010.
Poor access to finance keeps small businesses on their knees. Lebo Meko runs Lebo's Executive Beauty Bar from a back room in the grounds of her grandmother's house in Molapo.
The room, with walls painted a striking pink, is set up professionally with all the products and gadgets one would expect to see in any beauty salon.
Meko is dressed in a uniform and groomed to perfection, with French-tip toenails peeking out of her black high heeled shoes.
Credit record
Like so many other entrepreneurs in the township, Meko started her business with savings and now wants to expand it but is coming unstuck on financing.
"I have tried the bank route. I went to all the banks, believe me."
But a less-than-perfect credit record, as a result of a Truworths clothing account, has left Meko unable to raise sufficient funding.
The problem of financing for small business is clear to see in Soweto and even the National Development Plan identifies the need for particular financial services to bring down the cost and improve access for small- and medium-sized enterprises (SMEs).
Noza Nchabeleng, founder of Noza Nchabeleng Publishing, is planning the imminent launch of sowetobusinesses.co.za, an online database of local businesses. It has taken a few years to get off the ground because she has had to fund everything out of her own pocket — bank financing was simply not an option.
The banks, she said, require a 20% deposit up front, something she did not have.
Banks are reluctant
"The banks are not ready, the banks are quite reluctant," a member of the City of Johannesburg's mayoral committee for economic development, Ruby Mathang, said. "For small businesses, they are not coming as fast as we would like."
Sanjeev Orie, head of products at FNB business banking, said there has been a big increase in the volume of applications scored for businesses.
By the end of September this year, FNB had seen a 409% year-on-year growth in business applications coming from Soweto and a 39.82% month-on-month growth in the number of applications for new and increased credit.
As a percentage of the population scored nationally, Soweto businesses represented 1.71% by volume. And, as a percentage of the new and increased applications marked, it accounted for 0.27% of the total number in September 2013.
"The most common referral or decline reason for this population is that the business risk is too high or business turnover is too low," Orie said. "The key differentiator is [the] age of [the] business."
Donovan Steenkamp, head of customer financial solutions for business banking at Standard Bank, said: "As Soweto steadily transforms to a fully fledged, economically viable city in its own right, it demonstrates all the typical risks and opportunities presented by emerging local markets anywhere else in South Africa."
But, Steenkamp said, typical challenges in the SME sector remain. These include a lack of security for credit, limited financial records, low business management capability and a lack of marketing expertise.
Alan Shannon, head of strategy and marketing for Nedbank retail relationship banking, said Nedbank's lending policy and processes are underpinned by world-class risk-management practices that support responsible lending and all applications are assessed in line with the National Credit Act where applicable.
"The challenge in obtaining finance is not so much about the geography within which the small business operates, it lies more in their tenure of being in business, record keeping, credit record and the ability to generate and demonstrate a sustainable profit and positive cash flow," Shannon said.