It is late on Wednesday afternoon, the day before the media opening of the exhibition called Hello, My Name Is Paul Smith, and I'm upstairs in the Design Museum in a largeish box with the designer named Paul Smith (67).
"The doctor is ready to see you," he tells me with a wide grin on his face. For a change, I don't miss a beat and say: "But I'm here for the dentist", to which he makes a swift U-turn and disappears into the cacophony of very last-minute preparations: drilling, hammering, banging, sawing and stressing.
It's probably a crisis he has to deal with quickly, I think to myself as I glance again at my list of questions for our interview. But as I look up, in bounds the 1.86m-tall lanky Smith again, this time with a big green drill aimed at my face, grinning even wider. "Open your mouth wide!" and he roars with laughter.
The 3m x 3m box we then settle into for the interview is a replica of the first shop he opened in his hometown of Nottingham in 1970. The shop manager, he says, was his Afghan hound with the name Homer. "We looked exactly the same and people sometimes confused us," he smiles and you can almost believe him, with his greying floppy long brown hair with its middle parting.
Smith is not only known for his love of music; there have been numerous collaborations with musicians. Many are close friends and his shops have the hippest playlists, which he vets personally. So, a retrospective like Hello, My Name Is Paul Smith is a bit like a greatest hits collection for a band? "To be honest, clotheswise it is not a retrospective, but the rest is very much about how I started," he says.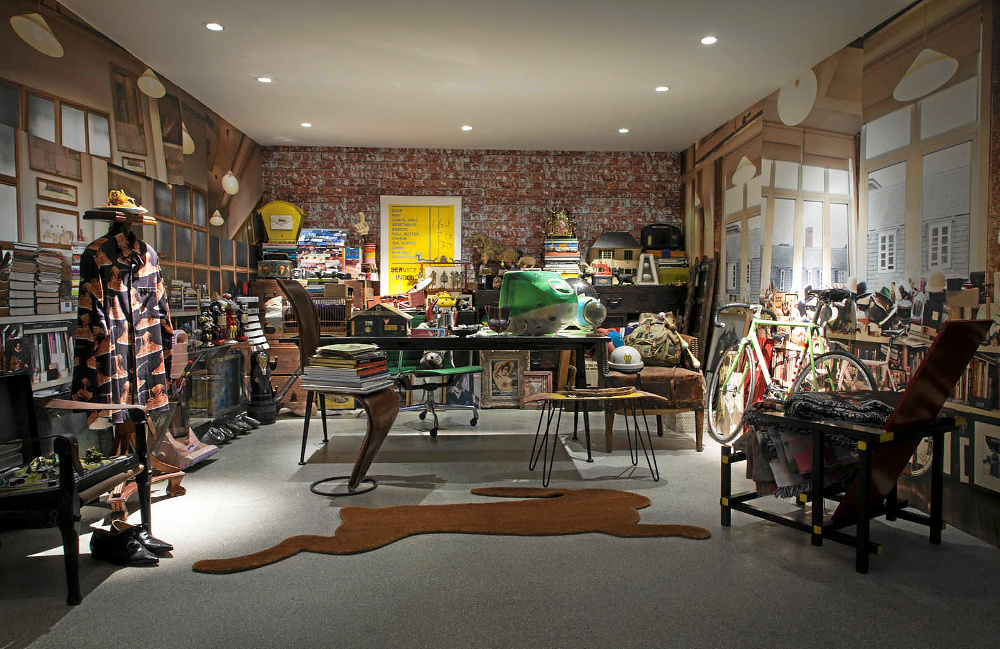 Paul Smith's office
"The room we're sitting in is the actual size of the first shop and that's the thing you have to walk into when you walk into the exhibition. It's not for us, it is for people starting out who are going 'Well, he started with that tiny little shop and he's managed to progress as far as he has'. So it's sort of the almost greatest hits."
It wasn't for nothing that Design Museum director Deyan Sudjic told the Financial Times in a recent interview that "Paul has become the most successful British designer of the past 50 years". Included in the greatest hits compilation for Paul Smith – the company – are more than 350 shops across 82 countries (including one in Johannesburg and one in Cape Town) with a company turnover last year of more than R3.4-billion and 14 annual collections, including menswear, womenswear, accessories and products.
As chief executive, principal shareholder and chief designer of the label, Smith oversees all of these collections personally.
"In the beginning of my career, this shop" – he sweeps his hands in a semicircle – "was open only two days a week." On the other days he did freelance jobs as a window dresser, tailor and stylist. In the evenings, he took a fashion design course.
Smith flashes his dark blazer open with his right hand and reveals a typically quirky Paul Smith black lining printed with bold snow-white triangles: "This was this shop." He flaps the jacket closed again, "and this is the other days of the week".
"If you analyse the success of Paul Smith, it's lots of blue jeans, lots of T-shirts, lots of navy-blue suits, lots of white shirts, lots of simple dresses, and suits for women." In the exhibition rooms, there are the bold colours, bohemian designs, dandy patterns, "which are these things, for the press, for fashion shows, for rock stars. You need that balance in creativity – front of house, and a solid base of big-turnover stuff."
"Everything in life is about balance. My relationship with Pauline [Denyer, his life and business partner since 1967] has lasted this long because it is about balance, it is about give and take, to know when to be interested and interesting, to know when to listen, and when to talk."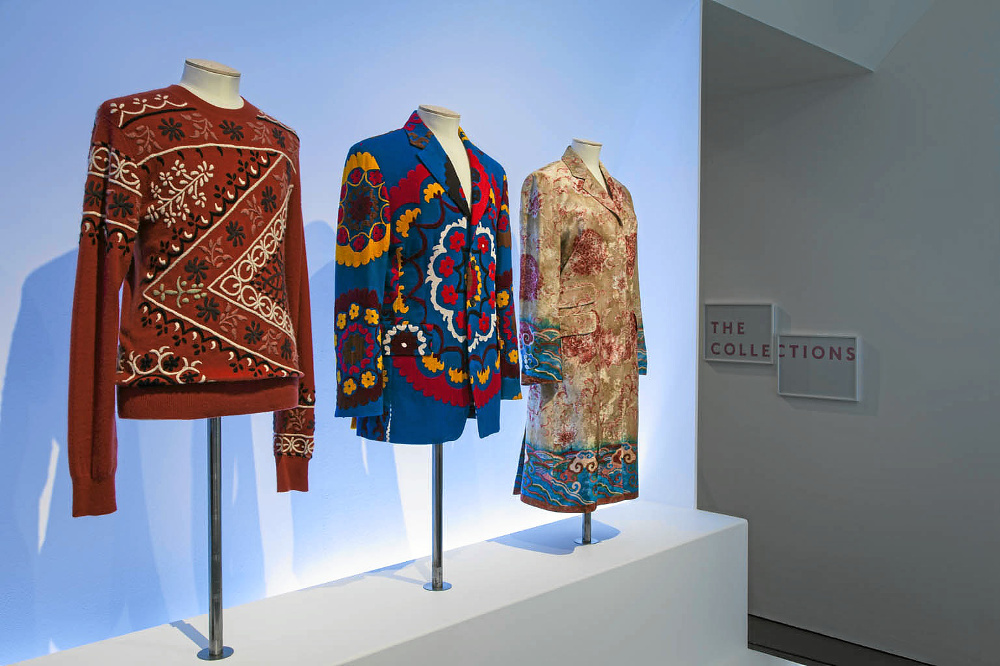 A sample of his Collection
Does an exhibition like this make him aware of his mortality?
"It does, because people like yourself have been asking that question – quite rightly and quite interestingly – so you realise you've been around for a long time and you're not going to be around for ever. The company, for sure, will carry on, because it is extremely solid. We don't have any borrowings, we own a lot of our buildings. I own 60% of the business and I've got a managing director, a financial director, a head of retail, a head of design under me," he says seriously, but then pauses and laughs. "So if I'm not around, it will work, just … front of house will be different, the maître d won't be there."
Does it make him feel uncomfortable when people like me ask these questions?
"No, not at all." He looks into the middle distance and back.
"I don't want to die, I absolutely don't want to die. I love life and I sadly think there's probably nothing else afterwards. So it is very frightening, but however famous or wealthy or whatever you are … you're gonna die."
What do you still want to achieve? "Continuity really, just more of the same – what I love the best is that the company still has a heart, it's not from the wallet, it's about having a nice day, really."
When will you retire? "When will I? I have no idea really. I have no plans at the moment. Probably when I've keeled over." Smith laughs.
How are you growing old: Gracefully, cheerfully, creatively?
"Hopefully, hardly at all!"
It is sort of unfair to ask these obituaryesque questions of him even though he is three years shy of his 70th. The energetic Smith makes people a third of his age look decidedly decrepit.
"I get up just before five, swim every morning at 5:15, get to the office or my studio at six and have an hour and a half of freedom before everybody arrives, so I put on my vinyl – this morning it was Talking Heads."
What gives you this amazing energy? "Love of life, really. The last thing you'll see when you leave this exhibition is a note that says 'Every day is a new beginning.' I wake up in the morning and I'm totally positive, I don't mind if it is raining or cold or windy, I just seem to be blessed with the joy of life.
"I never lose my temper. I'm very sociable, I'm very easy-going, I'm a very polite man, I say 'please' and 'thank you'. I ask, I don't tell. I just seem to be blessed with this character – just a very easy guy.
"I think, without realising it, after all these years, I do actually touch a lot of people in spirit somehow. I'm not a big spiritual man, but somehow I do manage to encourage or give hope or whatever to people, just because I'm normal … well, I'm not normal, what I mean is I'm down-to-earth."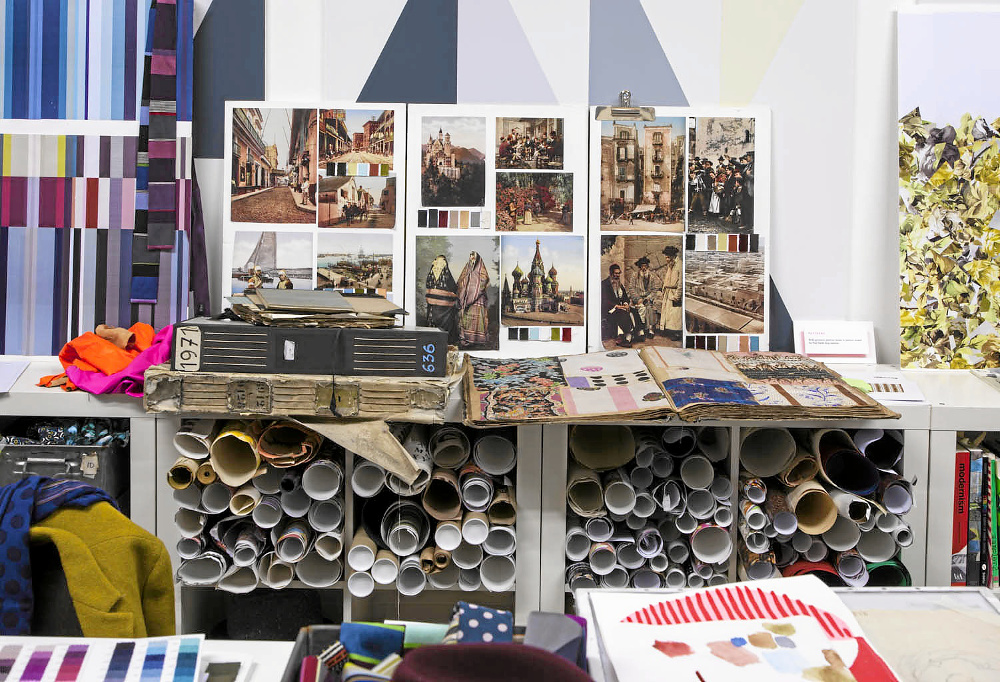 The Design studio
A quick scan from glasses to brogues indicates he is a head-to-toe Paul Smith man, but to make sure: Do you wear only Paul Smith clothes?
"I do yeah … it's for free!" He bellows a mischievous laugh. "I nick them, I pinch them from the shop! Underwear, socks, gloves, watch, spectacles, nickers, the whole lot."
What makes you laugh?
"Very simple things, not jokes, I'm not very good at jokes. I love word association and awful puns."
Do you ever cry?
"I do, yeah. Not very often, but sometimes I do. I cried when I was on the radio programme Desert Island Discs. I was talking about meeting Pauline and about my mum."
When the presenter asked Smith to introduce the next song – which was Imagine by John Lennon – the tears came flooding.
"I felt a bit embarrassed, but she said: 'Don't be embarrassed, there's nothing to be embarrassed about, because it's so normal'."
Who are your heroes?
"My wife Pauline definitely – she's the reason I'm here. My dad was good, a lovely man. After that, just all my kids at work, I love them.
"I like the roadsweeper I meet every day – he's very nice. I don't know his name. I meet him every day, he happens to be there near the swimming pool and I talk to him a lot. Except, he said to me the other day: 'You're the only person who speaks to me.' I found that really dispiriting because, obviously, people think he is not worth talking to, which is terribly sad."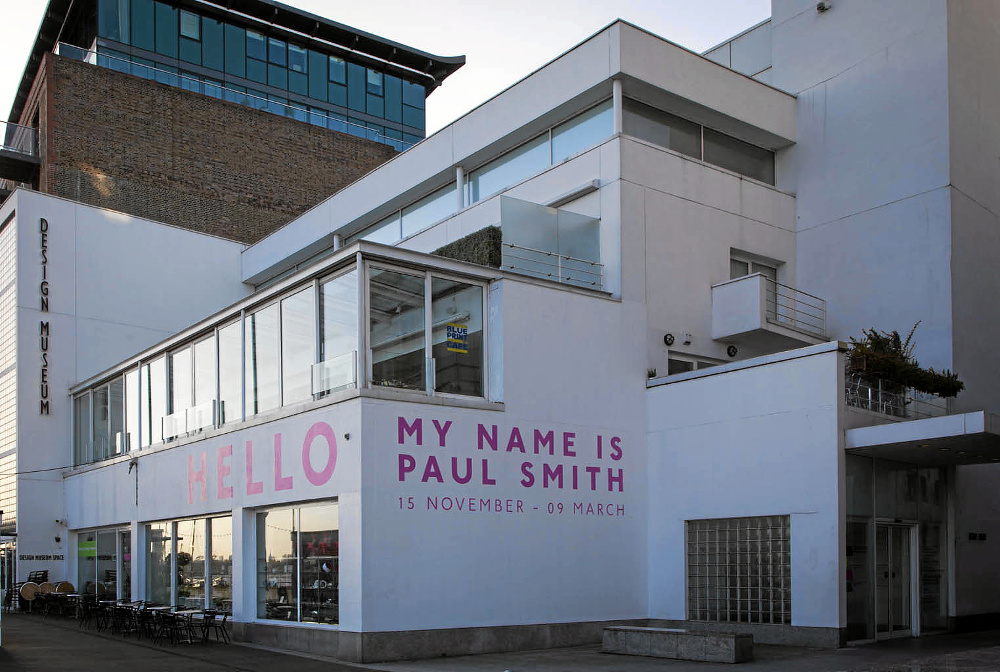 Smith's Design Museum in London
Charming the socks on the fashion-forward media
It is Thursday morning in the Design Museum's auditorium on the banks of the Thames River, and the international press conference is packed with beautiful people who wouldn't look out of place on a Paul Smith catwalk.
They are journalists from around the globe who have come to cover the media opening of the exhibition called "Hello, My Name Is Paul Smith". They push trendiness into the red, exude cool in ALL CAPS.
But minutes into his short address, designer Paul Smith, the man of the moment, has melted their hearts with his wicked humour and genuine sincerity.
"It comes from here, it comes from the heart," he says, and taps his chest. You sense that the potentially tough crowd may well be believing him. "The key to my life is the love of life."
Then it's question time.
"If you ask a question, I'll give you a pair of socks," he says with a naughty smile. And who can resist the famous, colourful Paul Smith socks, or their equally colourful designer?
The cool crowd is eating out of his hand by now, shouting questions. He answers with wit and attentiveness.
"Can I throw the socks?" he asks a gorgeous Russian journalist.
Downstairs, in the vast exhibition space, he is equally generous with his time and the care he takes to answer questions, as the cameras pop away.
He guides us from space to space: the recreation of his minute first shop set up in 1970 in his hometown of Nottingham; the replica of the Paris hotel room back in 1976 where only one buyer came to look at his first collection; his cluttered office; the studio; a focus on collaborations with Mini, Leica cameras, Evian water and David Bowie; a "tiny, tiny selection" of Paul Smith's massive archive of clothes; a spectacular Sony-produced ultra-HD video titled A Day in the Life of a Fashion Show; and a video installation attempting to take you "Inside Paul's Head".
"It's about looking and seeing. Many people are looking, but aren't seeing," Smith says.
Then, there is a large room stacked with a "tiny fraction" of Smith's presents, art and photographic collection, "from a six-year-old fan who has written, to a Bruce Webber photograph".
Smith is generally on the receiving side of unprecedented generosity. Unlike most designers, he doesn't only have customers, he has multigenerational fans. Many show their adoration with completely quirky presents. He writes back to everyone to thank them personally.
"There's 11-year-old Margot from Belgium who wrote, 'I don't like fashion, but I like you', and she's never met me. She sent me a delightful nativity for Christmas made from peanuts.
"Then, the large carton with five spinning tops from Italy, with just a note saying, 'I know Paul Smith likes things'."
Smith looks as if though he still, after all these years, cannot believe his luck. "It's unbelievable. It's humbling. And every day …"
Hans Ulrich Obrist, the Serpentine Gallery' s co-director, told the Financial Times, "People identify with him, they feel connected to him through wearing his clothes, but also through encountering his shops. That's why they send him things. He has always had a unique dialogue with his customers."
In my interview with him last Wednesday, I gave Smith my theory about why fans shower him with presents. "It is the way you accept them," I said.
Smith nodded slowly. "That's lovely, thanks. Thank you."
---
The exhibition is on until March 9 2014. Charles Leonard's flight to London was sponsored by British Airways