Many of us neglect our dining rooms. We prefer to hang about the kitchen like the family pet. Perhaps it's because most of us were fed in the kitchen before we were old enough for the dining room. Oddly enough, I've never liked open-plan kitchens, not at home, not in restaurants, and yet I love eating in the kitchen.
I was delighted then to be invited to chef Tanja Kruger's two-seater table in her restaurant kitchen. It is a high table of superior marble tucked out of the firing line, but directly in front of her kitchen's window on the world outside. As the friendly maître?d' described it, pointing at the rectangular glass pane: "Bang on the fish tank if you need anything."
The Makaron restaurant (the name is a nod to macaron, the slang in France for the coveted stars of the Michelin guide) is housed in the upmarket Majeka House hotel and spa in Paradyskloof, Stellenbosch. Here you can bathe in the indoor swimming pool, have a hot stone massage or lie on a crystal Himalayan salt bed, get an African potato body wrap and a marula and walnut with shea butter skin polish – all of which makes one sound quite edible.
Although it has been in the Eat Out Top 20 for three consecutive years, Makaron hasn't attracted as much buzz as some of its neighbours. But Kruger has plans. During May, she is bringing together her chef contemporaries to create "four hands", six-course dinners. The chef of the night makes three courses, alternating their creations with Kruger's. Guest chefs lined up are Christo Pretorius of Azure restaurant at the Twelve Apostles Hotel and Spa with a menu centring on seafood; Michael Deg from Delaire Graff with a Cape focus; and a chef of a very different style from her own, Gregory Czarnecki of The Restaurant at Waterkloof.
It is a regular night when I dine at Makaron. Kruger wasn't on duty, but popped in to say "hello". I was in the capable hands of sous chef David Botha and his junior Germaine Esau. There was also Piotr Karpinski, a visiting Polish chef from Majeka's sister hotel, Hotel Schönegg in Wengen, Switzerland, who appeared to be learning quite a bit. I gather Kruger underwent a revelation of sorts while doing the Camino de Santiago during her sabbatical last year. Her menu now focuses on local, seasonal and ethically sourced ingredients.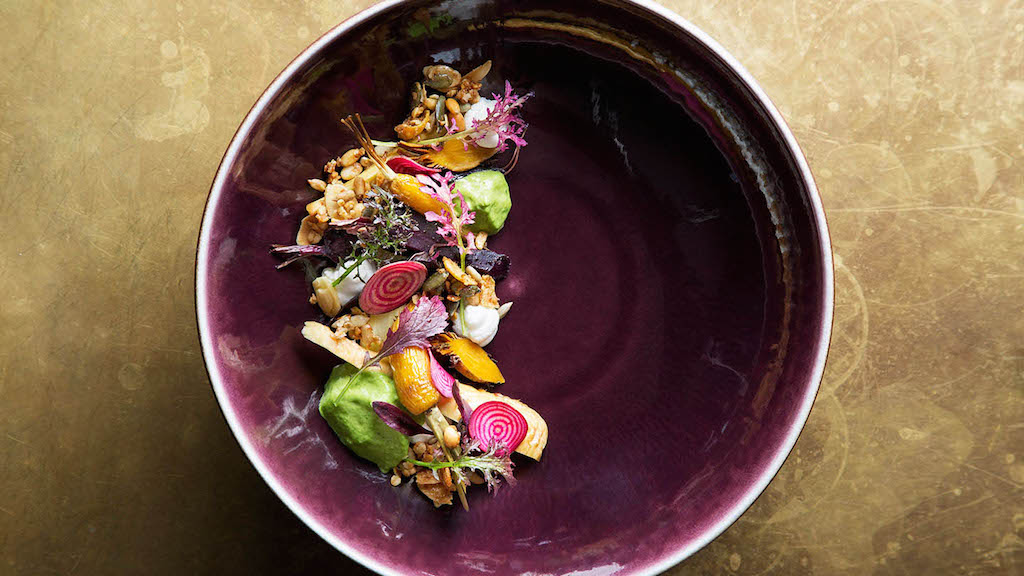 The loquacious sommelier, Esmé Groenewald, shares her devotion to the grape with such enthusiasm you'd be a fool not to go for the wine-pairing option. As happens with such gourmet arrangements, I meet some new friends in bottle shape.
We start with bread and bubbles (Villiera 2010 Brut Natural): an airy chive and sweetcorn muffin, fire- roasted bread and the best gluten-free bread I've had – made with red quinoa and xanthan gum. There were kale velouté in a shot glass, black olives, merlot salt and three kinds of butter, including goat butter from McGregor, a first for me.
A second amuse-bouche included roast aubergine, roast cherry tomato, julienned baby carrot and chive oil.
The first course was a sort of cream cheese and vegetable mille-feuille with sweet potato "puff pastry" in a thousand layers, but you can't really tell. It seemed a lot of effort for a rather stolid result. The pickled pear and pear chip, the sunflower purée, and drops of yellow sweet potato purée, looking like zucchini flower stamens, were all palate tantalisers. A deep gold Stellenrust 2013 Chenin Blanc from vines a little older than me picked up and ran with the pear.
The second tasting course was a mild egg white calamari cannelloni with steamed calamari tubes, surrounded by excitement – pickled cucumber (being in the kitchen I was privy to how it was vacuum-prepared), wild harvested sea lettuce, seaweed salt and deep-fried calamari tentacles. Perhaps it was the salt, but the unusual Craven Clairette Blanche wine pairing started badly, but opened up beautifully.
The next course had foraged porcini mushrooms, pine nuts, pine oil, wood sorrel, buffalo fromage blanc and two mushroom ravioli, which I found a tad thickset. The Madame Marlbrook white (I'd only ever had Constantia's red Marlbrook blend) had just the right wood spice for the dish. The "main course" was a plate of striking greenery – a log of hake rarebit with tender-stem broccoli, Brussels sprout leaves and other green things. It was a coup de théâtre to have the evening's only red wine to go with the fish course – a Stellenrust Cinsaut.
For dessert, a 2008 Catherine Marshall Myriad dessert wine with goats cheese and vanilla cheesecake, guava, num nums (Carissa macrocarpa) and black sesame ice cream. To finish: chocolate dulce de leche and hazelnut. Of course, I ate the rose petals too.
Kruger is certainly adventurous and bold. Her kitchen is full of treats; it's at Majeka House's heart.
Makaron restaurant, 26-32 Houtkapper Street, Paradyskloof, Stellenbosch. 021 880 1549