Some of the 10 members of the Democratic Alliance's Johannesburg mayoral committee hold controversial beliefs, including that Bantu education was better than the current system and that Israel is not an apartheid-style state.
Last week, newly appointed mayor Herman Mashaba introduced his A-team – a group of academics, activists and a former restaurant owner – who will lead the city into "a new era" and prioritise delivery, particularly to the underprivileged.
But some have question marks over their past behaviour and statements. Academic and author, and now member of the mayoral committee (MMC) for finance, Rabelani Dagada believes that the ANC has failed poor white people. "The government is very indifferent to the impoverishment [of poor white people] because, according to ANC thinking, they were previously advantaged. This kind of thinking is wrong and it leads to new forms of apartheid."
Dagada, who believes Bantu education was better than today's public schooling system, also supports AfriForum. "I have little respect for racially based organisations like the Black Management Forum and the Afrikaner Broederbond … I joined AfriForum, which is wrongly perceived as being a white, and specifically an Afrikaans, organisation," he wrote in a 2013 politicsweb article.
After Dagada visited Israel and Palestine earlier this year, he wrote that there was no such thing as apartheid in Israel. "There are no discriminatory laws in Israel and the Jews are not oppressing the Israeli-Arabs … Despite the tensions and sporadic battles between Israel and the two Palestinian territories, Israel is still delivering essential services to both the West Bank and Gaza."
The Mail & Guardian asked him about affirmative action, which he has described as "a form of racism". But he said he had never insinuated this. "Of course, I have been very critical of the blatant manner in which these important policy instruments are implemented by the ANC cadres, technocrats and deployees. I am actually a beneficiary of both affirmative action and BEE [black economic empowerment]," he said.
He denied calling the "poor white problem" a "new form of apartheid".
He isn't the only one who has made headlines. According to media reports, the MMC for public safety, lawyer Yao-Heng Michael Sun, once defended alleged Chinese kingpin Ran Wei in a case involving the possession of 57 196 perlemoen.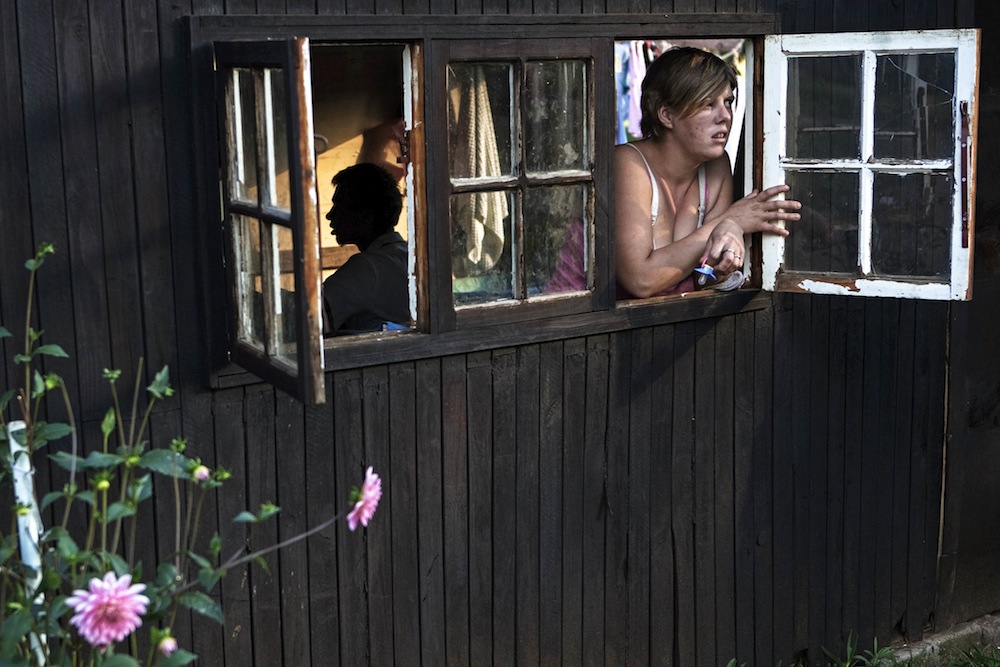 A woman in a camp for indigent white people in Krugersdorp. 'Poor whites' have a champion on Jo'burg's new mayoral committee. (Finbarr O'Reilly/ Reuters)
Sun declined to respond to questions about the case. "Even if the client had merely consulted with me on the phone, I am still bound to confidentiality in terms of the attorney-and-client privilege rule," he said.
Sun's former client was released in 2006 on R1-million bail. Five years later, he was wanted again on charges of running and funding a national perlemoen poaching syndicate.
Another of Sun's notable cases involved his successful defence of China Auto Manufacturers, which assembles the Inyathi taxis in South Africa, against a Chinese widow. The claimant flew to South Africa to request that the company be liquidated as it owed her R147.6-million.
Meanwhile, the MMC for community safety, Nonhlanhla Sifumba, who is usually vocal, was subdued when asked whether she stood by comments she made two years ago about the Economic Freedom Fighters.
At the time, she lashed out at the red berets for stealing the DA's limelight. The issue involved a statue at the Maponya Mall in Soweto, which depicted Mbuyisa Makhubu holding a dying Hector Pieterson during the June 16 student uprising in 1976.
The DA had been advocating for Makhubu's family, some of whom claimed the mall was profiteering from the use of his likeness. The EFF believed it was not right for anyone to use the image without compensating the family and interceded, forcing the mall to remove the statue.
Sifumba told the EFF to "hang their heads in shame" for turning a family matter into a political gimmick. But that was before either party knew they would become allies against the ANC.
On Wednesday, Sifumba said she would rather focus on the present and the future that involved serving the residents of Johannesburg.
Inkatha Freedom Party member and the MMC for housing, Mzobanzi Ntuli, has been part of the city's mayoral committee on housing since 2006. During this time, allegations have surfaced over housing list corruption, directors acting for extended periods of time, tender corruption and missing millions. Ntuli said he would investigate the allegations.
Anthony Still headed Johannesburg Water from 1999 to 2004. During his tenure, several unions alleged that the council was forced to award a tender to run the city's water and sanitation services to French conglomerate Suez Lyonnaise des Eaux.
At the time, the unions described the DA's proposals to transform Johannesburg, which included installing prepaid meters in areas such as Soweto, as nothing more that an accelerated version of the ANC's failed policies.
When asked whether he wanted poor people to pay for water, the new MMC for environment and infrastructure services said: "People living in informal settlements do not pay for water and this will not change."
After resigning from Joburg Water, Still began consulting and also tried his hand as a restaurateur, selling his restaurant in 2008. In 2014 he returned to politics as a councillor in Johannesburg north.
During this time, he penned several letters, including one in March this year decrying a Constitutional Court judgment that declared the school admission regulations on feeder zones unconstitutional. The court ruled that the provincial education department had to determine new feeder zones, allowing for schools to be open to everyone regardless of income status, race or class.
Still said the reality was that the middle class would be the victims. "In short, the only remaining centre of excellence in the government schooling system, the former model C schools, will collapse," he wrote.
He did not support apartheid-style spatial discrimination, he said, adding: "However, it is a legacy that we live with and it will take time and a growing economy to redress this."
Richard Funzela Ngobeni, the new MMC for development planning, was a senior sales executive for Botswana Airways. "I left in February 2015, after a labour dispute with the employer, which we're still resolving through legal processes," he said. He has crossed the floor many times, moving from the ANC to the Congress of the People, and now to the DA.
The remaining committee members include an IFP member who has served on many parliamentary committees, a former University of the Witwatersrand somatology lecturer, a tourism and project management expert, and a medical doctor.