When musicologist and performer Dizu Plaatjies and his percussion ensemble iBuyambo introduced one of their songs at a recent Music in Africa performance at the Wits Theatre, he held a caïamb in his hand and explained that he adapted the rectangular percussive instrument from one he saw in the Reunion Islands.
"Ladies and gentlemen, now we are going to play this beautiful instrument, this one we call caïamb/kayamb," he said. "The first time I saw this instrument it was '85 in a place called Île de Reunion, not far from Madagascar. When I went back home to Mpondoland, I looked at this instrument and I said, 'Well this, I can make it'. So here it is. You don't have to go to Reunion, go to Langa, Cape Town."
The five-man group launched into what seemed like a diviners' song, with three caïambs taking the place of handclaps or footstomps. Additional backing was being provided by a djembe drum and a player behind a set of Nguni bass drums.
For Plaatjies, who has recorded over 40 albums with the Cape Town-founded percussion group Amampondo, the idea of cultural appropriation is moot when when one is dealing with a continent that has been renamed and its peoples' kinships rearranged into nation states and Bantustans.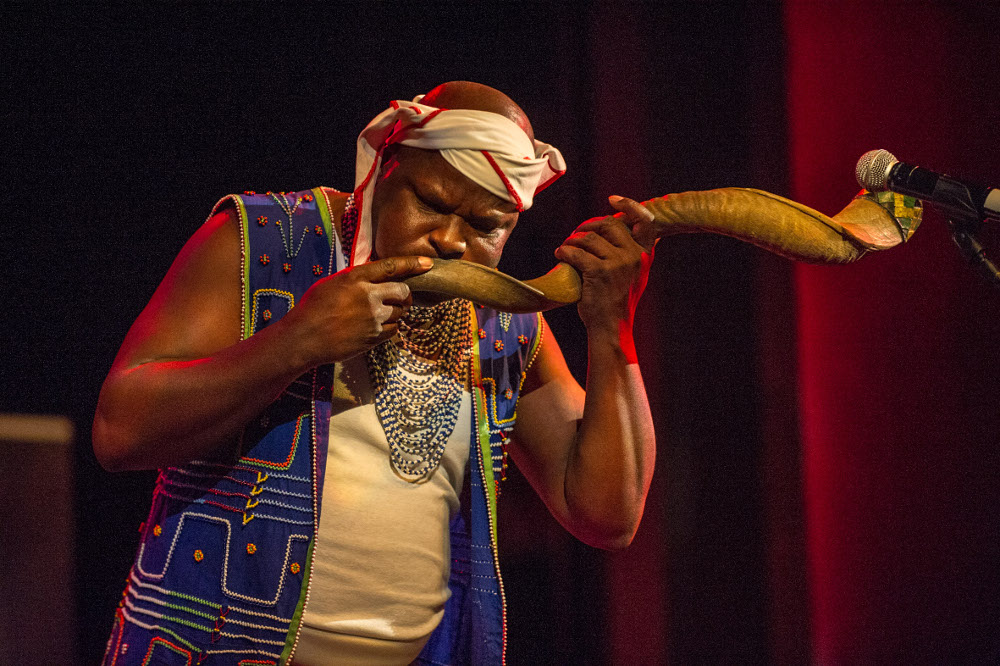 "If you go to a diviner's gatherings, they'd actually use the skin of the animal and beat it like a drum," said Plaatjies, who comes from a family of healers. "We never carved wood [for drums] like they do in West Africa. So we would clap and stomp. So we as iBuyambo use Tsonga rhythms and those from elsewhere."
Plaatjies, a musicologist who teaches at the University of Cape Town, says as far as he has researched, Xhosa speaking people began carving drums with metal hollows after colonial conquest, relying on four musical instruments, namely umrubhe (a curved-spine mouthbow), uhadi (a berimbau-like instrument that is also known as umakhweyane), isitorotoro (a jaw harp) and the sarankuru.
That Plaatjies conflates kwaLanga with Mpondoland is pivotal, as it frames Amampondo as standing in opposition to the apartheid strategy of forced relocation and all the cultural assumptions that went with it. He explained that at various times, the group included Shangaan, Sesotho, Sepedi and isiZulu speakers. "Amampondo had the cream [of the crop] and we developed our own techniques with the bows."
Similarly, the group's rhythmic sensibility was more melange than systematic anthropological excavation. "I haven't notated the rhythms we use," he said in a post-concert interview in a Melville lodge. "In Africa, if for example, you take 6/8 rhythms; there are different kinds of 6/8s. But as Africans we have a different approach to everything. We always put a lot of feel, so that it might end up changing the rhythm. We like something with movement."
The drum as the keeper of memory
Plaatjies speaks of rhythm as something inhabited by both people and inanimate objects, so that the longer a drum exists in the collective memory, the stronger the rhythmic intuition it confers on its player. "The djembe originally comes from Mali. It's almost about three hundred years since it has been around. So you can imagine the different rhythms that they have been playing on it." It is this studious restlessness that has guided Plaatjies through a series of collaborative and more individualistic efforts. He says that the reason Amampondo broke up was because of this urge to try something new, "Twenty-five years was too long for me. I wanted to start a new group. There were these children I was teaching and I wanted to start something new with them, like an indigenous orchestra. iBuyambo, with the full orchestra, it can go up to 28 and 29 people." Its stage arsenal includes kudu horns, marimbas, a djembe, a talking drums and an assortment of bows.
The nowadays griot
For the Music in Africa concert, Plaatjies featured Senegalese kora player Noumoucounda Cissoko. The songs ranged widely in tempo and structure, from fast-paced marimba struts underlaid with djembe rhythms to ballads that showcased Cissoko's chromatic singing as well as his R&B-inspired kora riffing. Implied in Cissoko's disposition and his sensibility with the kora, is the rhythmic compression of the continent as well as the instrument switching that is iBuyambo's speciality. It is a discarding of long-held stereotypes about the crudeness of the continent and its inability to embrace modernity. "All musical instruments come from a tradition," said Cissoko backstage. "The guitar comes from the xalam, which you can find in Senegal, Gambia and Mauritania. The piano comes from the balaphon, which they call the marimba here. It just means it's the tuning that is different."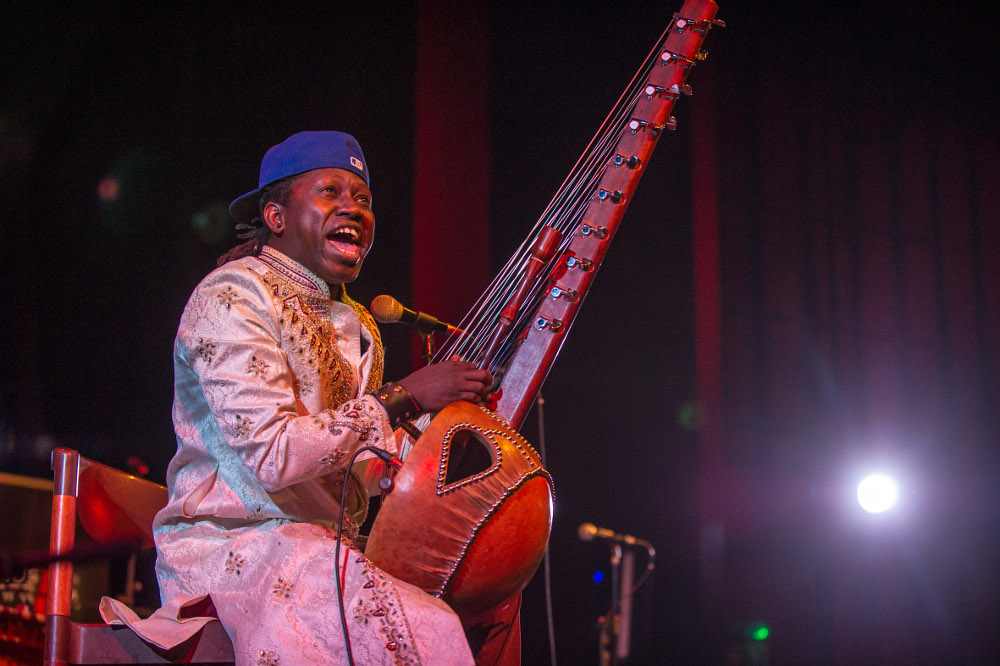 Cissoko says as some of his contemporaries shun the griot traditions, turning to trades such as mechanical work and carpentry, playing the kora allows him to commune with the path of his ancestors while still charting a path into the distant future through incessant collaboration. A YouTube search of Cissoko's work reveals tracks with the likes of Kymani Marley and South Africa's own Black Motion. "Up to today, griots are surviving by singing about people's lineage, and people giving us rewards. It is more modern now but it is still taking place."
An eternal fountain of youth
For fellow performer Bavikile Ngema, too, the array of instruments she is versed in, more especially umakhweyana, become a portal to elongate life and manipulate its boundaries. Explaining the cultural significance of umakhweyana after her enthusiastically received set, Mabhengu, as Ngema is popularly known, explained that the instrument was typically associated with maidens, who played it to numb the mundaneness of running errands. "What I know about this instrument was that it was a maiden's pride," she explained backstage. "She'd take it with her when she went down to the riverside. Men would approach with the intention of getting her attention but she'd pay them no mind, with her claypot on her head, topless."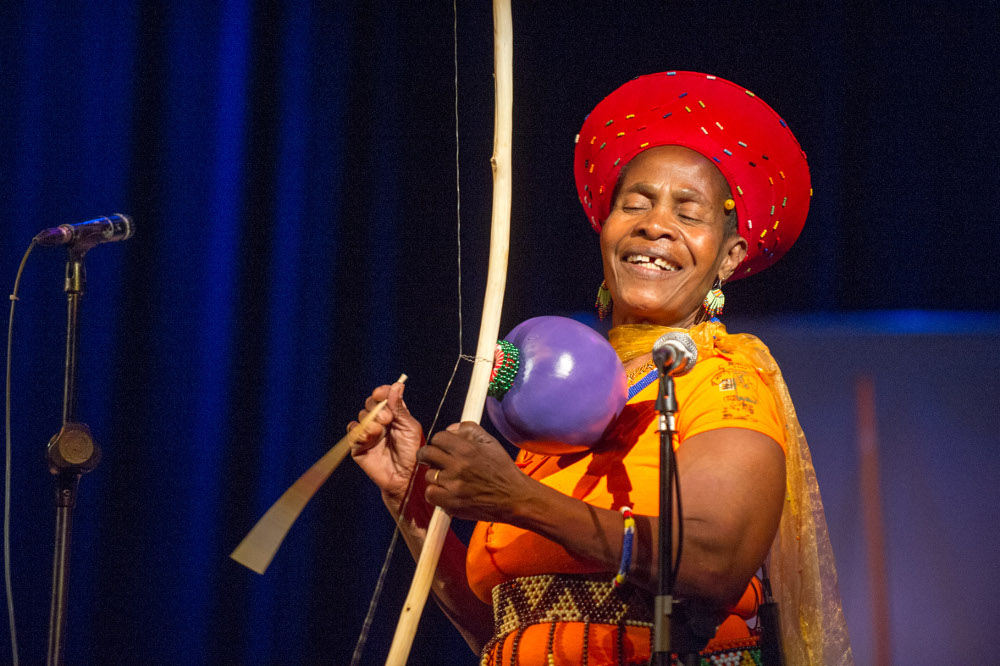 Ngema initially learnt to play the instrument from her sister and held on to it even as it became less popular and thus frowned upon. "I got married and lived a regular married life but what encouraged me to get back into it was that on radio I'd hear announcements of people looking to record the instruments and the music. Then I did a few recordings and some performances for programs that played on the radio."
She spoke of her playing lexicon as evolving to fit the song's content. "What I try to achieve with umakhweyana, is that the sound it produces should be exactly as I am verbalising it, like a second voice. If I sing: 'Asihambe nawe sokhwela ibhanoyi' It must say exactly that… 'Sofika nini ko Sosobala. Asihambe nawe sokhwela ibhanoyi.' Unless I'm just playing an instrumental tune."
Immediately palpable from Mabhengu is that from the player, to the instrument, extends an eternal fountain of youth from which she reroutes the Zulu culture, transposing the ancient to fit in to the world as she see it. For Mabhengu and other preservers of these instruments, the future has never been closer, and the past never so present.