DW: Why is the education sector in Africa so problematic from your point of view?
Jakaya Kikwete: It is problematic in the sense that we started at very low levels and I'll give you an example. Tanzania has been a German colony and later a British colony. Germany colonized Tanzania from 1884 to 1918 and then it [Tanzania] became part of the British Empire from 1980 to 1961. But by the time we got independence in 1961, there were only two engineers. This is the level where we started. We now have 18,000 engineers. It's an investment that we made. So when you are confronted with huge requirements and education is one of those areas where you are, then that's it. The colonial powers never bothered to educate the people. So a lot of this investment that you are seeing in Africa has been undertaken after independence.
You have mentioned the engineers. What about the content of education?
Of course, in terms of learning outcomes, we are talking about the quality of education. The quality of education is a combination of many things. Firstly, there is a factor of the competence of the teachers. Some countries have a shortage of teachers and others don't have the competence to teach. How do we get the teachers and how do we improve their competencies. This is a question of the curriculum. There are so many sets of interventions that need to be made so that you can get good learning outcomes.
Is it just a problem of the past history or is it a problem of bad governance?
First, you have to acknowledge that we inherited a very poor education system. African countries have invested so much in the education of their people, but it's not enough. At independence, we were only 9-million. Today we are 50-million. So the obligation becomes even bigger. There are instances of governance as a problem but we should not think that everything is a problem of bad governance. We should appreciate the size of the challenge. The size of the challenge is big; a lot has been done but a lot more needs to be done. And there are countries that need to be supported.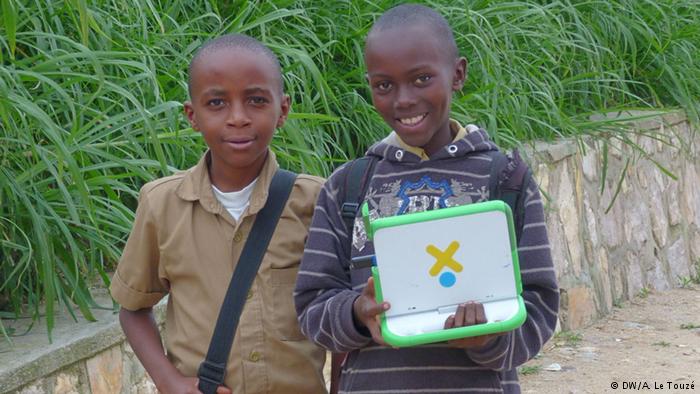 In 2008, Rwanda introduced the One Laptop Per Child campaign to improve education
What kind of action plan would you suggest for African countries to improve the education system in those countries?
Of course in the commission (The International Commission on Financing Global Education Opportunity), we came up with the proposal for the four transformations. One: strengthen the performance of the education system. Two: leverage innovation. Three: inclusiveness in the education system. And four: increasing investment in education. So the recommendation of the commission is that on the average, the countries that are investing four percent of their GDP, increase that up to 5.8%. We should be able to overcome the education challenge and we think by 2040, most of these countries will be at the same levels as every other country.
Would you say that there are countries who serve as role model in education?
Of course, there are countries that are doing well in various aspects even within the lower and middle-income countries. So we are seeing the examples of those countries that should be emulated.
Do you have examples?
Well, there are many countries in several aspects. For example, Ghana has done so well in terms of access to education. Of course, the challenge now is learning outcomes. Tunisia is also another example. They have done so well in several aspects. So there are many examples. If you take the example of Vietnam where they have succeeded because Vietnam fought the French until 1953. They fought the Americans until 1972. They started reforms in 1986, but they have now made huge progress. In fact, they are now catching up with high-income countries. So you can say there are examples of countries which have succeeded and if these examples are emulated definitely the other countries can do the same.
As a former president of Tanzania, how important are green technology and environmentally friendly policy in your country?
Of course, the climate change or climate issues have been important for me when I was president. I chaired the Committee of African Heads of State and Government on Climate Change (CAHOSCC). It was during my time that we were able to develop the African concept. We were able to develop the roadmap for Africa with regard to climate issues. So they are very important to me. They were important to Tanzania and in Africa.
Has there been progress in regards to that roadmap?
I'm out of office now for two years. But there's progress in my country and a lot of commitments to climate issues have been made. And again, the continent and the committee are still working hard because this is a committee that developed the African position. For the COP 21 in Paris and certainly the committee still continues to work there. They are always working together in all these conferences of the parties on climate issues.
Jakaya Kikwete is the former president of Tanzania.