Peju Alatise gets what she wants. In so doing, she does not suffer fools, back down from challenges or accept standards other than the ones she sets.
I first met her in Italy's city on the sea, Venice, while she was installing her work as one of the selected artists for Nigeria's debut at the 57th International Art Exhibition of the Venice Biennale.
On reaching the pavilion, she discovered and was immediately dissatisfied that her installation, Flying Girls — a collection of eight life-sized figures, surrounded by birds and butterflies — would not be elevated off the ground to her specification.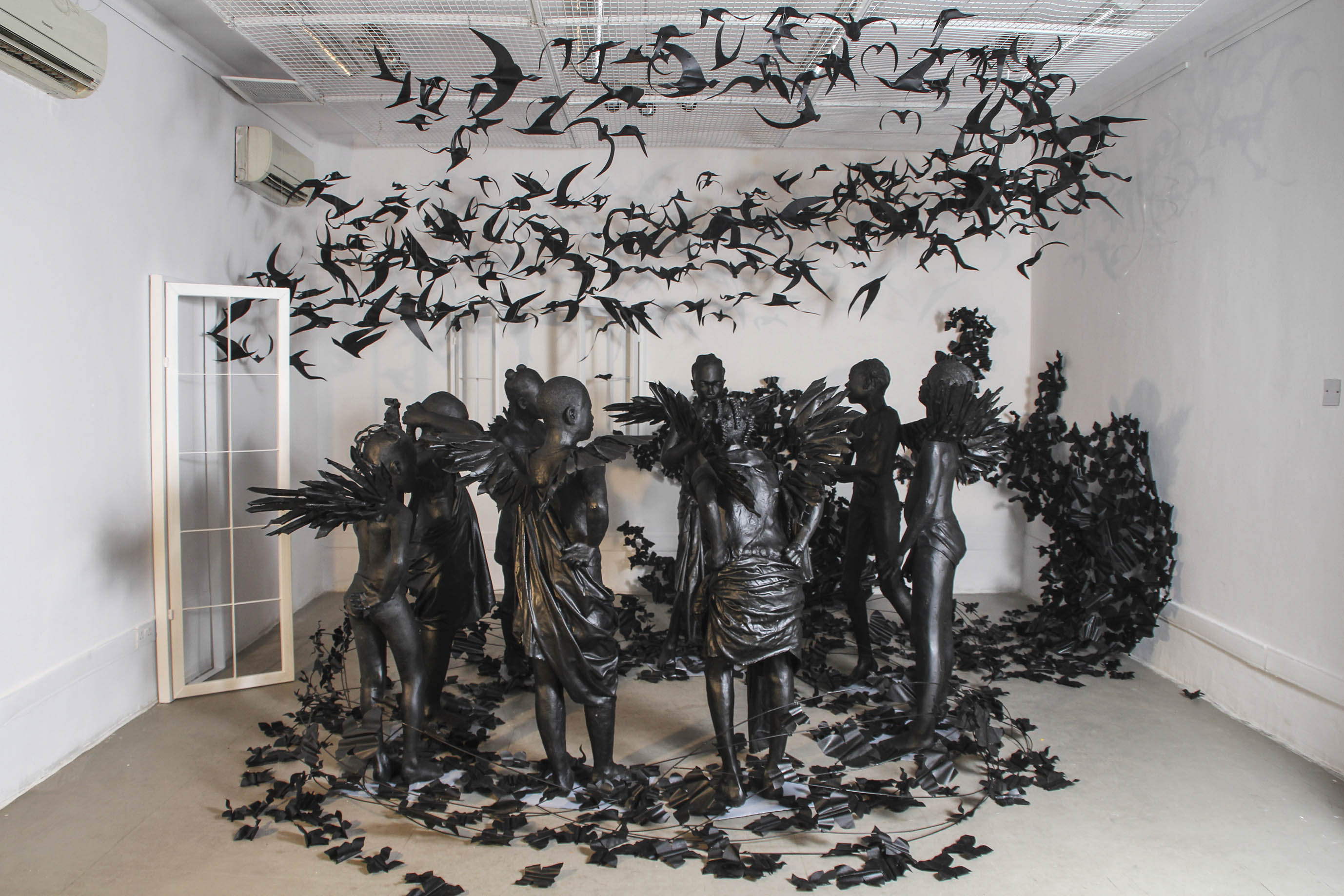 [Flying Girls, an installation by Peju Alatise attracts countless photographs for those visiting the biennale.]
It would require previously unbudgeted-for expenditure for slabs of wood, longer man-hours for her and her assistant, and the possibility of the installation not being ready in time for the pavilion opening date, for which invitations had gone out, guests had flown in and anticipation and fanfare was in the air all the way back in Lagos, Nigeria.
Alatise worked nine-hour days nonstop for 10 days: on the floor, nailing, painting, unwrapping; on a ladder, stitching, tying fibreglass birds to a false roof. Every day, she reminded her assistant not to come late the next day. When he did — she nearly always arrived before him anyway — she would have started the work he was supposed to be doing. If she heard his profuse apologies, she didn't show it.
Her installation was ready two days before opening day.
It has been the darling of the pavilion so far, given special praise in critical reviews. It has also been the subject of countless photographs for tourists and art-world professionals visiting the biennale. There are unconfirmed rumours of the Smithsonian acquiring the work.
Today I meet Alatise again, surrounded by water. This time it is in Lagos and it is falling from the sky. I am waiting in front of her gated community home, which doubles as her studio. I am waiting because I woke her and she is presumably getting ready to be interviewed.
She had agreed to a meeting for 10am. I arrive at 8.30am.
Soon, she realises I am waiting in the rain at her gate — she had seen me from her window — and shouts that I should let myself in. She meets me at the front door in her bathrobe and with apologies, as if it were her fault that I did not want to take chances with Lagos traffic and possibly arriving late. She walks me in and quickly dashes into a room and back with a towel for me to dry myself with.
She soon disappears, leaving me in a room I assume was supposed to be a receiving area. There is no furniture in sight. In its place is an invitation to a long-studying stare: a chaos of life-sized metal sculptures of naked men, floor mats, rows of earthenware pots, wrought iron, chisels, hammers and a door with wings. The other room on the ground floor — I took a tour — is bare of the things you would expect. Everything is in boxes. Alatise is moving out.
Soon, she is ready and I move up to her living room — no sculptures — to kick off the interview. Apparently, she is having another Venice episode, though on a larger scale and with significantly more at stake.
She has been down a few times but certainly not out. She is starting — and moving into — a professional ceramics studio (among other things), one of the first of its kind in Nigeria.
You would think she might be impressed with herself for this feat and for being a pioneer.
"It is ridiculous for me to say that, because it is like saying I'm setting up a fully equipped kitchen," she says. "In Nigeria, it is easier to import 30 000 containers of ceramic plates and cups than for me to bring in a kiln. We don't make tiles locally but we can import a million of them."
Alatise is explaining to me that a thriving local ceramics industry should already have been a foregone conclusion. According to her research, Nigeria's economic policies in the 1980s suffocated it. Two decades later she, a private citizen, is attempting to revive it.
She has met formidable hurdles at every step.
She has had to go through an impossibly bureaucratic process to get a certificate from the Standards Organisation of Nigeria that would allow her to import kilns into the country so that the ceramics could be produced locally. She had to pay bribes. When the goods finally reached Nigeria, they were delayed at the port and she was told they were an environmental hazard. She paid demurrage daily for the delay.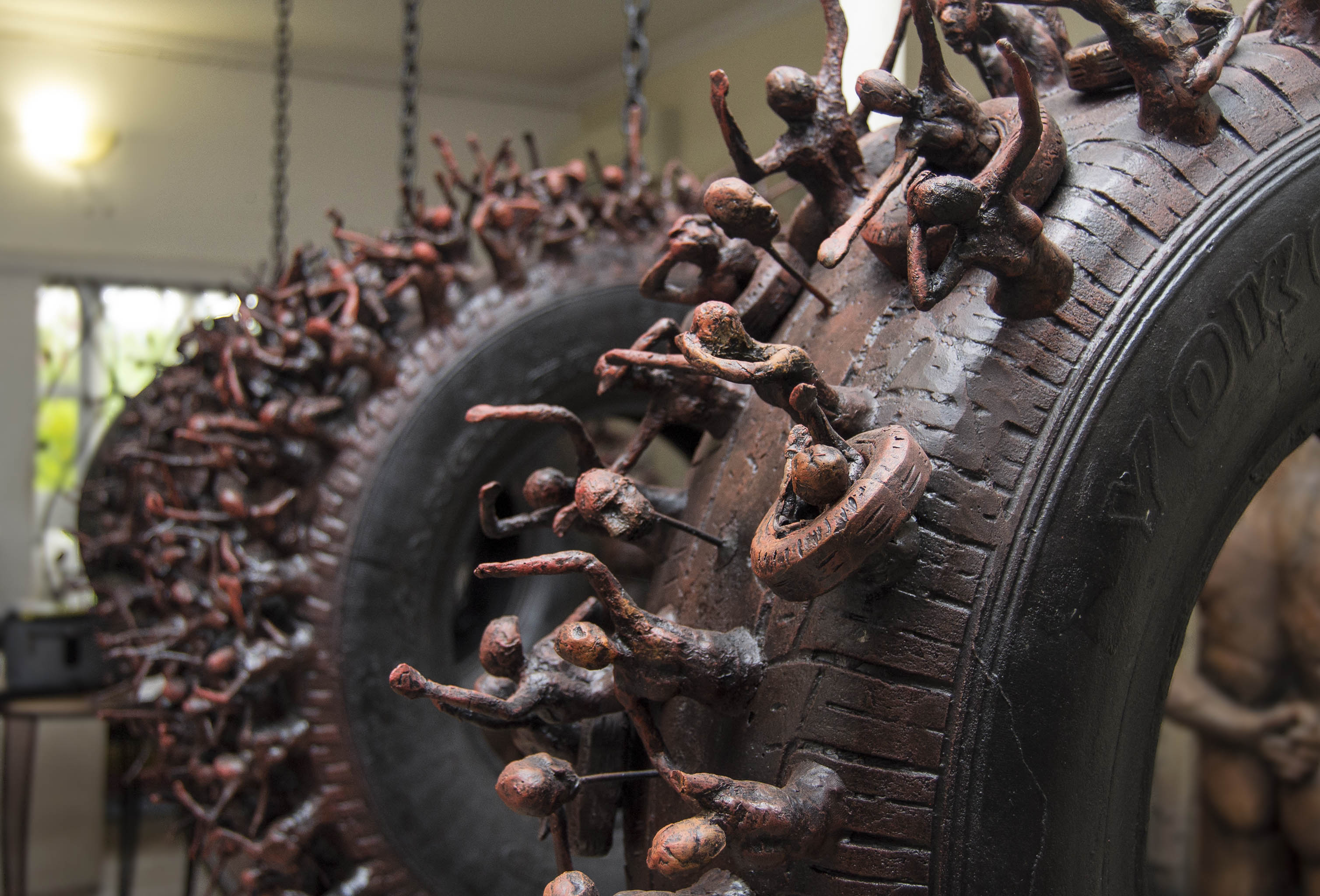 [Alatise says she didn't choose to be an artist, she was born for it (Nation Interrupted by Peju Alatise)]
At the studio — a layout she designed herself across two buildings — she chose to power up with solar energy, a fairly new and incredibly expensive power solution in Nigeria. The company she contracted did not deliver solar power and attempted to swindle her out of the money she paid. She also has to provide her own treated, safe-to-use water as well as security at the studio.
The studio will double as an artists' residency and she intends to bring artists from other countries to exchange ideas and skills with local Nigerian artists, some of whom are emerging and will be coming there to be trained.
However, the threat of white foreigners being kidnapped in Lagos is high.
Against all odds, however, the studio will be ready by November 4, she tells me sternly.
But … "I am tired of being angry. Sometimes I am like: 'What the fuck have you done?'" Alatise says, visibly strained. "I should have been like every other artist. Take my money and buy a nice casita somewhere in Spain. Be locked up, produce my work in the studio. Why are you trying to fix this country? This country is never going to be fixed. This messiah complex!"
Alatise knows these questions are merely rhetorical. She cannot be like every other artist. She would likely never stop brushing tirelessly up against the status quo.
It is why, in 2013, she exhibited a body of work, Wrapture, a story of cloth that unapologetically riffs on the often quoted Bible story of the rapture — using rich, colourful fabrics and textiles and "freezing" them with resins. The story goes that, on Judgment Day, Jesus will call the righteous back to heaven: the dead will leave their graves and ascend into the sky.
Alatise thinks this story is laughable. In the exhibition, she muses on whether those who were decapitated would have their bodies joined again. Will the dead righteous be naked? Will the clothes be left behind? What stories will their clothes tell?
Alatise presented this to an ultra-religious Nigerian audience — Christian and Muslim — where questioning the Bible is taboo and you might as well be wishing the Pope dead.
At the Venice Biennale, she presented Flying Girls, an installation — made from fibreglass, metal, plaster of Paris, resins and black cellulose paint — based on the story, which she wrote, of Sim, a little Yoruba girl who lives in two alternate worlds. In one world, Sim is a nine-year-old who is hired out as a domestic servant in Lagos. In the other, a dream world, she can fly at will. "A world with talking birds and butterflies, where shadows are friends. A moonlit world of escapism."
According to the United Nations Children's Fund, the number of working children under the age of 14 in Nigeria is 15‑million.
At the FNB Joburg Fair, where she has won the FNB Art Prize for 2017, Alatise is presenting an installation of O is the new + (cross). It is a startling body of work inspired by the gruesome Aluu Four mob "justice" incident that took place in Port Harcourt in 2012.
Four university students were falsely accused of theft in the Aluu community. They were stripped of their clothes, dragged through mud and beaten with stones. Concrete slabs crushed their bodies. Petrol and abandoned tyres were ringed around their necks and they were 
set alight. Bystanders watched while they burned. One recorded it on a mobile phone and uploaded it to the internet.
Alatise believes the tyre is the new cross — the crucifix — which is historically a symbol of execution that people wear around their necks as chains today. She questions the moral justification people use to defend meting out such inhumanity to others. "When they are not putting holes in them, they put them in holes," she says.
Alatise could have been a furniture designer.
She started brightly enough; her first job out of university — with a degree in architecture — was at a firm where she had to design furniture (and buildings).
On her very first day, she was given a book on design by pre-eminent Finnish designer Alvar Aalto. She was "blown away" by the quality of his designs.
Even after she left the company, she kept designing furniture but soon discovered her designs were more artistic than functional.
She had studied architecture at university at her father's bidding. It was a decision that had been made years before. Her secondary school had organised a careers fair that had architects in attendance. She met one — an aspiring architect, actually, a university student — who had come along with his drawings. Eventually, she had to choose between technical drawing and art.
"It was devastating that I had to make such a choice," Alatise says.
The career counsellor advised her to practise her art in her own time and get better at it but emphasised that she would need training for technical drawing. She heeded his advice. Years later, she would meet David Dale, a full-time artist, at his exhibition and be stunned again. Her counsellor had told her to keep working on her art but no one had ever said she could be an artist full-time.
She suddenly had a new course in life. Alatise reckons, however, that she'd always known she would be an artist. As a child, she established an early interest in working with clay and textiles — an alternative to painting and drawing — materials she still uses copiously today. She made rag dolls and collages as primary school art projects.
As she grew older, she wrote stories and she would paint her characters on paper and textiles, making portraits of them.
"I didn't choose to be an artist. I was born this way," she says.
She also knew her own character early on. She says she knew her reactions to things. She knew what irked her. She knew how she wanted to express her dissatisfaction. She knew what she liked and didn't like. As a teenager, she was having arguments with her father and other adults about religion, politics and marriage. She questioned gender roles. Her younger brother, Layi, corroborates this story in a profile done on her for Al Jazeera.
Her seemingly ironclad certainty in herself, and her process and audacity in raising and challenging uncomfortable topics, reflects in the kind of work she produces. In the past few years, though, this certainty has been questioned.
When she decided to migrate from making commercially successful drawings and paintings to mixed-media work using cloth, beads, cement, resins, fibreglass and metal, a critic said it was a failed attempt and that she should keep on making portraits.
Alatise relives her anger at that episode in a flash, as if talking to the erring critic directly. "I found it really amusing that someone wanted to dictate who I am to me," she says. "I am an artist; I didn't choose to be an artist, so where do you get off telling me what I should or shouldn't be doing, or who I am or I am not? I don't make work for you. You don't exist in my world. Fuck off."
In another episode, another critic — this one known to me and quite prominent on the Nigerian art scene — challenged the premise of her work. She had created an installation, Sleeping Beauty, inspired by the fairy tale.
She imagines it as a sexual assault story and a reflection on the state of women today.
First, a stranger comes to a woman when she's sleeping, and fondles and kisses her. Second, women are expected to be unconscious, not have "high pursuits", be dormant until "kissed" by a man, perhaps crowned with a ring on their finger — and, she says, that's supposed to be their "awakening"?
The critic posed a question to Alatise: "Some women are lesbians now. So, because they are lesbians, some women are also using and abusing women. Is this not wrong too?"
Alatise was livid: "Of all the stories and narratives in this installation, that is what you can come up with?"
The critic posed his thoughts again in his review of Alatise's work. "And the editors agreed to print that. Those are our critics."
Alatise's preferred audiences are children. Flying Girls was inspired by nine-year-old children who visited her Wrapture exhibition on a school tour. "They come to the work with less prejudices. They are open to asking questions. They want to understand," she says. "But there is a way an adult will ask a question [whereby] you will know it is coming from prejudice. I can't have that kind of conversation with people with assumptions."
Alatise prefers, though, that the audience members, prejudiced or otherwise, have conversations with each other.
"I get sad when I go to museums and art fairs and everybody is stuck-up. This is really sad, because where is the conversation when you are snubbing one another?" she says.
"When a man shares his prejudice in front of a work and another shares an opposing view, right in front of an artwork, [it] is a good way for the other person to be understood without violence, without one declaring that [the other] is right or wrong."
Alatise is currently in Johannesburg for the FNB Joburg Art Fair. She will be presenting her O is the new + (cross) installation and will not be entertaining assumptions.
When she returns to Lagos, there's one certainty she needs to secure. She will be working around the clock to get her studio ready before her chosen November opening day. More hurdles likely await.
"I have been fighting things that aren't quite there. You need the energy for production, not for fighting things." A knock-out of sorts is certain, either way.