Take one hip-hop head and a jazz-soul songstress, add the feels from Lebo Mathosa's sultry voice and a flow reminiscent of Stoan from Bongo Maffin and Zola to the mix. Fold these ingredients into one another using Nineties kwaito and a selfishly South African nostalgia. Top this off with an unapologetic celebration of everyday Africanness and a coolness that can only come from authenticity.
Bake these ingredients in the heart of Cape Town and serve steaming hot within Johannesburg's vibe and you will get what the music duo Darkie Fiction is all about.
Rapper Katt Daddy and soul singer Yoza Mnyanda make up the impressive musical duo. Having first carved their names out as solo artists, Mnyanda and Katt Daddy eventually connected in 2016 through their mutual need to fill a gap in South Africa's music industry.
And, just like that, the Fiction sound was born.
In my conversation with Darkie Fiction, the pair gives off the sense that their music is an extension of themselves from which they cannot detach.
It's in their multilingualism, their banter and their style. These elements work together to create an approachable, organic kind of magic that they have managed to infuse into their music.
During our time together, they sit across from me as we talk about music, spiritual connections and how natural their partnership feels.
Mnyanda wears a beige floral shirt and denim pants that match her caramel skin and hair. Katt Daddy's long-sleeved striped T-shirt is tucked into a pair of blue jeans that he wears with a cap that perfectly complements Mnyanda's outfit.
Before I can pose the question of how they came up with their unusual name, the duo launches into the story.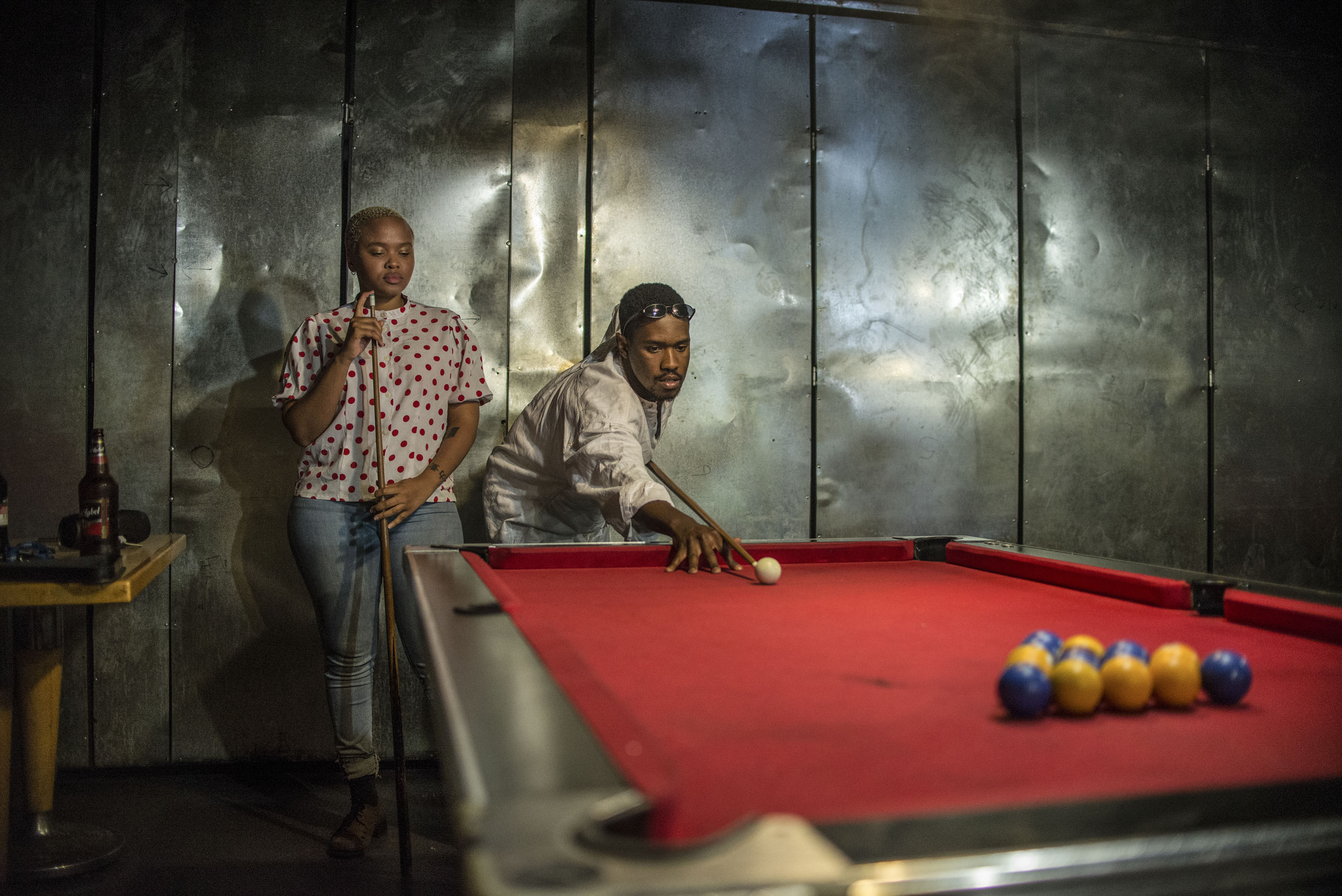 [Fiction Sound (Neo Baepi)]
"We kind of wanted to redefine that word to tell our own stories, you know," says Mnyanda, admitting to an awareness of the derogatory weight of the word "darkie". But as a form of reclamation that exists beyond the reactionary, the pair saw it fit to use the name Darkie Fiction as the first step towards using their agency to decide what it means to be a darkie.
In just five months since their formation, their sound has managed to carve out a niche of its own.
Steering clear of an over familiarity with American music, and drawing influences from South African music from the early 2000s, Darkie Fiction's sound is unlike anything distributed and consumed on major platforms right now. They unashamedly draw influence from local legends such as Boom Shaka, Steve Kekana, Zola, Caiphus Semenya and Letta Mbulu.
Their code-switching debut single, Selula, is an ode to kwaito that seamlessly pairs Mnyanda's braggart melodies and Katt Daddy's staccato flow with Cape Town producer Jakinda's bass-heavy, EDM-leaning rhythmic foundation.
Selula is not only a good-time jam. The song also reflects the come-up experiences shared by many black millennials from a range of socioeconomic backgrounds. Selula simultaneously celebrates a South African sound that has been missing from the landscape for quite some time.
"We're black and it's flipping cool. It's just about celebrating the little things that make us black, that make us darkies," says Mnyanda.
Like their sound, the visuals Darkie Fiction use to portray themselves are authentic, quirky and deliberate. Prior to releasing Selula, the duo posted the single's cover art on various social media platforms.
In the photograph, Mnyanda and Katt Daddy sit at a coffee table laid with an embroidered tablecloth. Mnyanda wears an orange polka-dot button-up blazer dress and Katt Daddy wears a multicolour golf shirt and a pair of black slacks.
Both artists portray looks that were in vogue before their time. On the table there is a full chicken, peanuts and raisins, NikNaks and marshmallows, all in their designated dishes, a familiar scene for celebrations in black households.
This, together with the scene's background — filled with paintings and posters on floral wallpaper — work together to evoke a sense of nostalgia that resonates beyond the pair's own memories.
In this seemingly simple scene, Darkie Fiction accesses a collective childhood.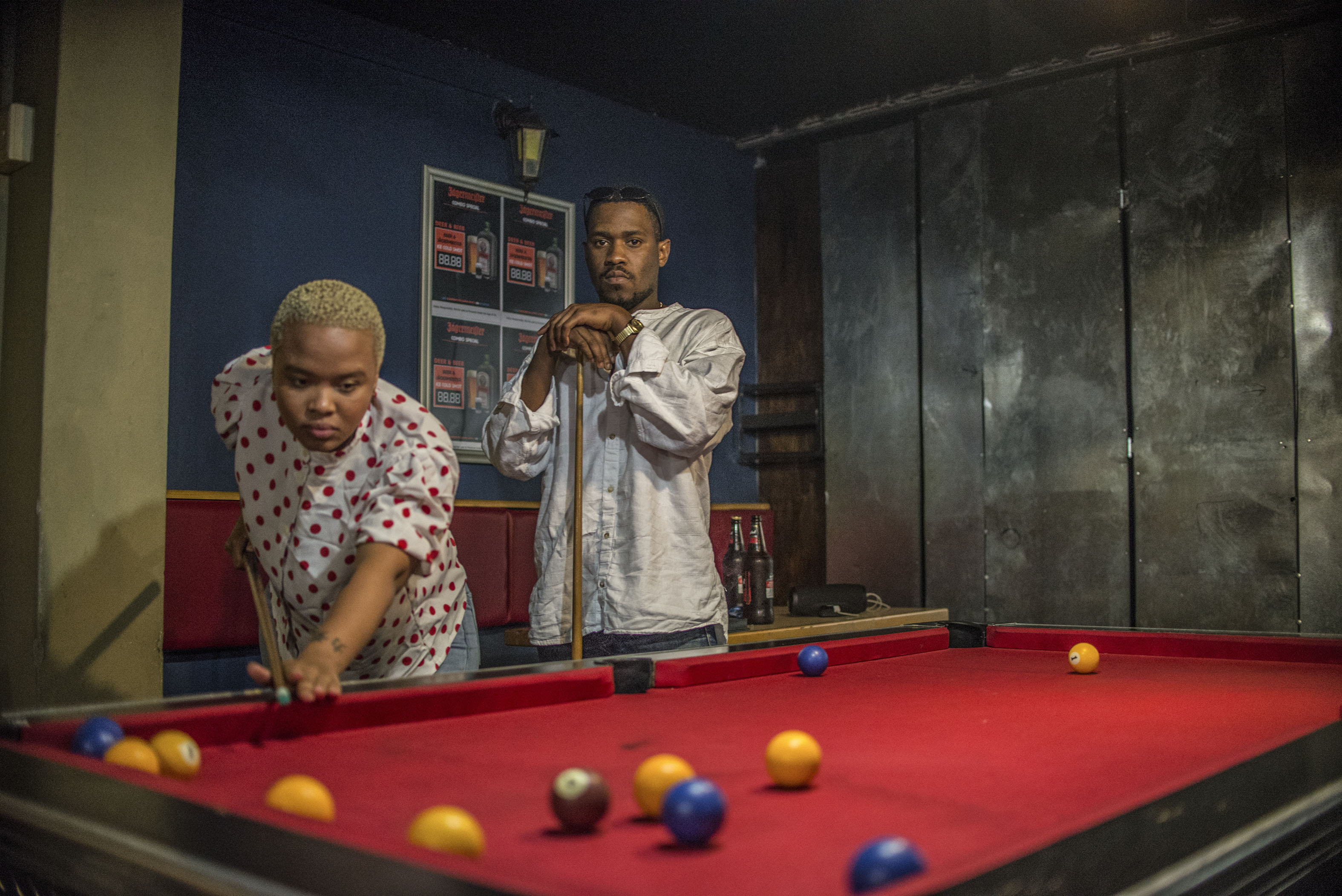 [Darkie Fiction's imagery is deliberate in that it's performance art (Neo Baepi)]
"It's half performance art. We are not the people you see in the photos, me as Yoza and him as Katt Daddy. Our main thing is just to embrace those little things that no one really talks about.
"You remember the NikNaks, the marshmallows and the tablecloth but like no one really speaks about them. Not that we were embarrassed of that. We weren't, right?" says Mnyanda.
The delightful marriage between Darkie Fiction's visuals and audio adds a new layer to black South African identity that exists outside of Western ideals.
"We're making South African music that has a South African feel, not just vernac raps on a beat that sounds American or Westernised," says Katt Daddy.
They pay no heed to the hype of running toward marketable sounds such as trap. Instead, their use of local music, local fashion and local art as points of reference encourage listeners to celebrate South Africanness.
On the topic of future collaborations, the pair gets excited about artists with whom they would like to work.
Apart from Durban misfit Robin Thirdfloor, soul-crooner Samthing Soweto, producer-composer Siberian Imperial and Afrobeat wizard Digital Sangoma, their list is made up of South African stars who are no longer in the spotlight.
A stand-out is Ishmael. "I honestly wanna bring Ishmael back," says Katt Daddy.
Like Darkie Fiction, Ishmael's sound blended kwaito and R&B, but had an edge that was entirely his own in the vibey, musically rich Nineties.
Like many emerging artists, their music is available digitally on SoundCloud, YouTube, iTunes and data file hosts.
They spread the word using social media, which gives them a wide reach and greater community access. But there's a problem that occurs within the digital age's norms.
As Darkie Fiction is yet to receive major airplay, their listeners need a smartphone to hear their music and message.
So what good is their work if it's only reaching a saturated market that often prioritises hype over authenticity?
Katt Daddy's mother, who is a teacher in rural Qumbu in the Eastern Cape, brought it to their attention that her learners needed to be exposed to the Fiction sound.
"So what we have done is sent my mom the song so she could Bluetooth it to the kids. We speak about even burning CDs and handing them out. Nobody does that anymore. We literally have to do more than just put it online and send out the links," says Katt Daddy.
The public can look forward to Darkie Fiction releasing a full EP early next year.
Until then, they promise to keep us well fed for the rest of 2017 with the release of Selula's music video and their next single, Lane Juice, produced by one of their dream collaborators, Digital Sangoma.