The State Security Agency (SSA) has sent a cease and desist letter to investigative journalist Jacques Pauw and his publisher over revelations in his new book that it claims are in violation of the Intelligence Services Act.
NB Publishers, who last week released Pauw's explosive book 'The President's Keepers', said in a statement on Friday that they had received a cease and desist letter from the SSA, demanding that they withdraw the book from stores, as well as retract certain parts of the book.
The SSA is threatening to go to court to get an "interdict preventing [NB Publishers] from further distribution, further printing, publishing or promotion of the book" should they refuse to withdraw it from book shops, and "institute criminal charges against you and any other individual concerned in relation to those parts of the book which are in violation of the relevant statutes".
The lawyer's letter, addressed to Pauw and the chief executive officer of NB, says: "… we record that the book contains parts that are in contravention of the Intelligence Services Act, Act 65 of 2002.
"As our client is constitutionally mandated to ensure the security of the State and protect the identity of its members and agents, it has a duty to act in instances where such security is breached either by disclosure of its legitimate operational methods, classified documents, as well as the identity of its agents," says the letter.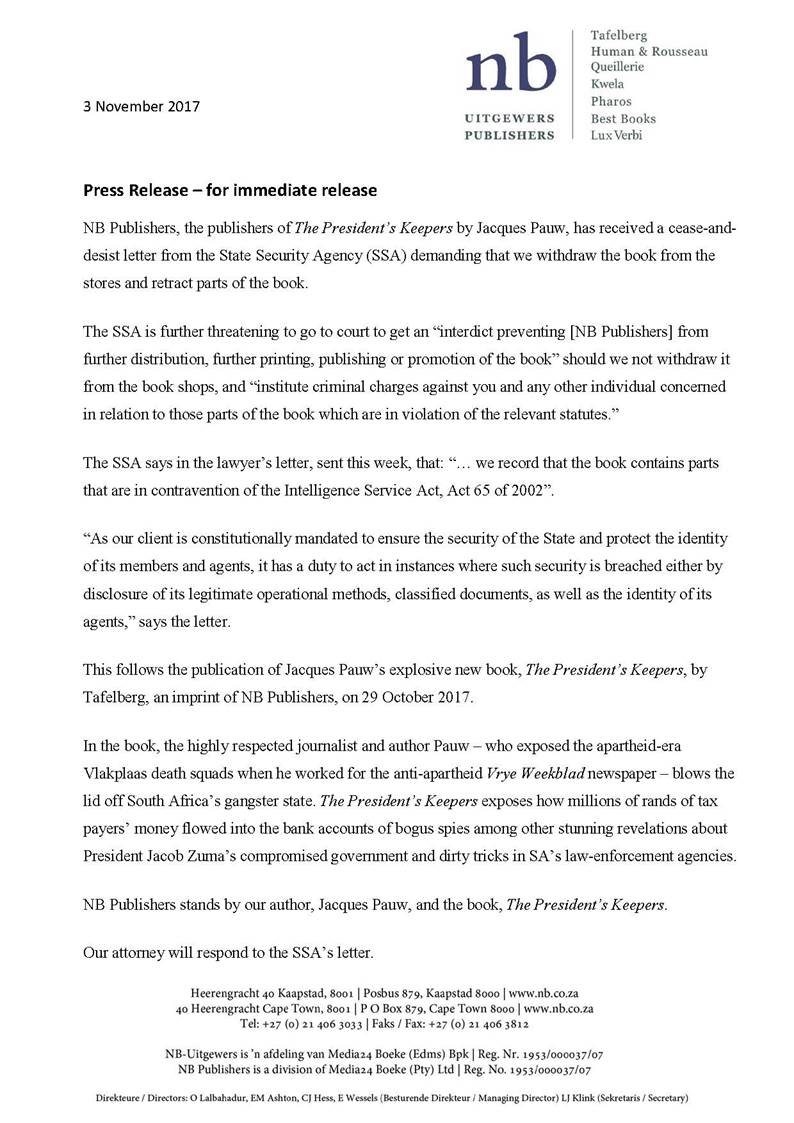 Pauw's book exposes how millions of rand of taxpayers' money flowed into the bank accounts of bogus spies, along with other revelations about President Jacob Zuma's compromised government.
The cease and desist letters follows a statement released by the South African Revenue Service (SARS) on Friday morning indicating that it was seeking legal advice on what steps to take, which could include, but not be limited to, criminal and civil investigations against Pauw into the circumstances pertaining to the unlawful disclosure of confidential taxpayer information.
NB Publishers says it stands by Pauw and the book. Their attorney will respond to the SSA's letter. – News24