The man holds up a pair of what appears to be human bones in his hands.
"Look at this," he says, frowning in the rain.
They are about 30cm long. One has what appears to be a hip socket.
"Yes," James Pule nods as rain pelts the red-brown earth of the mineral-rich Northern Cape. "These are human bones."
Dirk Toto, his sister Rina Ndara and two of Pule's comrades gather around Pule to take a closer look.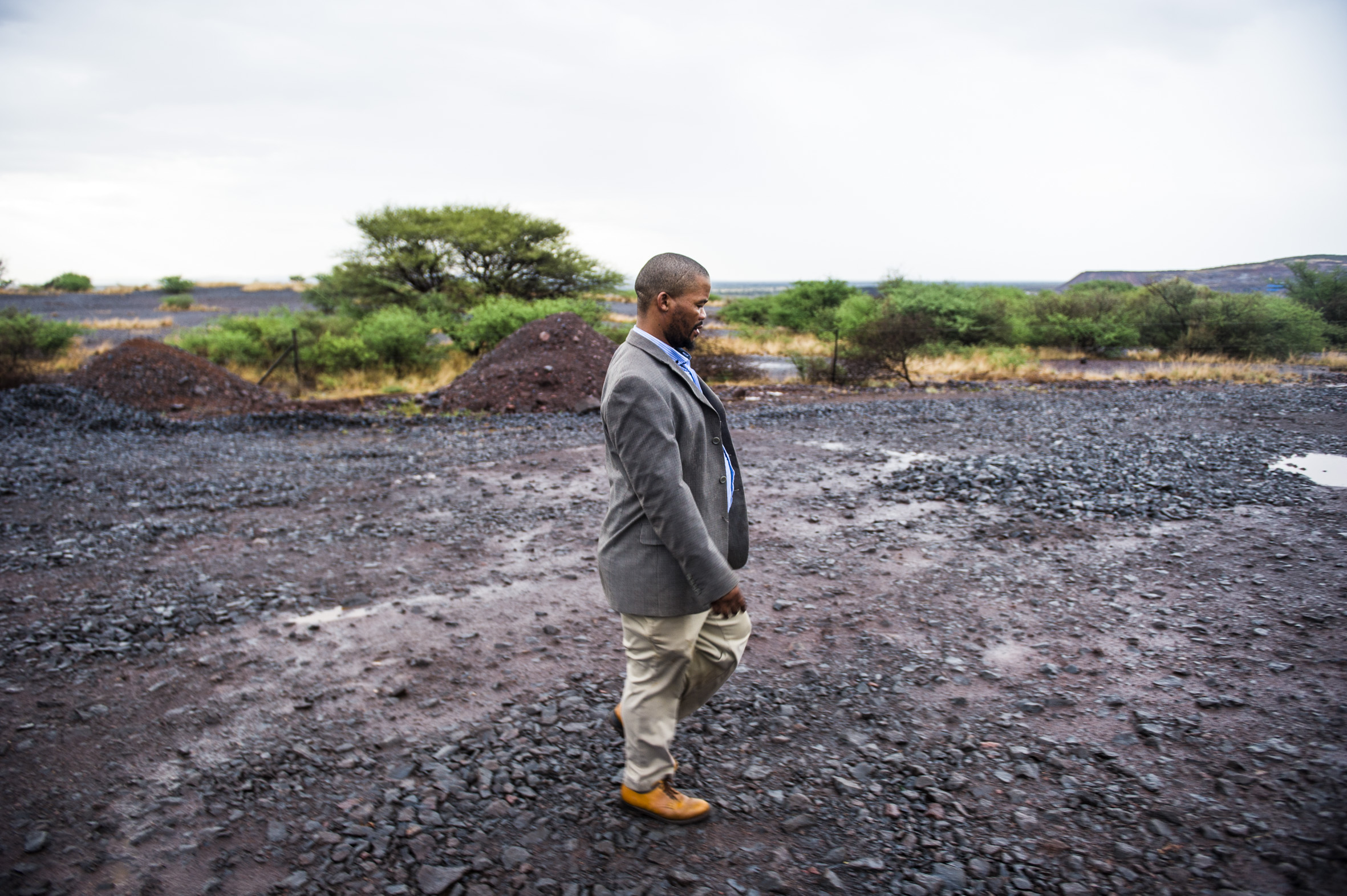 [Dirk Toto (above) and his sister Rina Ndara are to lodge a claim on the land where Maremane once stood and where their ancestors are buried. They hope to return the remains of their grandfather, freedom fighter Makgolokwe Toto, who died on Robben Island. (Delwyn Verasamy/M&G)]
"It looks like a hip bone," says Toto.
"Yeees," the others agree, drawing out the affirmation.
"Look there," says Toto.
He points at damp pieces of timber scattered around the sodden soil.
"Those are pieces of caskets. The old caskets, you know. They just left everything lying around like this," he says.
There is a brief silence as the bones are put back in the soil and reburied. Even the rain subsides — as if the gods, too, are paying their respects.
The surrounding land is dotted with graves; eerie haunting mounds of earth heaped with shiny manganese rocks. They protrude from the rough earth as silent monuments: witnesses to a past era, a difficult past of conquest, banishment, forced removals and dispossession.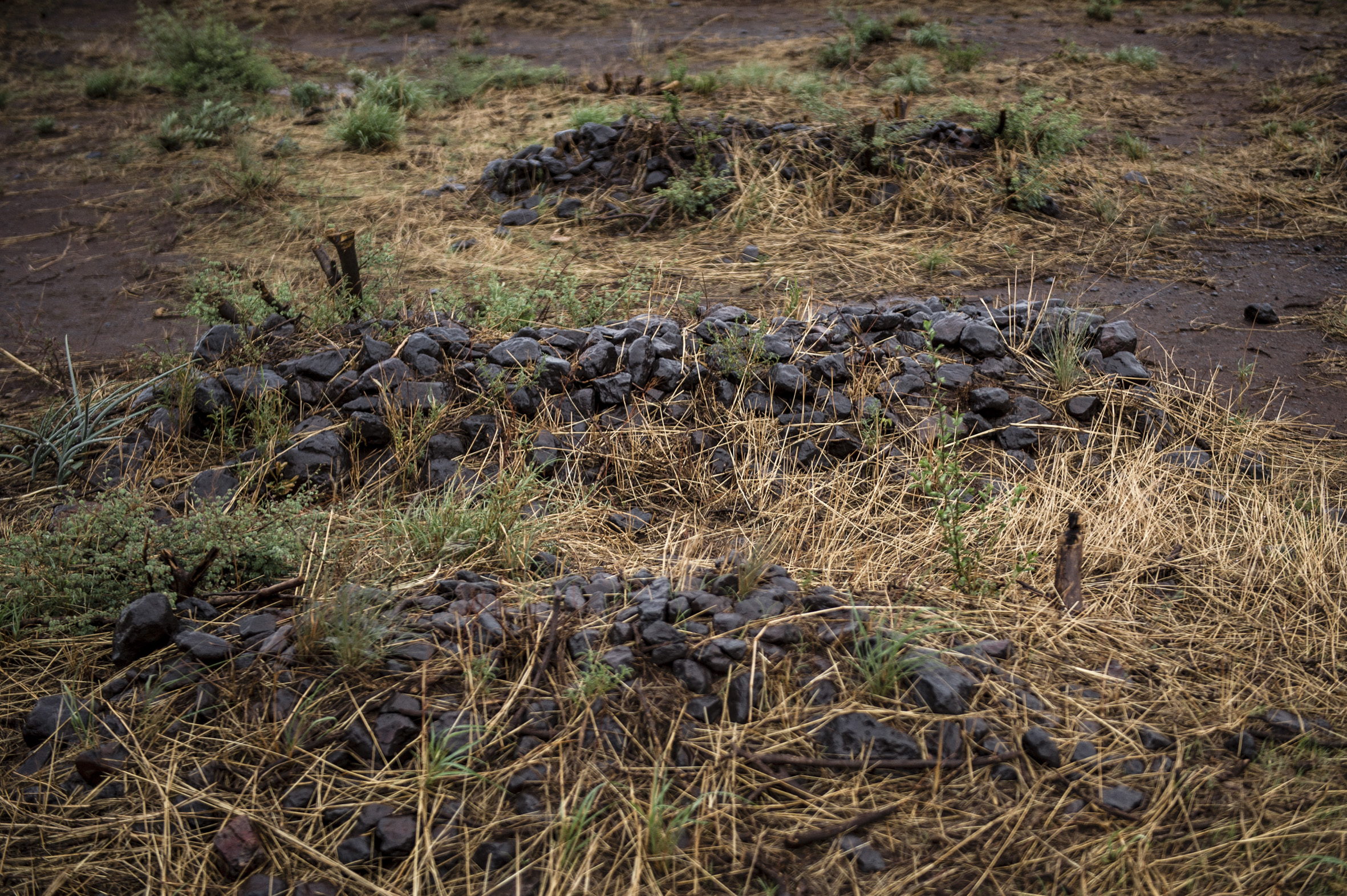 [The poorly marked graves under threat of being eaten by mining operations. (Delwyn Verasamy/M&G)]
Although there are no dates on most of the graves, many of those with some form of identification indicate they are from the 1940s.
According to legislation, graves that are 60 years or older are heritage assets and fall under the jurisdiction of the National Heritage Resources Act of 1999 and the Human Tissue Act of 1983. They require special permission from the authorities before they can be exhumed.
"These are our uncles, aunts. Look what they are doing to them," Toto says.
In another time this was a sacred space, a place where the Batlharo clan buried their dead and returned to appease their spirits through solemn ceremonies. They lived in homesteads in the hills just above the cemetery in a settlement called Maremane. Historical accounts say the Batlharo, part of the Batswana nation, have lived around this part of what is now the Northern Cape since the 1600s. "They were here long before Jan van Riebeeck," remarks Toto.
Today, Maremane is just a memory. Where homesteads once stood now roams towering machinery, earth-moving monsters that have reduced the walls of Maremane to rubble in the search for profits through manganese mining.
Had it not been for the quick intervention of an employee of the Kitso Manganese Mine, the graves too would have all gone.
The Kitso mine, situated on portions of the farm Lohatlha 673, is located between the mining towns of Postmasburg and Kathu. In August last year, Tsantsabane municipality councillor Michael Mabilo received a tip-off from a concerned mine employee.
He had been operating an excavator digging up the earth, prospecting for manganese. In the process, he had spotted a human skull in among the rubble. The experience left him shaken. He knew the bones belonged to his ancestors. And he couldn't continue after mine management allegedly treated the matter lightly and forced him to continue digging.
The incident mobilised Mabilo and others in Postmasburg, Kathu and Kuruman. They alerted the provincial department of mineral resources, which then told the Kitso mine to immediately cease prospecting at the gravesite.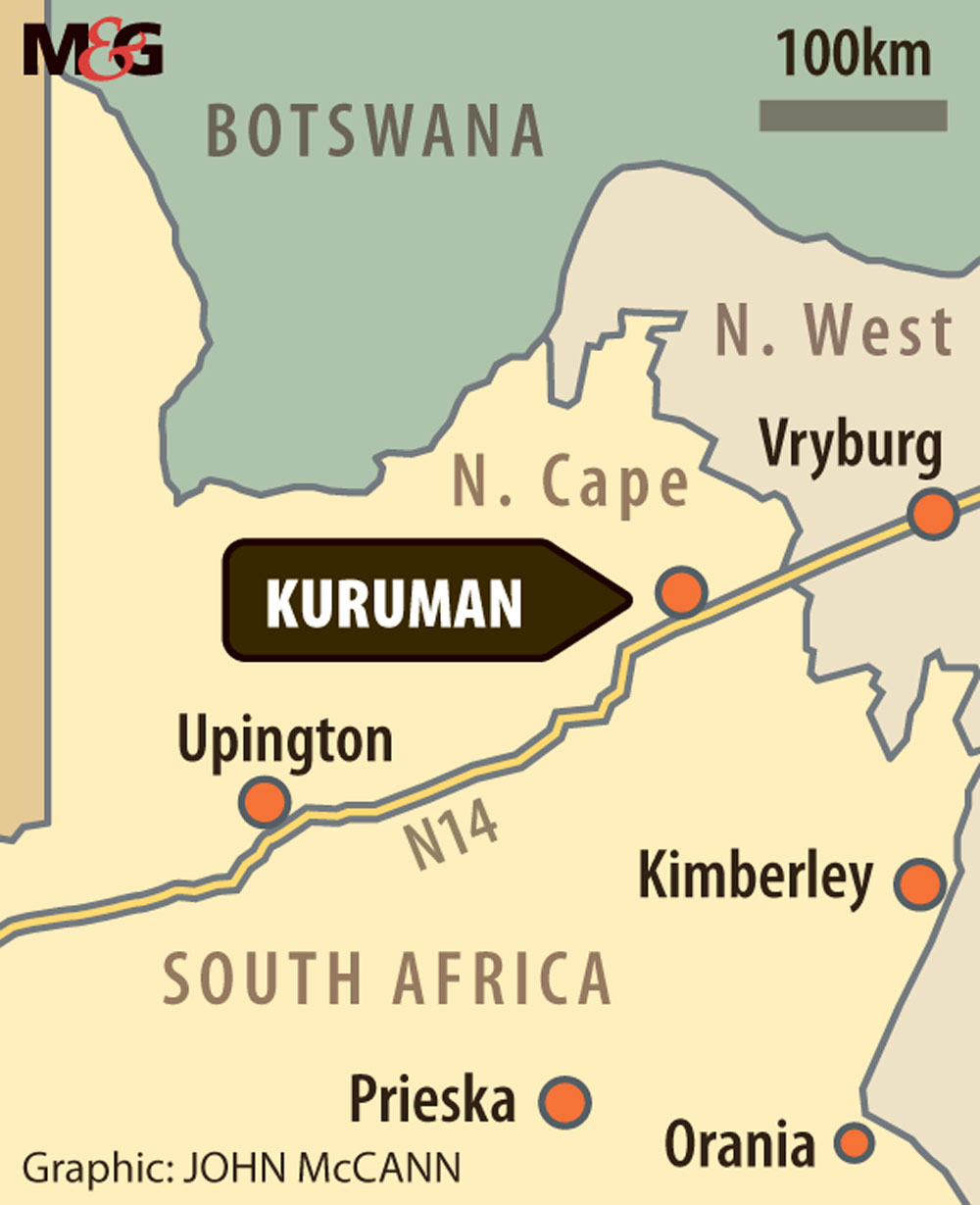 Operations at the mine were suspended and residents picketed outside its premises. They burned tyres and blockaded roads.
The national mineral resources department and the South African Heritage Resources Agency ordered the Kitso mine to erect fences around the burial ground. They were also instructed to put up notices to ensure everyone was aware this was a resting place of the dead and was not to be disturbed.
But the roaring earth-moving machines had already eaten up a large portion of the graveyard. Where the dead once lay in peace are now piled-up heaps of earth from the gaping holes dug up by excavators.
The bones that Pule held up on that rainy evening were from some of the violated graves. He says they covered up the bones with stones and rubble "to show some respect".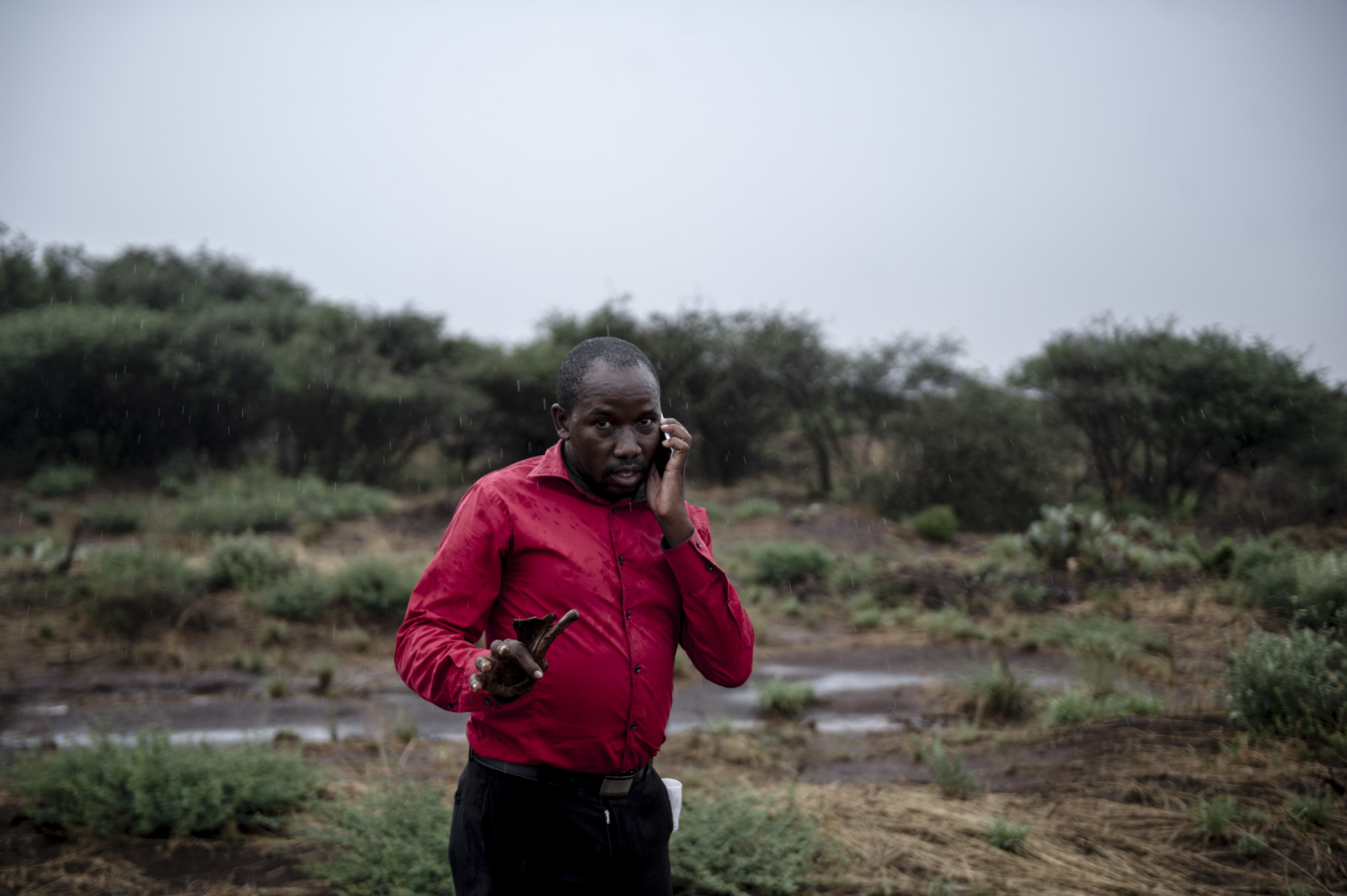 [James Pule and his comrades are trying to protect the bones of their forebears. (Delwyn Verasamy/M&G)]
"There were just too many bones all around here … pieces of coffins, handles. It was just too sad," says Pule, a member of the Kuruman Unemployment Forum.
"The houses are all gone," says Toto.
Fortunately, the history of the Totos is preserved in hazy black-and-white photographs, documents, maps and graphics. Toto and his siblings are preparing to lodge a claim on a huge chunk of land, which includes the site where Maremane once stood.
"We want our land back. That is the call from the ancestors," says Toto.
His father, Jakob, was born in this area of the Langeberg mountains in 1933 to Jan Toto. Jan's father, Makgolokwe the eighth, was a kgosi. But he was more than just a traditional leader of an African clan. Makgolokwe earned the title of "freedom warrior" and became an icon of resistance to colonialism.
In 1896, he rose to prominence and heroism in what the British called the Langeberg Rebellion. Makgolokwe had refused to give up his cousins from the Batlhaping clan, Luka Jantjie and Kgosi Galeshewe, who had sought refuge with him in the Langeberg area after fleeing from British harassment.
As a result, the British launched an offensive against Makgolokwe, who put up great resistance. He initially defeated the British but in 1897 the British brought in reinforcements and eventually overcame the Batlharo.
Just like the Ndebele king Nyabela, who was arrested and jailed for protecting Mampuru of the Bapedi, Makgolokwe was convicted for protecting and sheltering his kin.
He was taken prisoner and banished to Robben Island, and died there five years later in 1901.
Toto's sister Rina Ndara says the family wishes to find, exhume and repatriate Makgolokwe's remains from Robben Island so he can be reburied in his birthplace. But for now, they need to first win the battle to reclaim their land.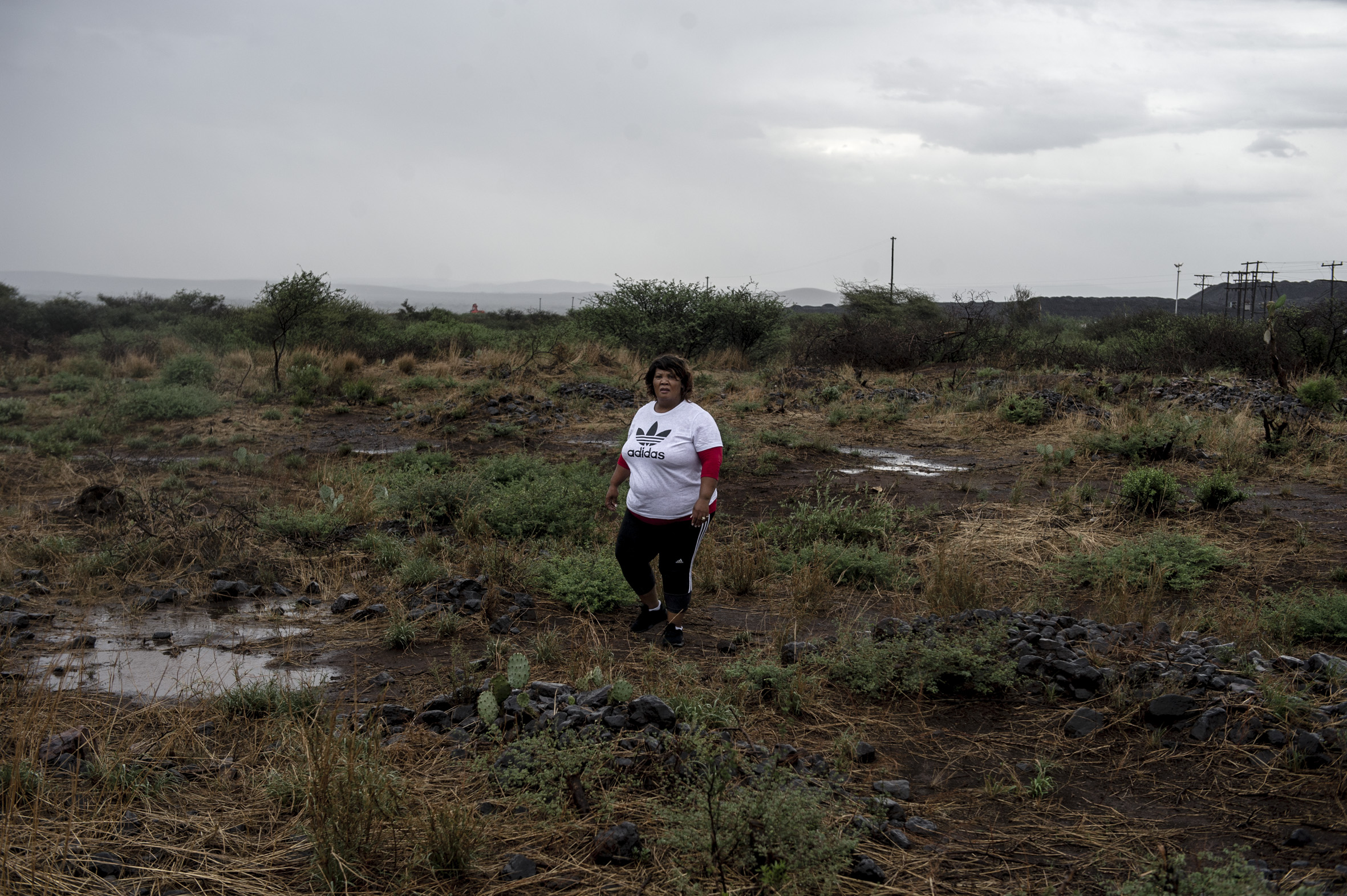 [Rina Ndara. (Delwyn Verasamy/M&G)]
"This is not about money. It is about my father's heritage," says Toto, who grew up in Worcester in the Western Cape. Ndara says they have so far identified 72 farms that they believe fall under what used to be their great-grandfather's domain.
The Langeberg, a dry, parched area, is now home to large white-owned cattle and game farms. It is also home to more than two dozen of the country's biggest iron ore and manganese mines.
After Makgolokwe's banishment to Robben Island, his lands were seized and divided up into farms that were given to white European settlers as a reward for their role in helping to crush the Batlharo rebellion.
In the years that followed, successive governments engineered the forced removal of the Batlharo into native reserves that have now mushroomed into peri-urban rural settlements and townships around the towns of Kuruman, Postmasburg and Kathu.
Those who remained on the land of their birth, like Toto's grandfather Jan, were forced into servitude on the white-owned farms. When he was nine years old, Toto's father Jakob was sold off to the Cloete family to work as a slave. At the age of 21, after marrying a Griqua woman who was also a slave on the farm, he fled.
Their first son was born in the veld as they hid. Ndara remembers stories her father told about how they were forced to live off the veld, eating wild fruit. She also remembers him talking of being forced to dig canals barefoot in the frost, and how his feet became calloused from being exposed to the elements.
To cover up his tracks during his many years on the run, Jakob ensured his children took up his wife's surname of Ruiters.
"He did not want us to get killed. The Totos were hunted down and killed by the whites because of our [great-]grandfather's [Makgolokwe's] history."
After a life on the run, working on various farms in the Western Cape, Jakob eventually settled in the Worcester area, where he raised his eight children. But throughout his life his heart longed for his beloved Langeberg. As a result, he made sure to pass down his family's history of dispossession to his children.
Now Toto, Ndara and their siblings have accumulated bundles of documents, photographs, maps and stories about their forebears, going back to the 1600s. These form part of their quest to lodge a claim on their land once the government reopens the process after it was halted after a Constitutional Court ruling in 2016.
They have a long, protracted battle on their hands as the land they hope to claim is in private hands. Other Batswana and Batlharo clans are also claiming ownership of the land.
"My father knew this area very well. He knew all the farms here. He loved the Langeberg and he wanted to return there," says Ndara.
This late weekday evening, Toto stands at the edge of a hill. The hill is man-made, a result of mining activity. Below, to his right, lies the burial ground, with graves identifiable by the piles of shiny black manganese rocks.
Slightly northwards, trucks and earth-moving machines stand out like acne scars on an otherwise bland landscape.
Beyond, to the west, lie solid stretches upon stretches of grass and camel-thorn trees that rise into a line of mountains stretched out in a northerly-southerly direction. It's a sparse, beautiful sight, yet haunting to the eye. It's a sight that speaks back to the eye in silent torment.
"My father was born over theeeere," says Toto, stretching out his arm as he gestures. "Somewhere next to those mountains.
"It is now all under white ownership and they think now they are our friends. They are not our friends. One day we will go back there." —Mukurukuru Media