Lubabalo Mabona* remembers the night vividly.
"We were about to fall asleep, when he said there was something he noticed about me. He didn't say what it was. Then he said he wanted to test something with me. I asked him, 'What?' He asked me to take my blanket off and then he started touching me. That's when I also got an erection.
"He asked if we could do more than touching and I said: 'No, this is not the appropriate place.' He eventually gave up but he slept right next to me. His body was right next to me. It was my first time touching a man."
The man Mabona speaks of was the traditional nurse tasked with taking care of him at the Eastern Cape initiation school he attended in 2010. The following morning was "very much awkward. I tried by all means not to show that something happened, because I didn't have the guts to tell [any of the other initiates]."
He feared others would find out what had happened despite an earlier incident in which two other initiates discussed openly how attractive some men can be.
Before attending initiation school, Mabona had known he was bisexual "but you could say I was in hiding. At high school, I had lots of male friends and I don't know how to put it — I've never opened up this much before about all this — but I had sexual interests … But I never had the guts to …"
Having finally acted at the initiation school on his long-held sexual interests, he was "a bit disappointed in" himself. "But at the same time, it was a revelation. It was, like, 'This is who I am … I touched a guy intimately'."
The tension-fraught intersection between traditional cultural practices and sexuality has been thrust into the spotlight by the release of the award-winning South African film, Inxeba.
Since its national release earlier this month, the film, about a gay love triangle involving two traditional nurses and an initiate, has been engulfed by controversy.
Protests by traditionalists, led by the Man and Boy Foundation and the Congress of Traditional Leaders of South Africa (Contralesa), led to some screenings being cancelled. Then the Film and Publications Board Appeals Tribunal reclassified the movie with an X18 rating, which prohibited it from being screened anywhere other than at registered adult venues, an effective ban.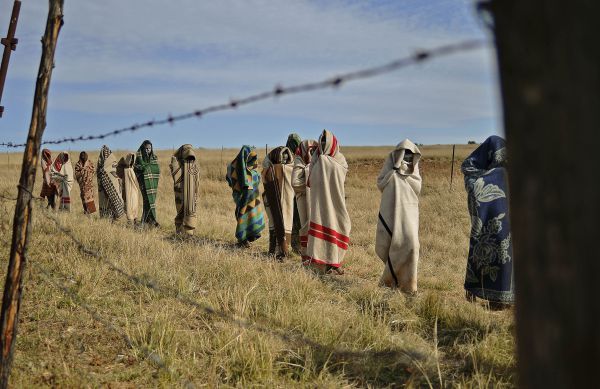 [Traditional leaders deny allegations that gay affairs are part of initiation schools. (Carl de Souza/M&G)]
The foundation and Contralesa have labelled the film a misrepresentation of Xhosa culture. Contralesa's Prince Manene Tabane previously told the Mail & Guardian the film's gay content "is not our main thing".
"If people do that thing, they can do it somewhere else — not within our cultural practice. This is ridiculing our cultural practice. We are being embarrassed.
"The things that are being shown there is not what is happening in the mountain … People making love in an initiation school is not something we see," he said.
Ayanda Macanda recalls how, while at initiation school in the Eastern Cape, he had "an emotional affair" with one of the school's traditional nurses.
"It wasn't sexual at first — not while we were in there, only after I left," he says, adding: "I knew him well before but didn't think he was gay. But he knew that I was, so probably thought it was a good time to approach me."
Poppy Ngubeni is a traditional healer and independent researcher into African medicine. She says research into queer Xhosa men's experiences in initiation schools can be difficult "because they don't want to talk".
"But from what I have seen, being gay is not a big deal. They don't focus on that. But they do say, 'Let's wait and see if, after everything done here, you are still that way'."
About the furore over the film and its subject matter, Ngubeni says: "Look, I agree that there are things that are sacred, yes. But I'm praying that one day people will talk about this thing. Because it is happening."
In November last year, the Commission for the Promotion and Protection of the Rights of Cultural, Religious and Linguistic Communities released its report, following an investigation into deaths at initiation schools. But it also found that the recognition of lesbian, gay, bisexual, transgender and intersex (LGBTI) issues was an important factor to consider in the debate about initiation.
"There is an urgent need to continue the engagement between traditional leaders, communities and the LGBTI community," it said.
Nkululeko Nxesi, executive director of the Man and Boy Foundation, maintains that the film's queer subject matter is not what the organisation is opposed to.
"We support the sexual orientation rights of any person. We support the rights of the LGBTI community. Our campaign against Inxeba has nothing to do with the fact the movie portrays homosexual sex. We object to the depiction of sex in a place that is not meant for that. Even a heterosexual couple would not be allowed to have sex in a traditional initiation space."
Nxesi adds that producers and supporters of the film are "emotionally blackmailing us so that we must stop raising these issues. They are trying to appeal for public sympathy using a very emotive and sensitive issue of homosexuality and gender equality."
Responding to the experiences of Mabona and Macanda, Nxesi says: "If there was a traditional nurse that had a relationship with an initiate, as they allege, that would have been an unfortunate situation that could have put the life of an initiate in danger. If that was true, it would have been tantamount to sexual abuse, if not rape.
"However, we think this is a fabrication. Maybe these people are being paid to give credibility to this movie that is meant to discredit traditional initiation."
After they left the initiation school, Macanda and the traditional nurse had a four-year relationship.
"We had to lay low for the first year or so. But after that, he started becoming more comfortable because he could see I was comfortable with it," he says, adding that he has a very supportive family.
Mabona now knows with certainty that he is bisexual but does not feel comfortable coming out. "I can't really say I am [completely okay with it], because I still have fears of being rejected or disowned by my family. I haven't had the guts … I'm still trying to."
Recalling the day he returned from initiation school, Mabona says: "When we were at the gate, inside my mother's house, they were saying: 'Indoda ibuyile [the man has come home]'.
"I walked in and they told me I should make sure my family's name is not disrespected and not to destroy what my elders had worked for. They told me to stand bravely in the community.
"Because they were not aware [of what happened in initiation school], it was a bit overwhelming for me. But I told myself to just try and maintain the status; to keep my reputation of being this straight Xhosa man. But I felt like I was lying to myself; like I was living a double life."
Mabona and Macanda still hold deep respect for Xhosa culture and traditions.
Says Macanda: "I'm a very proud gay Xhosa man. I take great pride in my traditions. It's just that I'm gay."
Mabona says: "I'm not in a position where I can open up [about being bisexual]. But, just because of my sexual preferences, it doesn't mean that I disrespect the Xhosa tradition. I still respect my culture deeply. I still consider myself a complete Xhosa man."
* Not his real name
Carl Collison is the Other Foundation's Rainbow Fellow at the Mail & Guardian