With its nuanced, high-tech portrayal of a fictional African superhero, Marvel's Black Panther is eager to present a truth that Africans already know: that we are, and have always been, our own superheroes.
I've been an avid and breathlessly nerdy sci-fi geek since I was eight years old. I even remember the moment it happened.
Bored with the boys at aftercare and their intense game of Spy vs Spy, I wandered into the playroom in search of a bright blue plastic bin filled with old comic books.
I was already familiar with Batman, Spider-Man and the X-Men (my favourite at the time) and I was hungry for something new. After a few minutes of grubby-fingered digging, I found a tattered copy of a comic book based on Star Trek: The Original Series.
After listlessly thumbing through a few pages, I found a bright panel that featured a black woman dressed in an impressive red and black uniform. She was beautiful and I was captured.
Lieutenant Nyota Uhura, a Bantu interstellar linguist and crypto-grapher born in the United States of Africa in January 2233, was everything I wanted to be: brilliant, respected, gorgeous, funny and ferociously intelligent.
At eight years old, I became keenly aware of the power of science fiction: that it could take my world, or facets of it, and present them to me in bright shards — colourful and reflective enough for me to see my own face.
As I grew older, I noticed how the most iconic science fiction stories had all the features, characters and histories of people like me, and yet when it came to actual representation, we were curiously absent. Save for the one token character, we were either fetishised, exoticised or ridiculed in thinly veiled portrayals of a "primitive alien planet".
Junot Díaz, a Dominican writer who lifts science fiction out of its presumed default whiteness, put it beautifully when he said: "Look, without our stories, without the true nature and reality of who we are as people of colour, nothing about fanboy or fangirl culture would make sense. What I mean by that is: if it wasn't for race, X-Men doesn't make sense.
"If it wasn't for the history of breeding human beings in the New World through chattel slavery, Dune doesn't make sense.
"If it wasn't for the history of colonialism and imperialism, Star Wars doesn't make sense. If it wasn't for the extermination of so many indigenous First Nations, most of what we call science fiction's contact stories doesn't make sense.
"Without us as the secret sauce, none of this works, and it is about time that we understood that we are the Force that holds the Star Wars universe together. We're the Prime Directive that makes Star Trek possible, yeah. We are all of these things—erased, and yet without us — we are essential."
Black Panther, Marvel Studio's latest sci-fi superhero blockbuster, understands this dynamic keenly and seeks to subvert the legacy of erasure that decades of science fiction stories have sought to entrench.
Directed by Ryan Coogler (of Fruitvale Station and Creed fame), and gathering an exciting African and African-American cast and crew, Black Panther has electrified audiences globally on an unprecedented scale.
And in so doing, the film has exposed a deep hunger for bold, smart and representative stories that present black people in all our essential richness and complexity.
Black Panther follows T'Challa (Chadwick Boseman), a young African prince, and is set in the fictional African nation of Wakanda — a seemingly impoverished country that is the never-colonised cradle of an infinitely precious metal called vibranium.
After the death of his father T'Chaka, played by our own John Kani, T'Challa returns home to the isolated, technologically advanced African nation to take his rightful place as king.
But, when a powerful adversary called Erik Killmonger (Michael B Jordan) appears, T'Challa's place as king — and as Black Panther — is tested when he is drawn into an intricate and difficult conflict that places the fate of Wakanda at risk.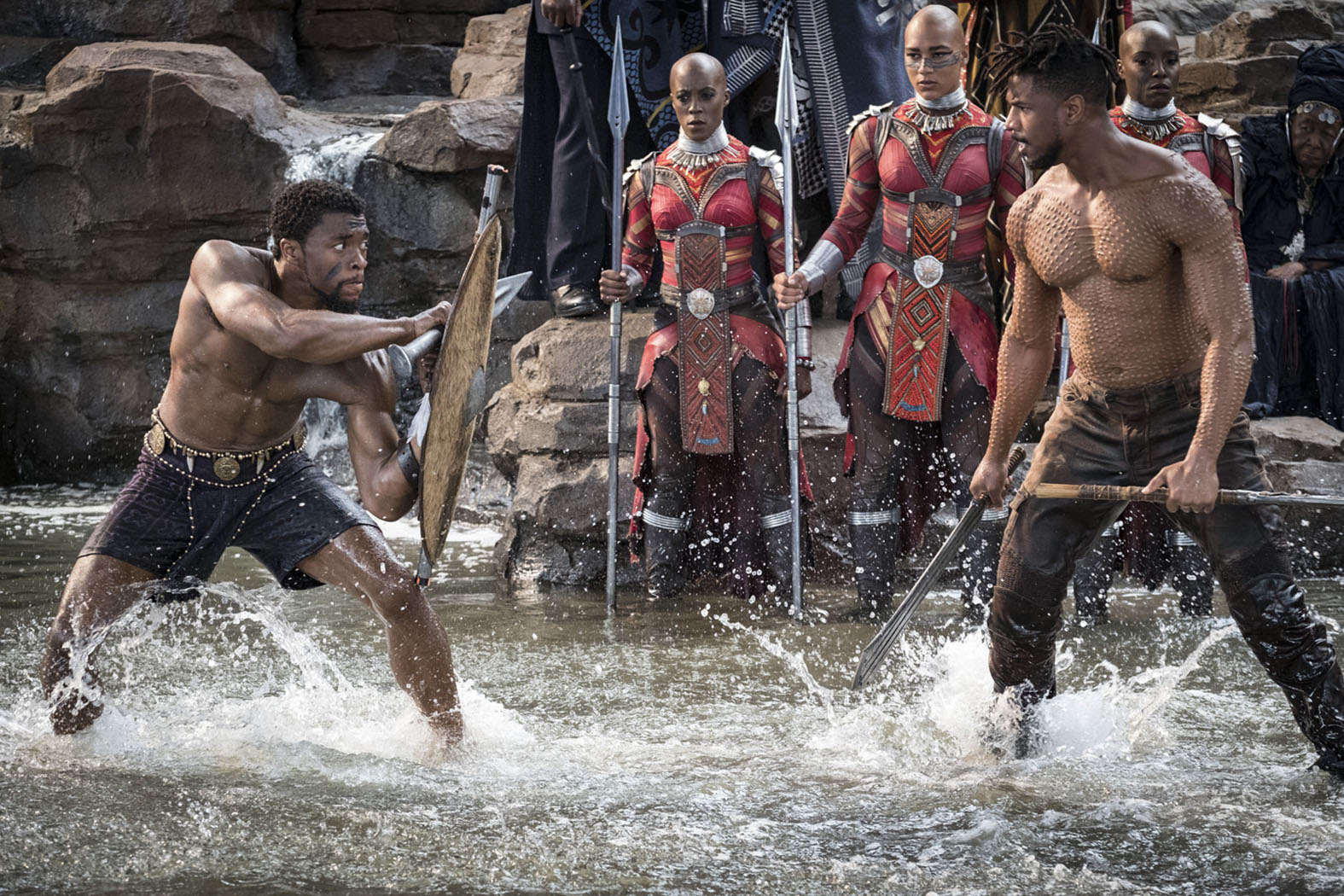 [Lithe: Chadwick Boseman (left) is T'Challa/Black Panther and Michael B Jordan plays Erik Killmonger. Photo: Matt Kennedy ©Marvel Studios 2018]
Black Panther is remarkable in that it presents a version of an African country that is not corollary to the story — it is the story.
Although the film initially veers dangerously close to presenting Africa as a pure and ancient homo-genous monolith, Black Panther works hard to represent and reimagine the continent's most alluring and innovative features respectfully.
More than anything, Wakanda is a feat of black imagination.
From the customs and costumes loosely derived from various cultures and people on the continent to the isiXhosa spoken by the main characters (at times laughably) and the powerful narrative of dislocation and alienation central to Killmonger's African-American narrative, Black Panther is playful, compelling, visionary and black AF.
Before the press viewing of the film, I was armed with a wary scepticism, informed by what American imperialist narratives tend to do with African stories.
Far too often, we are the "included" — the spicy but ultimately hollow "diversity tick", mined for our beauty at face value — yet we are never engaged in our fullness, agency and mind-staggering difference in any meaningful way.
But, after seeing the film, I was astounded by its ability to transport and transfix me in its worlds. My Xhosa media partner and I giggled at the distorted language, played a raucous game of spot-the-African-costume, and twerked in our seats at the sound of gqom and South African house on screen.
I felt a lump in my chest rise at seeing my own culture's Basotho blankets adorned with silver sci-fiesque adinkra symbols, at once bristling with a protectiveness but feeling my brown skin warm up with pride.
I was eight years old again, holding a Star Trek comic in front me like a mirror. Except this time, I saw myself in Wakanda's women: in Shuri's geeky brilliance and sharp sense of humour (played by Letitia Wright), in Okoye's stoic sense of duty and her fierce fire (played by Danai Gurira), and in Nakia's ingenuity and sensitivity to injustice (played by Lupita Nyong'o).
As flawed as a film with Black Panther's awe-inspiring ambitions inevitably is, it's a vital contribution and intervention in a genre that's only shown how poor it is without us. And as one of Junot Díaz's Afro-diasporic geek characters asks: "Who more sci-fi than us?"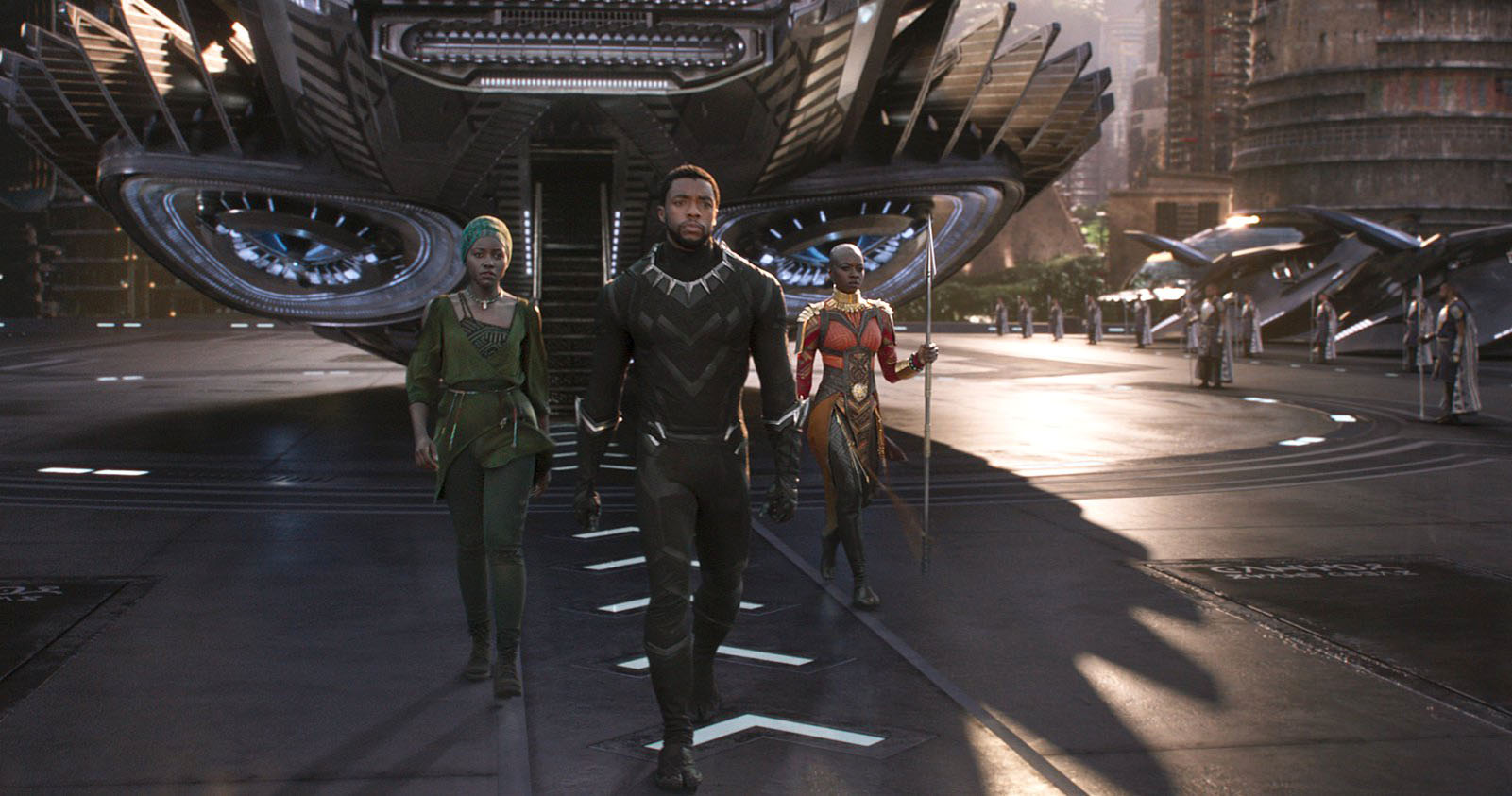 In the post-preview press interview, I present this central question to the Black Panther cast. Kenyan-Mexican Lupita Nyong'o, resplendently decked out in Zulu beads, is the first to answer.
"It's key. This film starts a conversation that is long overdue. And there's something that can shift when we experience something culturally together, in a way that's harder to galvanise the same kind of movement in isolation. And to do so in a movie that has such mass appeal is just astounding," she says.
"To say so much in a genre where people are happy to just experience a spectacle. Here, you can experience the spectacle, as well as really face some key issues, which is really powerful. And we really made it with that in mind."
Danai Gurira, who was born in Zimbabwe "just over the border", is quick to agree, remarking on how enthusiastically the film has been received in premieres on the continent.
"It's really everything. It really was a labour of love, a real passionate commitment to telling the story with authenticity and respect. It was about celebrating our various cultures and languages.
"We wanted it to be an African portrayal from an African perspective. On this scale, which really has never happened. So for us it was never in question that it had to come home. And we moved mountains. We were very passionate about this happening."
Ntate John Kani is next to join us, along with Mme Connie Chiume who plays the Elder for Mining in Wakanda.
"People tend to think, 'Oh! Go away! It's just a comic-book story.' And I'm 75. When I was young, growing up in the township in the Fifties, we only read comic books. We learned English with pictures," Kani says.
"When you think comic books, you think about Batman and SpiderMan, Iron Man, Superman, the Hulk. You look at those and you think, impossible. No black person could be one of those heroes. And yet, when you see the Black Panther, you realise, 'Oh my God. I'm in the picture too.'
"We've been so drilled and indoctrinated not to see Africa as the origin of all knowledge, information, and everything. They've taken so many things out of this continent. What we're holding on to is the thread of our dignity. And it is our culture that has held us together for a hell of a long time.
"And to see a film where you'll hear a few words of isiXhosa, where women are warriors on the frontline, where people are beautifully dressed, some of them wrapped in Basotho blankets, where elders are dignified and elevated in Maasai dress, it simply says: 'You may not have seen us but we are here. We're holding the sun.' "
Mme Connie beams at this, nodding affectionately while listening to Ntate Kani.
"What Wakanda fights against is this idea that civilisation came with particular people, but what we have always known is that we are and have been builders of great civilisations," she says, with a sly smile.
Given that we are armed with that truth, the film still presents and reflects a supreme tension between what is experienced and known on the continent and what Africa represents in the global imaginary.
I ask the cast about what work they would like the film to do in bridging that gap, and what they think about getting black audiences in the West to engage meaningfully with what's happening on the continent, outside of the context of capitalist exploitation.
Ntate Kani answers with an animated chuckle.
"Let's remember, please, it's an American blockbuster. Let's not be overambitious about our praise and expectations. Let's not expect something African. This is Hollywood, and Hollywood is business.
"Why we haven't been able to produce something on this scale as yet is because the South African film industry doesn't get the opportunity to build on its beginnings. We get so excited about a film that escapes once in a while, and then we have to wait years for another one because of all the barriers, whereas there's a schedule in America."
Nyong'o also responds, articulating her thoughts with a knowing caution.
"Black Panther is certainly not a solution to all our problems. What it gives us is a platform. And a very interesting interaction that's made possible because it does try to honour all of our perspectives.
"The fact that the dislocated African-American voice is heard, and his argument is legitimised in the fact that it's heard from such a beautifully empathetic character," she says.
"And the fact that the African, in all the fantasy inside Wakanda, is also heard, a perspective that we as Africans grapple with as well, that conflict between tradition and modernity that we seem to always be dealing with."
The actress goes on to say that what the fictional realm of Wakanda offers — "in this fantastical world" — is a world in which "the assault of colonialism doesn't exist and therefore an ancient African tradition has been allowed to develop on its own accord. And that tradition encompasses the technology that in our day-to-day looks like a dichotomy between modernity and tradition. But in Wakanda, it's seamless. Because that culture was allowed to develop on its own terms.
"And so, I think it offers a healing for all of us, because we can identify ourselves within it, from whatever perspective we're coming from. The dislocated African-Americans can see themselves represented in Killmonger but also in the family that is in Wakanda.
"And the hope is that it may pique a curiosity in the specificity of African culture that they may not have had the access to beforehand, because it's been presented to them in this allegorical way.
"And then for the African, there is at the same time a legitimacy in what is innately yours. The fact that we have all these treasures and all this knowledge, but how often do we see it celebrated on this kind of scale? How often do we relish in it as a continent? How often do we bear it to light with that amount of enthusiasm and pride?
"Oftentimes we're mourning the loss of our culture. And we often feel that technology is only bombarding and obliterating our culture. But this offers as way of asking: 'Hey. How can we redefine our modernity in a way that doesn't mean that we let our past go?'
"That's the question, really, that this film poses to us. And I hope that we are emboldened to actually face that. Because, development doesn't always have to look one way. And I think that's what Wakanda offers us so beautifully."
Black Panther is showing at movie theatres countrywide