The Tshwane University of Technology's graduation numbers have been on a steady incline, with a total of 10 904 successful graduates receiving their qualifications from 16 April to 29 May 2018. In 2017 the total number stood at 10 148. From the 10 904 qualifications, twenty were at the doctoral level and 146 received master's qualifications. During the 2018 autumn graduation ceremonies the university hosted approximately 43 672 guests, including graduating candidates.
All candidates who complied with the requirements for the issuing of their respective qualifications were invited to come and graduate, regardless of whether they were owing the university or not. However, certificates of candidates whose accounts were in arrears were withheld, and will only be issued after settlement of the outstanding balance.
Positive feedback was received from both internal and external stakeholders regarding the excellent manner in which the 2018 autumn graduation ceremonies were conducted. Suffice to say that the 2018 autumn graduation ceremonies were, in general, conducted well and without any serious challenges.
Graduation statistics
Compared to the same graduation period in 2017, 752 more students graduated during the 2018 autumn graduation ceremonies — a 7.4% increase. The number of candidates who graduated for doctoral and master's degrees, however dropped from 35 to 21, and 159 to 146 respectively. The number of candidates who graduated for diploma and degree qualifications increased from 5 737 to 6 050 and 3 590 to 3 901 respectively. Honours figures improved from 149 to 161, a 12% increase as compared to 2017.
Identification of candidates
The identification of candidates who would possibly qualify to graduate started before the end of the 2016 academic year. The identification of candidates was accomplished by using the following:
Applications received from students
Academic staff informing the Certification Management Office of possible completing students
ITS finalist identification list
List of Senate-approved M and D graduation candidates.
Graduation venues
Candidates graduated at the campuses where they studied, except for the Polokwane Campus candidates and candidates from Economics and Finance, The Arts, and Science faculties. The graduation ceremony for the candidates of the Faculty of Economics and Finance was held at Soshanguve South Campus due to the lack of a suitable venue at the Ga-Rankuwa Campus.
Candidates from the Science and The Arts faculties graduated at Pretoria West Campus (TB Hall). The graduation ceremonies for Polokwane Campus were held at Polokwane /Jack Botes Town Hall.
Determination trumps visual impairment
Four visually impaired graduates from the Faculty of Humanities once again proved that there is nothing like determination to beat the odds in life.
From losing his eyesight at the age of 14, to being a Language Practice graduate, Thabelo Muedi (24), never allowed his condition to determine his destiny.
In 2015, he enrolled for a Diploma in Language practice and passed all his modules, graduating in record time.
"I always advise people to go to school and be educated to be recognised. Life can be tough if you don't have any educational back-up," he said.
With the help from the department of labour, he obtained a bursary to pay for his fees. Muedi has now enrolled for a B-tech in Language Practice.
In future, he would love to become a lecturer at one of South Africa's universities.
Samuel Mokolobete Makwane (26), from Monsterlus in Limpopo, is the first person to ever graduate in his family. According to Statistics South Africa, the national disability prevalence rate of successful graduates is 7.5% in our country. Makwane is another great example of the many differently-abled students who have made it against all odds.
After passing matric, Makwane, who was born blind, enrolled as a Language Practice student; at the recent autumn graduations he received his BTech.
He wants to enrol for his master's next year and he believes that a seat is reserved for him at the SABC.
"I want to become a news anchor and work as a translator behind the scenes," he said.
Age and being blind never stopped Moses Ngoato Malatji (38) from pursuing his dreams. He recently graduated with BTech in Public Management.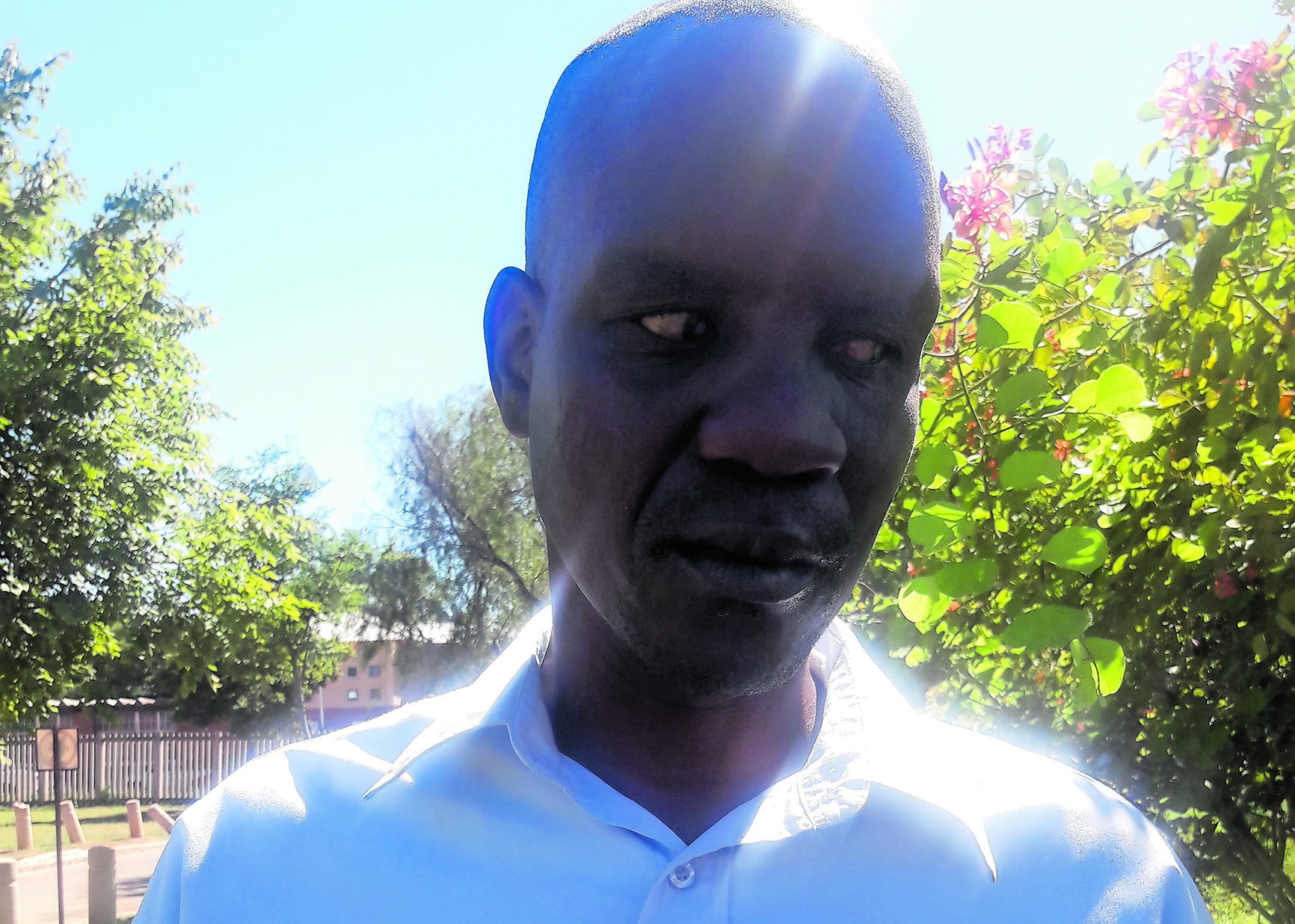 Moses Malatji
After a long struggle and lack of knowledge about free bursaries that are offered to blind students for university study, Malatji finally enrolled for a National Diploma in 2014 at the age of 35.
A single mother who only depended on social grants for survival raised him.
"It has never been easy for us. I had bigger dreams of starting my own business, but I found that hard to pursue, because I had no financial support system."
Malatji plans to enrol for a master's degree soon and hopes to find a job in government's Public Works sector.
Caroline Ncebakazi Tyalisi has just received a BTech in Public Management. The courageous woman was not born blind. Due to severe meningitis and a six-month stay in hospital in 2007, she was told she would never see again.
She never allowed her condition to stand in the way of achieving her dreams. In 2011, she enrolled for a BTech in Public Management. She received a Transource bursary, which paid her fees for her four years of study.
Differently-abled graduate wants to inspire others
Losing his legs did not deter Lekae Combrinck-Nawa (23) from leading a purpose-driven life. On Friday, May 4, the go-getter from Marokolong, a small village in Hammanskraal, Northern Gauteng, obtained a National Diploma: Multimedia (Visual Arts) during one of TUT's Autumn graduation ceremonies.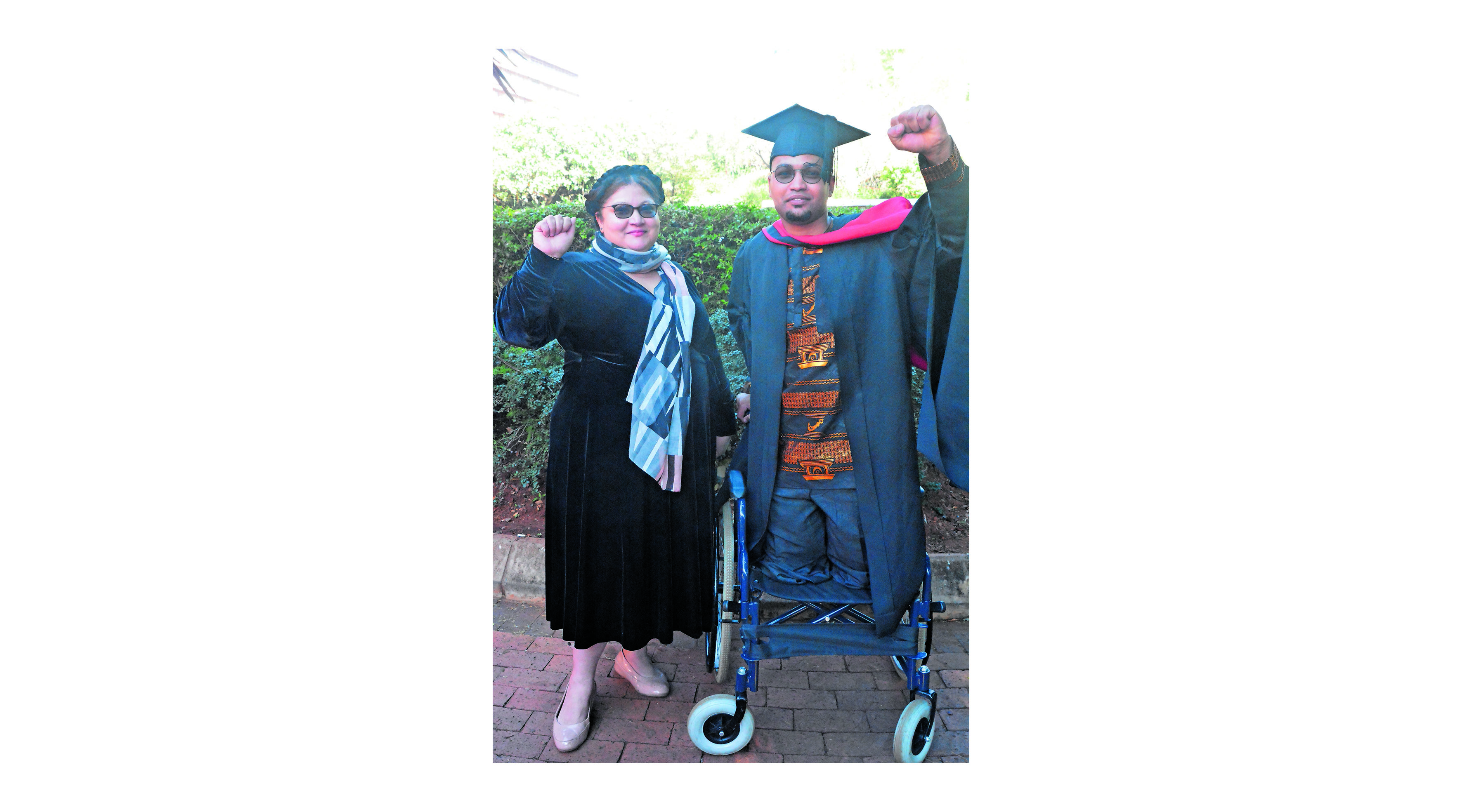 Lekae Combrinck-Nawa
Combrinck-Nawa lost his legs in a car accident in 2013. At the time, he was studying animation in Cape Town; he had to suspend his studies to recover.
According to Statistics South Africa, only 7.5% of differently-abled students graduate. This statistic makes his achievement even more noteworthy. "I never wanted anyone to feel pity for me. I believe in education and wanted to study at one of the best universities," he says.
Combrinck-Nawa hopes to enrol for a BTech next year to inspire and encourage differently-abled youth to never give up on life.