Old Mutual's anticipated return to South Africa is being welcomed by investors who believe it will be able to compete better with rival Sanlam.
Old Mutual Limited (OML), the group's local holding company, will list on the JSE on June 26.
The insurer is splitting its four financial-services businesses — Old Mutual Emerging Markets, the Nedbank Group, Old Mutual Wealth and Old Mutual Asset Management — into stand-alone entities.
Old Mutual Emerging Markets, its Africa-based insurance and asset-management businesses, will fall under the newly formed South African holding company, OML.
Analysts such as Avior Capital's Warwick Bam expect OML to trade much closer to that of Sanlam. On Tuesday, Old Mutual Plc was trading at R40.34 on the JSE and Sanlam at R81.20.
Old Mutual Plc first announced its "managed separation plan" in March 2016, estimating at the time that the new structure's benefits for shareholders could reach more than £2-billion.
Bruce Hemphill, when he took over as group chief executive in November 2015, developed the strategy to stimulate the group's profitability and raise its share price, which many believed was lagging behind.
The Old Mutual Plc board, currently headquartered in London, believed that the group's structure had locked value. "To unlock that value and create value for all stakeholders, a strategy called managed separation was announced," explained William Baldwin-Charles, Old Mutual Plc's head of corporate affairs.
London-based Old Mutual Plc was founded in South Africa in 1845 but moved to Britain almost 20 years ago. The decision attracted a fair share of criticism, with many believing that its rival Sanlam's decision to stay in South Africa turned out better for its investors.
Old Mutual and Sanlam are in a constant race to be crowned as the JSE's largest life insurer. This week Old Mutual's market capitalisation was R199-billion and Sanlam's was R181-billion. Sanlam briefly surpassed Old Mutual in March.
READ MORE: Old Mutual reconnects with Africa
But Sanlam's share price has dropped by 12.75% in the past 90 days, which has helped to lift Old Mutual ahead of its listing. Old Mutual had only dropped 1.94% in the same period.
Since its London listing 20 years ago, Old Mutual's share price has grown by only 215.72%, whereas Sanlam's has increased by 11 04.31%. With excess cash, Sanlam is focusing on acquisitions, which will offer stiff competition to the returning Old Mutual and its African plans.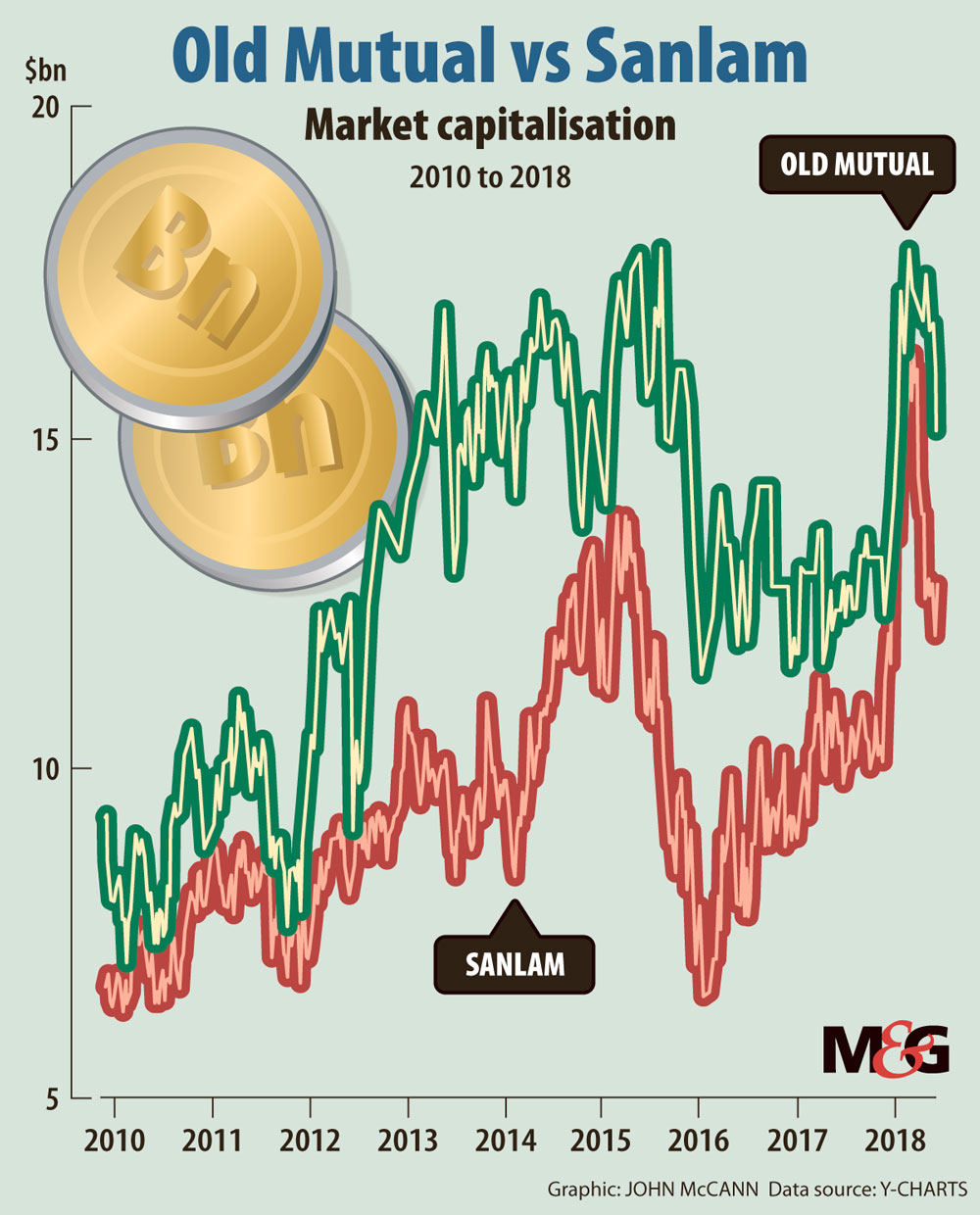 Baldwin-Charles agreed that Sanlam had outperformed Old Mutual Plc over 20 years.
"Then again, if you look at the FTSE 100 where Old Mutual Plc is listed versus the JSE 40, the JSE 40 has massively outperformed the FTSE 100," he said. "There is an element of where Old Mutual Plc is listed that means it performed less well than Sanlam."
Old Mutual released its full-year results in March and recorded a 22% increase in pre-tax profit.
Peter Moyo, chief executive-designate of OML, said the South African business had a lot of value to be unlocked. "Our business is highly cash generative and has strong capabilities in the right markets to extract value from our franchises, deliver sustainable long-term growth and returns for shareholders, whilst creating economic value for all our stakeholders," he said.
Baldwin-Charles said the group's new strategy would seek to unlock and create significant long-term value for shareholders with the phased reduction of plc central costs. He said, in 2015, these costs amounted to about £80-million.
It would also materially reduce the Old Mutual Plc holding company debt by almost £1-billion, and the managed separation process would deliver annual cost savings of £95-million.
The strategy would also enable each business to enhance their performance relative to their peers and allow the market to value them appropriately, and would ensure that each business was directly accountable to their shareholders for their returns and cash generation from the capital employed, he said.
All the businesses would also have capital structures and dividend policies appropriate for their own strategies. "This will allow these businesses to access their natural shareholder base," he said. "We believe that giving independence to each of the underlying businesses should unlock the conglomerate discount at which the Old Mutual Plc board believes the group traded."
Old Mutual Plc's tightfistedness over dividends has raised eyebrows among shareholders over the years, opting to use them for foreign ventures, such as futures trading and stockbroking in Britain.
Baldwin-Charles said shareholders would now be able to access the emerging markets business directly rather than through the Old Mutual Plc package.
Old Mutual Emerging Markets will be headquartered in South Africa and incorporated into OML, the group's local holding company. This will essentially mean that the group's emerging markets activities will now reside in South Africa.
"Further value will be added by being closer aligned to our natural shareholder base and owned by shareholders who can value our business more appropriately, and to have an appropriate capital management policy with a suitable capital structure," he said.
OML would focus on emerging markets instead of being part of an emerging markets/developed markets conglomerate, he said.
Old Mutual Wealth will be renamed Quilter Plc and will focus principally on wealth management in Britain. Quilter provides investment advice and investment platforms to about 900 000 customers.
Apart from listing on the JSE, OML will also have a secondary listing on the London Stock Exchange, as well as secondary listings on the Malawi, Namibia and Zimbabwe bourses.
Quilter will list in London and Johannesburg a day earlier, with its primary listing in London. At the time of the listing, OML will hold Old Mutual Emerging Markets' assets, the Plc's residual interests and its 54% stake in Nedbank, South Africa's fourth-largest bank. But the Nedbank stake will be unbundled to a minority 19.9% stake six months after the listing.
Baldwin-Charles said, for every three Old Mutual Plc shares held, shareholders would receive one ordinary share in Quilter Plc and three ordinary shares in OML. They would no longer hold any shares in Old Mutual Plc.
OML has plans to expand its banking and funeral businesses by growing its Mass Foundation cluster, which was the biggest contributor to group operating profit with R3.16-billion and leads the South African pack.
By returning to South Africa, the company plans to be more competitive. Old Mutual Finance, which is part of this cluster, offers money account transactional facilities, ATM transactions and loans. It acknowledges that consumers increasingly prefer digital solutions and services.
READ MORE: Cabinet reshuffle: A new dawn in the economic cluster
The economic development department, under Minister Ebrahim Patel, has actively participated in the negotiations to reach a deal and the conditions for the Old Mutual return. Conditions set by the Competition Commission include that R500-million be allocated to a new ring-fenced Enterprise Supplier Development Fund.
Other public interest commitments by Old Mutual, made in terms of the Competition Act, include undertakings not to retrench anyone as a result of the transaction and to ensure that the company achieves best-of-class empowerment status within a prescribed time.
Patel said Old Mutual's move "back home", as one of South Africa's premier financial institutions, would help to raise investor confidence in the economy.