The man who called on black South Africans to do to white people what Adolf Hitler did to the Jews, accepts his comments were "grossly inappropriate".
Twenty-nine-year-old Velaphi Khumalo made the comments in a Facebook post in January 2016, after now infamous former estate agent Penny Sparrow referred to black people as monkeys in a rant complaining about a littered beach.
Khumalo posted: "I want to cleans this country of all white people. we must act as Hitler did to the Jews. I don't believe any more that the is a large number of not so racist whit people. I'm starting to be sceptical even of those within our Movement the ANC. I will from today unfriend all white people I have as friends from today u must be put under the same blanket as any other racist white because secretly u all are a bunch of racist fuck heads. as we have already seen (sic)."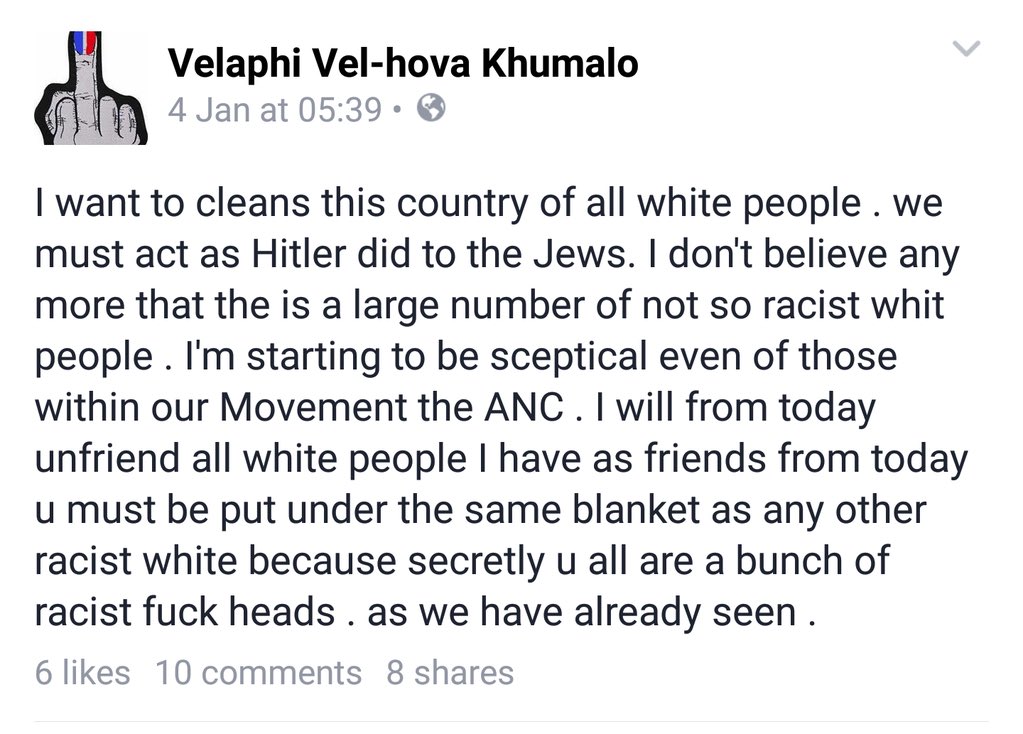 At the time, Khumalo worked for for the Gauteng government and the provincial department of Sports, Arts, Culture and Recreation, which quickly distanced itself from him, calling his post "barbaric".
The first complaint against Khumalo was lodged by the ANC. Khumalo and the ANC reached a settlement that he would pay R30 000 to a charity over the course of 30 months.
In July 2016, the SAHRC confirmed it was preparing to take Khumalo to court for alleged hate speech, saying it had consolidated all the individual matters and registered a new complaint against him.
Khumalo faces charges of crimen injuria in the equality court, following 19 complaints being lodged at the rights commission.
On Monday, his legal counsel Stuart Wilson told the court Khumalo had — immediately after making the comments — apologised to all "the people of South Africa". It also emerged Khumalo had been disciplined by his employer for his actions' TimesLive reported.
Wilson added that he and his client have asked for the SAHRC's complaints be stayed or dismissed.
Advocate for the SAHRC Mark Oppenheimer argued before Judge Roland Sutherland that Khumalo plans to partially base his defence on claiming Sparrow's post provoked him into making his comments on Facebook.
Oppenheimer argued Khumalo's statements constituted hate speech in terms of Section 10 of the Promotion of Equality and Prevention of Unfair Discrimination Act.
The hearing continues.