Friday night, July 20 2018, will forever be emblazoned in my mind as the most comprehensively gag-worthy family function I have ever had the honour of attending. And by "family" I mean found family, chosen family.
There are many of us — black, brown, femme, queer, trans, other, other, other — who have not had the luxury of easy family life prescribed by bloodline and have had to seek one another out. There was no life that was given to us but the one we carved out from between the rock and the hard place. And thus Ses'fikile Siwumndeni was born to celebrate the abundant creative expression of queer artists of colour in South Africa's club culture.
Conceived by artists Luvuyo Nyawose and Jabulile Newman, Ses'fikile Siwumndeni (We're here, we're family) can be described as a multidisciplinary exhibition hosted at the gay bar Zer021, famous for being a home and haven to many of Cape Town's queer folk of colour. That night, FAKA's latest music video Queenie, debuted alongside performances by artists Queezy, Angel-Ho, K-$, Bujin Bujee, Chester Martinez, Nodiggity, Parasite Hilton and Sensitive Black Dyke.
The location and programme ensured that the night would be one of the most melanin-rich and queer artistic events the Cape Colony has seen in recent memory. No small feat considering Cape Town's segregationist legacies. Moreover, the city's queer scene suffers from some of the most egregious whitewashing this side of the international date line. So, it was a welcome change to have an event of this scale planned by and for a community that is far too often left on the periphery and celebrating an cultural aesthetic we have been seminal in creating.
However, although the violence of cultural misappropriation and erasure were circumnavigated by the expert programming of Nyawose and Newman, there were other kinds of violence that reared their dusty heads between all the beauty.
It's always in club spaces that I remember that the world has been constructed in such a way that my body is not my own — that my black, my queer and my femme and the celebration of all these manifestations of self can be read as invitations for a certain kind of violence. Both my partner and I were subjected to unsolicited gropes from too many hands for much of the evening.
The combination of a darkened night-time space fuelled by alcohol creates the perfect environment for some to take advantage of others. This is not a new phenomenon at a family function. The combination of alcohol, music and loved ones is a common configuration in ceremonies of celebration, commemoration and grief.
What this configuration allows for is release and processing, on both a collective and an individual level, of joy, remembrance and sorrow. But, with the added factor of alcohol in a world wrestling with systems of injustice and oppressive orders, the propensity for quiet violence increases. This is important to talk about.
The talk of "safe spaces" has been floating around a lot in public discourse. The idea emerges from the notion that marginalised people need spaces where their vulnerability to violences such as racism, sexism and queerphobia can be minimised. I think this is noble and, in some cases, necessary.
But what the "safe space" discourse does not take into account is the possibility that marginalised people themselves can exhibit violent and oppressive behaviour.
What this takes away from victims of violence meted out by people who come from a marginalised demographic is the ability to deal with it because there is the presumption that only "safe" people are allowed into "safe" spaces.
To do justice to the kinds of liberatory worlds we are invested in constructing through spaces/events such as Ses'fikile Siwumndeni, I believe we need to divest from the fallacy of "safe spaces" and move into creating (as a friend and fellow creative, Elijah Ndoumbé, taught me) brave spaces. Spaces that can conceive of plurality and do not fall into lazy binaries of perfect victims versus imperfect perpetrators.
I'm not yet sure what those kinds of spaces would look like or how they would operate but with something like Ses'fikile Siwumndeni I believe we are getting closer.
Still, I am left with questions. What does it do to create these kinds of spaces in places like clubs where the propensity for violence is so high? What does it mean that our only opportunities for coming together as family are predicated on making ourselves available to the potential of violence?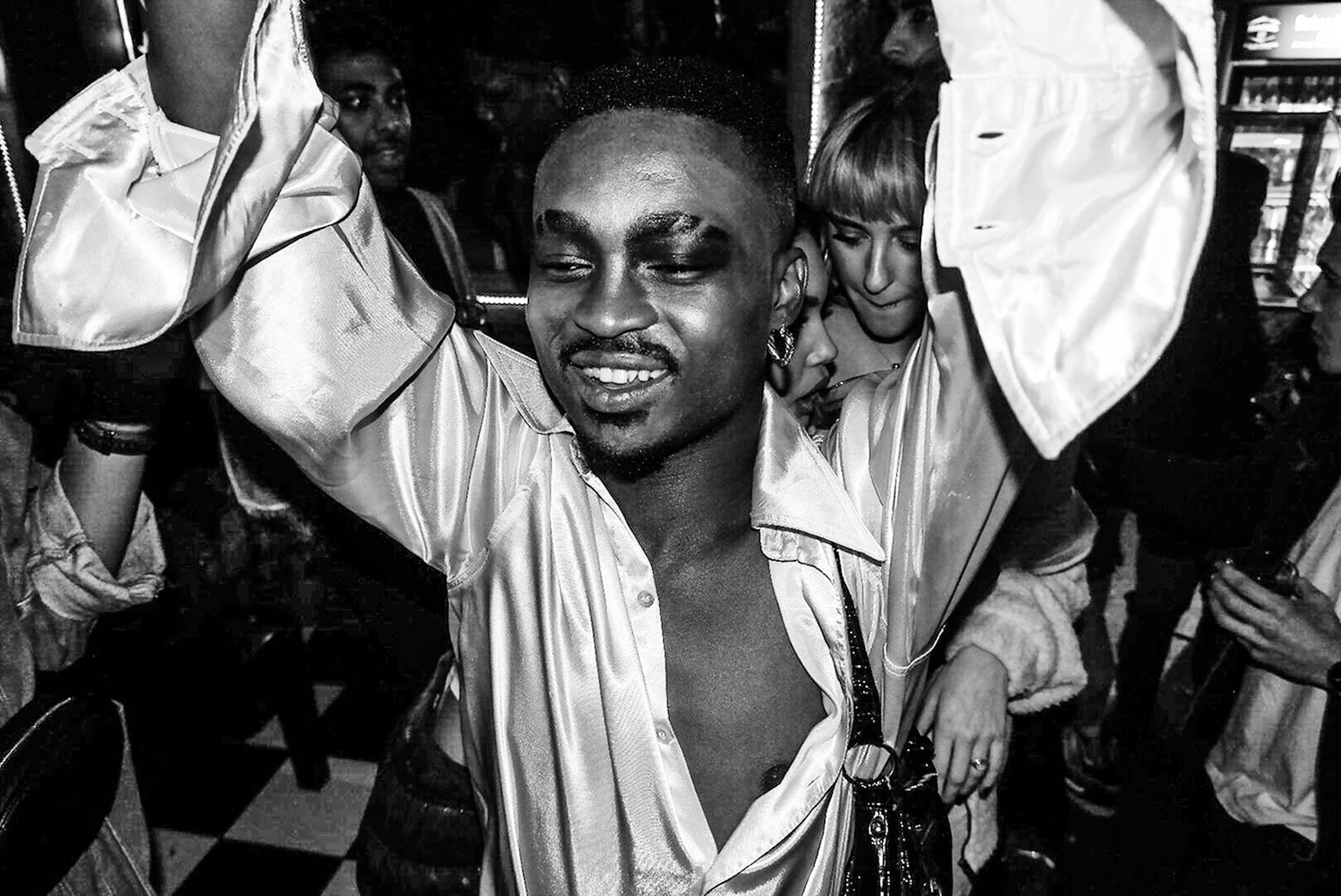 [Izandla phezulu: Fela Gucci at Zero021 (Photo: Micah Delport)]
But let's talk about clubs. When we have conversations about art and art spaces, an often neglected nexus of astronomic artistry is the club space. Most probably because of the association of nightlife with supposed low culture, and with a space like Zer021, a club space populated by people and artists of colour in the historically black and brown populated suburb of District Six, the "low culture" association acquires an intentionally racialised connotation.
Nyawose and Newman's curation of the space made quick work of 
anyone who would deny the rich artistry and cultural value of the club space. Moreover, the inherent politicisation of having such high-calibre artistry from artists of colour available to a predominantly black and brown audience radically subverts the relationship in the Cape Town art scene where artists of colour have their work almost exclusively consumed by rich white people in galleries located in areas predominantly peopled by white folk (shout out to Zeitz MOCAA and its ilk).
As inspired a decision as it was to host this function in a club environment, though, this came with complications of its own. The events ran woefully overtime.
I believe time to be a necessarily colonial device used to ensure that we, as subjects of capitalism, have units to have our productivity measured by. So I'm all for interventions into the tyranny of time. But I also advocate for the respect of an audience's and artists' time.
A friend commented that night: "Cultural workers in the club scene are some of the most exploited creative labourers."
I agree. With an event of this scale being produced by two people, running overtime is bound to happen. But it's worth noting for the future that respecting an artist's time and the time an audience has set aside to witness an act is worth thinking more intentionally about.
That said, when FAKA eventually hit the stage for their performance, all conceptualisation of time and space faded away as I proceeded to hand my life over (body and soul) to the church of Fela Gucci and Desire Marea. What this duo bring to their artistry truly defies categorisation. The direction of Newman and Nyawose in the Queenie music video encapsulates the plurality and multi-referentiality that is, for me, the fulcrum of FAKA's artistic genius.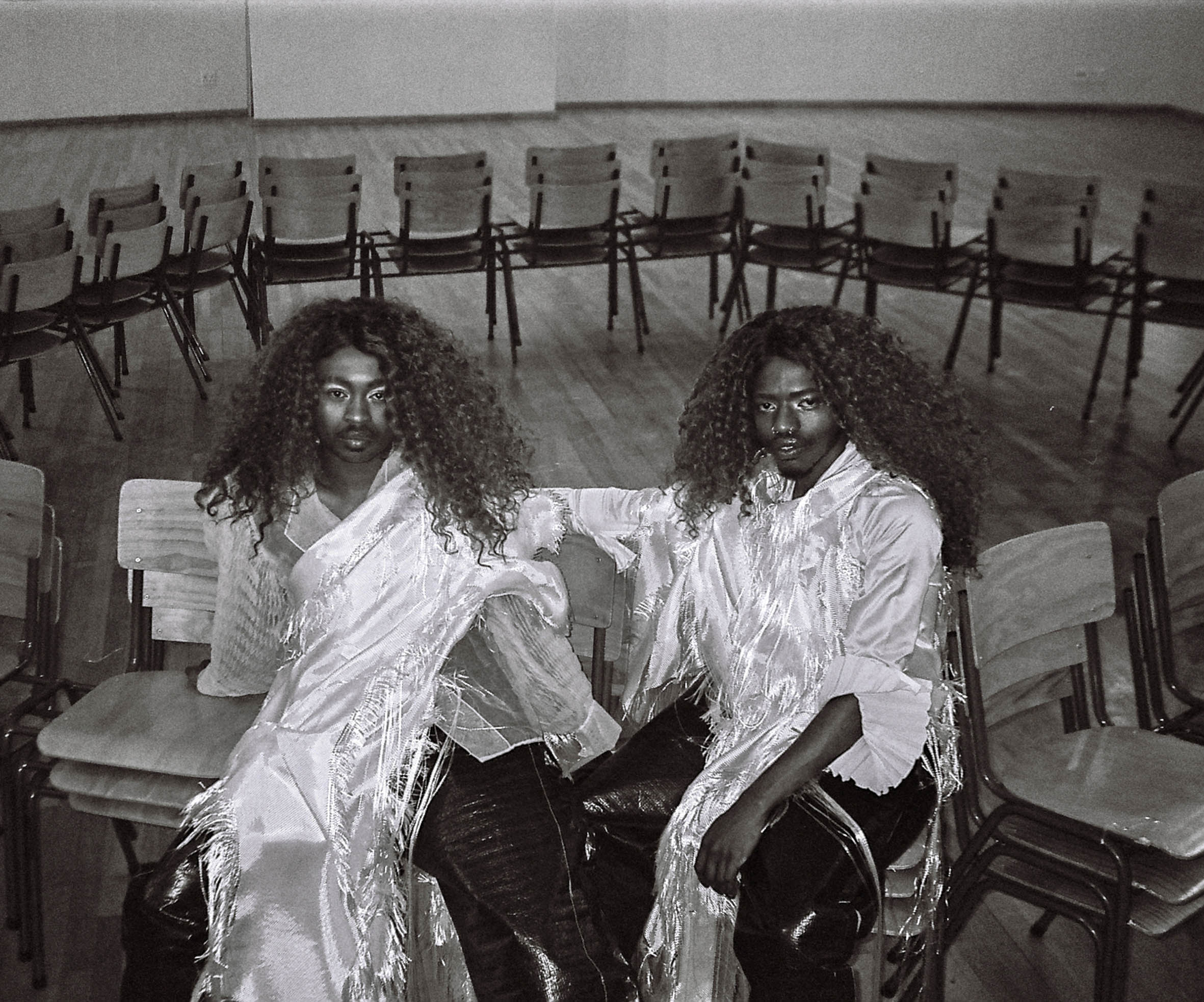 [Queens: Fela Gucci and Desire Marea debuted their new music video 'Queenie' at the inaugural Sesfikile Siwumndeni party. (Photo: Daniel Walton)]
Conceived as a reimagining of seminal photographic moments in one's life (the school portrait; Christmas time with family; the ubiquitous, unflattering ID photo), Nyawose and Newman dabble in the realm of speculative fiction: What if our chosen families were our blood families? How would that change how we remember our (often quietly violent) adolescence? Who would we be now had we not had to endure the bullying and misunderstandings that stalk almost every queer child's development?
As Nyawose so incisively says in the introductory moments of the video: "I never really was given the luxury of discovering my sexuality. I think at the age of three I was told that I was gay."
Building on the premise of an alternative, queer family history, Nyawose and Newman carry out one of the most important kinds of revolutionary work. Radical reimaginings. Imagining a narrative for ourselves that is not predicated on pain nor panders to the trauma/porn fodder queer narratives have been oriented to both make an appeal for our humanity to the straights ("Look, Brad, we bleed too!") and subversively reinscribe and reinstitute our alterity.
Instead, Nyawose and Newman take us into an environment of radical warmth and familial love that is in stark opposition to the voice-overs detailing various forms of queer violence and erasure that are peppered throughout the video. In this way Nyawose and Newman don't shy away from our shared traumatic narratives but instead complicate and pluralise our narratives to conceive of more than just our trauma.
It is necessary work in a cultural context that seeks to represent queer people of colour as either supernatural denizens of overcoming or pitiful victims with no agency, a binary that does no justice to any one person's humanity.
It fills me with unimaginable hope to see people wrangling with the pluralities and contradictions of what it means to be this black, this queer and this femme at this particular juncture in history.
Neither Ses'fikile Siwumndeni nor Queenie offer any answers but both provide rays of sunshine in the obsidian darkness of a white, white night.