There's a sense of authenticity when Bidvest Wits players talk about belonging at the top.
In a world in which media coaching is a significant part of today's game, imitation is standard: players regularly parrot how they're targeting the Premier Soccer League (PSL) pinnacle and will give it their all to achieve it. It's the type of stuff fans want to hear, even if they never fully believe the words.
Over in Braamfontein, however, they've sampled league success. The privileged few will tell you how the memory of its taste sits on their tongue as though it was last week, but the desire for more burns until the day it's returned.
"Success motivates one more but failure is the best lesson at the end of the day," midfielder Thabang Monare muses. "We are motivated by success as a club to be where we belong. We all know where the team belongs.
"We know what happened last season. Obviously it's a season we want to forget about;we can't even think about it right now."
In the past year, Monare and many of his teammates have savoured the emotions at both ends of the table. Lifting the PSL in May last year, a first for the club, was, for most of them, the highlight of their careers. It was the idyllic platform on which to launch an empire and establish the Students as a team the country can expect to battle alongside the Soweto giants and Sundowns for top honours every season. What their fans got 12 months later was the limpest of title defences.
Thirteenth place, 24 points away from the top, is not nearly good enough for a team that wants to receive regular big dog respect. Heightened pressure accompanied the start of the season was a bad start that would rev up the murmurs that this was a team weighed down by their own peak, capable only of rolling backwards.
In the first two games this season, they galvanised off disappointment, sweeping aside Free State Stars 3-0 and Kaizer Chiefs 3-1. All three goals against the Glamour Boys were born from ruthless efficiency. The manner in which they preyed on the open spaces left in defence was almost sadistic.
Thulani Hlatswayo's opener against Ea Lla Koto was remarkable for the raw hunger on display. Terrence Dzvukamanja had no right to bustle a pass onto the penalty spot and once he did his captain, second favourite to get there, surged it into the goal. Desire alone dragged that ball over the line.
These are examples of the type of vigour that won them a title and it will have to be present for all 30 games if they're to make a similar impression this term.
"We want to win things and, like I always say, if you don't want to win things, then there's no point in even bothering to play," says goalkeeper Darren Keet. "We want to try do well again, have a good season and maybe even win a few trophies, but ultimately we want to win the league the way we did two seasons ago. We have to make sure that we stay focused and go out there and achieve what we need to."
What was a good start turned into an exceptional one against Orlando Pirates on Wednesday night. The Sea Robbers banged persistently against the Wits door but were unable to manufacture any clear openings. Justin Shonga managed to squander the only real chance of the match, one such a poacher usually puts away (when you're on form things tend to go your way). And so it was when Haashim Domingo's low cross was deflected into the net.
One-nil, three wins on the trot and life is starting to look good again.
Taking down the Buccaneers in Orlando is a major boost at this juncture. It's the type of victory that begins to imbue a necessary arrogance into top teams; the seedling of a belief that no other side has the ability to take you down. Not to mention that it now adds two Soweto scalps to the coach's collection.
In Gavin Hunt, Wits have a coach who has proven his ability to deliver consistency and has regularly demonstrated his will to win.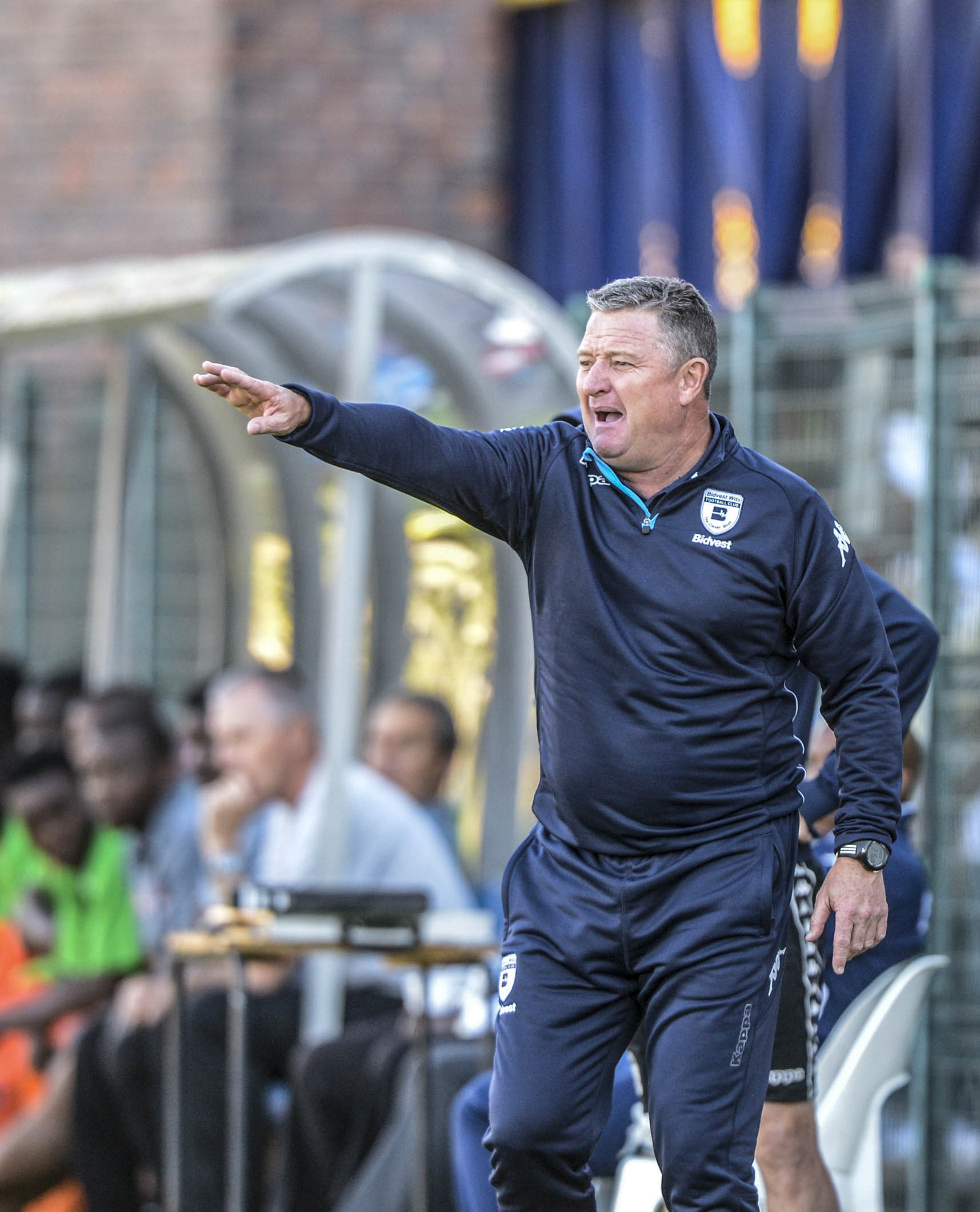 [Wits look to once again capitalise on the consistency of coach Gavin Hunt]
The Students have shown they're adaptable:against Pirates, for instance, the team shifted from their pressing game, instead standing off the men in black and closing down the spaces.
Hunt sounds miffed at the suggestion that there's been highs and lows —only one low, he insists.You can't fault him on that: bar last season, his side hasn't finished outside the top three since he took over in 2013. In that time he has had his regulars, such as Monare and Keet, but he's open about the need to replenish the armoury when it becomes spent.
"We built a team up and won the league and then obviously we had a bit of a meltdown. We change the team, build a new team and start again," Hunt says matter-of-factly.
"They haven't won anything, most of them, the new ones that have come in. That's always a good omen if players haven't won anything, because it means we get them in and show them how to win. We can't teach them how to play football but we can show them how to win, that's all I can do."
New signings Dzvukamanja, Deon Hotto, Gift Motupa and Mxolisi Macuphu have clearly wasted no time on buying into that philosophy. All four netted within their first two games for the club. Their fortunes will probably be closely linked to those of their club over the next few months.
Wits was never going to be judged on the same scale after winning the PSL. They entered a different territory, one that quickly lured them into the mud. They might have swum out temporarily but there's no shortage of opponents who would like to kick them back in.
"What's life without pressure?" asks Monare. "Football is the game I chose, so I have to take everything that comes with it."
Fixtures this weekend:
Friday:
8pm: Maritzburg United vs Kaizer Chiefs
Saturday:
3pm: Polokwane City vs Baroka
6pm: Cape Town City vs Golden Arrows
8.15pm: Chippa United vs Black Leopards
Bidvest Wits vs SuperSport United
Sunday:
3pm: AmaZulu vs Free State Stars
Bloemfontein Celtic vs Orlando Pirates