This was supposed to be the season for Orlando Pirates. After Milutin "Micho" Sredojevic's fingerprint took some time to reveal its intricacies and patterns, the Buccaneers came good in 2018 and even saw their name tentatively thrown into title race conversations.
Preseason proved decent and a healthy number of new selections arrived to bolster the strength of the camp. No conceivable reason,then, why last term's second-placed team couldn't take the next step.
It's now clear that there are still many nails to hammer into the team structure if such dreams are to be made real.Out of four games played, two were lost, one won and one drawn. This is not the return of champions. Nor is the first-round MTN8 elimination thrown in for good measure.
Why the mediocrity? A literal inability to put the ball into the back of the net. A Buccaneer hasn't done this once from open play; the piddly two in the "goals for" column came from a Justin Shonga penalty against Highlands Park in the opening game and a Chippa United own goal a few days later. It's hard to make teams walk the plank when you're prodding them with a broomstick.
"When they are going to the 18 area they're having a problem scoring goals," remarks Daniel Mudau. "They go there nicely but their finishing touches are not okay. As a striker you have to make sure you are focused so that if the opportunity presents itself you can make sure to put the ball in the back of the net."
The legendary Sundowns striker is arguably part of a breed that is approaching extinction — the outright forward. Although Pirates' goal struggles have given them an awkward start, such a stretch is no anomaly in South African football in recent years.
It has been rare to see an attacker come into the league and truly light it up. Last season, for instance, top scorers Rodney Ramagalela and Percy Tau managed only 11 goals. That no one is even able to get within touching distance of the 20-goal margin is evidence of the lack of players with an insatiable thirst for scoring — players who frown at the idea of passing the ball for an assist, or shiver at the thought of being designated as a target man for knock-ons.
"Look at the strikers that we have today; there aren't many out-and-out strikers — they have been converted to be strikers;a lot of them are midfielders," Mudau points out. "For a striker, it's all about knowing how to score goals,how to run, how to beat defenders, in which area must he be in. It's not about the players themselves. They don't have those outright strikers like myself, Marks Maponyane, Jerry Sikhosana. If you see our midfielders, they are midfielders-cum-strikers.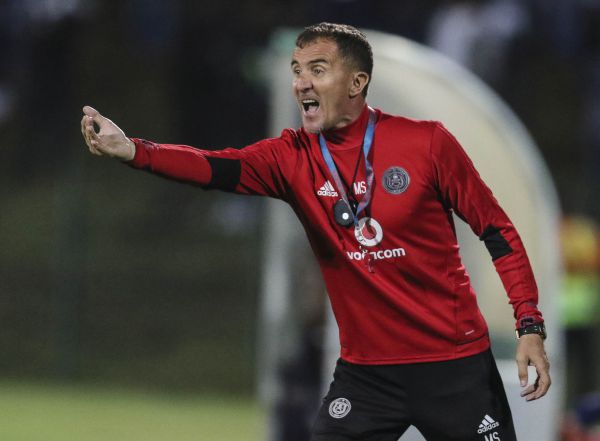 Milutin Sredojevic fielded old-guard strikers upfront, one of his many odd line-up choices. (Anesh Debiky/Gallo Images)
"As a striker, you don't need to score a beautiful goal. Supporters don't want to see a beautiful goal; they just want to see you score and get three points. That's what they want." Even the Ghost, who should have become accustomed to such style of football, are baying in Micho's ear over his peculiar line-up choices for the first three weeks of the Premier Soccer League. It's clear that he is unsure of what his best set-up is. Each game has brought with it new selections, combinations and partnerships. Surely switching it up so heavily every week is not conducive to settling on a preferred XI?
The opening draw against Highlands Park was passable, if not spectacular, and the loss to Bidvest Wits would have been different had Shonga and co displayed the killer instinct. But both were met with the swift brush of adjustment, the latter receiving a particularly broad stroke.
As if frustrated by all the noises about new blood at the club, Micho decided success —and goals —in Bloemfontein lay in the hands of the old guard. He selected Thamsanqa Gabuza, Mpho Makola and Thabo Matlaba to control the attack — players who presumably were supposed to be phased out as the younger, hungrier Buccaneers began to challenge for PSL glory. Shonga and the indefatigable Musa Nyatama, meanwhile, sat cosy on the bench.
Chatting to Phil Masinga about the scarcity of finishes, it becomes clear the icons favour a return to older values. Chippa insists the environment is such that if Pirates, or any other team, adopt a bold approach upfront then they will be rewarded in turn.
"I think it goes with how teams are preparing for the games these days," he says. "Most teams believe in the counterattack. We don't play an open game where it creates many chances for a striker to score. It's a more defensive way of doing things.
"Wits University started very well because you can tell they're creating more attacking chances for their strikers to get goals. In today's football you don't rely only on strikers to get goals. Teams must be positive in attacking and that's what we see when we watch European teams … that's why they score so many goals. With us the teams are more cautious. I know from my playing days that the best form of defence is attack."
With the MTN8 semifinals this weekend, Pirates have until Tuesday to prepare for their game against Black Leopards in Polokwane. The mini-break comes at the perfect time as Micho seems to need all the training sessions he can get to settle on his preferred team and the football he would like them to play.
A return to basics may provide the rope to stop the slump. Masinga and Mudau made legends of themselves from playing a route-one style. Maybe that's where the answer lies.