Not only is the gap between the rich and the poor in South Africa the highest in the world, inequality has increased since 1994, a World Bank report states. This is despite the ruling party's mandate to redress inequality.
Black economic empowerment (BEE) was one of the measures intended to address the racialised inequality in South Africa. But numbers collated by the Broad-Based Black Economic Empowerment Commission are not encouraging. They show that between 2015 and last year the number of black business owners has decreased from 33.5% to 27.8%.
The commissioner, Zodwa Ntuli, told the Mail & Guardian that, although this is not where the country should be, she disagreed that the BEE policy had failed dismally.
She places some of the blame for poor performance on the failure to regulate the policy, saying the commission — which is tasked with ensuring that companies and government comply with and implement the Broad-based Economic Empowerment Act — only came into existence less than five years ago.
"Companies were interpreting the codes as they pleased and there was no monitoring or regulating them. Many companies thought this [BEE] was coming and going but it can't go if we haven't achieved what is required.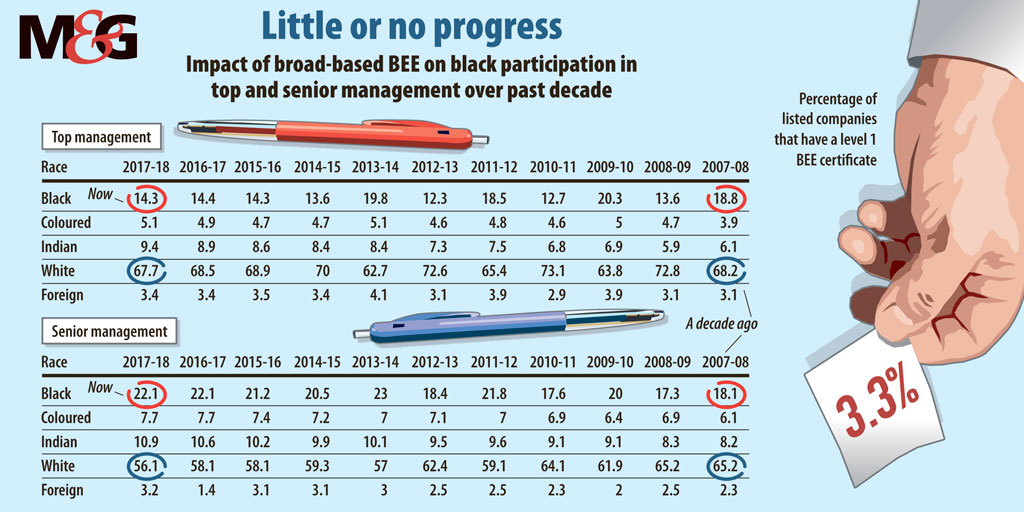 "We need to create inclusivity and equality. If the economy still continues to be so unequal, with black people outside the mainstream economy, then BEE legislation will not go away," she said.
Others believe that, if the tide doesn't change quickly, BEE is dead.
Duma Gqubule, the director of the Centre for Economic Development and Transformation, said BEE is an "abject disaster".
He added that ideas brought by groups in the Democratic Alliance — that race should not be a determining factor — are "lunatic".
"Read the World Bank report. They say that race is the most important determinant of life chances in South Africa," Gqubule said. "Overall the BEE thing has not worked and where we are today is a disaster. If you look at South Africa between 2009 and 2017, we have grown slower than all the regions in the world.
"Fifty-six percent of the population are poor. We have the highest level of inequality. The top 10% of South Africans take 95% of the wealth and the next 40% take 5% to 10% of the wealth. That shows that we don't even have a proper middle class. We are nearing recession conditions," he argues.
Analysis of the department of labour's employment equity data for the past 10 years shows there has been a decrease in the number of black people in top management and a marginal increase of senior managers.
In 2007-2008 there were 18.8% black people in top management and 10 years later there are 14.3%. In senior management there has been a slight increase — 4% — of black managers.
Gqubule suggests quotas may be the answer.
"Europe is leading this route on quotas, with Norway putting a quota on boards for women and if they didn't achieve the 40% the company would be deregistered as a punishment. People started complaining, saying that they didn't know where they will find these women but in two years they were compliant."
He adds that other European countries are looking at replicatingthe Norwegian system.
But Ntuli doesn't believe in quotas and is instead calling on government to lead by example.
"The reason companies have got away with not transforming is because government has not been playing its part. Government needs to be able to say that if a company is not at a particular BEE level then they won't do business with them. Government has not been doing that," she said.
According to the report the commission released earlier this year, only four state-owned entities submitted a BEE compliance report for assessment even though all government departments were meant to — and should — have BEE certificates.
"Government is the largest procurer of goods and services," said Ntuli. "If government can have its house in order, complies with the Act and refuses to do business with any company without the highest BEE levels; if it does that, the companies would then start taking transformation seriously."
The uptake of the BEE codes has taken a while but, according to Allan Hannie, director at law firm Cliffe Dekker Hofmeyr, it has become a larger and larger part of his work because more companies want to do it right.
To get a high BEE score, companies must fulfil five codes, which include ownership, skills development, management control, enterprise and supplier development.
"The regulator has certainly sharpened people's attention to compliance," said Hannie. "Before this, people could afford to be a bit lax because there was no one looking over their shoulder. It was more important to get your BEE certificate so you can continue doing business. Now it's more important to get it right."
But Hannie also said companies are finding that implementing some aspects of the policy is a costly exercise, especially in light of the 6% of payroll that needs to go to the skills development of black people.
The employment equity numbers paint a different picture, though, with white people favoured to get training and development.
"Year on year, the statistics indicate that the white population group remains favoured for training and development, while males remain favoured in terms of gender. What could be the problem, one might ask?" said the report.
"The CEE [Commission on Employment Equity] embarked on sectoral engagements during 2016, which provide great insights on the perceptions of employers and the reasons for the slow pace of transformation.
"One of the key reasons offered was the lack of commitment from the top management of designated employers. There is simply no real 'political will and commitment' to transform," reads the report.
Hannie believes there has been some change.
"In the early days there was a lot of low-hanging fruit, which saw a lot more politically connected people getting into the deals. This left a bit of a sour taste in lots of people's mouths and, quite frankly, when you pick low-hanging fruit and the other fruit don't ripen there isn't much left for anyone else. This had a dampening effect on the ownership patterns initially and we haven't been able to quite recover from that," he said.
---
What the B-BBEE Act entails
In 2003, the broad-based black economic empowerment (broad-based BEE) strategy was published as a precursor to the Broad-Based BEE Act.
The fundamental objective of the Act is to advance economic transformation and the economic participation of black people in the economy.
All major transactions concluded on or after October 24 2014 that equal or exceed R25-million should be registered with the broad-based BEE commission.
Companies that get work from the government and subcontract to a white-owned company are fronting and both will be found guilty by the commission.
— Athandiwe Saba