A top eThekwini municipal official has been caught on record detailing how he plans to derail disciplinary proceedings against a municipal official because of pressure from the mayor and her executive committee.
The deputy head of supply chain, Zandile Sithole, is accused of accepting bribes from companies contracted to the municipality worth more than R2-million.
In a recorded phone call, Gideon Phungula, who was appointed as eThekwini's legal head early this year, talks of "severe pressure" from mayor Zandile Gumede and councillors to ensure that Sithole gets off the hook.
"The reason I am saying these things is that all the politicians want this woman [Sithole] back," Phungula said in the telephonic recording.
"I won't lie to you, right from the mayor and the whole exco [executive committee] …I am under severe pressure because of this issue. This tells me that even those [from the] Amadelangokubona [Business Forum] perhaps had a meeting somewhere in the township where they discussed that they should disrupt this disciplinary committee."
The disciplinary hearing has been delayed since March, when members of the Federation for Radical Economic Transformation and others affiliated to the notorious Amadelangokubona stormed the proceedings. The federation consists of people who supply goods and services to the municipality. Amadelangokubona has been reportedly demanding a share in big projects in KwaZulu-Natal.
In the recording, Phungula is heard trying to influence his legal adviser, Mbali Ngcobo, who brought the disciplinary proceedings against Sithole, to help him discontinue the process. Ngcobo took leave after she was threatened. She also declined to answer the Mail & Guardian's request for comment.
The municipality has denied that the mayor and her executive committee have put pressure on Phungula. eThekwini municipal spokesperson Mandla Ntsele said the allegations of corruption against Sithole have been reported to the Hawks and that action was being taken against Phungula. "The matter [the Phungula recordings] was reported to the city's integrity and investigations unit and an investigation is underway," said Ntsele. "The matter [allegations of kickbacks against Sithole] was reported. Details pertaining to the investigation can be acquired from the Hawks …The mayor and councillors would not, and have not, attempted to disrupt disciplinary processes."
Hawks spokesperson Brigadier Hangwani Mulaudzi said: "We can confirm that there is a matter that is being investigated by the DPCI [Directorate for Priority Crime Investigation]. However, we are not in a position to divulge the contents of the investigation."
The M&G understands that a national Hawks Task Team has taken over the investigation from the provincial office as part of a wide investigation into allegations of corruption in the municipality following claims of political meddling.
Phungula denied the contents of the recorded conversation with Ngcobo but would not confirm whether it was his voice or not."I am aware of it and I deny its authenticity. There are fabrications and someone doctored it. Someone doctored that thing … I distance myself… The recording is a fabrication."
In the conversation, he said he plans to influence the disciplinary hearing process by removing the presiding officer, Joe Nxusani SC.
"I told them that if they say they want this woman [Sithole] back, I will do the best that I can do within the confines of the law. The first strategy —I am going to remove Nxusani. I am going to give an opinion that since this is an internal process for now and that her representatives are union officials, I would like to request a qualified junior counsel… Then I'll tell council that these [advocate]fees are unnecessary.Then I'll appoint people who understand the political mandate as things stand," Phungula said in the recording.
He also said that Sithole was guilty of the allegations.
Ntsele said the disciplinary hearing would continue with Nxusani and would not be derailed by Phungula.
The federation's secretary general, Malusi Zondi, was quoted in the Sunday Tribune in March demanding that Sithole be reinstated because her suspension would slow down radical economic transformation.
Sithole's hearings have been heavily guarded.
According to Sithole's charge sheet, she allegedly contravened the Municipal Systems Act by receiving kickbacks through Msenzerr Trading, a company linked to her and her relatives.
The kickbacks are alleged to have been paid by companies contracted to the eThekwini municipality. It is alleged that between June 2016 and January 2017, she did not disclose that Msenzerr received an amount totalling R2.3-million.
It is also alleged that Msenzerr, which is registered as a supplier to the municipality, paid R3613 for her husband or partner's municipal services in August 2016.
Among other companies implicated in the alleged scandal is that of the controversial Durban businesswoman Shawn Mpisane. It is alleged that her company, Zikhulise Group, paid a kickback of R25 000.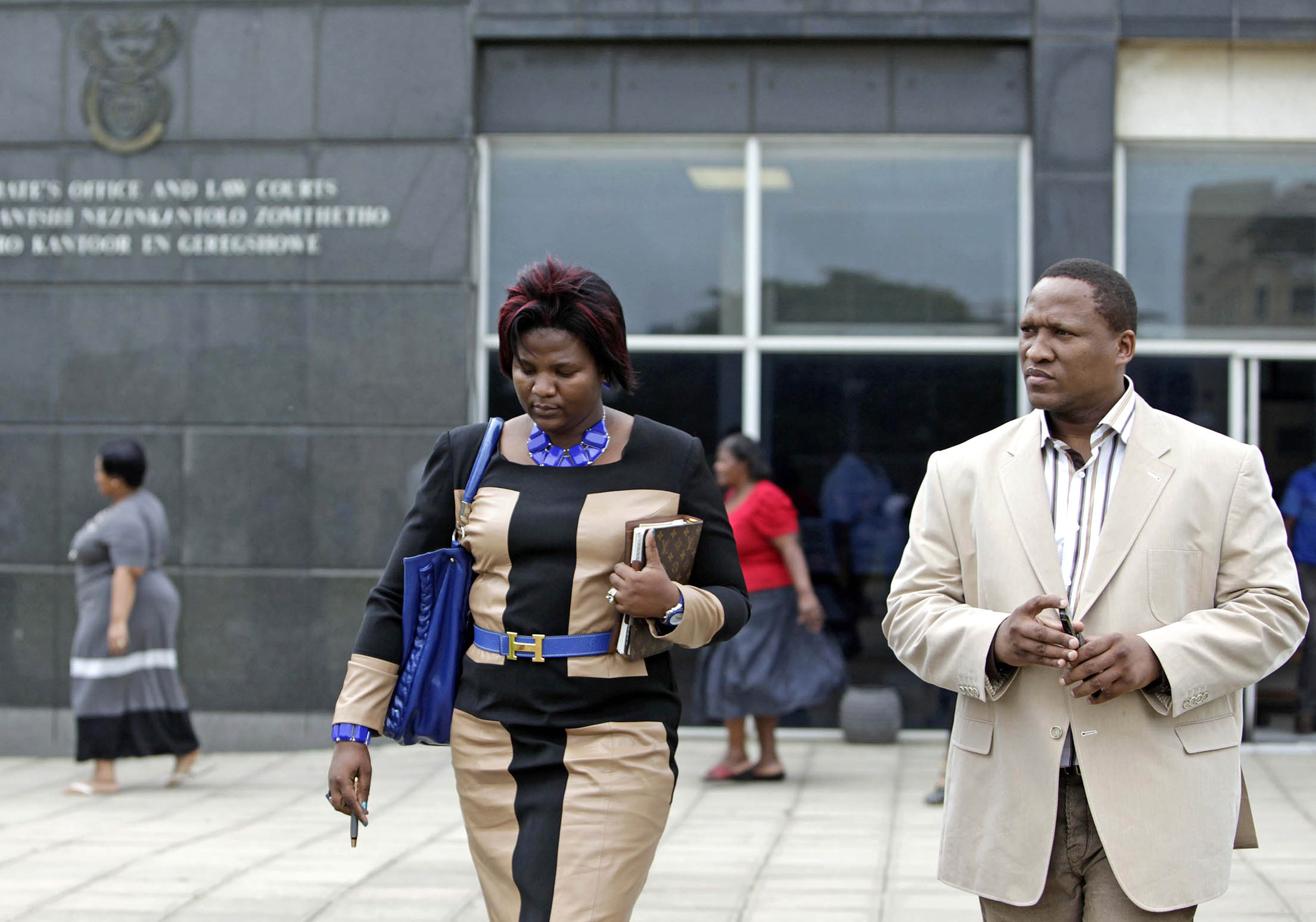 Shawn Mpisane's company allegedly paid a kickback
Mpisane did not respond to requests for comment.
Other companies implicated in the alleged scandal include Nonx Trading Enterprise, Geomeasure Group, Nenzamahlathi Construction and Design School, Giwethelo Trading Enterprise and Best Gasa Trading.
In the recording Phungula claims that the groups wanting Sithole reinstated could be enjoying political protection. Referring to the disruption by the Federation for Radical Transformation and AmadelangokubonaBusiness Forum, Phungula can be heard saying: "Logic and common sense will tell you that there is no way people would just be brave and stand up against an ANC council … it can only happen because behind the scenes they enjoy certain protection. This should have been a sign that these people have been sent. Not necessarily by this woman [Sithole], it is beyond her. And the Mpisanes are involved in this."
Ntsele said the city council has recommended that the companies accused of paying bribes to Sithole should be "blacklisted, barring them from working with the city".