Perhaps one of the more important aspects of Rehad Desai's latest film, Everything Must Fall, is that it subscribes to chronology in telling the #FeesMustFall story. As a result, it is able to pull in and grip many neophytes to this important story.
Desai, by now something of a master of the sociopolitical documentary, brought us the moving, deliberately paced, Emmy-winning Miners Shot Down at quite an advanced stage of his film career. He followed that up with The Giant is Falling, in which the emergence of the Economic Freedom Fighters — or, more accurately, the falling-out between Julius Malema and Jacob Zuma when he was president — is used to portray the dwindling accountability of the ANC. Everything Must Fall, is the third part of a trilogy, according to Desai and uses the University of the Witwatersrand as a lens into the student movement.
By his own admittance, Desai tells a "small story", not in terms of significance, but in terms of representation. He told web TV channel SmartMonkeyTV.com that it is the story of a student movement, "its challenges, its victories, through one university, using many characters, including the vice-chancellor and several key student leaders".
Perhaps the use of Wits vice-chancellor Adam Habib as a key character is unavoidable. He often bore the brunt of students' anger and was the symbolic face of the increasing clampdown on #FeesMustFall. In this film, though, his rhetoric has a different significance. We see Habib, the former student activist who was involved in the Unity Movement and the Workers' Organisation for Socialist Action, being forced into a political conundrum of his own making.
As his career has progressed concurrently with universities becoming more commodified, Habib may come across as reasonable, but ultimately, it means he must be increasingly at loggerheads with student activists. Although he understands that fee increases represent a path towards exclusion, his mandate is to maintain the university's profitability, seeing higher education as a longer-term route to addressing our society's inequality. In Everything Must Fall, Habib represents not only a university figurehead but also everybody whose politics have been changed by upward mobility. In short, he represents the neoliberalisation of our democracy.
One barely sees how he is transformed by the students' actions; their continual challenges against his decisions and the continued protesting after Zuma's announcement of the 0% fee increase for 2016. Onscreen, he remains somewhat affable but obstinate.
But perhaps this is a comment on the emotional register of Desai's film. Through most of it, the individual story arcs play second fiddle to the story of #FeesMustFall as an entity. There are snatches of other campuses — University of Cape Town, Rhodes University, Vaal University of Technology — but not enough to render them key parts of an inclusive whole. Although this tight focus on Wits has its obvious shortcomings, because we only see an elite university's story, it does give us a chance to appraise the moment with new eyes.
I'm reminded specifically of activist Leigh-Anne Naidoo's recollection of the students' march on the Union Buildings, a day that culminated in Zuma's announcement that fees would not be increased for 2016. She speaks about the Wits students' desire to protest politely off the lawns when greeted by the chaotic scenes at the Union Buildings. These were scenes in which students, many from tertiary institutions such as Tshwane University of Technology (the Soshanguve campus), chose direct confrontation with the police. Wits students' wide berth signified the class distance that exists between elite universities and those historically reserved for black students. TUT's spontaneity signified several things, among them the anger that a struggle they wage perennially gains traction only when in the hands of the upper classes. Open confrontation with the police was not violence as such, but more a form of struggle.
It is perhaps significant to consider that the Soshanguve campus is yet to emerge from a six-week shutdown of lectures, after the death of a student at the hands of police during protests about student representative council results. In the documentary, as one watches the changing tone of the movement since the Union Buildings march, one can't help but wonder whether the Union Buildings encounter had something to do with how #FeesMustFall would proceed. With dwindling numbers the tactics became more confrontational. Some student leaders in the #FeesMustFall movement were accused of selling out by listening to party officials. Others sought to separate themselves, neither willing to accept a 0% increase as a victory nor willing to abandon the workers' struggle for a return to class.
Through the turmoil, Desai's storytelling seems to favour women narrators. This is an important choice, especially as the movement was marked by several moments of patriarchal posturing reflective of its predominant leadership patterns. The women bring a more rounded and sensitive manner to their recollections, just as they did to the methods of struggle.
The one character we get to know well is Shaeera Kalla. We see her pretty much as she emerges into the national consciousness, mostly in the company of Nompendulo Mkatshwa, and later, as the dynamics shift, in the company of male leaders. As the militarisation of the campus intensifies, we see the events that led to her being sprayed with rubber bullets.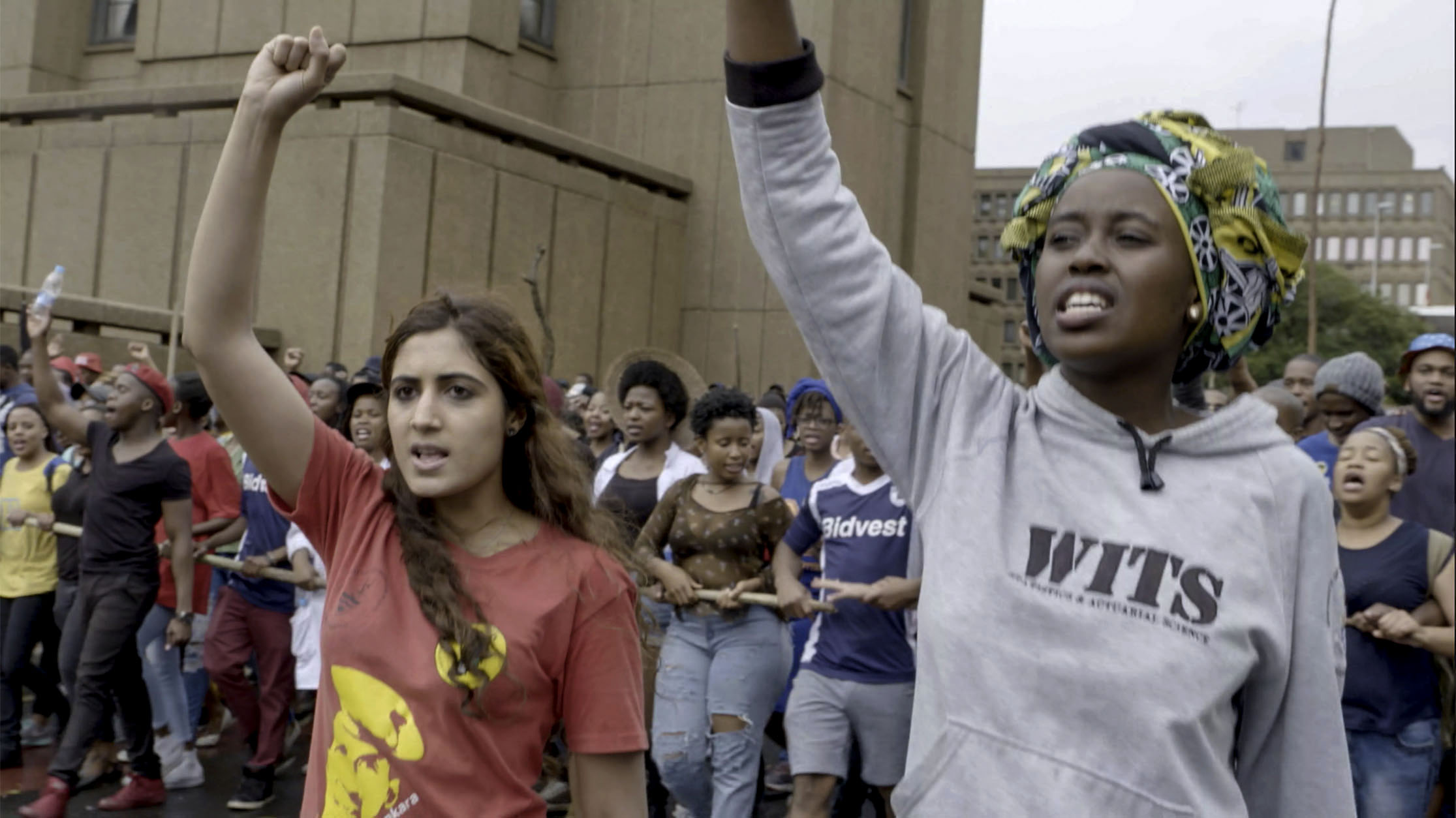 Students Shaeera Kalla and Nompendulo Mkatshwa were leaders of the movement. Photo: Daylin Paul
Perhaps a criticism of the film is that it moves rather episodically, neither examining new angles nor digging deeper into ones that we already know. For those who followed #FeesMustFall, Everything Must Fall will be worthwhile watching only for its compendium of footage, which gives it the feel of being a roving eye, in the right place at the right time.
Everything Must Fall will have its world premiere at the Cape Town International Film Market & Festival on 13 October. It screens again on October 15. It will also be screened at the Joburg Film Festival from November 9 to 18.