Alice Toich is an artist with a strong disposition for solving problems, first through painting and then through baking.
"I love problems; I think a huge part of creativity is problem-solving," she laughs.
As the youngest of eight children but insisting on being on a par with her siblings, Toich began attending art classes when she was six. "I think the career as a painter and an artist has always inherently suited me. I was a young child who could spend a lot of time on my own, working on focused tasks… I continued to go all throughout primary school."
At 15, she moved from Pretoria to East London where she was introduced to oil on canvas by painter Bennett Barry. "Obviously a change of schools and towns in high school is a very tough thing to go through. I found great solace going to his studio to paint on Wednesday evenings. He was the first person to teach me to work with oil paint."
After high school, Toich moved to Cape Town where she studied copy-writing at the private tertiary education school, Vega. After some time, she lived and worked on a farm in France where she also took painting classes.
Then she returned home and completed a postgraduate diploma in painting at Michaelis School of Fine Art. During this time Toich painted, received commissions and exhibited.
With oil on canvas being her primary technique, Toich draws from the canon of South African oil painters such as Penny Siopis, Irma Stern and Maggie Laubser.
"I remember seeing Patience on a Monument by Penny Siopis and feeling very moved. Still to this day I feel very inspired and connected to her work. My history of coming from a Yugoslavia background on my dad's side and Irish from my mom's means I've always connected more with the Greek-Yugoslav South African background rather than an English or Afrikaner background. As a colourist, or a painter very concerned with colour, I find Irma Stern and Maggie Laubser's work very moving," she says.
Toich also draws a sense of bravery from these women, especially Stern's defiance of portraiture culture by using the erased people of colour as her subjects.
"One thing that I deal with a lot in my work is this idea of constant distraction. And I think that it's something that I've done in previous paintings and installations that deal with our online persona and social media," Toich says about the question of how her portraits draw from selfies and holiday landscapes. Her still lifes show an ancient take on flat lays. Because of this, her style, which draws from romanticism and impressionism, is caught between the traditional and contemporary representative art of portraiture, landscapes and still lifes.
To sweeten the deal, Toich has expanded her oeuvre by establishing herself as a baker. In 2015, she featured as one of the contestants on the first season of The Great South African Bake Off's first season. One of the ways she brings the worlds together is with her zine Baek, a contemporary take on a recipe book in which she wears baked goods as adornments. "Again, it all comes from the same place: problem-solving. Sometimes it involves people and food," she says before I can ask which one holds more value.
In her last exhibition, The Icing Pink Ether (2016), Toich merges painting and baking methods to create a seemingly sugar-coated world. It addresses the notions of breaking and reconstructing ideas in South Africa's current sociopolitical context.
Toich eases the viewer into The Icing Pink Ether using the allure of baking and pastel colours in oil on canvas and sculptural work that draws on icing techniques.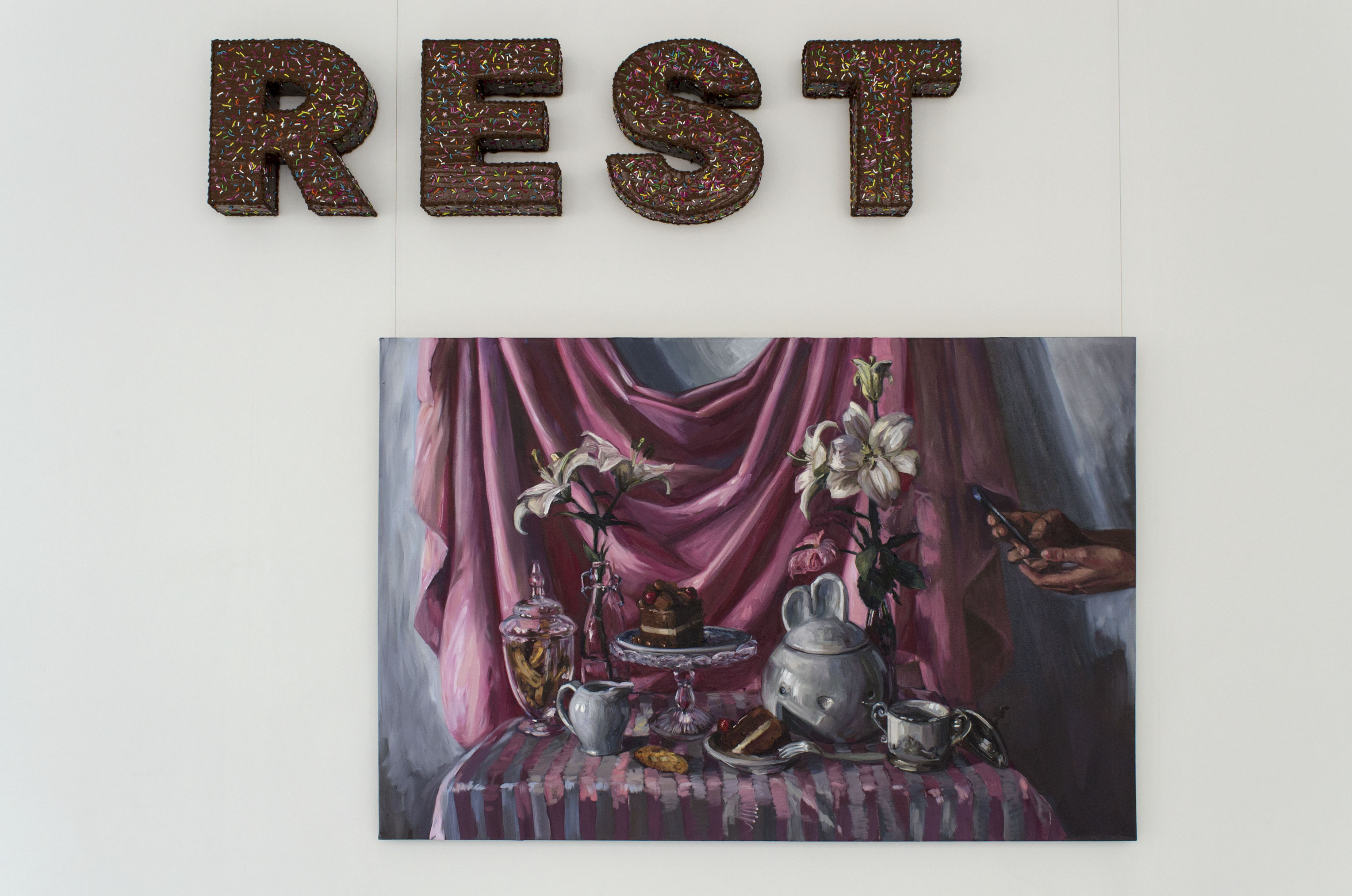 Sprinkled in colour: Cake-like Insomnia and painting Bunny Vanita show Toich's interests in colour and baking
Once you're in, the respective works' telling titles unveil the artist's message.
The Icing Pink Ether world sits in the space between spaces where opposing forces — such as deprivation and opulence, past and present, hope and despair — are at play.
In the self-portrait, A Disruption in Perception, a head-and-shoulders of Toich, her eyes downcast, is between pink clouds and a blue sky.
Using foam, acrylic paint, clay, steel and wood, the series includes a number of delectable-looking cake installations. One cake is covered in what looks like white icing, with a chocolate topping and a pinch of scattered hundred and thousands. The installation is titled ECONOMY: two tier, all white with a sprinkling of colour.
Perhaps Toich has created a representation of the grey area between extreme convictions where many South Africans, like herself, find themselves.
Her paintings bring a fresh and approachable aesthetic to the old-school practice of oil painting while adding to the canon of representational art of the human condition in South Africa today. "I think we kind of stand in the footsteps of the greats in South Africa because art, in such a recent time,was immediately functional. Think of protest posters, these artworks created during and after a very volatile social and political time, were our education. So I'm inspired by the mark-makers who felt compelled to represent the human condition and what they see in front of them and what it means to them," she says, before taking a breathing pause that allows me to hear the sounds of late-afternoon Italian traffic in Florence, where she lives.
To answer the call to mark the happenings of our time, Toich packed her bags for Florence, Italy, a year ago. "I've come to the Florence Academy of Fine Art and I'm learning to train in the way of the old masters. I have been very moved by paintings in my life as an artist. And, of course, just like a good book or any kind of story that affects you, you ask 'well, how did they do that?' I wanted to know. What are the devices? What are the tools? I have always had really big ideas and I was finding it quite frustrating from my own practice that I wasn't able to actualise, to the degree I wanted to, a lot of the ideas I had. So this is me seeking to go and discover these tools and discover them deeply and slowly and to apply myself."
Our conversation takes place on Skype and texts messages during her hour-long breaks at school, over the span of a week.
"It's a very timely, rigorous, slow process and I'm learning a lot. We're in the academy some days from nine till nine, most days from nine to seven. I kind of just have enough time to go across town to do yoga, make lunch for the next day, make a quick dinner and do my laundry and get to bed."
Toich says the best way to describe learning the ways of old masters is to compare with how a person learns to play the piano. The art course is made up of exercises that refine an artist's understanding of composition, mixing, materials and application. These exercises are based on 19th-century methods and, unlike contemporary education, the bulk of the work is technical. With each exercise the artist slowly progresses, step by step, project by project.
So far, Toich says, the journey has been as interesting as it has been frustrating.
"First and foremost, women were never allowed to attend the academies. I don't want to negate the importance or the impact of the old masters. I'm curious at the same time. Who would we be looking to today if history was different in terms of men and women? In the research we do today, it is still an extremely male-dominant endeavour. So I am learning
exclusively from men about paintings. You'll probably see a million more paintings of the female nude body than paintings by women. Having said that, I have an admiration and respect for the old masters and their technique — especially in the last two years seeing my favourite paintings in person," she says with a sense of frustration and withdrawal.
Before leaving for Florence, Toich was praised and sought-after, both in mainstream and niche media platforms.
"One of the difficulties of constantly being connected to social media and being in the public eye is that it's very easy to feel instantly gratified by 'likes' or being seen and promoted. That in itself can be a bit of a drug and lead you astray, and I'm speaking from experience," she sighs in hindsight.
Toich has gone from a place of creating work that can be consumed by the public to a place where the consumer's task is to critique her technique, away from the gratification of social media. It is the strenuous, unpopular but necessary, break between scenes.
"I think that wanting to remain relevant can be creatively draining. There's definitely a part of myself that feels really unstimulated and unprovoked because you know I'm an artist and I think that a huge part of my role as an image-maker is to respond to the world. There are things that I feel the call to respond to and become involved in but right now I think I will do myself more justice by entering into it more consciously and slowly."