Former Mail & Guardian editor Angela Quintal and her Committee to Protect Journalists (CPJ) colleague Muthoki Mumo were released by Tanzanian authorities around 3am on Thursday morning, and their travel documents has been returned to them.
This is according to department of international relations and cooperation spokesperson (Dirco) Ndivhuwo Mabaya. He told SAFM on Thursday morning that the South African High Commissioner had spoken to Quintal and her colleague who had been returned to their hotel rooms.
Quintal is the Africa Program coordinator for the Committee to Protect Journalists (CPJ), and Mumo is the organisation's Sub-Saharan Africa representative.
SA journalist, Angela Quintal & colleague are back in their hotel. SA's High Commissioner Mr Thami Mseleku is meeting with them to discuss last night's events. He will then engage Tanzanian authorities. @DIRCO_ZA spokesperson, Mr Ndivhuwo Mabaya spoke to Ms Quintal this morning.

— DIRCO South Africa (@DIRCO_ZA) November 8, 2018
In a press statement released on Thursday, the South African National Editors' Forum (Sanef) said Quintal and Mumo were taken in for questioning and detained in Dar es Salaam on Wednesday evening.
"After approximately five hours, Quintal and Mumo were then returned to their Dar es Salaam hotel, at around 3am — but without their passports. Details and reasons for the detention are still not clear," the statement noted.
"It is unclear whether the Tanzanian authorities have taken Quintal's phone."
In a media statement released by the Dirco, the high commissioner of South Africa in Tanzania, Thami Mseleku, informed Minister Lindiwe Sisulu that the passports of Quintal and Mumo had been returned.
Sisulu has asked that Mseleku gather all facts around Quintal and Mumo's detention. She is expecting the report by the end of Thursday.
Media statement

08 November 2018

South African journalist and her Kenyan colleague have been given their travel documents

The High Commissioner of South Africa in Tanzania, Mr Thami Mseleku has informed the Minister of International Relations, Ms… https://t.co/Cey9bZoxpC

— DIRCO South Africa (@DIRCO_ZA) November 8, 2018
Quintal tweeted before 1am on Tuesday morning that she and her colleague had been released, but Quintal's family raised concerns that the tweet did not sound as if it had come from Quintal whose Twitter account was subsequently suspended.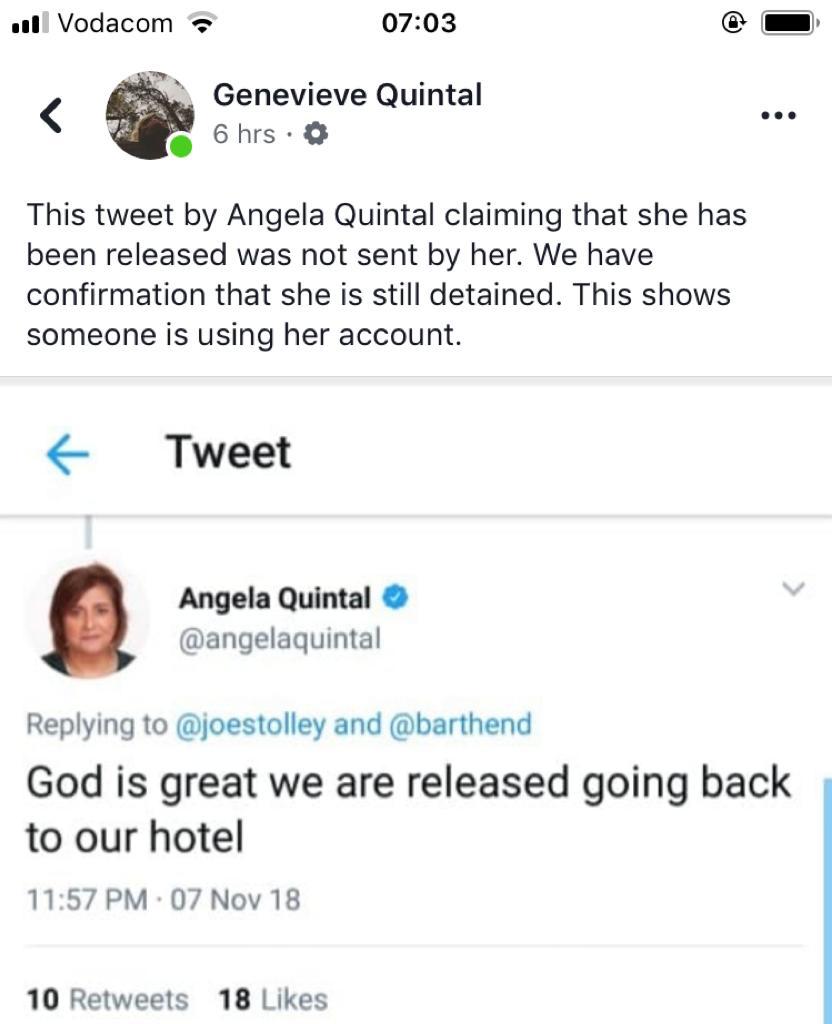 According to Mabaya, there are a number of issues that the South African High Commissioner will be bringing to the Tanzanian authorities. One of which is why Quintal and Mumo were detained, and why Tanzanian authorities still hold their passports.
In a post on her Facebook page, Quintal said: "SOS we are being taken away for interrogation in Dar. We don't know why. Taken Away from Southern Sun Hotel."
Sanef has called on Tanzanian authorities to return Mumo and Quintal's passports as "a matter of urgency" and allow them to leave the country at their own free will, saying, "We need to urgently find out the reasons behind this detention. We believe the arbitrary detention of journalists is a direct and dangerous threat to media freedom and access to information."
According to a statement released by CPJ: "Officers who identified themselves as working with the Tanzanian immigration authority detained Quintal and Mumo in their hotel room in Dar es Salaam, Tanzania, this evening, according to Quintal. The officials searched the pair's belongings and would not return their passports when asked. Quintal and Mumo were then escorted from the hotel and have been taken to an unknown location. They were in the country on a reporting mission for CPJ."
CPJ's executive director Joel Simon has called for their immediate release. "We are concerned for the safety of our colleagues Angela Quintal and Muthoki Mumo, who were detained while legally visiting Tanzania. We call on the authorities to immediately release them and return their passports."
Press freedom has come under attack in Tanzania under the administration of President John Magufuli. As the International Press Institute reported in August: "Press freedom in Tanzania has drifted into an unprecedented crisis under Magufuli's regime. According to the Tanzania Editors Forum (TEF), at least five newspapers and two radio stations have been suspended for periods ranging from three to 36 months on pretexts including 'false information', 'sedition' and 'threatening national security'. One paper decided to suspend publication itself after publishing a story it feared might irritate officials.There have also been more violent incidences of harassment."
This is a developing story and will be updated as more details emerge.
Sanef Presser – Sanef Deeply Disturbed by Detention of South African Journalist and Editor, Angela Quintal… by Mail and Guardian on Scribd