If football is a soapie with an ever more inventive cast of characters, this football season is no different. The players and characters on and off the pitch have had us in raptures and, perhaps too often, left to throw unprintable expletives in their direction.
As we head towards the end of the year and the midway mark in the season, here's a look at some of the plots and players that have helped to ensure that we stay engrossed in the beautiful game.
The bad news
Solinas set up to fail
The affable Giovanni Solinas was never going to succeed at Kaizer Chiefs. We know that much. To what extent Bobby Motaung perceived him as a stop-gap from the beginning is an interesting question.
We were introduced to him about five months ago in a … uhm … Facebook live stream. The flimsy stunt followed tireless weeks of speculation that former English Premier League manager Avram Grant might be persuaded to fly south; that Stuart Baxter could be coaxed out of the national setup; that Luc Eymael could make what in retrospect was the right decision.
But we got the Italian, a journeyman whose only senior coaching experience in the country was a stint at Free State Stars. Thanks to the dilly-dallying, he got no real pre-season, no real space to push his fingerprint down on the club's identity document. With no mop he was thrown into Amakhosi's vandalised bathroom and expected to scrub all the profanity off the wall and fix the door hinges in a matter of minutes.
Under Steve Komphela, this was already a side riddled with ageing stalwarts. It had been mangled by fan pressure and repeated uppercuts to its collective confidence.
"I cannot say we made a mistake," said Motaung after Solinas was fired. "He ticked all the boxes when we interviewed him. Unfortunately, in football, we can sit and agree on things, but the key thing is results. The players were unresponsive to his methods."
Those results were never going to come. Solinas didn't have the attributes or the support to succeed in the short term. Given that Chiefs are supported by the most fed-up people in the country, he was never going to get that vital time he needed.
Davids misses his second sling
No one looked cooler on the touchline last season than Fadlu Davids did. His demeanour appeared indomitable as he looked on at his artful project soaring to new heights.
It appeared that it was the suave coach's personal mission to continually belie his experience.
Fittingly, in the last battle of the season he tackled Eymael's Free State Stars in the Nedbank Cup final. His Belgian counterpart had similarly taken a middling team and turned it into an outfit that threatened significance.
Maritzburg United and Free State Stars finished fourth and sixth respectively, the latter won that aforementioned cup and both earned an overflow of compliments.
To say we've witnessed a regression doesn't do the fall justice.
Thoughts of new club records and trophies have turned to survival as both face the real prospect of relegation.
Eymael has already paid the price for that plunge, losing his job in early November. In an interview with the Mail & Guardian shortly before that, he decried what he believed was a tendency of the media to exaggerate the significance of results without looking at performance.
"It's not such a bad start as journalists are trying to say," he snapped. "We have to run our lives the way that we play."
Now, it definitely is as bad as we say. Ea Lla Koto looked pretty hopeless in most of the games preceding the sacking and have a battle against the clock to set things right before they cross the threshold of no redemption. They can start by fixing a porous backline that has leaked more than the toilet in that Chief's bathroom. Twenty-one goals have passed through the hands of keeper Badra Ali Sangaré — the most in the league.
Davids has looked decidedly less cool and composed of late. This term, the Team of Choice showed up and then did pretty much nothing. Season-ticket holders deserve a consolatory cuddle for what they've had to witness. In 11 games Maritzburg have scored four goals, the lowest in the league, and conceded seven — the second lowest in the league. The sum of those parts is a coma-inducing one win, three losses and seven draws.
Oh, how they have missed the impetus of Lebohang Maboe.
The story of these minnows crossed the spectrum of good and bad without a moment's pause.
PSL as authoritarian as ever
There's perhaps no nickname more fitting in the South African football world than that of the Iron Duke. Its forbidding tone is perfectly suited to the monarch himself — Irvin Khoza.
The authoritarian nature of the Premier Soccer League was something many of us were all too aware of — and we've been given some dark, sometimes even comical, reminders about the dangers that presents.
We were barely into our post-season nap when stubborn planning threatened its next iteration. The Ajax Cape Town court case that threatened the validity of the promotion playoffs was a mess that could have been cleaned up in a hundred better ways. The league should consider itself fortunate that it wasn't part of protracted court proceedings.
If only fans who rely on the SABC were so fortunate. It took the entities until last week to finally come to a long-term agreement over television and radio broadcasting, ending that round of timid, frustrating and needless sparring.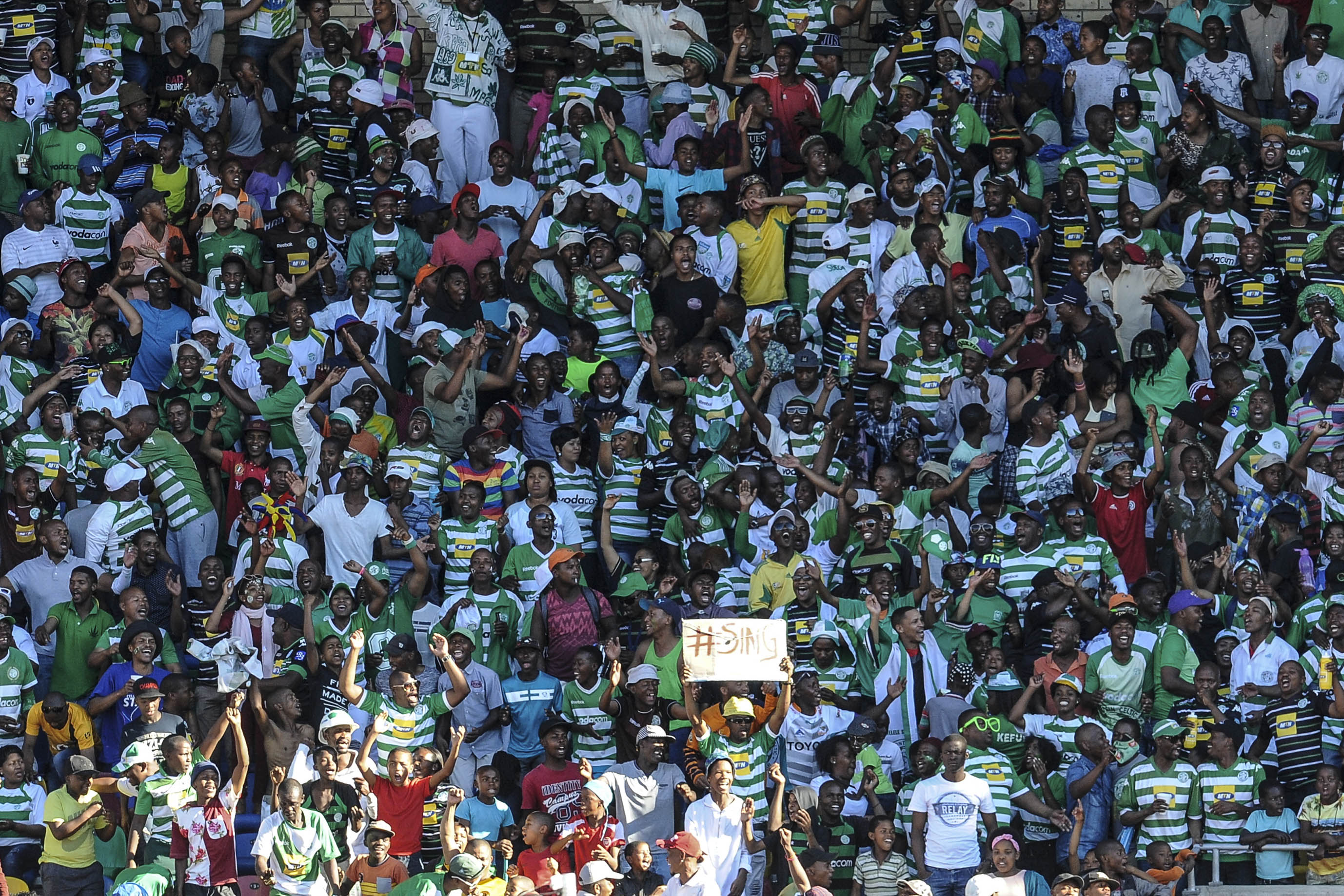 Bloemfontein Celtic took a chance on Steve Komphela and it paid off, with stadiums filling up (above) after threats of boycotts. Vincent Pule (below, front) of Orlando Pirates had a stellar season, turning games with his slickness. (Charle Lombard/Gallo and Anesh Debiky/Gallo)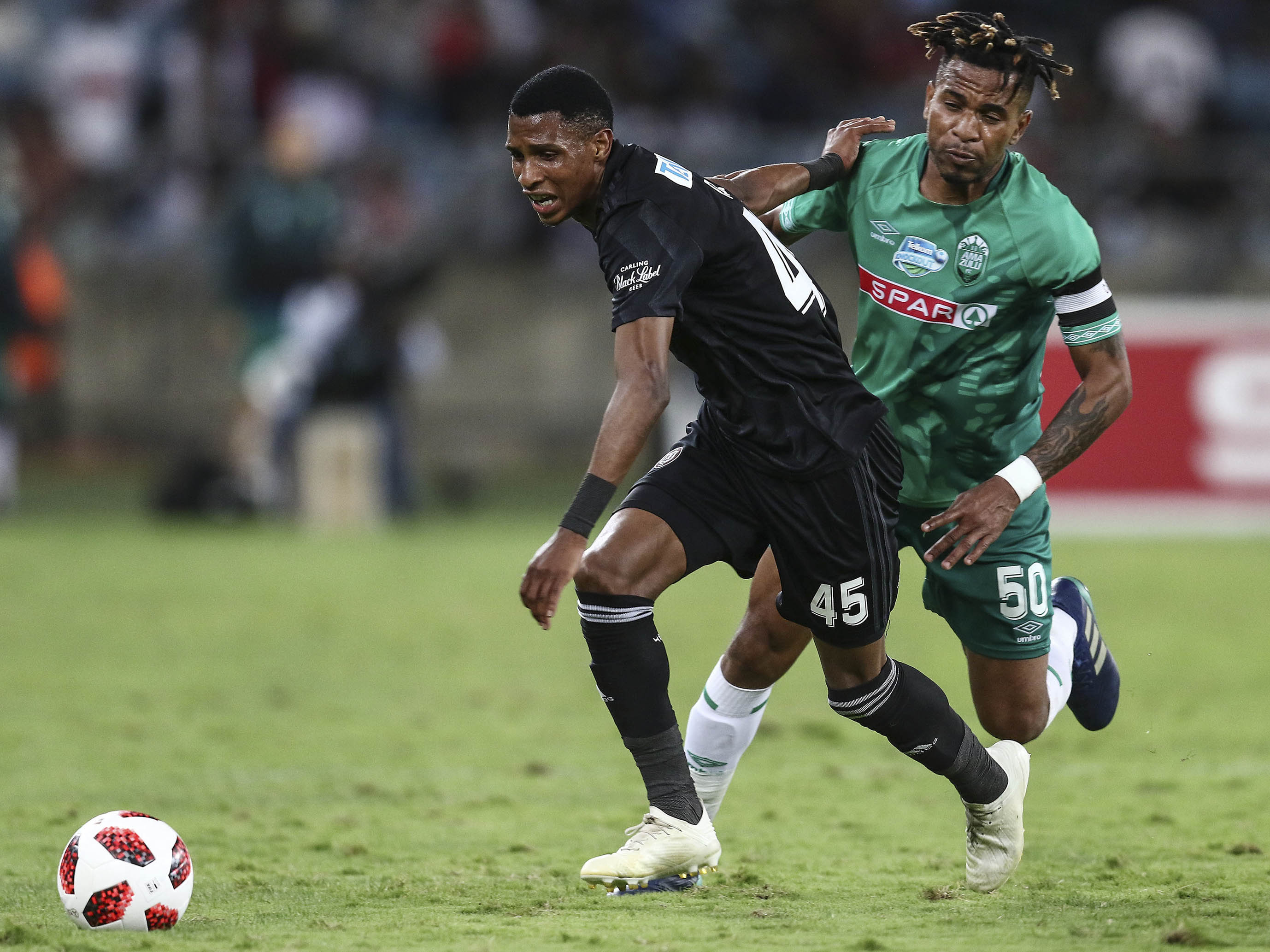 Meanwhile, Khoza and his rival in the opposing hamlet known as the South African Football Association, Danny Jordaan, would sooner hack each other to death with the hatchet than bury it. Their refusal, along with their various cronies, to pick up the phone and attempt some sort of coherent discussion is, frankly, embarrassing. From refereeing sponsorship wars to scheduling conflicts, we're now sick of this tiff.
So, if you had any doubts, PSL mismanagement is still thriving.
The good news
Steve's revenge
Steve Komphela has always been somewhat amusing. Unfortunately for him, the first half of 2018 was mostly a case of laughing at rather than with him.
Essentially chased away from Amakhosi after three years with no trophies, future career prospects looked rather dim. Bloemfontein Celtic, themselves no strangers to pissing off fans in recent times, asked themselves "what's the worst that could happen?" and decided to give Komphela a go.
It worked out rather nicely for all parties.
Siwelele immediately got the supporters off their backs after they had previously threatened to boycott matches because of the unstable ownership situation. Stadiums filled and the players had backing once again.
A Free State native himself, the new coach has been a figure they can comfortably get behind. But it's been the performances that have been most important to the rise of both club and coach.
Celtic have rarely given us a reason to believe that they can't maintain their form and ultimately challenge for the league. From the first game they slammed down their intentions — earning Komphela and defender Alfred Ndengane the coach and player gongs of the new season.
Ndengane has since departed for Pirates, but the backline has held fast and remained tough to penetrate. Perhaps most notably, it's prevented Siwelele from losing to a fellow title rival. They've drawn against Chiefs and Sundowns and claimed victories over the Buccaneers and BidVest Wits.
Given that the Brazilians and the Soweto giants will be forced into coming to terms with the adapted format of the Champions League, now would be the time to launch a consolidated charge for the top of the hill. It's a summit attempt you would hesitate to doubt.
Meanwhile, over at Naturena, the grass is not growing greener now that Komphela no longer steps up on it. Success is the best revenge, the saying goes.
Pirates and Pule set sail
No one can accuse Milutin Sredojevic of failing to trace a blueprint to goal. If not for a rampant Sundowns, their haul would have been enough to clinch the league last season. So far it's been a familiar situation this time out and Orlando Pirates are currently the top scorers with 19.
Capturing the attention for good reason has been Vincent Pule. Signed from BidVest Wits in the off-season on a free transfer, the slender attacking general wasted no time in justifying his move. Without him this side looks flat and devoid of ideas when they drive forward.
In him, Micho has a player he knows can turn the game with his slickness at any moment in the 90, arguably an increasingly rare and valuable asset in the PSL. Indeed, amid all the talent in the squad, his form is one we look at first as a yardstick to see whether the Sowetans measure up as legitimate title contenders.
As a result of Confederation of African Football regulations, Pirates were forced to mix up their squad numbers and gave Jomo Sono's retired No 10 jersey to Pule for the Champions League. Is that meaningless coincidence or fierce foreshadowing?
"Vincent Pule was a good acquisition for Pirates. He's done tremendously well," said Buccaneer legend Jerry Sikhosana. "It was just unfortunate that he didn't keep it up with the Telkom Cup that was disappointing. But for me overall he's had a sterling first round in the league."
That final against Baroka FC will be seen by all in Orlando as a major missed momentum generator. Victory would have been an ideal diving board into the wild waters of fixture congestion that will have to be trod in the coming months. Instead, the talk is about the need to regroup.
Still, Micho will be pleasantly chuffed with what his attack has offered him. Pule aside, with Thembinkosi Lorch and the Zambian connection — Augustine Mulenga and Justin Shonga — up front, there is no shortage of creativity in the final third. Substitution gestures aimed at Shonga may have filled up FNB Stadium on his off day at the Soweto Derby, but generally he provides the glue for a combination that is scoffed at, at a defender's peril.
Polokwane and the big lads
What a season it's been for Limpopo, so far. The province won its first top-flight cup last week after Baroka FC upset Pirates in the Telkom Knockout final. Although Bakgaga have struggled on the league side of things, Polokwane City have been there to lift the flag up high.
At the halfway mark, Rise and Shine have undoubtedly been the surprise package of the season. It's something no one saw coming, particularly after the first two games, which they lost limply without scoring.
Jozef Vukusic looked like any one of the forgotten Eastern European coaches who have graced the PSL in the past — a visitor with no South African football experience, destined to move on with his quick buck before we learned how to pronounce his name properly.
Instead, we're finding ourselves getting more acquainted with the man. Two months after that initial hiccup, Polokwane would do enough to earn both the coach and captain Jabulani Maluleke October's monthly awards.
"I think this half of the season was a good test for my team and how we work together," Vukusic said. "I came as a new coach with different methods. We needed a little time but from the first day I could see that the players were ready to go that way. We worked together and now I think the whole squad, not only the 11, understand how we want to play."
Rise and Shine need one more victory to equal their total win tally of seven from last term. They now sit fourth — admittedly with a few games in hand over the two sides below them, but far from the bottom places they were expected to call their home.
It's moments like this when dreaming can go overboard, but Vukusic insists the goal from this point remains is the one he set at the start: finish in the top eight. Even if that ultimately is all they can muster, the good people of Limpopo will view it as a good news story in 2019.
"I think after this half of the season comes the next steps and then we have to show our quality more," he continues. "We need to improve in some areas of the team, especially in the final pass of the attack before you can see that we played organised and had good game discipline but the final third was not always easy.
"I want us to continue; that we keep pushing our results to our limit."