A retrospective on Jean-Michel Basquiat is showing at Fondation Louis Vuitton in Paris until 21 January 2019. It is "probably the last time a show of its scale will ever be staged," Artsy reported on 4 January last week, due to exhorbitant insurance costs linked to the high market value of the works and loans from collectors and foundations around the world. "This is the most comprehensive Basquiat show, and perhaps one day, one of the other great museums will try it again, but it will be a 'Mission: Impossible,'" Buchhart added in an interview with Nate Freeman. "It was already now a sort of 'Mission: Impossible,' and of course, in a couple of years, it will be even more of a 'Mission: Impossible'."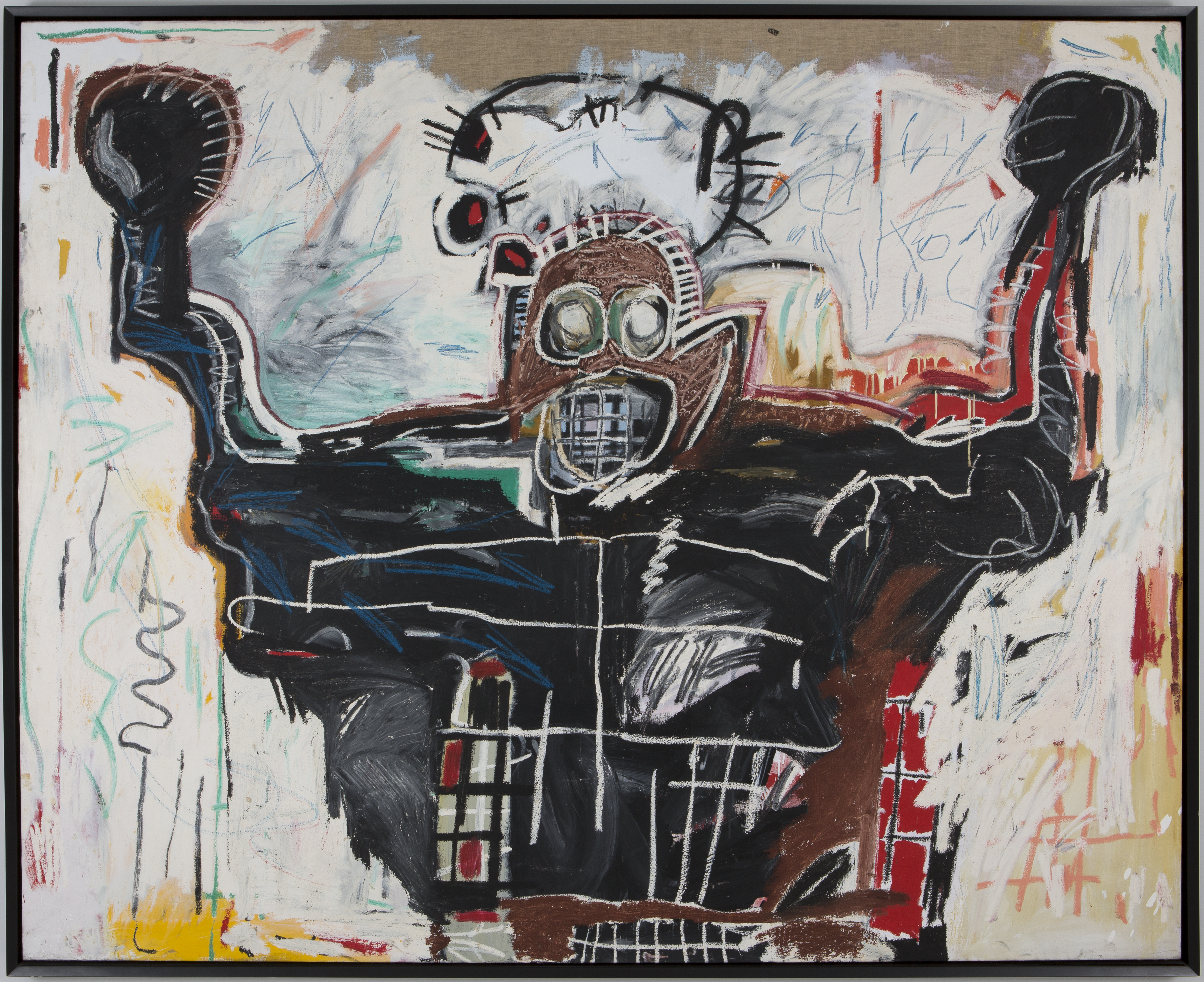 Jean-Michel Basquiat. Untitled (Boxer), 1982. Acrylic and oilstick on canvas. 193 x 239 cm. Private collection © Estate of Jean-Michel Basquiat. Licensed by Artestar, New York
The exhibition is shown alongside a retrospective on Egon Schiele (1890-1918). Both shows are curated by Dieter Buchhart and intended to draw links between modern and contemporary art, while inviting comparisons between the two masters, born 90 years apart and whom, among other factors in common, died very young, at around 28 years of age.
I interviewed Dieter Buchhart in Paris.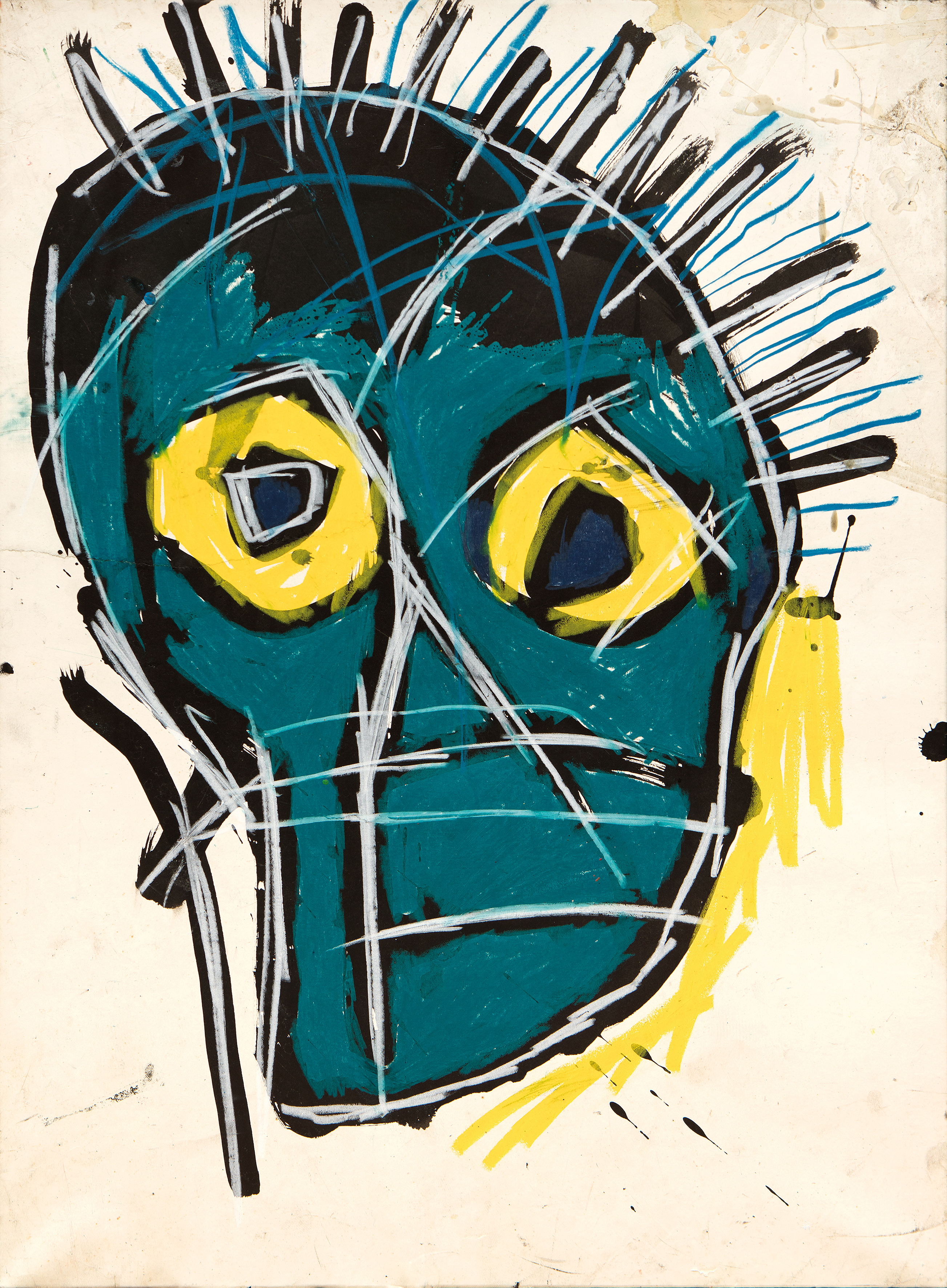 Jean-Michel Basquiat. Untitled, 1982. Acrylic and oilstick on paper. 76.2 × 55.8 cm. Private collection © Estate of Jean-Michel Basquiat. Licensed by Artestar, New York
Why is Basquiat important in the history of contemporary art?
Dieter Buchhart: Basquiat is undoubtedly one of the most important artists of the 20th century, whose oeuvre—in his vast sampling of sources, techniques, and deeper thematic issues—remains quintessentially relevant to this day and age. Through his copy-paste approach, Basquiat opened the door to a convergence of diverse disciplines and ideas, thus creating new spaces for thought and anticipating our Internet and post-Internet society and contemporary forms of communication and reflection, especially in our world of all-over surveillance, Facebook, Instagram, and Twitter.
How did his association with artists such as Warhol influence his work and facilitate opportunities for him in New York's art circles?
After an initial meeting organized by gallerist Bruno Bischofberger, Warhol and Basquiat began working together in a creative endeavor that resulted in the creation of over 150 collaborations between the two artists. Artist Keith Haring described the collaboration as "a physical conversation happening in paint instead of words," with Basquiat accentuating and deleting Warhol's visual creations with his own visual elements in a dynamic layering and joint effort. While Warhol, inspired by Basquiat, returned to his 1960 beginnings as a painter, Basquiat continued his use of sampling, creating allover collages often through the employment of the silkscreen technique.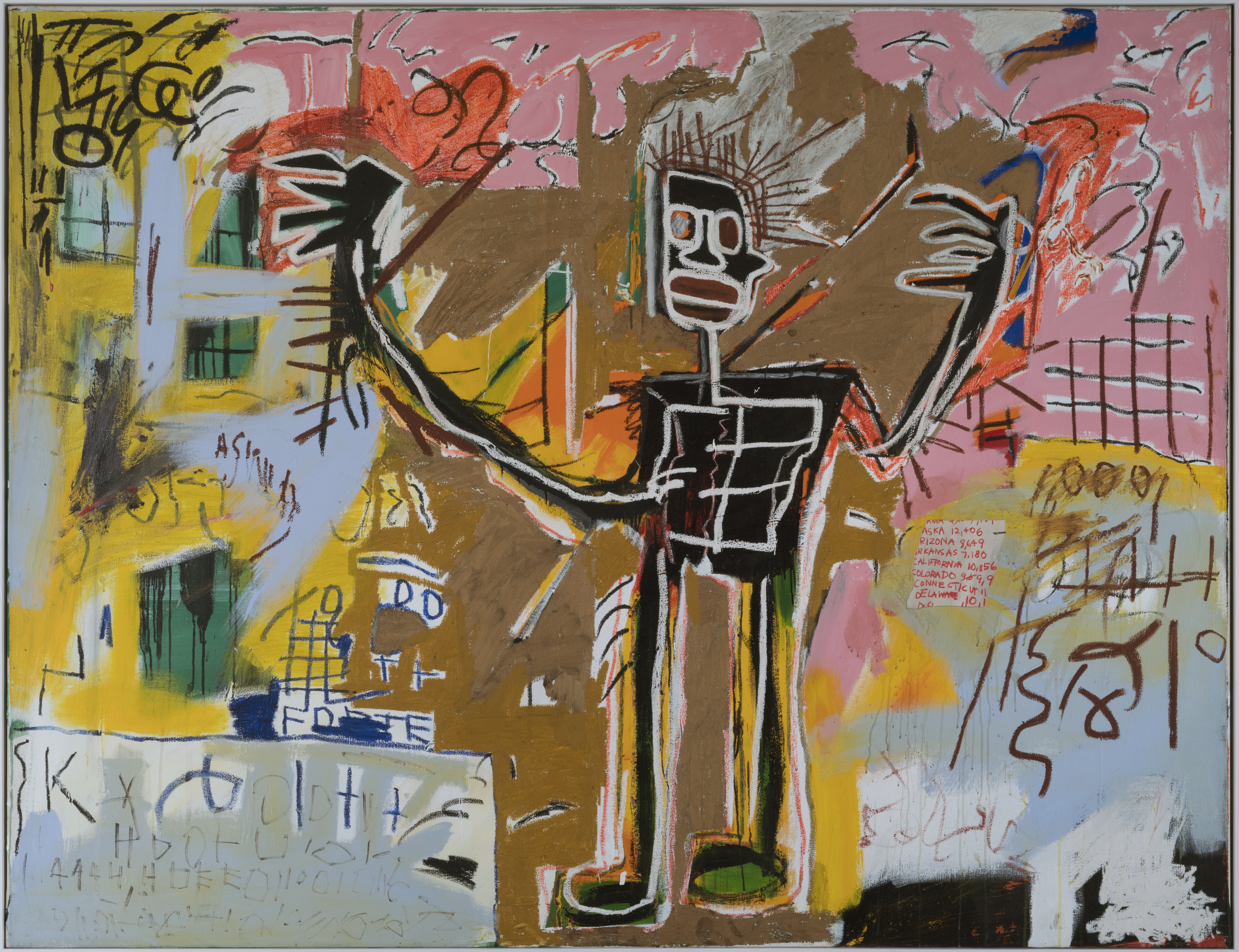 Jean-Michel Basquiat. Untitled (Tenant), 1982. Acrylic and oilstick on canvas. 188 x 244 cm. Courtesy of Van de Weghe, New York © Estate of Jean-Michel Basquiat. Licensed by Artestar, New York. Picture – © Patrick Goetelen.
Can you talk more in detail about the curatorial process? For example how long was the exhibition in the making (that is, from identifying works in the various collections to the catalogues and installing the exhibition)?
The process of obtaining works for the show is of course an ongoing conversation and very work intensive — which began over three years ago. For this monumental presentation, we have secured loans from many of the most important lenders both public and private, including of course works that have been the subject of extensive press and rarely or never before seen.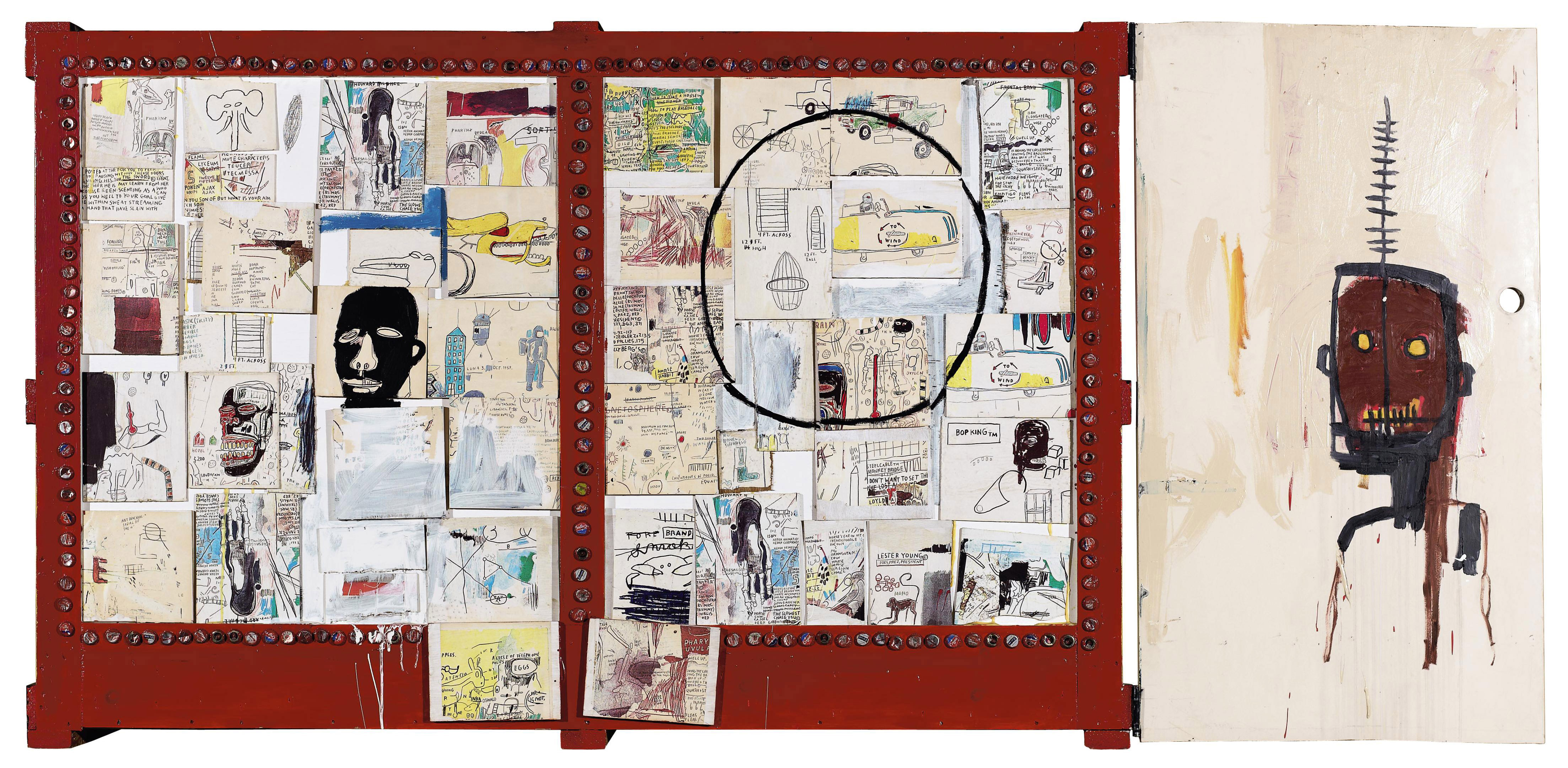 Jean-Michel Basquiat. Negro Period, 1986. Acrylic, oil, paper collage, and bottle caps on wood. 143.8 × 306.1 × 16.2 cm. Fondation Louis Vuitton © Estate of Jean-Michel Basquiat. Licensed by Artestar, New York. Picture – © Fondation Louis Vuitton
Compared to other retrospectives on the artist, are there specific works or certain bodies of work that are perhaps missing in this retrospective that you would have liked to include but were not able to loan?
The exhibition at the Fondation Louis Vuitton differentiates itself remarkably from previous retrospectives in the way it explores the significance of words, lines, collages and assemblages and demonstrates the contemporary meaning and relevance of Basquiat's oeuvre. The political dimension of his work is also given a central role. It focuses on the artist's central masterpieces, as well as the presentation of rarely or never-before-exhibited pieces and series.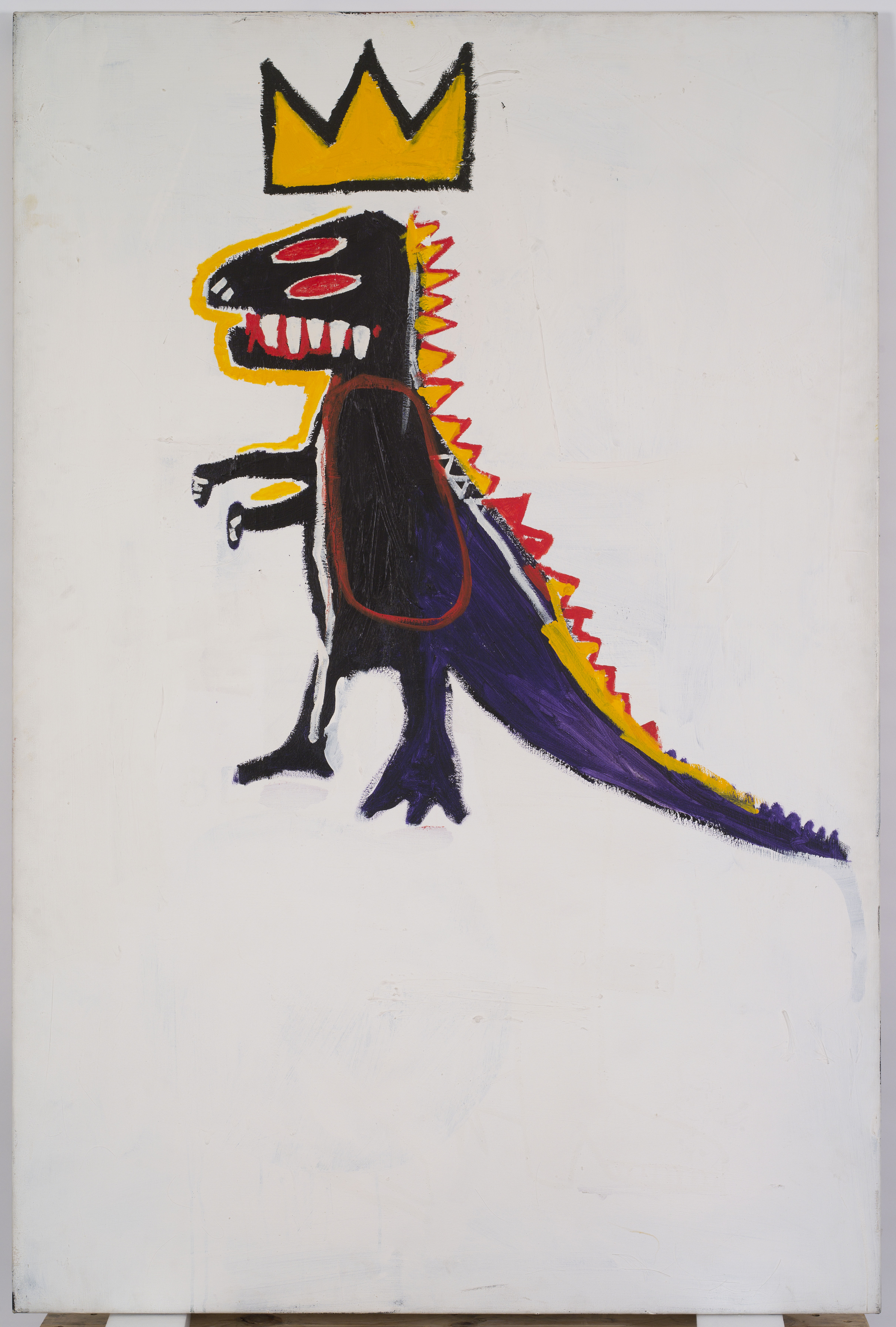 Jean-Michel Basquiat. Pez Dispenser, 1984. Acrylic and oilstick on canvas. 183 x 122 cm. Private collection. Courtesy Galerie Enrico Navarra © Estate of Jean-Michel Basquiat. Licensed by Artestar, New York. Picture- © Tutti-image. Bertrand Huet
Lastly, I note that you are the curator of both the Egon Schiele and Basquiat exhibitions so that they read as separate exhibitions but also meant to be viewed together and perhaps in comparison with each other. Could you briefly discuss the similarities and differences between the two artists 80 years apart and the objectives of this juxtaposition?
The works of these two extraordinary artists are characterized by their extreme intensity, energy and productivity. Despite their short lives, both Schiele and Basquiat managed to create comprehensive bodies of work, inspired and partly supported by the paternal figures of Gustav Klimt and Andy Warhol, respectively. For each artist, their environment played an essential role in the shaping and continual development of their practice. The pulsing settings of Vienna at the turn of the twentieth century – a geographic interchange between east and west tense with frictions stemming from long-standing tradition and rapid progression – and New York in the 1980s – a cultural melting pot where the next generation of visual artists, musicians, and personalities were meshing in various Downtown scenes – were marked by forward-thinking and vibrant exchange that in turn influenced the work of Schiele and Basquiat, particularly reflected in their drawing practices and their aggressive and expressive distortions of the body. Despite these similarities, it must also of course be remembered that their individual circumstances, as well as their unparalleled artistic accomplishments, are at the same time incredibly different. Schiele's art investigated the expression of the human experience through the physical form, foreshadowing the horrors and imminence of the two world wars while presenting an incomparable existential investigation of both the self and the collective human existence. Basquiat's works also reflects attacks against humanity, however within the context of colonialism, slavery and racism as well as his contemporary society, which he investigated through a uniquely dynamic use of artistic approaches—his cut-and-paste "sampling" of methods and themes serving as a precursor to today's post-Internet era.