I have known the story of Piero della Francesca's fresco The Resurrection for many years. I have even watched it told, stunningly, in the BBC's The Private Life of a Masterpiece. By an extraordinary twist of fate, some say divine intervention, the painting of Christ resurrected saved – in this life – the town of Sansepolcro.
In the final Allied advance of World War II, a British officer ceased shelling the town because, in the midst of the lunacy that is war, he recalled reading in an essay by Aldous Huxley that Sansepolcro housed the greatest painting on Earth.
After the war, for sparing its artistic treasure, and incidentally its inhabitants, the officer was given the freedom of the city.
What I did not know, until I read Madelaine Barnard's Cape Town Stories (Struik, 2007), was that the British officer was Anthony Clarke, the founder of Clarke's Bookshop, down the road from me and a place that has always been a part of my life.
Established in 1956, over a decade before I was born, it must be the oldest independent bookshop in the country (and in fact one of only a handful left dating that far back in the whole Anglophone world).
I have been browsing and buying books there since the age of 12, when I first received pocket money. To this day, Clarke's has a R10-a-book section so almost anyone can afford to buy a book.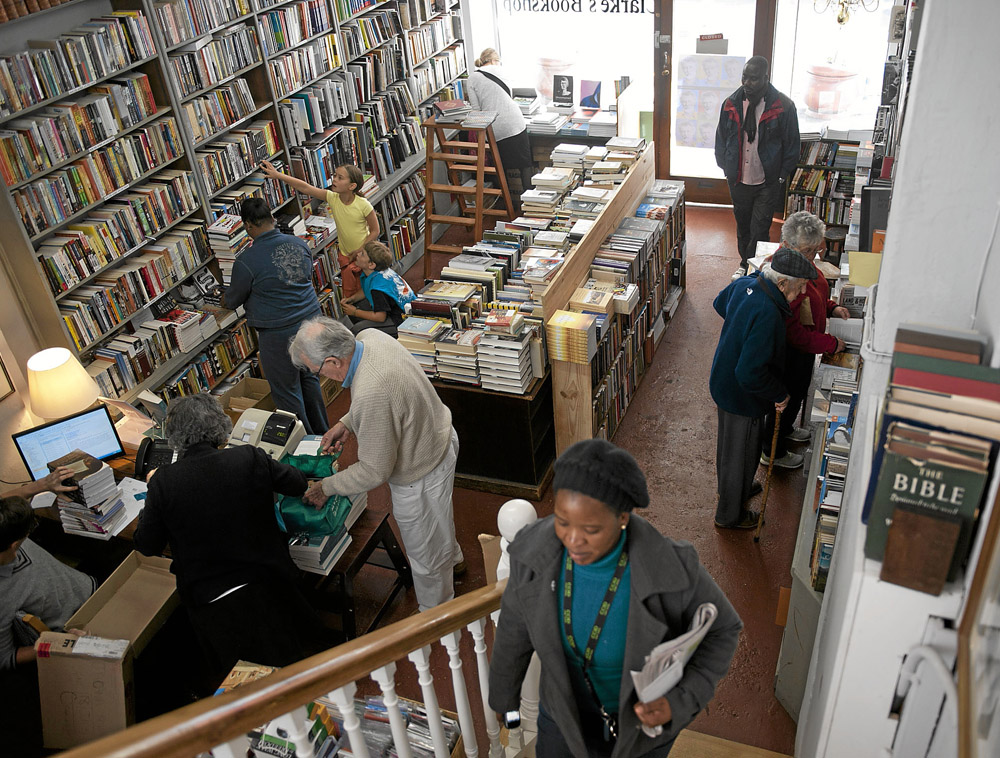 Photograph by David Harrison
Literary canon
In the 1970s and 1980s, Long Street was our Charing Cross Road. From those second-hand stores I built up a respectable library of the literary canon and the best part of my university setworks. But one by one the independents have shut – the rather snooty Cranford's, and a few whose names I no longer remember; and now Tommy's has been halved in size and mostly sells curios.
Recently, Clarke's had to undergo its own resurrection. Proprietor Henrietta Dax, who worked with Clarke and took over the business when he died in 1981, describes it as a "miracle". When the lease on 211 Long Street was not to be renewed, Dax managed to get a three-year stay of execution while she frantically searched for premises.
Incredibly, two years later she secured a corner at 199 Long Street, close enough to carry by hand – a labour of love – the vast stock of books to the new shop, all without missing an hour of trading.
Although 199 may not have the history yet, with its wooden floors, identical gold lettering on the window, the original bookcases, the walls painted exactly the same practical grey and an elegant wooden staircase Dax built into the front room, it is beautifully in keeping with the old place, and in some ways an improvement. The rooms are airier and have better light; the office under the stairs doesn't seem nearly as cramped. Clarke's has not only been resurrected it has also been revitalised.
During the move, Dax took me on a tour. Until then, I had no idea that the rooms I had been browsing in all those years on two floors were only about a third of the premises. Behind lay an archive and a treasure trove of stock. Shelf upon shelf was supported by old remaindered copies of Contrast (Clarke was behind the poetry magazine). One such shelf is now a feature at 199.
Clarke had always insisted that a bookshop must have a poetry section even if it never sells a single volume. But today's outpouring of self-published poetry, especially if it doesn't have the title on the spine, is causing clutter.
Not everything could be kept. So Dax gave a large number of the old books to the renowned artist Wim Botha, who in another form of resurrection turns books into sculpture.
Her keen sensitivity for books has benefited generations of readers, but Dax is refreshingly unsentimental. Clarke, I hear, would struggle to part with precious books. Dax is too sensible for that.
Permission to browse
At Clarke's, you feel you have permission to browse. There is no pressure, no impatient sigh, nobody following you around. What better compliment than a gentleman who is known for dozing off in one of the comfortable chairs upstairs.
One feels confident Clarke's will continue for some time. It has a global reach and supplies universities and collectors all over the world. Like many famous independent bookstores, it has a reputation for freedom of thought. This stems from the days when so much South African literature was banned and had to be smuggled in. Much of this Dax later donated to Unisa.
Deputy President Kgalema Motlanthe may be a long-standing client, and he visited the store recently, but, in South Africa, the government and monopolies alike remain hostile to small business. New legislation regarding second-hand trading is alarming – this at a time when globally bookstores are failing.
But I would venture that stores that think of books as merchandise and offer nothing more than the physical version of books are the ones really in trouble.
Clarke's is a curated space with institutional memory and know-ledgeable staff. They are specialists in Southern Africana, in everything from rare prints to out-of-print books.
Dax tours the region from Mozambique to Angola, going on adventures to remote locations, buying and selling, and bartering in those places where books are harder for the locals to access than money. Amazon.com hasn't yet replicated that, though it is encroaching.
Her worst, says Dax, are people who take photos of books and then go home to download them online.
Like many writers in Cape Town, I rely heavily on Clarke's and Select Books (232 Long Street) for my research. Much of the material I use has never been digitised. Ironically, the discoveries I make on Google Books usually send me scurrying to Clarke's and are probably responsible for half my purchases there in the past five years.
If our government doesn't crucify small business in this country, this gorgeous shop should be alright for some time yet.
Clarke's Bookshop, 199 Long Street, Cape Town. Phone 0214235739. Website clarkesbooks.co.za