A wild hyena has become South Africa's latest media darling after it appeared lost on the streets of Johannesburg, looking stressed and anxious.
But all has ended well after the animal was safely captured by the Jo'burg Zoo and treated. The zoo tweeted an image of the animal sleeping from its @JoburgParksZoo Twitter account. "She is awake now but still a little groggy," it said.
The cub is believed to have escaped from a reserve near Roodeplaat, according to reports, but that is yet to be confirmed.
It is a brown hyena, which is usually a solitary animal unlike the spotted hyena, which travels in packs.
An associate veterinarian for the Jo'burg Zoo, Dr Brett Gardner, arrived on a suburban street where the animal had been cornered to dart it. The hyena still managed to run two blocks before collapsing.
Watch the Eyewitness News video:
The brown hyena is currently the rarest species of hyena. #Hyena she is 6-7 months old and receiving medical treatment at the zoo.

— JoburgParksZoo (@JoburgParksZoo) September 26, 2013
The female cub was finally captured in Randburg after numerous sightings in the area and much excitement on social networks.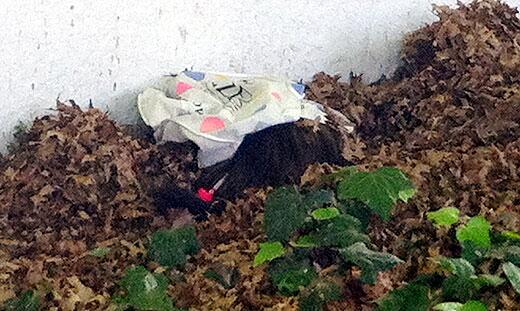 One cyclist saw it near Emmarentia Dam on Thursday morning, saying it looked scared as it ran towards the spruit. Another Twitter user posted a photo of the animal lying down outside the Randburg Civic Centre.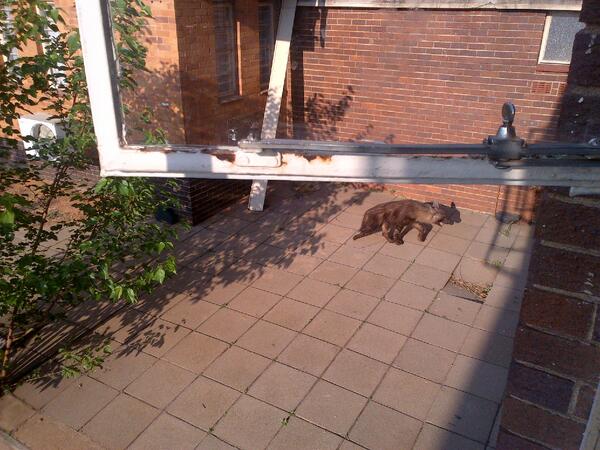 The youngster was tranquilised by vets from the SPCA and the Jo'burg Zoo. It was severely dehydrated and stressed, and its paws were damaged from running on concrete. Adriaan Roets tweeted an image of the hyena running down Olympic Road, Blairgowrie, on Thursday morning.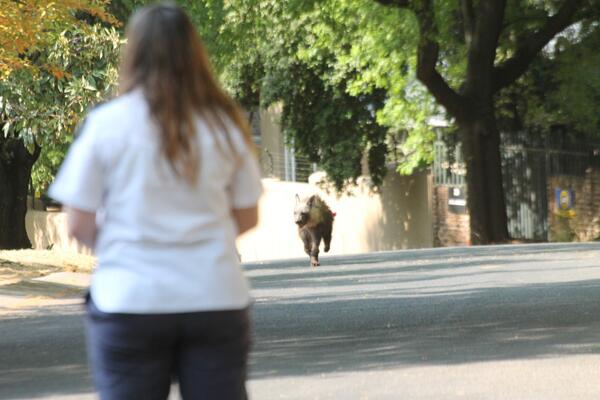 The hyena still has its baby teeth. Its diet consists of carcasses killed by other predators, supplemented with rodents, insects, eggs and fruit, according to the zoo.
The cub was receiving treatment at the zoo.
Dr Brett Gardner from @joburgzoo did an excellent job this morning recapturing the roaming brown hyena. pic.twitter.com/ImeqXXrrs5
– Adriaan Roets (@RoetsAA) September 26, 2013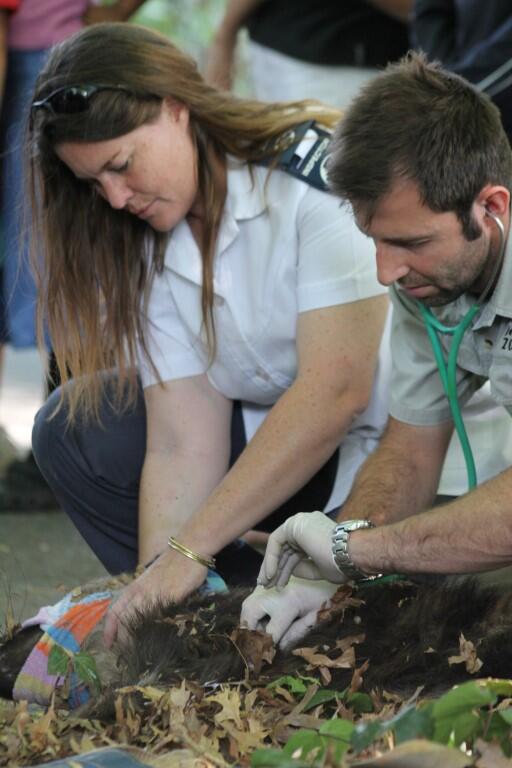 According to the zoo's Twitter account, the animal will be monitored for a month before her fate is decided.
The brown hyena is smaller than the spotted hyena. It is about 10% smaller with a distinctive shaggy coat and striped legs, as seen in the below image of brown hyenas in the wild.