Moray Rhoda's sigh is deep and drawn out. It foreshadows his response to being referenced in a previous interview in which he called South African publishers "myopic" when it comes to the distribution of comic books.
As a Cape Town-based illustrator and designer Rhoda, who started the graphic novel anthology Velocity and co-ordinated the Open Book Comics Fest, has been involved in the comic art world for about two decades and is one of its biggest proponents.
"They just don't see potential in comic book art. In another interview I said, and I stand by it completely, when these publishers look at whether a book will sell, 'cause it's a business that needs to make money after all, they're asking: 'Will it sell in South Africa?' They create those confining parameters. Then they go: 'No, we're not publishing this.' They are killing a lot of creativity.
"You'll find people doing incredible international-level work and then being published there because none of these local guys has the foresight to support them … They won't trust the vision of somebody who's the comic book equivalent of internationally respected film and advertising director Neill Blomkamp. They won't put money behind someone even if he knows what he's doing."
Rhoda is a contributor to the newly launched Art South Africa insert called Comic Art Africa, edited by Andrew Lamprecht. In December, Comic Art Africa mounted BLIKSEM!, an exhibition featuring original art and limited-edition prints by some of the best local talent currently producing independent comics from their launch issue.
Its next iteration is the comic art exhibition curated by Rhoda and Lamprecht, titled Comic Art Africa, that forms part of That Art Fair. The idea of the comic edition and its ancillary platforms is to create a stronger local community within this niche, yet fragmented, comic art market.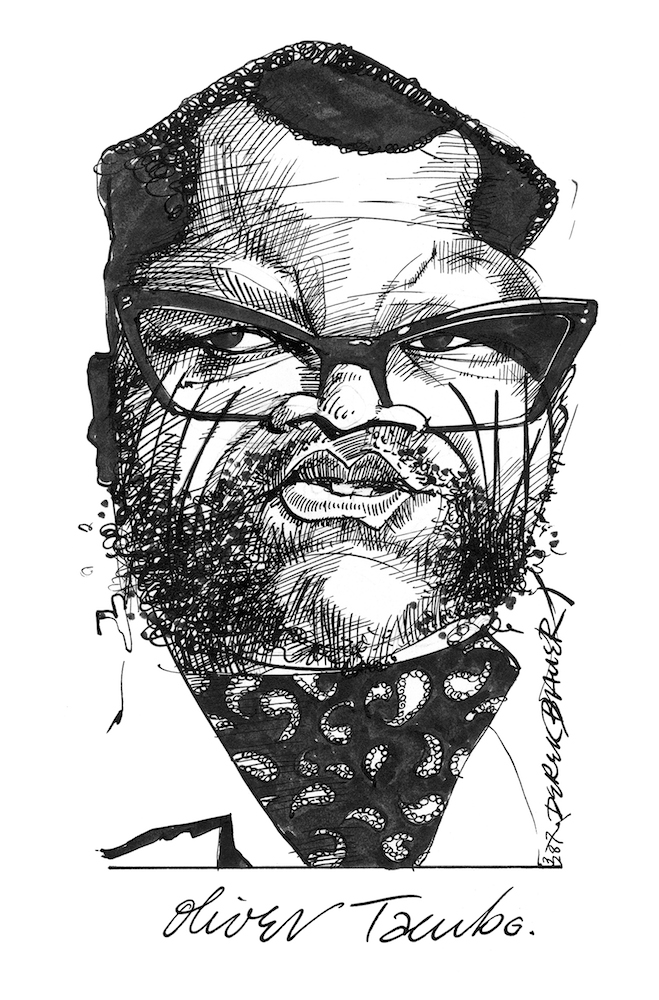 Derek Bauer's illustration of ANC stalwart Oliver Tambo
Reportedly, the first South African comic books started making their appearance in the late 1950s, and with the market overrun by American titles some of those were reprinted for the local consumer. On southafricancomicbooks.blogspot.com, in a post called Soweto's Super Man: 'Mighty Man' and the Mid-70s in South Africa, contributor Nick Wood explains how comics were segregated in their content choice and language of discourse.
Afrikaans-speaking young people grew up on Die Swart Luiperd and Grensvegter. Their English-speaking counterparts were offered the likes of The Amazing Spider-Man, Daredevil and Luke Cage. Black South Africans had Mighty Man, who could jump really high above the mid-1970s equivalent of skyscrapers. The superhero solved crimes ekasi (in the location), taking care of gangs and drug dealers.
Launched last year, Kwezi is a comic that follows the journey of a cocky 19-year-old guy who discovers he has superpowers. It taps into the self-discovery he grapples with while managing run-of-the-mill teenage issues.
The local superhero comic book's creator and artist Loyiso Mkize explained why his creation is getting more traction overseas, mainly in the United States, than locally. "I think that's because it's the country that gave birth to comic books and boasts the largest culture of that nature in the world. Kwezi speaks to this growing community that want to see people of colour as superheroes …
"There isn't a real struggle with people getting into comics. We have done a lot to activate the South African audience. The problem is distribution; we simply have no support in getting our material to the reader."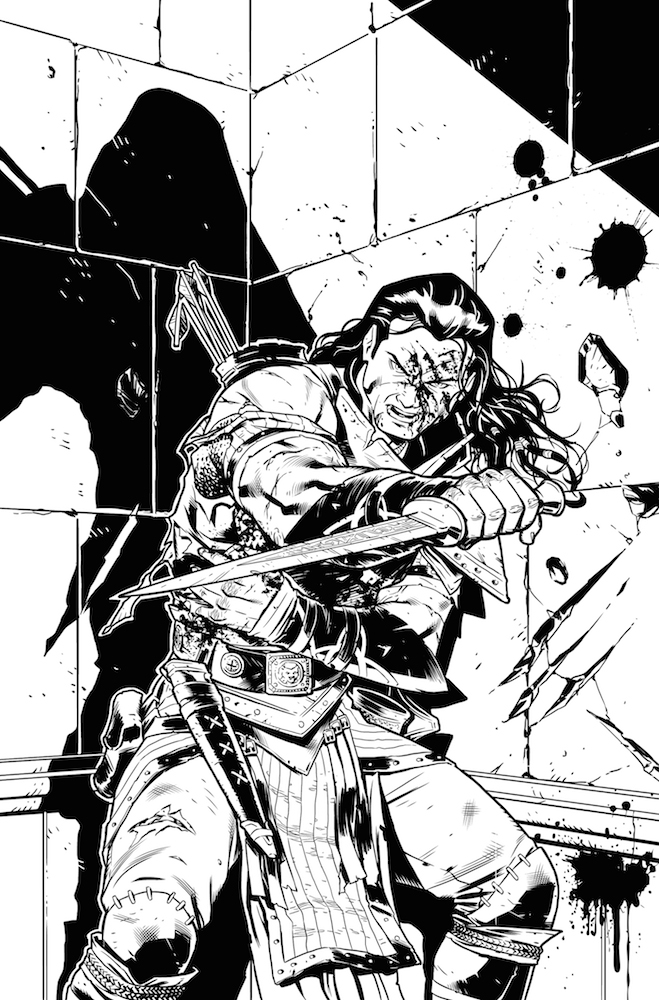 An illustration by Sean Izaakse
Says Rhoda: "Distribution isn't the only issue. The level of comic book story writing is shabby and definitely not on par with the guys who are currently creating illustrations for comics. South African comic writers are shit. It's a bone of contention with the animation and the comic book guys. The artwork is definitely international level, but the storytelling is not there. There's an imbalance.
"The problem comes where they can draw but can't write. And the solution is simple. Either you learn to write if you don't want to work on other people's stuff. Or collaborate – that's exactly what That Art Fair is trying to encourage. If you have the idea, find the person to write you that awesome story. "
Speaking of local stories, Mkize says: "I grew up reading comics and from a young age wondered if there was a superhero that looked like me, spoke like me and shared my environment. There's also the fact that as I got older I learned to appreciate the role of superheroes in young people's minds: positive, encouraging and inspiring. These fictitious characters came to life in a reader's world and left important ideals that they would, knowingly or not, carry with them for the rest of their lives. "
Along with viewing Mkize's work at That Art Fair, we can look forward to an appearance from Zapiro and works for sale from the Derek Bauer estate. Conversation-starter artists Andy Mason, Jason Masters and Sean Izaakse will also be in the fold.