SAA has made an extraordinary about-turn on its admission that it subsidised Mango by leasing it aircraft at a discount. It now denies this.
The airline's retraction follows an appeal to competition authorities to investigate the admission.
Responding to news of the departure of Mango's chief executive, Nico Bezuidenhout, SAA said in a media release last weekend that the low-cost airline's success could be attributed not to him but to the support SAA had provided it, including aircraft leased at a discount.
The airline said it had materially contributed to the "much-celebrated" financial performance of Mango Airlines, which was launched in 2006.
"As an initial investment to subsidise the start-up of Mango Airlines, SAA subleased 10 aircraft at a significantly discounted cost to Mango Airlines while continuing to pay the market-related premium to the lessor. The aircraft are still in use and comprise the whole of Mango's fleet," the statement said.
The Democratic Alliance this week asked the Competition Commission to investigate possible collusion between SAA and Mango, which could have resulted in the latter being able to offer discounted flights.
On Wednesday, Bezuidenhout told the news agency Bloomberg that SAA's claim was not true and called on SAA to substantiate its assertion.
Late that evening, SAA issued another statement saying there had been no discount.
It said SAA did sublease several aircraft to Mango "from time to time over different periods" between 2006 and 2016. SAA said it acquired 10 new A320 aircraft during the 2015 financial year and Mango had taken over some of the aircraft SAA has relinquished to increase its capacity. SAA said the subleases to Mango fully recovered SAA's lease costs for the 2015 financial year over the balance of the lease period.
"During March 2016, the SAA board, with the assistance of external advisers, analysed these lease agreements with Mango and satisfied itself that all such agreements had been concluded on a full-cost recovery basis," the statement said. "These aircraft were accordingly not leased at a discount."
From Mango's inception in 2006, it was speculated that it would be subsidised by SAA, although the airline company denied this.
It has always said the aircraft were leased by SAA to Mango at a market-related price. Leases aside, SAA has previously admitted that it provided Mango with an advantage. In the minutes of the finance standing committee on September 2 last year, Yakhe Kwinana, an SAA board member and close associate of SAA chairperson Dudu Myeni, said Mango was doing well and this could be attributed to the favourable conditions it enjoyed, such as Mango being partly subsidised by SAA.
"There were also contracts between SAA and Mango which were favourable to Mango," according to the minutes. "The question that still needed to be answered was whether Mango could be able to operate independently without SAA, especially when considering all the favourable contracts and subsidies."
Without Mango producing separate financial statements, it is not possible to determine to what extent Mango may have been assisted.
Erik Venter, the chief executive of Comair, the brand under which the low-cost carrier and competitor Kulula operates, said: "However, any cost subsidy would mean that Mango's operating costs are potentially artificially lower than those of its competitors. It is therefore able to charge fares that are lower than what is sustainable for its competitors, thereby effectively driving competition from the market."
Even so, Venter said, there is unlikely to be any relief from the Competition Commission. "Unlike the competition law of other jurisdictions, South African competition law does not contain any legislation to prevent unfair competition arising from state subsidies," he said. Martin Versfeld, a partner in the competition law practice of Webber Wentzel, said that in the European Union laws do preclude states from providing subsidies to airlines.
"If we had the benefit of that statutory provision, things would be easier. But we don't have that short cut."
Versfeld represented Comair in a legal challenge to SAA last year, when Comair sought a R5-billion government guarantee for SAA to be set aside, but the case was dismissed. Versfeld said collusion was not the issue to be dealt with, if the aircraft were leased at a discount. But the leasing arrangement described by SAA in its first statement on the matter would constitute an infringement of the Competition Act.
Depending on how large its market share is, Mango could be deemed to be practising predatory pricing, in which a dominant market participant sets its prices lower than the cost of operation with the intention of pushing competitors out of the market.
Another argument is that SAA, which is dominant in the total market, is using that to control another segment of the market, if it is leasing aircraft to Mango for less than the market price. This would make it difficult for other airlines to compete and for new airlines to enter the market, Versfeld said.
SAA's admission, and subsequent retraction, has revived several unanswered questions about Mango.
Professor Jackie Walters, from the University of Johannesburg's department of transport and supply chain management, said there was general suspicion when Mango was started that it would be assisted by costing and services from SAA.
"Aviation is very vulnerable … and the lower-cost part of the airline market is very price-sensitive. Behaviour like that could swing a market," he said.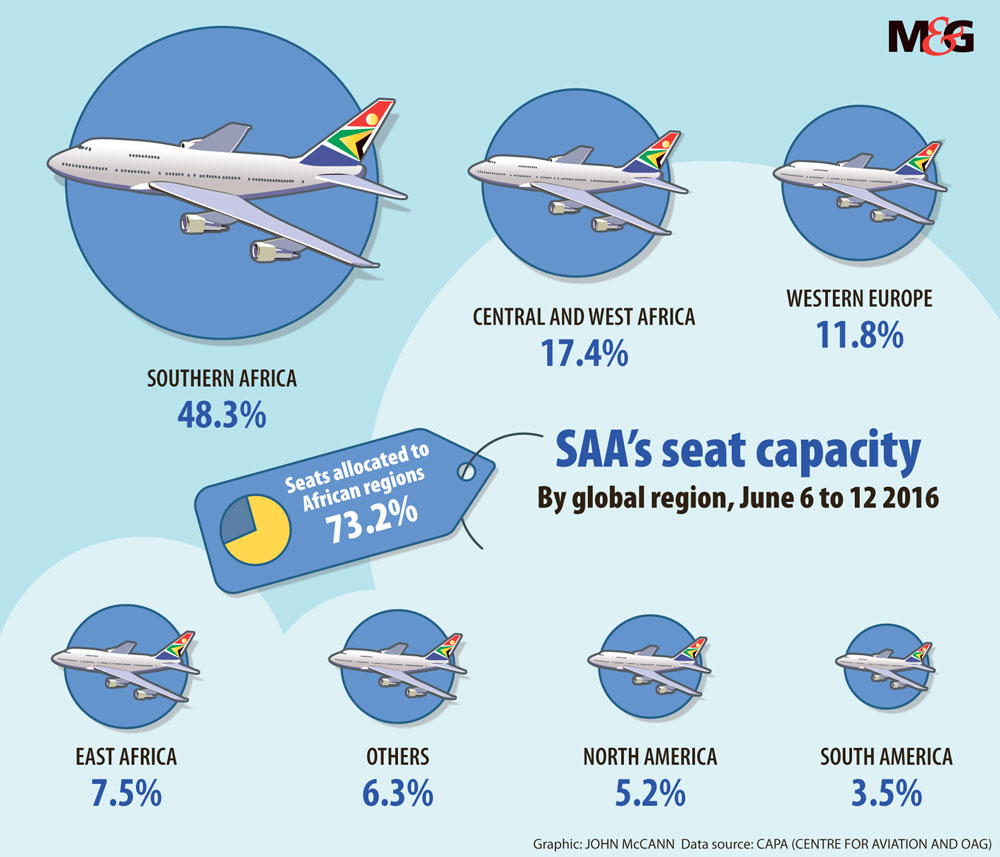 If Mango was cutting prices below the cost of operation, consumers might have had the benefit of cheaper seats "but at whose expense?" Walters asked, adding that taxpayers are still footing SAA's bill because of its "clear inability to be self-sustaining". He said the government's guarantees to SAA were even more questionable now that it appeared that it was funding two loss-making airlines.
The department of public enterprises referred all questions to the treasury, which did not respond to the Mail & Guardian's questions.
Industry experts say it was always difficult to understand why the government wanted to establish Mango. It was speculated that Nationwide Airlines, 1Time Airline and Kulula were gaining enough market share to be a threat to SAA.
The low-cost market was developed by the private sector, an aviation and finance consultant, Joachim Vermooten, said. "There was no reason for the government to provide capacity in that market when it was already very competitive."
Asked what possible reason there could have been to enter the market, Vermooten, who acted as an adviser to the department of public enterprises on SAA and SA Express between 2006 and 2011, said: "From an economic perspective, it is called an irrational decision with the only purpose being to dominate market share."
Excessive capacity in the market, as Vermooten believes was the result, drives down prices, and domestic market demand dropped between 3% and 4% at that time.
Nationwide Airlines, which folded in 2008, had legitimate difficulties — some relating to the significant cost SAA incurred for incentive schemes for travel agents, a matter that is still in court years after it was launched.
1Time Airline also made decisions that contributed to its demise, but SAA increasing its operations helped to push the competitor over the edge, until it stopped operating in 2012, Vermooten said.
That SAA continued to serve some of the same domestic routes after the formation of Mango is strange, he noted.
"The overlap of state airlines is really very distressing. Government subsidises them to compete with each other to steal market share from each other."
The aviation industry worldwide is prone to anticompetitive behaviour because of its structure. "It's a network industry. If you have dominance in the network, you can abuse it," Walters said.
Subsidies in aviation are almost as old as air transport itself, according to an International Transport Forum economist, Alain Lumbroso, as reported on oecdinsights.org.
"Most, if not all, countries at one point or another have provided public funding to some parts of their aviation value chains, be it air carriers, airports or air navigation services such as air traffic control."
But Waters said that any help provided by SAA to Mango was not fair according to government policy. The domestic air transport policy requires all operators to be treated equally, particularly when it comes to equitable competition.
"This principle is specifically applicable in a situation where a government enterprise is competing with a private enterprise in the same market," the policy says.
Walters added: "Government have said that policy is only a guideline, but how do you get investments in the country if this is the case?"