In what turned out to be a successful day for South Africa, Caster Semenya qualified for the Olympic women's 800m final with supreme ease and, barring a catastrophe, appears nailed on for gold in Saturday's final.
The South African, looking as if she was out for a Sunday morning jog, won the third of three semis in the fastest time of the night – one minute, 58.15 seconds – with Britain's Lynsey Sharp chasing her over the line to also advance.
Semenya has dominated the 800m this season and there has even been speculation that she could take down Czech Jarmila Kratochvilova's 1983 mark of 1:53.28 seconds –- the longest standing athletics world record.
PRIDE OF THIS NATION

Caster Semenya won 800 metre semi-finals race to go through to finals.

@teamsa16 pic.twitter.com/mMTDcPz1fB

— RSA Min of Sport (@MbalulaFikile) August 19, 2016
"The pace was a bit quicker than I thought but I just went with the flow," Semenya said before playing down the world record prospects.
"Winning the race is what I'm focused on, my pb is still quite new, so I just need to have a look at the video, see how I can improve and see how it goes in the final."
Henri Schoeman wins stunning bronze
In the build-up to the men's triathlon at Rio 2016 on Thursday, South Africans had pinned their hopes of a medal on Richard Murray.
But in the end it was 24-year-old Henri Schoeman – brother of former Olympian Riaan Schoeman – who stunned the world to finish third and give Team South Africa its eighth medal of the Games.
Murray, who had been recovering from a broken collar bone in the months leading up to the Olympics, finished fourth.
It was a remarkable effort from Schoeman, who had flown under the radar in the days leading up to the race.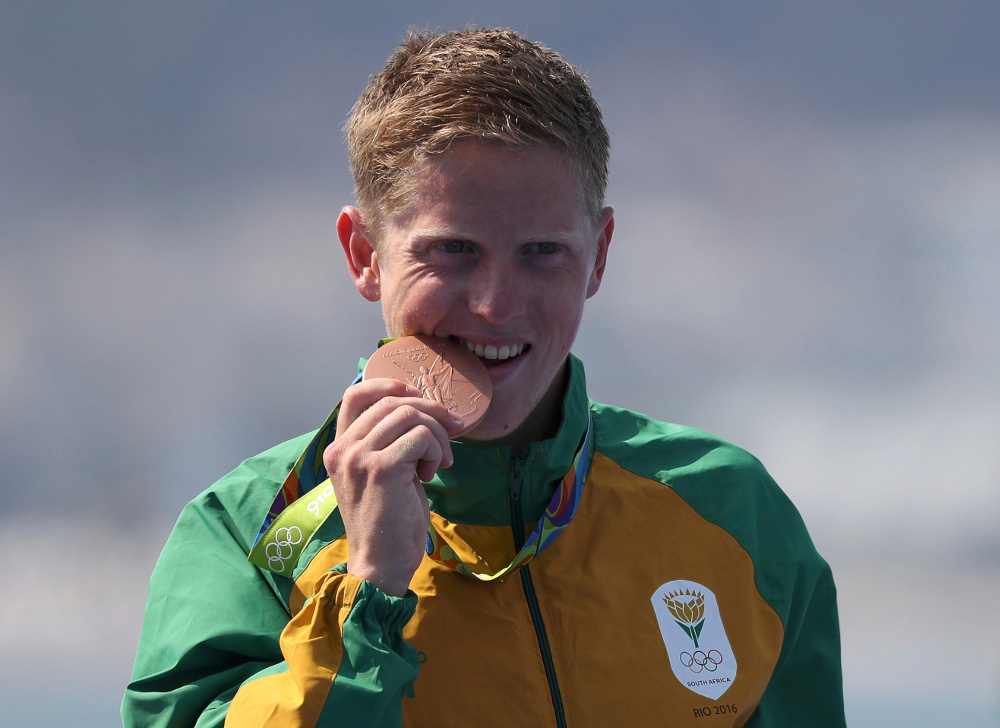 Schoeman confirmed afterwards that, just a week ago, he didn't know if he would be healthy enough to take part in the race as he was battling with a chest infection.
As a result, he was unable to train.
"A week ago I fell ill and sick and I've had a fever the whole week," Schoeman said.
"The doctor actually only gave me the all clear yesterday (Wednesday). I was happy just to be on the start line and to be a the Olympics was a dream come true."
It had not sunk in yet for Schoeman.
"There are no words to describe it. You can't beat the feeling of having a medal round your neck. I'm excited and proud, I've made Africa proud," he said.
"It's been a dream all my life. Maybe tomorrow when I wake up with a medal round my neck I'll probably believe it, but for now I'm just trying to soak up everything."
Viljoen goes the distance for silver
Soon after Schoeman's success, Sunette Viljoen won the silver medal in the women's javelin.
Croatia's Sara Kolak (66.18m) took the gold ahead of Viljoen's 64.92m with the Czech Republic's Barbora Špotáková in bronze (64.80m).
Viljoen's silver was Team SA's ninth medal of the Games (one gold, six silver, two bronze). South African are now holding their collective breath that Semenya adds to the tally. – Reuters and News24