In his piece The Public Art Hustle, curator Khwezi Gule argues that, in the same way backpackers are at the vanguard of bourgeois tourism, public art interventions have become the vanguard of gentrification.
It is ironic that modern-day graffiti, with its history in the reclamation of public space by marginalised urban communities, has in a similar manner to other aspects of underground culture come to symbolise, in the words of Gule, "hipster cool, contemporary sensibility" and, of course, gentrification. "Maboneng encourages graffiti," Gule says.
Understood through this prism, the logic of City of Jo'burg mayor Herman Mashaba's decision to introduce bylaws to restrict the production of graffiti in Johannesburg under the guise of encouraging an "investor-friendly environment" amounts to disingenuous doublespeak.
This week, we speak to three graffiti artists from Cape Town, Durban and Johannesburg about their perceptions of graffiti and the law.
Nardstar, Cape Town
"A lot of the work I do is commissioned — that's how I make a living. I always line up the commission with what I'm doing personally.
"Of late, my interest is in portraits. I was 18 years old when I first started painting tags and stuff like that. That was 12 years ago.
"The graffiti by law is a very sad situation in Cape Town. It's had a big effect on artists who want to paint. It has been in effect for about three years now. It has had a big impact on artists who want to paint legally. It hasn't really affected people who want to paint trains and stuff like that.
"When I started painting, writers used to get together and find walls and jam together, so it created like a culture of painting and walls were going up all the time.
"But when the graffiti bylaw came into place, the city spent a lot of money cleaning up all the graffiti in the whole city [including on] all the highways in the township and even Mitchells Plain. They didn't differentiate between gang graffiti, legal graffiti productions and vandalism. They just covered everything. They just wiped out like a whole page of history. As people painted stuff they would cover it.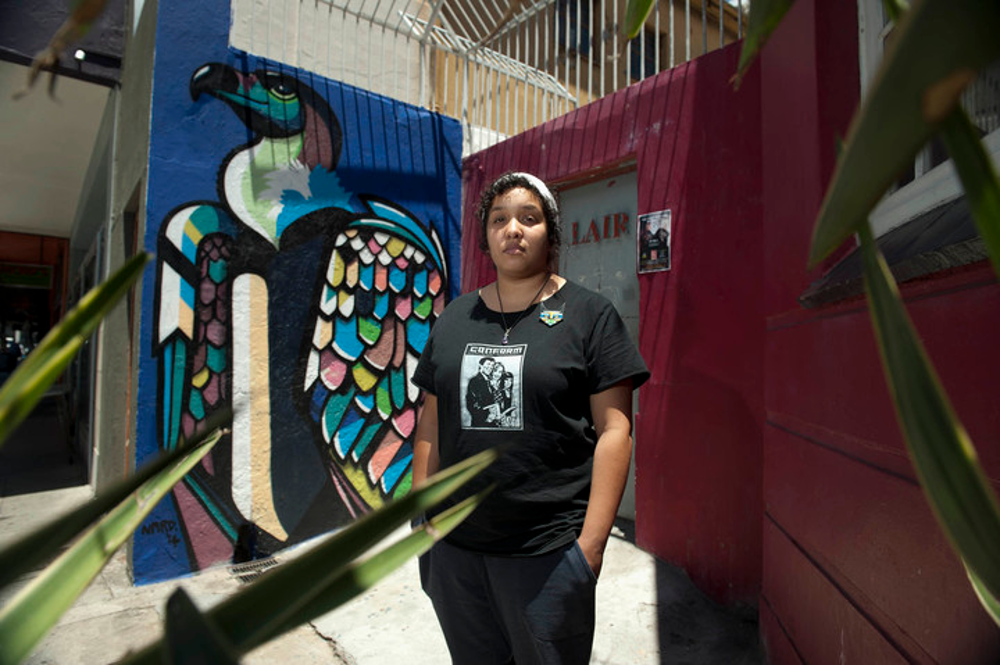 "The impact was gradual because, obviously, they are not going to cover the whole city with white paint. You could see one highway getting painted over, then another one. Then you would hear of different writers getting fines for painting walls ­without getting permits. People's houses we had painted before the bylaw even were getting threatened with fines if they didn't let the council buff their walls.
"All of those stories discouraged a lot of people from painting. People either completely stopped or they don't paint as much as they used to.
"I feel like slowly starting to get back to painting and disregarding the bylaw and putting … feelers out to see what the reaction would be like from the law, but it has been very negative for the growth of the scene."
Dayz, Johannesburg
"I'm a filmmaker by profession. Graffiti is my hobby but I am always surprised by the impact it has. I started painting in 2007 in Vosloorus. While doing that, I noticed that people were enticed by colour and enjoyed having the colours on their wall.
"I have been amped to come to the big city and do more because I realised that colour speaks an unspoken language. Colours can make people happy, colours can make people sad, colours can make people angry.
"I used to do a lot of community work and, when I went to prisons, I realised they were painting the walls grey and that would depress the prisoners even more. I just ended up painting colours that excite people. People have a certain reaction to it, whether they realise it or not.
"Colours that I am drawn to would be like your oranges or your yellows, red and white, purple also. So, when I'm painting, it's like I'm trying to put so many colours in the city and characters with smiley faces, happy people. South Africa is in ­turmoil with all these protests so the colours help to keep people neutralised, really.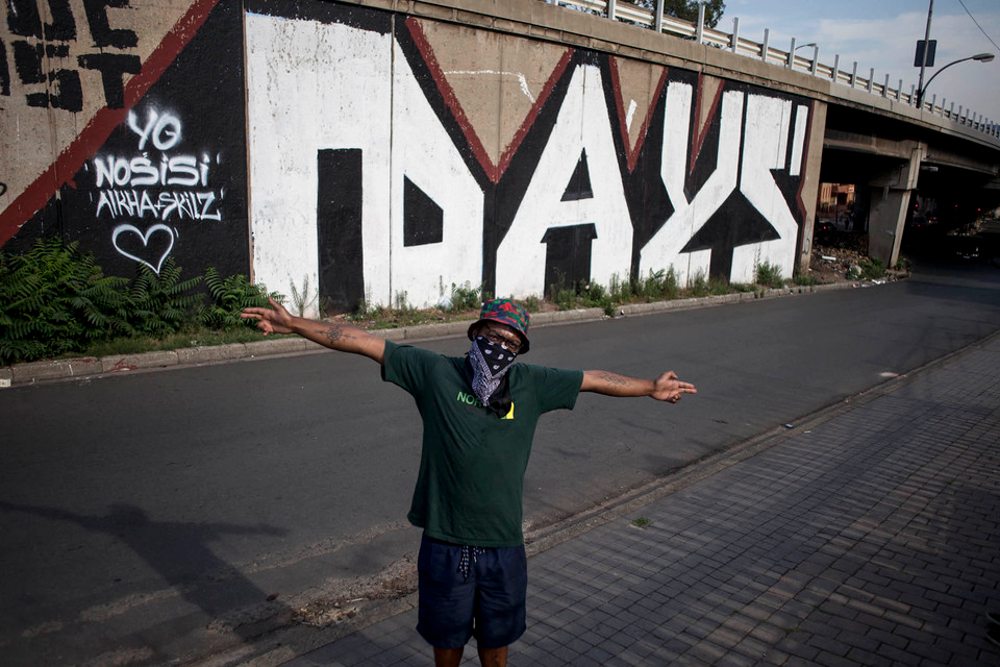 "I realised that there is a whole lot of people who started painting after seeing me doing a lot of stuff around the hood. Before, everybody was about chilling in the corner and doing nothing. The parks were not fixed. It's either you could play soccer and, if you were not good at it, you were fucked. So I ended up painting and all of a sudden there were art classes in the hood.
"Grafitti is a new South Africa kind of look. Every First World city has mad graffiti, and street art is the defining look of the First World ­actually. London is famous for Banksy and New York is famous for Obey. Those are street artists who do public works and they are celebrated by their presidents.
"I have seen pictures of them with their mayors and their artworks in their mayors' offices. They are responsible for shifting people's minds.
"We have done campaigns for the Democratic Alliance, ANC and the Economic Freedom Fighters, so I don't understand now when the DA says they don't like graffiti anymore."
Tymz9ine, Durban
"I started writing in Durban. The culture is practically killed because, about three years ago, we were painting a wall in Sydney Road. It was supposed to be a legal wall and the cops ended up coming and locking up every­one who had a can in their hand.
"After that, it became a problem for us to get walls. The Metro Police said we didn't follow the bylaws. They were trying to stop the trains getting painted. In order to do that, they decided to come to a legal wall and pick up all the graffiti writers, find out their names and start tracking their work to find out who paints the trains and who paints the streets. One guy, Cocil, had 153 counts against him.
According to the laws, if you have permission from the municipality and the residential people, then it's okay. There's a wall in Cowey Road that gets painted commercially. So every couple of weeks, it changes to have different events; they have never complained about that wall. That wall was designated by the property owners as a graffiti wall, but there is no city wall besides the skate park, which is a graffiti zone. That's the only government property that we legally paint. Other than that, it's illegally painted and you can get locked up for that.
"Before, you could mission to any section of the city to find walls. We would ask permission from the owners and paint them. After that incident, they started cleaning up our stuff. People started getting sceptical about giving us walls.
"In communities where there are established graffiti artists, all the community walls can be painted and not even the cops come for us. In Sydenham, all of our parks have graffiti murals and all that. People build walls behind their houses just for us. They appreciate the art. What we do is considered beautiful. The toys [beginners], need more practice.