S'lindile Sithole, the wife of murdered Richmond municipality manager S'bu Sithole, was outwardly composed when she addressed the Moerane commission investigating political killings in KwaZulu-Natal on Monday about her husband's assassination in March.
But her voice started to tremble when she spoke of her frustration over the failure of the police to find his killers — who shot him nine times a stone's throw away from the KwaZulu-Natal Midlands town's police station in Victoria Street — and bring them to justice.
"We urge people to speak up," she said. "They are just silent. It's like a criminal was killed. Richmond is a very small community. It cannot be that somebody like S'bu gets killed and yet no one knows anything.''
Sithole told the commission her family was unhappy with the police's approach to the case.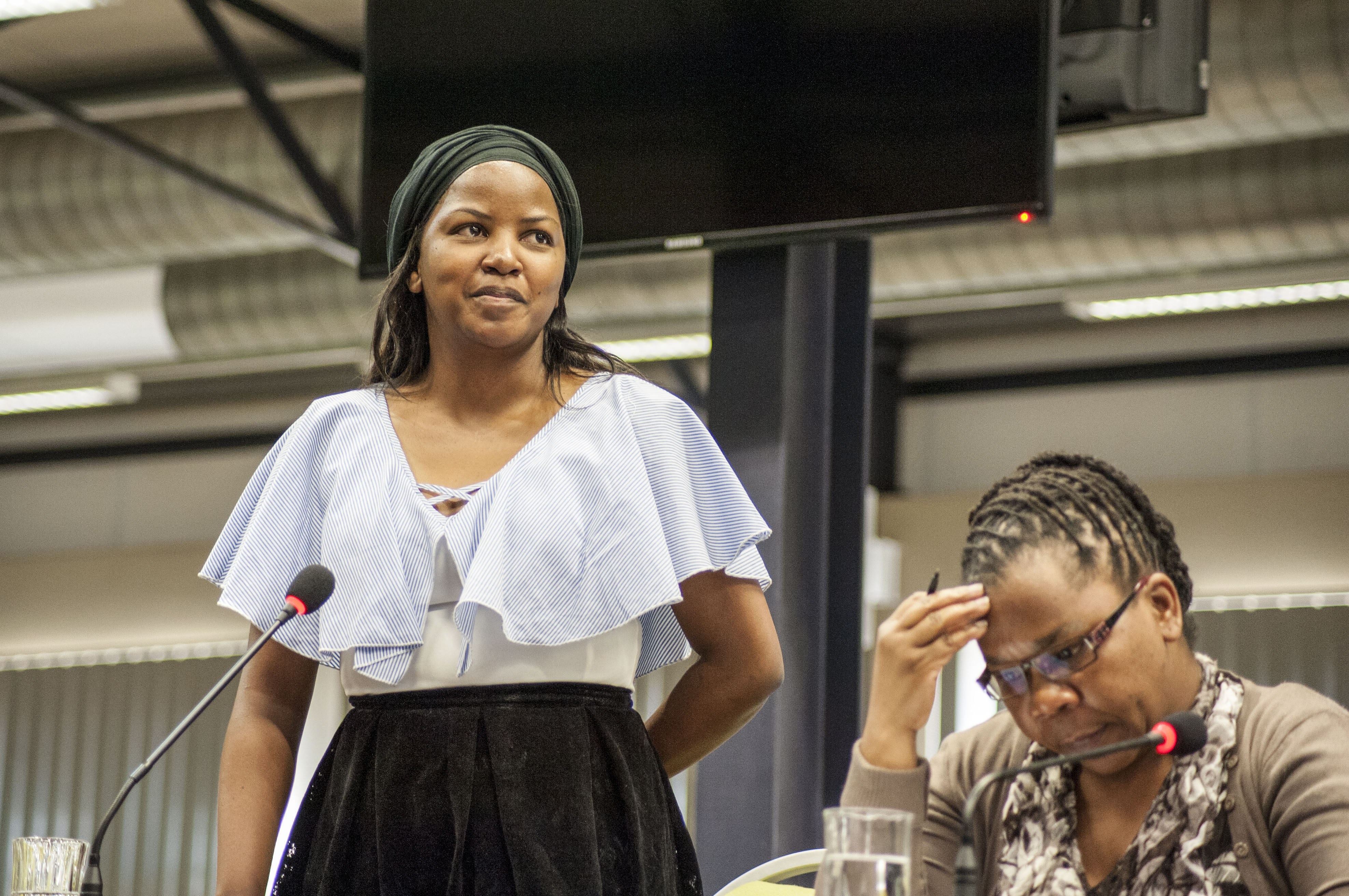 [Questions: S'lindile Sithole (above), wife of assassinated Richmond municipality official Sibusiso Sithole, gave evidence to the Moerane commission. (Photo: Madelene Cronjé/M&G)]
"Even for us to know who the investigating officer is, we had to go ask. If you go to inquire on Monday, you are told there will be an arrest by the end of the week. Three times this has happened," she said.
Sithole told the commission her husband, a lifelong ANC activist and one of KwaZulu-Natal's most decorated municipal managers, had been about to take up a new job at the Umgeni municipality. Shortly before his death, Sithole had deposed an affidavit to the police asking them to investigate municipal officials, including the chief financial officer, for corruption.
Commission evidence leader advocate Bheki Manyathi asked the commission to disregard the affidavit, which is part of dockets it is perusing, because it is "sensitive" and contains "names".
The commission also heard that Sithole had opposed an application by the council to employ two part-time councillors on a full-time basis because the municipality could not afford it.
Sithole said that, although she knew her husband was under pressure to give people jobs and had resisted this, "I don't think that they are going to go as far as killing you for not giving them a job".
"It was an assassination. He was shot five times in the head, nine in total," she said.
Sithole was the first of three municipal officials to be killed in Richmond in three months. In April, deputy mayor Thandazile Phoswa was gunned down at her home and in June fellow ANC councillor Sifiso Mkhize was shot in an ambush on his way home. No arrests have been made.
On Wednesday night, ANC Camperdown councillor Kwazi Mkhize, who was also a leader of the party's Umgungundlovu region's ANC Youth League, was gunned down in an apparent assassination after attending a party meeting.
Although a new deputy mayor, Khonjiwe Mkhize, was elected this week and a by-election for Mkhize's ward is scheduled for October 18, Richmond is reeling from the killings.
"These three killings happened in the space of three months. Every staff members here fears for their lives. Nobody knows who will be next," municipal communications manager Sibonelo Bhengu told the Mail & Guardian on Wednesday. "Yesterday, at Boxer, police arrested men with guns. We don't know if they were coming to rob the shop or coming to kill somebody else."
He said business in the town, which was the scene of bloody political conflict between the ANC, the Inkatha Freedom Party and the United Democratic Movement in the 1990s, was being affected by the new wave of killings.
"Things are not right here at the moment. Every time something bad like this comes out, people are scared off, even those who were potentially going to come and invest here," Bhengu said.
Richmond council speaker Samora Ndlovu said the council had been affected by the killings but were "healing" and "trying to soldier on".
A presentation to the Moerane commission by the South African Local Government Association (Salga) on Tuesday revealed that only three successful convictions for killings of councillors in South Africa had been secured since 2016.
Statistics provided to the commission by violence monitor Mary de Haas show that 60 people were killed in suspected political assassinations in KwaZulu-Natal between April 2014 and August 2016. A total of 12 councillors or ward candidates were killed in the two-month period ahead of last August's local government poll.
Salga national official Lance Joel said the culture of threatening and intimidating councillors could "compromise municipal systems" and service delivery.
He said the turnover rate of councillors stood at 70% because of this and that many interviewed by Salga felt "the threats and intimidation make them less likely to throw their names in the hat for public office".
Violence and intimidation against councillors and municipal officials was "widespread" across the country. A shocking 66% of councillors had reported to Salga that they had been threatened, Joel said, adding that "drastic action has to be taken to prevent further loss of life".
The situation was worsened by red tape and a lack of alignment between budget cycles of local and national government, which meant it could take more than three months for the police to provide protection for councillors who were under threat, he said.
Salga wanted councillor killings to be treated as priority crimes by the police to ensure a better conviction rate and remove the culture of impunity surrounding political assassinations. He said local-level politicians needed similar VIP protection to that given to their national counterparts.