It's starting to feel a tad clichéd to talk about the critical importance of this or that game. After all, most of us have been liberally throwing out that sort of branding since the beginning of last season.
But in truth, this is the reality of the current Premier League era, one in which any given 90 minutes has the potential to shatter any pretence of equilibrium among the top six (or seven).
Which brings us to Manchester City versus Liverpool. Two pretenders to the throne, two sides with something to prove.
After two years of barren harvest, Jürgen Klopp's dogged and determined cultivation seems as though it could finally bear fruit. His attack has proudly showcased talons instead of the blunt nails of a liver bird seen all too often in the past.
The Arsenal game in particular was a masterclass on how to rip open the opposition at the seams. Reds fans are going berserk, frothing at the mouth at the prospect of bringing home a trophy they've been denied for so long.
So, is it safe to embrace the hype? Probably about as safe as walking down a dark Liverpool alleyway decked in a fresh Wayne Rooney Everton shirt. Threatening though they may be, there's far too little evidence to dispel the lingering feeling we all have that inconsistency will creep into Anfield in due time.
If anything, the 4-0 thumping of a limp Gooners side was not flattery as much as it was a highlights reel of bad finishing.
Liverpudlians have quickly taken to Mohamed Salah, but he was one of the chief culprits. So far his speed and vigour have been enough to get the Egyptian past defenders to score a few goals, but will he be as effective against the Mancunians? No matter which side of the wing he hugs, he'll run into one of the trio of overpriced but potent wingbacks signed — Kyle Walker, Benjamin Mendy and Danilo Klopp will be praying he's the real deal — Sadio Mané can only drag them so far.
Alli could get timeout
Walker's good buddy Dele Alli, meanwhile, looks to have booked himself a seat in the naughty corner. The Spurs star was caught flipping the bird, or giving the middle finger, during England's 2-1 victory over Slovakia on Monday night — an action many have decided was intended for the referee.
The perpetrator of this heinous "offensive gesture" claims it was intended for his former clubmate —which Walker corroborated by reciprocating with a Mr Bean meme the following morning (you know, the one where he's flipping off all and sundry). Even Gareth Southgate took time off from being a mediocre national team manager to explain that the lads merely have a "weird way of communicating".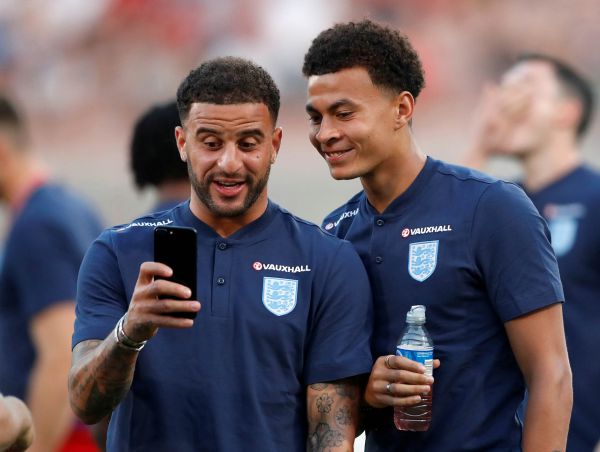 [BFFs: Kyle Walker and Dele Alli say the 'middle finger incident' was all in the name of friendly joshing, and wasn't about dissing the match referee. (Carl Recine/Reuters)]
The FA, rising above its predilection for incompetence, also stuck by their player, going so far as to insist they have evidence that proves his innocence.
All's well that ends well? Nope. There's talk of a full-on Fifa ban, with the governing body "gathering evidence" at the moment.
Much of the noise and criticism has come from the British public itself. The polite, refined and civilised English football fans are clearly grossly offended. Expect this one to drag on unnecessarily for an unnecessary period of time.
Özil tells Gunner icons to shut it
A more enticing off-pitch battle to watch has been Gooners, past and present, going off at one another. Arsenal legends now making their livings as pundits, such as Ian Wright and Martin Keown, have made no secret of their disappointment in the recent displays by their beloved club.
Mesut Özil, often a target of some of the harshest criticism, took exception this past week and called the stalwarts out on their negative attitude. In a nearly 700-word response on Facebook, he declared that enough is enough.
"Personally I've had to accept a lot of criticism during my time in London. 'Too expensive, too greedy, bad body language, and lacking fight' — this is what people have said about me," he wrote.
"Although criticism is something that all football players have to deal with, I nevertheless expected legends to behave like legends — my advice to these former Gunners: stop talking and start supporting!"
A rare social media consensus saw most fans impressed with the fight he displayed with his clap-back — even if it was just on Instagram. Of course, others pointed to the fact that Özil is one of those yet to sign an extension to his dwindling contract, a major concern for the club at the moment.
Duel of the pretenders
The two teams that arguably most encapsulate the new fluid Premier League era go head-to-head in an enticing Saturday afternoon fixture.
The Leicester miracle aside, no one has quite put the cat among the pigeons and liver birds as Mauricio Pochettino's Spurs have. A few quality signings here and there, and the emergence of young English hopes like Harry Kane and the one-finger-saluting Alli, have seen the club lay claim to a seat at the top table.
Now Everton wants in. Tired of being the "nearly club" of England and no longer content with an eighth-place finish, the Toffees spent big during the transfer window. About £95‑million was spent on bringing in a host of quality players. Yes, the activity was funded in part by the massive Romelu Lukaku sale, but an increased wage bill and rumblings of intent from co-owner Farhad Moshiri are a clear signal Goodison will no longer accept subpar returns.
Against Chelsea before the international break they certainly didn't look like one of the big boys — the Blues practically strolled at the Bridge. Ronald Koeman will want to chalk that up as an off day owing to Europa League fatigue and get the team back on their ambitious track.
Wembley-wobbling Tottenham have not exactly set the world alight themselves this season and will be desperate for three points to reinvigorate their charge.
Hopefully the increased pressure and fear of mid-table mediocrity will gift the neutral a game of free-flowing football to whet our appetites for this year's top-four challenge.