There is an ease and a stealth with which Morena Leraba moves through different contexts — all, it seems, in the service of creating a sound. Although famo vocal techniques are at the heart of what this graphic designer, shepherd and vocalist from Lesotho's town of Mafeteng does, his music is, in some ways, a long way removed from the practice of famo.
Famo, an accordion-based style of music that originates from Lesotho's encounter with the migrant labour system, apparently draws its moniker from the act of flaring one's nostrils but it is also known simply as accordion music (mino oa koriana).
As the word "famo" suggests, performances of masculinity are embedded in the genre's DNA.
In his seminal 2014 take on the genre (published in the Chimurenga Chronic), journalist and videographer Tseliso Monaheng writes that the famo scene "has had its fair share of conflict; at different points in time, different musicians and their groups have been involved in some sort of verbal showdown to defend their reputation, honour and musicianship".
In recent years, these have spilled over into physical violence.
But Leraba's practice runs parallel to that, moving away from the sonic template of the sound while tweaking its vocal traditions.
Leraba's in a nondescript restaurant in Rosebank, where he is wrapping up a recording and PR trip, which included studio stints with Spoek Mathambo and the BLK JKS. He has the air of a musical nomad in search of a new identity but with the vaults of history to mine from.
Leraba, very much an architect of his own mythology, says he began his musical explorations in 2013, when he offered to try some famo techniques on a rap song a compatriot was working on. "He wanted to feature artists from Mafeteng but he wanted someone to do famo because he couldn't do it. He was from the north. Most of the guys couldn't do it. So we recorded it together."
Key to Leraba's artistic image is the cultivation of a shepherd persona, as can be seen in the 20-minute documentary shot in conjunction with Blacknation Video Network.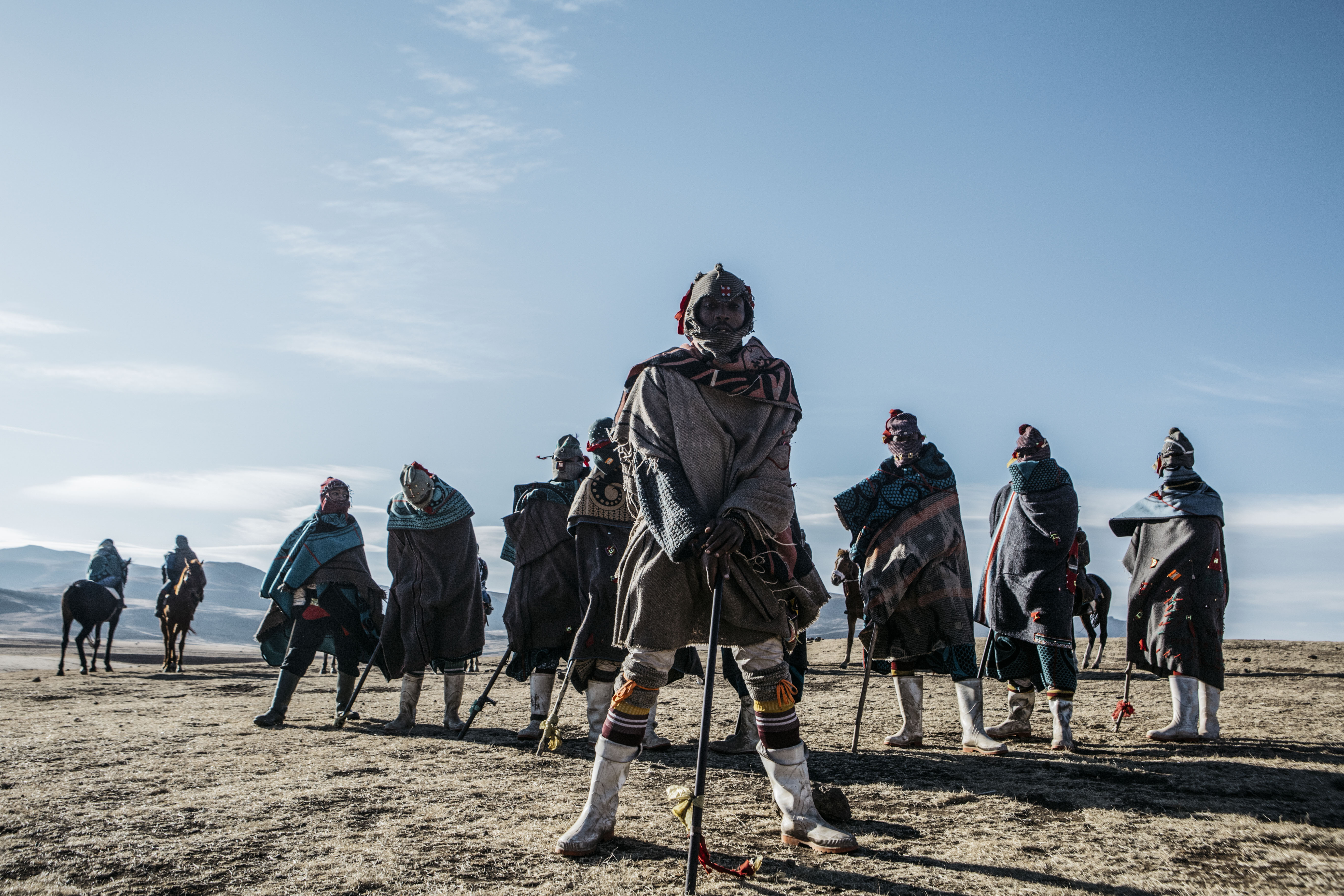 [Leader of the flock, Morena Leraba (Kgomotso Neto Tleane/ Jameson INDIE Channel)]
Leraba's polyglot approach to collaboration probably has its genesis in his meeting Carl McMillan, a filmmaker from Cape Town with links in the music scene there, a meeting that led to Leraba getting plugged in with that city's electronic music scene, but also a rather awkward collaboration with a group of McMillan's friends called The Freerangers.
Other sonic experiments have fared better. The song Mehau, for example, produced by Brooklyn-based producer Kashaka, in which Leraba laments the death of a friend over a mournful spaghetti-western recalling hip-hop beat, suggests an elastic, unforced route down which Leraba could take his experiments. Leraba has an upcoming EP with Kashaka, due for release soon.
Kashaka came across Leraba's music in his debut single, Bojete, produced by the then Cape Town-based German producer Fritz Holscher.
Asked whether he has polished the basics of a new template, building on the rudiments of famo but with a discernible, albeit fusionist outlook, Leraba says: "I'm not sure yet. Fusing Sotho traditional music with electronics, it is just a term. It is not a shell that I am going to stay in forever. I see a transition in the whole thing, because I'm meeting different producers, for instance the BLK JKS. Honestly, they do rock but in Setswana and isiZulu. That's the fusion that I have always been looking for. When I listen to their music, I can hear Leraba in that, but doing Sesotho traditional music. So, I'm just going with the waves."
Given the precision with which Leraba cultivates his persona, it is hard to gauge how much of the shepherd lifestyle has anything to do with Leraba's day-to-day life or even his musical history.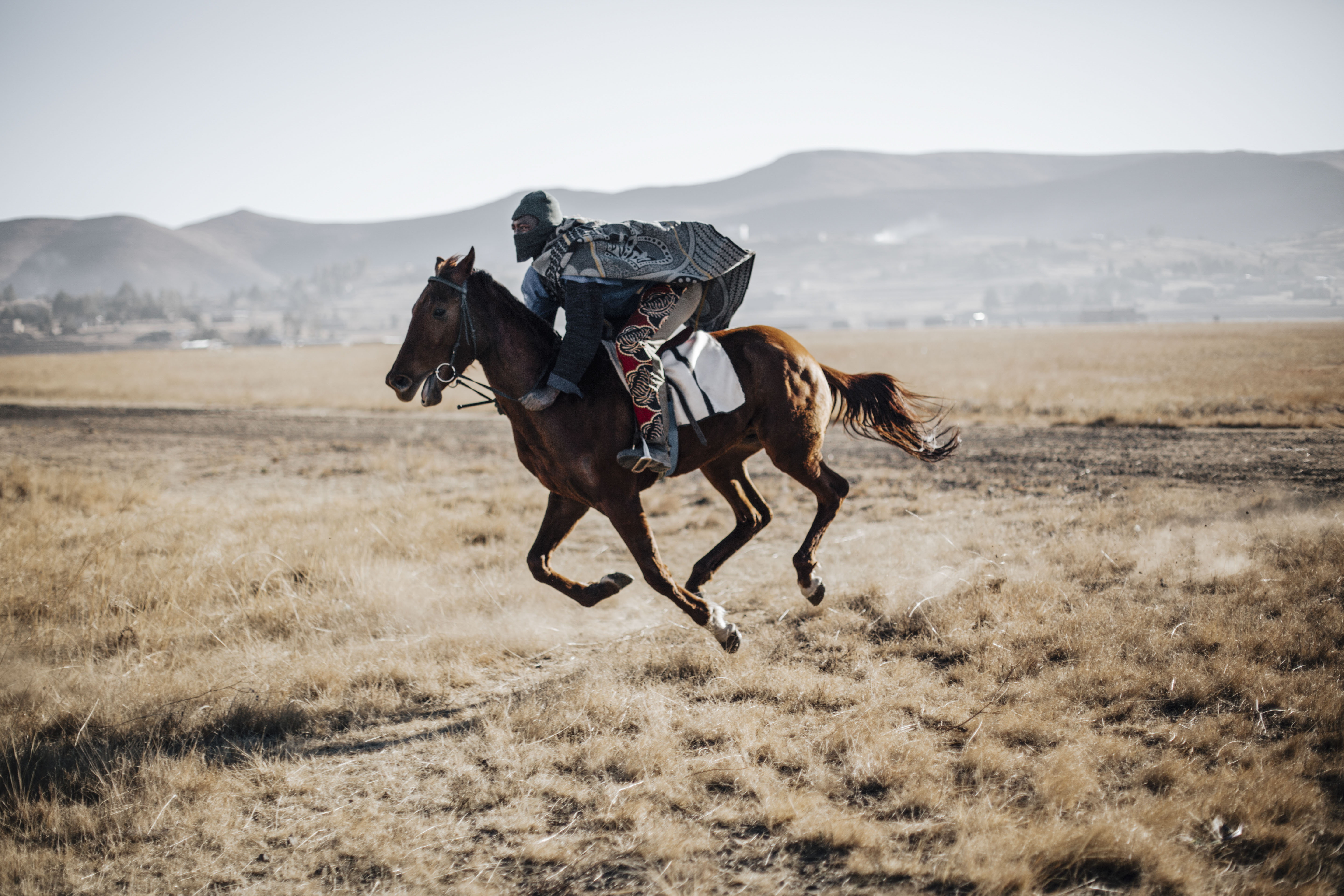 [Leraba showcasing his shepherd persona (Kgomotso Neto Tleane/ Jameson INDIE Channel)]
Those who know him, such as compatriot Monaheng, say Leraba once ran with a rapping crew known as D2amajoe with musician Kommanda Obbs. "Their whole movement was based on reinterpreting famo anew," says Monaheng. "They fell out. Leraba went on to do his thing. There's also Papa Zee, Boshoa Bots'oere, who are doing their own interpretations. Pitso Ramakhula too."
Monaheng says Leraba's feverish experiments have a lot to do with the artist trying to figure out "where else, besides traditional hip-hop confines, he could take [famo's vocal template]. Personally, I don't dig the electronic stuff. Some of it is too … too forced."
Famo, according to Monaheng, is based on masholu, "where the artist goes on and on atop a beat, without pausing, as well as lifela, which are the songs with choruses and verses (usually a repetitive chorus and one long verse)." A third element called machinkoto evades his ability to define it.
"So, yeah," continues Monaheng, "his vocal technique is very much in that tradition, and what makes it so is the delivery and intonation of the voice."
Monaheng sees Leraba, his generational peer, as upholding the genre's sacrosanct traditions of "heavy metaphors, uncommon turns of phrase and terminology often thought missing from the Sesotho language", a disposition linking him, stylistically, to the genre's highly regarded artist Mahlanya.
Asked to extrapolate on the meaning of famo, though, Leraba takes a typically philosophical route. "I can tell you that famo is war. It's an endless revenge. It's killing, but also, famo is love. It's poetry. It's the technique, the language used. The metaphors. Yoh. It's very beautiful. It's also unity. I'm thinking about the Basotho men who worked here in the mines; you need this sense of identity."
Leraba says the poetic elements of the lyrics in famo probably have their origins in the militaristic traditions of the Basotho. "The praise poetry is to give you strength. During the Cape-Basotho Wars, you find a lot of kings and chiefs having their famous poems about wars, about defeating the whites."
These live on in the occupational mores of shepherding, a way of life prevalent in Mafeteng.
"Shepherds, they still walk long distances and they are alone. I think that is where the creativity comes from.
The intention with my music was not to talk about issues as such but just to create that naive character to which people from the villages can relate.
"As time goes on, I'm going to meet a lot of artists from around the world, but I'm still going to address things in that kind of a way. I don't want to show that I know things."
At the risk of sounding flippant, there is something about the double act of Leraba that recalls the antics of masked kwaito jester Mzekezeke. Leraba's act, of course, seems necessary as a way of testing the limits of such a hallowed, troubled tradition — one that, at its core, is about a martial riposte to the evils of forced labour, evils that had no song for the captive.
So, although Leraba's experiments have so far yielded little in the form of a cogent sound, they are retracing a journey of hundreds of years with the speed and compressed finesse of a technological age. In a sense, what is Leraba if he is not famo in its entirety?
Morena Leraba performs at Kitcheners' Carvery Bar on September 23 alongside collaborator and producer DJ Spoko. The video to Impepho, Leraba's collaboration with TrapFunkAlivio (Salvador, Brazil) and Mankind (Johannesburg) will be launched on the Jameson indie channel (indiechannel.co.za) on September 29